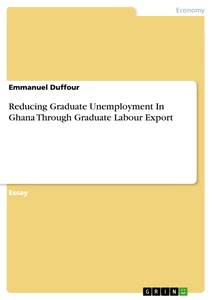 Reducing Graduate Unemployment In Ghana Through Graduate Labour Export
Essay 2016 6 Seiten
Zusammenfassung
For some time now, unemployment has become a worldwide open sore. The occurrence is definitely not unfamiliar to Ghana, as the country is not experiencing graduate unemployment is for the first time in history. In the 1980s, when money based development was said to have been positive, graduate unemployment was soaring.

Studies have been done, but not a lot of cases trying to find out the causes and available fixes for diseases for graduate unemployment in the country. Some people who lawfully live in a country, state, etc. gave their ideas as one after the other government has not done enough while others blame the universities for unrelated school courses. Up until now, others have blamed the graduates for not preparing themselves well before graduating. The discussion has mostly been a blame game. The study done by Boateng and Ofori (2002) tells about that universities and the other related to three institutions bring into being about 68,000 graduates yearly without corresponding high numbers of jobs being created to soak them up like a towel.

As a successful way of reaching goals towards the national money based development plan, across the ocean graduate exporting could be seen as real and true option for the country's youth work force and listed are four success ways of reaching goals for showing in a good way the exportation of graduates in the Ghana.