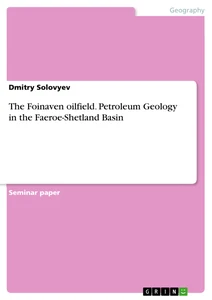 Leseprobe
Content:
Introduction
1. Geology
2. Source Rock
3. Migration
4. Reservoir rock
5. Seal rock
6. Trap
Conclusion
References
Introduction
The Foinaven oilfield was the first reserve development West of the Shetlands in the deepwater, it is a good quality producing oil field which provides significant hydrocarbon potential, one of largest oilfield of United Kingdom. This field was discovered in 1990 by British Petroleum (well# 204/24-1A) in the Faeroe-Shetland Basin in two blocks, 204/19 and 204/24a in the UK Continental Shelf. These blocks are located around 190km west of the Shetland Islands. Marine environment can be characterized as deep water conditions (450 m) and strong subsea currents (4.5 km/hr).
illustration not visible in this excerpt
First hydrocarbons from the Foinaven play were produced in Nov.1997. The recoverable reserves were originally calculated at 200 million barrels and lately were estimated at 415 million barrels at 2004.
1. Geology
The Foinaven oilfield are referred to turbidities sediment structures of Faroe-Shetland Basin, which is situated between Faroe Islands and Shetland Islands, characterized by NE-SW trending Cretaceous or younger sediments along the Atlantic Margin. The Faroe-Shetland Basin is a Jurassic-Cretaceous-Paleocene rift basin upon the NE Atlantic Margin.
illustration not visible in this excerpt
The main area of basin is covered by thick layer of Palaeogene igneous basaltic lava of Paleocene age (0.5 to 7 km thickness) which composes a part of the North Atlantic Igneous Province.
illustration not visible in this excerpt
Fig. 3. Regional structural summary map for Faeroe-Shetland Basin. (N.Grant, A.Bouma and A.McIntyre, 1999).
The Faeroe-Shetland Basin was formed in the deep graben system, which separate the Faeroe plate from the Shetland. The basin has a complicate history lasted whole Mesozoic period, which is designated by complex of rift sequences, which was a reason for North Atlantic Ocean originating. The last rift event in the basin was happened at Paleocene, with the process of tectonic separating Eurasian plate and Greenland plate.
Faeroe basin is the combination of Claire Basin were developed in Paleozoic era. From Late-Permian to Early-Triassic periods rifting are started again, and this was a reason for generations of series half-grabens placed around Shetland region. Sediment deposits in the rift system of Devonian and Permian-Triassic time is situated mainly in continental conditions. The current configurations of Faeroe-Shetland Basin is mostly defined by Late-Jurassic huge rift event. Sets of rifts North-South trending, expanding to the South connected Vøring - Møre Basins system with Faeroe-Shetland Basin and also in the East, Central Graben and Viking Graben systems. The main event of Cretaceous rifting supposedly happened during Valanginian age regarding sediments deposits of West Shetland. At Late-Cretaceous accumulation of marly shales and thin limestone layers proceeded. Later development of rift system took place in Faeroe-Shetland Basin axes zone in Paleocene.
2. Source Rock
As source for hydrocarbon in the Faroe-Shetland Basin organic-rich, deep-marine mudstone of Kimmeridge clay formation of Jurassic time was proven. The area of the Scottish Atlantic Margin province also has a large gas kitchen due to Cretaceous-Tertiary sedimentation.
Early Cretaceous, organic rich, basinal-marine source rocks, which are known to occur in the More Basin of the Norwegian Atlantic Margin may also present in parts of the Scottish Atlantic Margin.
Clay Formation, is extremely deep (more than 8000 m) and for such depths, even if generation of hydrocarbons is possible, it is expected to be just dry gas. Nevertheless results of drilling in the Faroe-Shetland Basin demonstrate presence of oil and wet gas in the Basin. Also rifting events in these basins may complicate the comparison of expected hydrocarbon type and the source rock burial depth, cause regional heating accompany with the volcanism and tectonic processes, provided by the subjacent mantle plume, should generate advanced over maturation.
[...]
Details
Seiten

13

Jahr

2014

ISBN (eBook)

9783668267688

Dateigröße

1.3 MB

Sprache

Englisch

Katalognummer

v337023

Institution / Hochschule

Robert Gordon University Aberdeen – School of Engineering

Note

56

Schlagworte