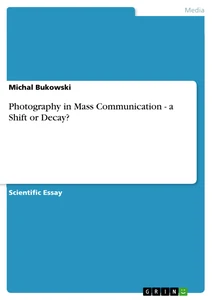 Photography in Mass Communication - a Shift or Decay?
Wissenschaftlicher Aufsatz 2010 10 Seiten
Leseprobe
Table of Contents
Abstract
Key Words
Motto
The Functions
The Function Wheel
A Carrier or A Mass Medium
The Supply Side
The Demand Side
Interpersonal Snowball – The Social Dimension
The Advertising Cake – The Commercial Dimension
The Impact – Trend & Opinion Forging
Decay of Reliability
Creativity Plunder
Art Photography
Matter-of-elusion
Bibliography
Photography in Mass Communication – a Shift or Decay?
Michal Bukowski
Abstract
In a world saturated with images, recording remains the prime function of photography. Recording is informing, thus recording is news. The opposite of it, transforming, is creating new values, thus creating is art. There is adapting in between, which is marketing, i.e. commercial. News photography couples with the referential (informative) function, art photography with the poetic one, commercial with the conative (appellative). Photography as ubiquity means immense growth of the referential function, which in form of an interpersonal snowball makes people socialise and create networks. The context of our lives becomes public, opening the doors for mass marketing. In advertising, applying its appellative function, photography affects our lives and, to meet the needs of the seller, adapts reality. Referential, too, is getting appellative, resulting in reliability decay. This is coupled with creativity plunder. Art photography in part goes public, in part gives up poetic for referential. Boundaries overlap, the wheel of functions is turning. Is it a shift or is it decay?
Key Words
Photography, mass communication, language, functions, advertising, marketing, social, commercial.
Motto
"The visual language of photography became the predominant voice of our culture /…/. Today we live in a world saturated with images that define who we are and what we are thinking about." (1)
The Functions
It was photography that made it possible to directly record all that what otherwise would pass by and disappear forever – places and faces, shapes, scenes and events. In the history of mankind one could always take some kind of notes, one could always produce some drawings, paint pictures or create sculptures that would reflect the then reality but whatever it was, the result thereof - the product - was never fully objective and always remained inevitably biased: it was always a result of some degree of subjective processing, injected into the result by the author of the recording during the act of recording. It was photography that emerged as the long awaited answer to the ever-present quest of mankind to catch the moments as they are – directly, true and unprocessed. Consequently it is the recording function that has to be considered as the prime function of photography.
If to apply the previously defined function to the areas of social activities, one could basically associate recording with informing about the status of things and/or about their developments. Recording is informing and informing is news. News is what something is or what something was – in other words, it is delivering a picture of a situation. Applying similar logic further, its opposite, namely active intrusion into the reality along with changing, influencing, modifying and processing the reality in order to express the intentions of the author – could be associated with transforming. Intrusion, modifying and influencing the reality - transforming it - is creating new values and creating a new reality, and creating is art. Spanned out between recording and transforming there are countless options with mixed content to be found in there, the middle of which could be called adapting: some reality coupled with some transformation. If we assign the reality content to the material core of the message and the transforming one to its intentional aspect, we would easily arrive at activities that are commercial, where adapting would basically mean: "I want you to change your status quo and I want you to buy my product or my service". It would be easy to note here that in that very context adapting is marketing and marketing is just adapting: adapting our products to match the consumer needs, adapting the consumer needs to accept our products.
The Function Wheel
All that expressed in Roman Jackobson's terms (2)(3), would make us couple news with the referential (informative) function: it is the context that stands in the middle of the picture, it is information, it is recording the status of things. Regarding art, it would clearly be the poetic function: it is the author with their personal world who is the core of the fact of transforming, it is the new values that are the prime load of the message. The prime characteristics of commercial activities being their imperative to bring about deeds that in turn would result in sales, it would not be surprising to couple the commercial activities with the conative (appellative) function. What is left is the emotive function – the expressive element. This indeed, though to a varying degree, does accompany commercial activities equally well as arts, therefore it would rather be appropriate to place it in between conative and poetic – or, formulated in different terms, between commercial and art.
As a result of such a distinction we would arrive at a function wheel, visualising the basic interrelations between individual functions and areas of activity. Applied to photography, it might lead us to interesting observations.
Abbildung in dieser Leseprobe nicht enthalten
Function wheel 1.
A Carrier or A Mass Medium
To start with, photography, oddly enough, is not being considered as a mass medium. It can carry information, it can reach mass audiences, it has its own distinctive language – and yet it is not being considered as a mass medium. In common understanding this pushes photography down to a role of an instrument rather than that of a profiled, independent medium with mass coverage - a sort of a butler for others, for the press, for the billboards, or even for the cinema (as stills), to mention just a few. And yet photography has its own life and its own posture.
Ever since its birth, photography has been gaining on social terrain - partly thanks to its own features, and partly thanks to technical developments. Photography went public for the first time when it left the professional ateliers and when a cost of a camera and a cost of a roll of a film to fill it with, plus the costs of developing the film and of enlarging the prints - democratically became affordable for everybody. Still, to shoot photos and to disseminate them it was not everybody's cup of tea yet. The word "to disseminate" has to be stressed here - in terms of functions of photography as a mass medium it has a very important meaning. The real technical revolution took place only with the emergence of the digital world - on the one side, it has become unprecedented easy to record and to process anything, on the other - the dissemination of the results thereof became a matter of seconds, at no costs whatsoever. We all have witnessed it, but not many of us have analysed the scope and intensity of those revolutionary developments.
The Supply Side
In technical terms it is now that photography went public for a second time: simply, it has left the laboratories. The photo laboratories close down, jobs in chemical processing of negatives or in production of prints disappear, there are no dias any more, sophisticated technical equipment becomes scrap nearly overnight, whole industry branches close down. Just to mention: the production of Kodachrome, a world champion and a flagship of dia photography, comes to its final end, in spite of 70 years of amazing success, or the whole segment of medium size photography dies in silence, literarily within months. All that is being replaced by the world of pixels, accessible for anybody and at any time, at practically no cost whatsoever. At the lowest end the mobile phones make it possible for everybody to take photos - to record the reality - in qualities from acceptable to quite reasonable and at the same time they make it possible for everybody to disseminate them - to communicate - without any time or space limits. Translated into professional terms it means no limitations any more - photography today is able to convey reality recordings in so-called "real time" to any place of the world that is able to receive it. In the middle of the field, where photo cameras, not mobile phones, do their job, the mass access to the medium is based on three interrelated factors: the technical ease to manage the cameras, their affordable price and the processing cluster. Firstly, it only takes to press a button these days and most of the cameras are likely to do the rest. They won't make the photographed person smile (yet...), but they can certainly adjust the quality of the person's skin or enhance the glory of the person's eyes. Next, it all costs nothing - alone an SLR camera of professional quality costs now perhaps twice as much as a lowest-end wage, whereas in analogue times the difference was no less than ten times, without taking into account the cost of lens, material and processing. On top of that, thanks to the mass availability of easy-to-handle photo processing software, everybody is free to enter the worlds of vision and to become a visual creator, even if for a minute of time only. And at the very end of the chain there are printers of all kinds, portable or stationary, available at prices starting at the level equal to that of five cinema tickets, again making it possible for anybody to do nearly anything practically anyplace.
It should not be forgotten, though, that this is mass fodder. At the professional end a medium-format digital tool, shooting with as many as 60 million pixels - a quality level unattainable for the mass public - would cost some 40.000 EUR, the body alone.
Indisputably photography has become real mass fun and everybody sings loud today "Yes, I can!" When photography is fun, it means - recording is fun, which in consequence means - informing is fun. This in fact means an immense growth of the referential function of that medium, resulting in an exponential growth of the number of messages - photographs - produced. But "produced" does not necessarily mean "available", so one more feature of today must be tackled here - the dissemination of the products of photography. In that field the digital technique makes it possible, makes it democratic and on top of everything is free of charge, too - take web community portals (called also social networking websites or social utilities) like Facebook, take flickr: there is no single human being in the world today able to define how many photos rest on such portals at any moment of time now. This - from the commercial point of view - is the supply side, therefore one may say that every single person can be a supplier of photography today, which means - every single person can be an executor of the referential function of photography.
The Demand Side
The opposite of the supply is the demand. On the demand side the development is by no means less far-reaching. Photography has become a ubiquity - not only is it available everywhere, it is also technically accessible everywhere, it cost nothing, it is just there. Just take it and use it, the way you wish. "Photography to go", if to use one of those modern terms. At first glance - yes, at a second one - well, in a way... Yes, the technical barriers have nearly disappeared and the material is in abundant supply, but the abundance of material does not make it easier to choose, and the technical quality requirements on the part of potential professional consumers like press, magazines and the like, draw a clear line, either. The abundance of material and its easy accessibility for potential professional consumers, however, have to a large extent disrupted the professional production side - who would be willing to pay for something that at the same time is available at no cost at all? To some extent it is some simplification, but only to some extent: it is a phenomenon in the professional photographers' community, never to be observed there before, that photographers are ready to shoot sessions for nothing, for no remuneration at all, just to win a chance for a placement, just to get access for their photo(s) to be positioned and licensed. It is part of that picture that prices that are offered, have, logically, went down, either. Even big shots like Annie Leibovitz, for example, suffer - no more six digit sums for a one-day shooting session, as it used to be time ago (4). For many other photographers it can become much more substantial - no more orders at all: who would care to pay an oldie, if there are thousands of hungry young wolves around, willing to do it for nothing?
Interpersonal Snowball – The Social Dimension
The abundance of photographic material is part of an other phenomenon - partly as a cause of it, partly as its effect: that phenomenon could be called an interpersonal snowball. It is all those portals, websites and community utilities on which photographs of all kinds are being posted. The prime function of those portals is to convey information, whereas it does not matter, in fact, what kind of photo it is - it need not be a photo with a message clear for a wider group of viewers: just sheer portraits, or group and family snapshots, carrying messages understandable only for a very limited circle of viewers, seem to be the favourites and the majority on such websites. The referential function of photography, already objectively enhanced by such a wide exposure, creates new bridges between people: brings them together, makes it easy to follow each other's lives, helps cultivate and deepen friendships (if only friendships...), in general - makes them socialise and also makes them create and develop networks of all possible kinds. The context of our lives, both private and non-private, becomes more and more public - it becomes a mass-commodity, too, accessible for anybody who is a member of a given network or enters a given community. Such a snowball has no limits - neither in terms of technique, this being freely available these days even to a digital ignorant, nor in terms of content, this being manifested by the continuous shift of the borders of intimacy that we witness in that field.
Indirectly, the interpersonal snowball, making the context of our lives more and more public, has also a purely commercial aspect: it opens the door for domesday marketing (5) of all kinds.
Mass-posting of photographs might to some extent be directed at itself - instead of, or along with informing, they might carry elements of expressiveness and lots of emotion, meeting thus the criteria of the poetic function. It is an open question, if - and if so, to what extent, nevertheless it remains beyond doubt that as far as the snowball effect is concerned, the poetic function in no way is a prime one and in no way is determining that effect.
[...]
Details
Seiten

10

Jahr

2010

ISBN (eBook)

9783668412026

ISBN (Buch)

9783668412033

Dateigröße

807 KB

Sprache

Englisch

Katalognummer

v354623

Institution / Hochschule

Trnavská univerzita v Trnave – Mass Media Communication

Note

--

Schlagworte