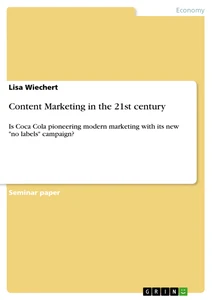 Content Marketing in the 21st century
Is Coca Cola pioneering modern marketing with its new "no labels" campaign?
Seminararbeit 2016 17 Seiten
Leseprobe
Index
1. Introduction
2. Content Marketing
2.1. History and definition of Content Marketing
2.2. Increase of Content Marketing - from "Push-" to "Pull-Marketing"
2.3. Change of modern values and customer behaviour
2.3.1. Modern Values
2.3.2. Consumers attitude
2.4. Content Marketing as key to success in the modern marketing environment or just another trend?
3. Coca Cola
3.1. History
3.2. Facts and Figures
3.3. "Content 2020"
4. "No Label" campaign
4.1. Outline
4.2. Analysis
4.2.1. Time and Place
4.2.2. Social Media Airing
4.2.3. Brand recognition
4.2.4. Coca Cola ' s 70%, 20% and 10% marketing budget rule
4.3. Results
5. Possibility of other companies to follow Coca Cola's lead
6. Conclusion
List of literature
Appendix
Tabel of figures
Figure 1 Pictures of the participants of the original Coca Cola commercial
Figure 2 tachistoskop test, WC-Ente
Figure 3 Coca Cola - misspelling example
1. Introduction
"You will never get a second chance to make a first impression", we have all heard that sentence at one point in our life. Princeton psychologists Janine Willis and Alexander Todorov reveal this with a series of experiments, "that all it takes is a tenth of a second to form an impression of a stranger from their face, and that longer exposures don't significantly alter those impressions."1
According to Judi James, author of the book "the Body Language Bible", judging others within seconds is part of our survival response. Labelling someone within such a brief time is therefore flawed and prejudiced way of evaluating, but we cannot stop ourselves from doing it.2
The European Union released a statement, a few days after the attack on Charlie Hebdo in January 2015, "against the backdrop of a very worrying rise of anti-Semitic hatred and violence, in particular on the internet as well as anti-Semitic hate crime around the world"3
It also states that manifestations of religious based intolerance and violence are increasing in every region of the world. Examples of which are to be found almost daily on the news, from Ferguson to Dresden, from Saudi Arabia to Malaysia and with the recent attacks on Paris.
But what if we were to meet someone in the complete dark? Would our first impression still be the same? Coca Cola one of the best-known brands around the world decided to give that idea a try, dur- ing the time of Ramadan 2015. With putting six complete strangers in a dark room to meet for the first time, the first impressions significantly diverted from when they finally turned the light on. After they let the participants open a box with a Coca Cola can in it with no label on it but a single phrase: "Labels are for cans, not for people"
One single phrase with a great meaning behind it, not only in terms of an anti racism campaign, but also in regards of marketing. With removing the label from the can, Coca Cola ignored all common known ground rules of Marketing, which state that brand awareness and branding are one of the most important marketing activities, in which labels are essential.
This essay will analyse Coca Colas Marketing campaign "no Labels", focusing on the importance of Content Marketing in connection with current events. In addition it will answer the question if it is possible for other companies to follow given example.
2. Content Marketing
"All advertisers need a lot more content so that they can keep the engagement with consumers fresh and relevant, because of the 24/7 connectivity. If you're going to be successful around the world, you have to have fat and fertile ideas at the core."4
Content is the core of the in 2014 release "Content 2020" strategy of Coca Cola. To start of, this essay will have a short discourse to the basics of Content Management to better understand the meaning behind the motioned no labels campaign.
2.1. History and definition of Content Marketing
Content Marketing is a buzzword used frequently in the modern Marketing literature and hailed to be the next big trend in Online Marketing. Nonetheless Content Marketing is not a new Marketing innovation; it has been around for several centuries in different versions.
One of the oldest known version of content marketing was used by John Deere in 1895 a tractor mak- er, who published his on magazine, "The Furrow". Other examples are Michelin, the tyre manufacturer, who produced a guide of travel and accommodation recommendations for French drivers in 1900 or Nike in 1966, publishing a booklet on jogging and inventing the sport of running in the USA.5
Fact is Content Marketing is nothing new but it works. It is defined as: publishing content that empowers, engages, educates and connects readers.6 Hence marketing activities and business processes, which create and distribute valuable and compelling content to attract, acquire and engage a clearly defined target audience, with the objective of driving profitable customer action.7
A content marketing strategy is best applied to multiple story channels for example print, online, mouth-to-mouth, mobile, social media etc. at all stages of the buying process. It can include multiple buying groups and can be applied to from attention-oriented as well as to loyalty strategies.8
2.2. Increase of Content Marketing - from "Push-" to "Pull-Marketing"
The increase of Content Marketing is an evolution, which is tied together with the recent developments from Push- to Pull Marketing. This reflects not only consumer's changing values and change of digital technologies, but also the interaction of consumers and companies. The development in digital tech- nologies and the development in marketing are both tending away from a one-way communication model and passive communication, with information being "pushed" to readers. Instead companies are following multi user approach, interacting with stakeholders, while trying to have a both-way communi- cation.9
In the 21st century much has changed for companies, as consumers are actively trying to avoid being interrupted by banners, adds and aggressive marketing messages. The trend from "push marketing" towards "pull marketing" is a development, which can be traced back to the early 20th century and is not only being supported by customers but also by the biggest search engines. For detailed infor- mation on the development from push to pull marketing there is a timeline attached in the appendix 1.
2.3. Change of modern values and customer behaviour
The field if consumer behaviour is "the study of individuals, groups, or organizations and the process- es they use to select, secure, use, and dispose of products, services, experiences, or ideas to satisfy needs and the impacts that these processes have one the consumer and society."10 Consumer values and behaviour are influenced through different aspects and formed by the attitudes of individuals.
2.3.1. Modern Values
Modern values of consumers have changed a lot in the recent years. With the increasing amount of available information and the globalization, the need of guidance and values such as security and safety have increased. As Jim Antonoopoulos TANK's Creative Director explained in his article speak- ing to the modern consumer: "If our very human instinct is based on being drawn to people we trust, and people with whom we share common values and beliefs - we must remind ourselves of this sim- ple truth when building brands."11
Companies are therefore more likely to succeed with their campaigns if the reaction to this trend of winning over costumers with appealing to identical believes and common values.
2.3.2. Consumers attitude
By changing the attitude of consumers, their behaviour can be adjusted to marketing strategies. But in order to do so it is important to understand how consumer attitudes are formed. In general there are four ways of influencing consumer attitudes and thus their behaviour:
1. Cognitions (thoughts or beliefs), either from an external source for example advertising, the news, friends and family and so on, or from information we recall from our memory.
2. Emotions and feelings, favouring of products or services because of the emotion transmitted by it. Previous experiences (hedonic), utilitarian aspects and emotional topics, which one can relate to, are the centre of this attitude.12
The third and fourth way of influencing depends on the elaborations of consumers. This is based on the MAO process, which consists on the motivation, ability and opportunity of consumers to process information and make decisions
3. High effort central-route (high MAO), consumers are more likely to put a lot of effort into be- coming involved in changing their attitude and decision-making.
4. Low effort peripheral rout (low MAO), consumers are more tangible or superficial towards messages and are not keen to put effort in analysing the core messages.
Content Marketing is efficient and successful, when applied in a way the recipient is willing to change his attitude and his behaviour. There are different ways in doing so and Coca Cola is known to tend to attract consumers over emotions as well as over their thoughts and believes. The no-label campaign is hereby an excellent example, as it appeals to consumers believe system and their emotions.
2.4. Content Marketing as key to success in the modern marketing environment or just another trend?
Content marking is currently been used by many companies, for example by EDEKA a German grocery store, which tells the story of a an old man, home alone for Christmas, who reunites his family by faking his own death to lure them to come back home just in time for Christmas.13
Together with story telling it is a highly complex way of delivering a marketing message while connecting with the key audience emotionally. According to the consultant network Narrata Consult, storytelling is an old form of human communication, used to transfer knowledge and values and therefore a important management tool.14
3. Coca Cola
Coca Cola is known to be one of the leading companies worldwide when it comes to innovative marketing concepts. As market leader in the soft drink industry, Coca Cola is an international company with a 125-year-old success history. Here is a brief ex-curse on the company history, facts and figures as well as a short summery of Coca Colas current Content Marketing strategy.
3.1. History
The pharmacist Dr. Pemberton who invented the syrup, which was than mixed with carbonated water, first introduced Coca Cola in 1886. Credit for the name and the design of the trademarked distinct script goes to Frank M. Robinson, bookkeeper and partner of Dr. Pemberton. During the first year only an average of nine glasses were served by day, whereby today over 1.9 billion servings are estimated daily.
After the death of Dr. Pemberton only two yeas after his invention, the business was restructured and in 1894 first bottling machinery was introduced, after a growing demand for portable beverages. With that a milestone was set for a worldwide bottling system, which should soon revolutionise the bever- age industry. It wasn't until 1977 though till the contoured Coca-Cola bottle was trademarked, an inspi- ration for many artists and a distinctive difference in regards of competitors. Today "Coca-Cola is the most popular and biggest-selling soft drink in history, as well as the best-known product in the world."15
3.2. Facts and Figures
Coca Cola currently sells over different kinds 500 beverage in more than 200 countries around the world. "This amounts to 3,500+ beverages in numerous categories, such as regular, low- and nocalorie sparkling beverages; fruit juices and fruit drinks; bottled water; sports and energy drinks and ready-to-drink teas and coffee."16
The net revenue of Coca Cola adds up to 46 Billion USD, whereby the brand portfolio is adding up to 20 billion USD alone making it the most valuable brand portfolio in the soft drink industry.17
3.3. "Content 2020"
Content 2020 is a marketing strategy developed from Coca Cola in 2012 and is based on the basic principals of Content Marketing. The outline of this Marketing strategy is explained in two videos published from Coca Cola. The main incentives and goals are:
- A shift from creative excellence to content excellence
- The development of content that makes a commitment, contributing to make the world a better place and to develop value as well as significance in people's lives (while at the same time driving business objectives for Coca-Cola)
- Storytelling, preferably dynamic, two-way storytelling to provoke conversations and earn a dis- proportionate share of popular culture
In the centre of the Content 2020 strategy is a so-called18 "liquid" and "linked" content. The liquid refers to viral content or content that provokes discussion. Linked content is content that is relevant to the product itself, representing Coca Cola's business interests, brand and consumer interests. Both liquid and linked content are pillars of Coca Cola's strategy as the main objective is a dialogue between consumers and the company. In order to generate both forms of content Coke refers to the traditional elements of storytelling, while suggesting that a dynamic storytelling is the future of content marketing. This special term has ever since been defined by Coca Cola's storytelling efforts, which stared replac- ing ads and story of their product by telling consumers stories as well as current affairs.19
Another important lesson which Jonathan Mildenhal, Coke's VP suggest in the advertising strategy is the 70/20/10 rule applying to the budget for creating content. Further information will be given in 4.2.2 as part of the campaign analysis.20
The last but very important point of Coca Cola's Content 2020 strategy is the potential of incorporating technologies into the creative process.
[...]
---
1 (Wargo, 2006)
2 (see, O'Conner, 2010)
3 (Union, 2015)
4 (Ryan, 2014, p. 299)
5 (see Ryan, 2014, p. 299)
6 (The Internet Marketing Academy,2011, p.10 )
7 (see Pulizzi, 2013 p.5)
8 (see Pulizzi, 2013 p.5)
9 (Paul Baines, 2011, p. 657)
10 (Hawkins)
11 (Antonopoulos, 2015)
12 (Wayne D. Hoyer, 2012, p. 129)
13 (Campillo-Lundbeck, 2015)
14 (NARRATA Consult)
15 (Cola,2015)
16 (Cola,2015)
17 (Cola,2015)
18 (see The Coca-Cola Company, 2011)
19 (see The Coca-Cola Company, 2011)
20 (see The Coca-Cola Company, 2011)
Details
Seiten

17

Jahr

2016

ISBN (eBook)

9783668427426

ISBN (Buch)

9783668427433

Dateigröße

693 KB

Sprache

Englisch

Katalognummer

v357859

Institution / Hochschule

Akademie für den Medizinisch-Technischen Laboratoriumsdienst des Landes Steiermark Graz

Note

1,0

Schlagworte