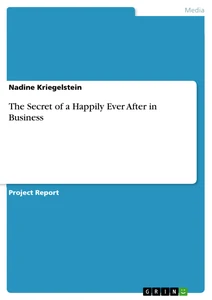 The Secret of a Happily Ever After in Business
Projektarbeit 2016 53 Seiten
Leseprobe
INDEX
Abstract - Will You Work With Me?
Introduction - About The Perfect Match
Chapter 1 - The Challenge Of Collaborating As Founders 4 (Literature Review)
1.1 เท comparison with marriage
1.2 About equality
1.3 The friend zone
1.4 Finding the right one
Chapter 2 - Once Upon A Time: Fairy-tale-like Success Stories
2.1 Google
2.2 Apple
2.3 YouTube
Methodology - How To Find That Certain Something
CASE STUDIES: Primary Research + Analysis Of Research
Case 1 - When Anton Met Irene: Anton & Irene
Case 2 - Friends With Benefits: Your Majesty
Case 3 - You Are Still The One: The Pop Up Agency
Case 4 - Always And Forever: Nice and Serious
Case 5 - Just The Two Of Us: Ustwo
Case 6 - Third Time Lucky: Snask
Chapter 3 - The Acid Test: The Marshmallow Challenge 41 (Testing)
Conclusion - And They Worked Happily Ever After
ABSTRACT - Will You Work With Me?
Today a job ¡ร not only about earning money and securing survival, it ¡ร so much more than that. After finishing all different kinds of schools, universities and internships I am ready for the biggest step ¡ท my life: my self-realisation. I shall find something that makes me happy, successful, wealthy and useful. Maybe the best way to do all these requirements justice ¡ร to start my own business. Now the thing ¡ร that this ¡ร scary.
It ¡ร a lot to organise, check, get information about and on top of it to be responsible for.
So why do this all by myself?
Would it not be easier, more fun and more productive to take this big step together?
The approach of this industry research project isto find out how two or more creative individuals create something unique together and how real and honest a business partnership like this ¡ร.
The insights I will receive through interviews and a small experiment shall be compared to romantic partnerships ¡ท general as well as to other business partnership examples ¡ท the creative industry.
The goal ¡ร to inspire all kind of entrepreneurs who want to start a business together by letting them receive some honest advice from creative's industry as well as giving them the opportunity to lead together by example.
เท the end I hope to be able to answer the main research question:
How might we lead a creative business successfully together ¡ท the long run?
Furthermore I want to question the advantages and disadvantages of friendship as foundation of a co-founder model.
Also I want to look into the differences and similarities of business partners and I will be able to share my insights about the importance of trust and shared goals.
Along the way I will find out if the comparison with marriage ¡ร really as close as commonly believed and therefore if the tips and tricks to keep it alive and harmonic will be the same for this reason.
INTRODUCTION - About The Perfect Match
Love don't come easy are these famous lyrics of Phil Collins' song You can't hurry love. Everyone who once was ¡ท the situation of dating knows how hard it ¡ร to find "the right one", this person where it just "clicks" and magic happens.
เท my career I have had a similar experience so far. I met a lot of nice and interesting people, I was lucky to have mostly friendly co-workers ¡ท my previous jobs, but there was only one where I felt this perfect complement. Whenever the two of US worked on a project together it was the smoothest process possible, we were almost able to read each other's minds.
The thought of starting a business together came up every now and then, but we never took it seriously, because we both felt like we needed more work experience first to take this big step together ¡ท some couple of years.
Looking back now the reasons we thought that we were just perfect for each other had probably been the wrong ones: we were sharing the same interests and skills and we became good friends. Now ¡ร that enough to build up a business together and to make this kind of commitment?
"The Partnership Dissolution Agreement ¡ร one of the most popular forms downloaded on LegaIZoom. " (Barber, 2015)
This ¡ร a sad fact, but also a good call to reflect on, learn and change certain behaviours people tend to develop ¡ท a business partnership.
It ¡ร also the first analogy to marriage since only because there are a lot of divorces every year, it does not stop people from getting married.
"Business partnerships have been an important part of entrepreneurship and startup success. The reasons are simple: complementary skill sets, shared equipment or expenses, and the Idea that one person with "hard" money capital can create synergy with the intellectual capital of another person so both can profit from their venture." (Sugars, 2008)
So it might be worth a try to take the risk and get together with another person even if there will always be a chance that it might not work out.
Helen Keller said, "Alone we can do so little. Together we can do so much."
เท the following pages I will introduce some well known examples of business partnerships, but mainly I will meet twelve creative co-founders of six different companies to interview them about their experience together and to get some honest insights about what they did right and wrong.
I am not looking for scandals or gossip here. I am convinced that I can learn a lot from each one of them and I think that other young entrepreneurs can learn from their expert knowledge as well.
They all can remember the moment when it all started. For some of them it was the signal to their first own business, the first time they asked someone else to join and to take this big step with them.
Everyday people commit to each other but it often does not work out.
I believe that only if we can speak honestly about failures and success a progress will be possible - for ourselves and others.
This ¡ร the reason I will talk to the co-founders of different companies directly, to learn from their experiences - good and bad.
"Take the insight you've gleaned from your retrospective and share your tribulations.
It will benefit others in that they can learn from your experience, and it will provide you with closure." (Pickett, 2014)
As I will continue with my research I will document my discovery of all the advice about business partnerships that ¡ร already out there.
Yet I am sure that there ¡ร more to it than the usual basic guidelines of how to make a relationship work.
What interests me most are the individual little tips and tricks which make specific partnerships so special and lasting.
The sum of my insights shall add value to the human aspect of leading a business successfully together ¡ท the long run.
It ¡ร a once ¡ท a lifetime opportunity for me to listen to the different stories of créatives and not only am I sure that every reader can get something out of this too, I am also indescribably grateful for everyone who participated ¡ท this industry research project.
Thank you to (¡ท order of appearance): Anton & Irene, Your Majesty, The Pop Up Agency,
Nice and Serious, Ustwo and Snask.
A big thank you for mental support to: Tash Willcocks, Steve Earl, Phillip Hajszan,
Ulrike Kriegelstein, Alexander Kriegelstein, Patrizia Luberski as well as Sydney Johnson and Tim Arlestig.
And special thanks to my hosts and friends ¡ท New York, London and Stockholm: Adam Bailin, Colin Harris, Sue Stevens and Christina Hajszan.
Chapter 1 - The Challenge Of Collaborating As Founders (Literature review)
As ร๐๐ท as I started my desk research I realized that the world does not agree about the question if starting a business together, as opposed to do ร๐ alone, ¡ร a good idea ¡ท general.
I found a lot of articles full of advice to rather do or do not take the risk and build a company together with someone else.
เท case someone already has made the decision to go for this kind of partnership then there are also a lot of different opinions about how this partnership should be structured to make it work.
เท this chapter I will summarize some of my most interesting findings of various aspects and I want to share them without being subjective at this early stage of my industry research project.
To continue with the fact that the Partnership Dissolution Agreement ¡ร one of the most popular forms downloaded (Barber, 2015) it ¡ร also interesting to know that new businesses characteristically fail at an alarming rate. (Wagner, 2013)
This failure rate rose by 40 percent for small businesses ¡ท the บ.ร. between 2007 and 2010. (Tabita, 2011)
Despite that according to the บ.ร. Small Business Administration, companies with multiple owners are more likely to survive longer than sole proprietorships. (Tabita, 2011)
It ¡ร also worth mentioning that a study ¡ท 2008 showed that the average revenues for partnerships increased 157 percent since 1980, while revenues for the average sole proprietor decreased 51 percent during the same period. (Shane, 2011)
เท comparison with marriage "More than half of American marriages end ¡ท divorce. We can only imagine that the stats are similar for new businesses, where partners often spend more time together than with their spouses." (Tischler, 2012)
Abbildung in dieser Leseprobe nicht enthalten
This brings me to my basic question of how to prevent such an outcome for co-founded businesses since one of the five reasons eight out of ten businesses fail ¡ร a founder dysfunction also known as leadership breakdown at the top. (Wagner, 2013)
ร๐ yes, it would be naive to start this special kind of relationship without thinking about the worst case scenario. At the same time though it ¡ร essential to believe ¡ท this new collaboration right from the start and to be aware of the interpersonal relationship to the other co-founder.
Communication ¡ร the number one rule for every good working relationship. Since there are a lot of different channels to talk with each other these days it can be also a good way to start by agreeing to use certain forms of communication for different priorities, like discussing big issues only ¡ท person or on the phone while smaller ones can be discussed via email.
(Key, 2015)
Trust ¡ร also one of the basic foundations that should be provided between co-founders.
If it helps before starting to work together a background check or personal references can be consulted. (Kohler, 2015)
To be transparent also means that it must be perfectly clear what each partner ¡ร looking for. There can be various levels of commitment and sometimes the involvement changes for one of the partners due to private circumstances, unforeseen loss of interest or stress. (Newlands, 2015) It ¡ร therefore crucial to keep each other up to date and not to surprise the partner with some big or small change out of the blue.
Talking about an exit agreement ¡ร a necessity and to actually compose one ¡ร a very mature and clear-sighted step which also means that if the business partnership will come to an end for whatever reason every partner should behave like they had agreed ¡ท the beginning.
If it gets emotional ¡ท terms of a big disagreement or even argument which can lead to suspend the business partnership, then it ¡ร even better to have a written reminder of the best way to end things. (Key, 2015)
Having a date night ¡ร only one of the many parallels professional partnerships and romantic partnerships have ¡ท common. When people work together more than 40 hours a week they can forget to talk about other things than their business. Therefore it ¡ร of value to every once ¡ท awhile break out of the typical work environment, go out and have some fun together as well as some conversations about personal topics. (Barber, 2015)
As if the comparison to marriage was not mentioned often enough there ¡ร of course the possibility to actually connect professional and romantic partnerships. This can make a lot of things easier like trust from the beginning, shared perspectives, no need to bond because there ¡ร already a team effect etc. On the other hand this option also contains a lot of risks like financial diversification or taking business problems home. (Roth, 2014)
Any partnership ¡ร a constant process which needs a lot of attention and work from both sides. Some romantic set phrases like "opposites attract" or "never go to bed angry" might implement well ¡ท the business world (Stubenvoll, 2015), but ¡ท general there are some indisputable characteristics which need to be determined ¡ท every commitment of any kind, like equality.
1.2 About equality
When it comes to a business partnership there ¡ร often the question if a 50/50 ownership ¡ร the right way for a startup.
"Whether you have two, three, four co-founders or even more, I believe you should very rarely have equal ownership of a company across founders." (Gascoigne, 2012)
This clearly depends on the partition of responsibility, financial stakes and energy each co-founder ¡ร willing to bring to the table. เท some cases it makes more sense to go with a 70/30 ownership or a 60/40 model.
No matter if a company ownership ¡ร built on friendship or professional skills, if a business partnership will apply a 50/50 ownership then founder roles are key to lead a company together.
It ¡ร essential to define roles and responsibilities ¡ท order to avoid misunderstandings about who ¡ร ¡ท charge of what and who ¡ร leading certain tasks or ¡ท certain situations like client meetings.
"Make sure you have a very clearly established governance structure. None of this, 'we're co-founders, we just work well together. So we're co-CEO's' BS. Pick a leader. Have a clear path to resolving conflicts if they arise. " (Suster, 2011)
Even if it ¡ร wise to build up a business together right from the start ¡ร something Joel Gascoigne (2012) would answer with a "No". The way he sees it ¡ร that it ¡ร better to learn as most as someone can by himself and then find the perfect match, act as if you will never have a co-founder. (Gascoigne, 2012)
Through starting like this there will be the challenge to learn the parts which do not come naturally. Afterwards it makes it easier to classify someone else's work and also it can be a better motivation to convince others of an idea by showing them a very basic prototype instead of having them listening to a pitch. (Gascoigne, 2012)
เท general there are two different options when building a startup: one ¡ร only to hire people for certain jobs but to stay the only owner of the company and the other one ¡ร to look out for the better half and then jump into it together.
Despite that there are a lot of sceptical considerations about shared ownerships, there are at least as many things on the plus side.
"As challenging as different viewpoints can be, these differences เท viewpoints are the reason why cofounders often work out better than solo founders. " (Halim, 2016)
To make a note here: while it ¡ร necessary ¡ท a good working business partnership to share the same mindset, meaning to share the same ideals, the same goals and the same priorities, it ¡ร of equal value to have different viewpoints. More viewpoints imply that two co-founders think of different problems and also of different ways to solve these problems.
Two approaches raise the chances of conquering a challenge. Also a good discussion about each partner's point of view can open both minds for new perspectives.
A study ¡ท 2004 put out by the National Federation of Independent Businesses, found that 27 percent of the privately held small businesses they interviewed had two owners. (Tahmincioglu, 2015)
Michael Episcope (2016) ¡ร convinced of the possible success of co-founders and therefore believes that some of the main reasons his professional partnership survived are an equal financial risk and an equal amount of workload. Only under these circumstances both co-founders could feel equally respected. Another fact that ¡ท Episcope's eyes lead to their success was that they were friends from the beginning.
1.3 The friend zone
As I touched this topic ¡ท my introduction I do think that it ¡ร great to work together with a friend, someone that knows you well, as long as this ¡ร not the only thing which ¡ร the reason for the collaboration.
"John D. Rockefeller once said that 'a friendship founded on business is a good deal better than a business founded on friendship.'" (Tahmincioglu, 2015)
To look for a business partner who brings something different to the table than you do can be a lot more helpful ¡ท the end than getting along quite well because of shared interests and therefore the same skills.
"'If they're similar to you, it might be more comfortable, but it may not be what you need,' says William M. Moore, founder of the Moore Firm in San Diego." (Girard, 2013)
เท some cases friendship can even endanger the company, because there ¡ร a lot of potential for emotional conflicts. Also there ¡ร no assurance that only if a person ¡ร a good friend and fun to hang out with, he or she will have the right workflow. To choose a friend as a business partner can include the risk of blind-love syndrome, so it ¡ร never a good indication to rely on chemistry. (Gomes-Cassere, 2015)
"'It's a natural human affinity and I've seen it over and over again,' said Brian Tracy an entrepreneurship and sales consultant, 'If you like a person you say 'let's go into business together.' Man is a social animal after all, but such partnerships are fraught with danger.'" (Tahmincioglu, 2015)
1.4 Finding the right one
A good cause for teaming up with a friend can be that it ¡ร the most obvious solution to look for a bus ¡ness partner ¡ท your own environment.
Martin Zwilling (2016) thinks that "two heads are always better than one in a startup.
Both need to share the passion, long-term opportunity and risk, rather than just getting paid to do a job, win or lose. Investors worry about a single entrepreneur getting overloaded, disabled or led astray, with no balancing and supporting partner.
The challenge is how to find that elusive perfect-fit partner. "
It ¡ร also recommended to look for the right person the same way a lot of people find love these days - with the help of online platforms.
"... don't be afraid to join and explore sites such as StartupWeekend, StartupAgents and CoFoundersLab. Also start a discussion on the wealth of business blogs frequented by entrepreneurs, where you can make your Interests known. " (Zwilling, 2016)
Sherrie Campbell (2015) summarizes the most important ingredients to build a business together like this:
"เท successful partnerships, there is an unceasing commitment to equality, diversity and flexibility. Each member leads by example, has a sense of personal freedom and an undying commitment to the goals at hand. Collaboration is built upon open and honest communication, direct and consistent interaction and the personal time to think things through.
Each person understands their role เท the relationship dynamic and what each must do to be successful. Each member is fully supported and encouraged by the partnership to fulfil/ all of their individual and collective goals. เท this way a successful partnership Is made up of strong individuals being supported เท a collaborative and collective relationship dynamic where all are striving towards shared success. "
Unfortunately there ¡ร not the one and only manual how to find the best co-founder for a startup business.
Furthermore it ¡ร proven that leaders can transform ¡ท terms of their philosophy of leading depending on their own voyage of personal understanding and development.
(Rooke and Torbert, 2005)
Within these transformations the whole partnership can be strengthened or concussed, it ¡ร all up to the individual personalities and how they match.
It often helps to get inspired by some ideals which worked out for many different reasons or maybe they all worked out for exactly the same ones ¡ท the end.
This brings me to the last piece of advice I would like to mention here before continuing with some famous (infamous) examples: Once you have found the perfect partner and you defined all the rules and the principles of your professional partnership you should never forget to praise yourselves as co-founders and your achievements.
"Celebrate your successes. Many business people anguish over the deal they lost but don't celebrate small victories that help build a successful partnership." (Wroblewski, 2016)
Chapter 2 - Once Upon A Time Fairy-tale-like Success Stories
"Not all entrepreneurs need co-founders, but many successful companies - including Apple, eBay, and Twitter - were built by multiple leaders with productive relationships. " (Shontell, 2010)
เท this chapter I will summarize three of the best known examples of business partnerships as inspirations, but also to see if there are parallels regarding their principles to the companies I will interview.
It ¡ร important to underline that ¡ท these cases their well known stories are not always fairy-tale-1 ike ¡ท the meaning of having a happy end.
For some of them the publicity of their relationship was better for the marketing than for the existence of their company.
Even if there was no happy end regarding their personal relation, the brand still turned out to be a big success which at least ¡ร one kind of a happy end.
2.1 Google
Headquarter: Menlo Park, California Founders: Larry Page and Sergey Brin 1996 two young computer science students from Stanford University developed a search engine with the original name BackRub. (Google, 2016)
If one considers the outcoming it was not a dream start - as they remembered ¡ท an interview published recently:
"Despite their common Interests, Brin and Page didn't immediately hit It off— เท fact, their first day together was spent arguing.
Page later told Wired magazine, 'I thought [Sergey] was pretty obnoxious. He had really strong opinions about things, and I guess I did, too."' (Kettler, 2014)
It turned out that their like-minded personalities could make things difficult and that their similar characters were the reason that it did not work out as well ¡ท the beginning.
It has been told that during a campus tour for doctoral students where Brin was Page's guide the two argued the whole time.
Aside from their disagreements, the two found themselves working on a research project together. Their paper, The Anatomy of a Large-Scale Hypertextual Web Search Engine, should become the basis for Google. (Shontell, 2010)
For various reasons they could not sell their technology and therefore Brin and Page started their own company. By that time they agreed that the name "Backrub" had to go.
(Kettler, 2014)
"After considering calling their site The Whatbox,' inspiration was found in the word googol (the term for a number with one hundred zeros). " (Kettler, 2014)
"Sergey and Larry have similar technology backgrounds; they fell in love with computers at an early age and had university professors for parents. They bonded over their passion for data mining and grew to have similar visions for their company. " (Shontell, 2010)
It shows that those similarities which provided some trouble at first were also what united the two computer scientists. Even though they argued a lot it did not stop them from becoming not only business partners but also very close friends. Unfortunately the risk of mixing up private and business life led to a big crack between Brin and Page ¡ท 2014.
"Larry Page stopped talking to co-founder and long-time friend Sergey Brin after his affair with Google Glass marketer Amanda Rosenberg emerged, friends have revealed." (Reporter, 2014)
This break of silence did not last long though and even if there ¡ร no current update about their friendship situation both obviously stayed co-founders to this day.
เท an interview with Vinod Khosla (2014) Sergey Brin says: "I think if you get to know somebody over a long period of time - we're working together for so long, and we are committed to doing that. You don't get agitated about one little thing or another. We work through it.
Also, generally, we've gotten to think remarkably alike, which scares some people around US. "
If it ¡ร better to be ¡ท a business partnership where both co-founders think alike or where they mostly discuss different viewpoints ¡ร one of the main aspects I will try to analyze during this project. One hypothesis ¡ร that it ¡ร essential to have the same mindset ¡ท terms of core values but to think diverse when it comes to daily challenges.
One other aspect ¡ร the always controversial topic about getting into business with a friend.
เท the case of Larry Page and Sergey Brin their private as well as their business relationship started at the same point and developed ¡ท parallel.
2.2 Apple
Headquarter: Cupertino, California
Founders: Steve Jobs and Steve Wozniak (and Ronald Wayne)
"Steve Wozniak and Steve Jobs founded Apple Computer ¡ท 1976. Between Wozniak'ร technical ability and Jobs's mesmerizing energy, they were a powerful team. " (Livingston, 2011)
Most people automatically think of Steve Jobs when it comes to Apple, but this company also came into existence out of a business partnership which was a mix of hard work and friendship.
"We started out by comparing pranks we'd done and talking about different types of electronics and chips. We both had a lot of similar experiences so we had a lot to talk about. Then we became best friends for so long. There weren't that many people that young that knew technology. Steve and I weren't similar personalities, which was strange, but I'm the sort of person that goes along with anyone that wants to talk technology. " (Wozniak, 2011)
Although they had the same interest ¡ท technology not only were their personalities different but also their skills. Both found their roles quite naturally and as Steve Jobs ¡ร known for his business acumen until today, it was Steve Wozniak who was the technical genius behind Apple.
"We actually never talked about it even once. If there was any engineering to do, hardware or software, I did it because Steve could do stuff, but he couldn't do it as well as I. So never once did he even try. Never did he look at a circuit and suggest anything. I don't want to mess around running a company - my whole life's engineering - so he's on the phone talking to reporters, talking to stores, 'Do you want US to ship you some computers, do you want to start buying them?' Talking to the dealers on the parts, ordering the parts, negotiating process, getting brochures made up or ads for magazines. " (Wozniak, 2011)
Another interesting fact about the company's history ¡ร that there were not two but three founders ¡ท the beginning. Ronald Wayne became famous for missing out a fortune since he helped to start the company but then walked away after only 12 days.
Originally Wayne played an important role ¡ท the "founder triangle", he was very talented ¡ท negotiating between Jobs and Wozniak and he also was the one who designed the Apple logo. "Slicing up the Apple p/e was straight-forward: Jobs and Wozniak got 45% each, and Wayne had 10%, and a remit to be the voice of reason in any disputes. " (Lee, 2016)
When Jobs had secured Apple's first big order the deal seemed too risky for Wayne, he explained ¡ท an interview with Dave Lee for the BBC:"Jobs and Wozniak didn't have two nickels to rub together. I had a house, and a bank account, and a car... I was reachable! " (Wayne, 2016)
He resigned from their contract and was given 1.500 USD ¡ท return. (Lee, 2016)
Today, 10% of Apple ¡ร worth an estimated 62 billion USD. (Goldman, 2016)
Wozniak and Jobs continued building their enterprise together and their friendship as well as their business partnership stayed strong until Steve Wozniak decided to pursue a more engineering-focused role elsewhere and to leave his managing responsibilities at Apple in 1985, selling most of his stock. (Stone, 2015)
2.3 YouTube
Headquarter: San Bruno, California
Founders: Chad Hurley, Steve Chen and Jawed Karim
"Three former Paypal employees, had spent months wondering why it was so hard to find or swap online videos - so they decided to develop their video-sharing site. YouTube launched in February 2005. So phenomenal was its growth that it was sold to Google for 1.65 billion USD 20 months later. " (The Guardian, 2011)
While this ¡ร one version of YouTube's evolutionary history it ¡ร also said that Jawed Karim suffered a similar experience like Ronald Wayne from Apple - he ¡ร not quite known as a founder.
"If he's mentioned at all, Karim is cast in a bit part, ending when he assumed an advisory role after leaving YouTube last year for graduate computer studies at Stanford. " (Klimek, 2006)
Some other famous examples of companies proof that it sometimes happens that a person gets left out due to the interest of the press:
"Other entrepreneurs lost their place in history, too, says James Hoopes, a business history professor at Babson College near Boston. Historians and journalists "like to write about personalities," so they often focus on individuals, brushing aside other co-founders. Popular wisdom, for example, says Bill Gates and Sam Walton single-handedly started Microsoft and Wal-Mart, respectively, but they were co-founders." (Klimek, 2006)
เท the case of YouTube there ¡ร some tension now between Karim and the two other founders who are more famous only because he went back to University. (Cloud, 2006)
Karim always points out that "the seed idea of video sharing was his - although he is quick to say its realization in YouTube required 'the equal efforts of all three of US.'" (Cloud, 2006)
"The three agreed within a few days in February, then divided work based on skills: Hurley designed the site's interface and logo. Chen and Karim split technical duties making the site work. They later divided management responsibilities, based on strengths and interests:
Hurley became CEO; Chen, chief technology officer. " (Klimek, 2006)
While the three young entrepreneurs met and started sharing ideas for a business together as co-workers it seems like a divided relationship today. Hurley and Chen who are responsible for most of YouTube's development including the deal with Coogle (Cloud, 2006) seem to get along quite well, Karim took a back seat and it ¡ร unclear how long their business partnership would have worked if YouTube was not sold to Google.
This example clearly shows how strongly different goals affect relationships, professionally as well as personally.
[...]