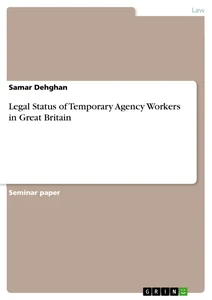 Legal Status of Temporary Agency Workers in Great Britain
Hausarbeit 2011 14 Seiten
Leseprobe
Contents
INTRODUCTION
THE POSITION BEFORE JAMES
JAMES V LONDON BOROUGH OF GREENWICH
POST JAMES
Shift in Principle
Policy Issues
RESOLUTION OF LEGAL STATUS?
CONCLUSION
BIBLIOGRAPHY
INTRODUCTION
The relatively recent case of James v London Borough of Greenwich [1] has shaped English employment law surrounding the legal status of temporary agency workers. In recent years, there has been a shift in the attitudes surrounding the employment status of agency workers by the both the judiciary and Parliament.[2] This paper is aimed at critically assessing the implications of James in order to determine whether the current position benefits both the private recruitment industry and individuals who value flexibility in their working arrangements. This will be outlined only after a brief, but concise, summary of the legal position prior to the decision in James.
THE POSITION BEFORE JAMES
Academic literature and studies have repeatedly shown the weakness in the agency labour system in the UK.[3] The fact that agency workers are not treated the same as permanent workers, and have been excluded from the employment law provisions, has been of wide concern.[4] It had typically been a struggle for agency workers to convince the courts that they were employees, due to the trilateral nature of their working relationships.[5] Being classified as 'employees', as defined by section 230 of the Employment Rights Act (ERA) 1996, would enable them to benefit from a number of statutory rights and remedies.[6] Such recognition was first accorded in Wickens v Champion Employment Agency[7] and since then, the issue of who bears the legal responsibility has been a highly debated one.
Traditionally, the courts went through a period of identifying the agency as the employer. This possibility was first demonstrated in McMeechan v Secretary of State for Employment [8]. However, it was short lived, as it was brought to an end in Montgomery v Johnson Underwood Ltd based on the agency's lack of control over the worker.[9] Yet, in exceptional cases, where control maintained by the agency is unusually high, an agency worker may argue that they are an employee of the agency.[10]
In 2001, there was a turn towards the notion that the agency worker is instead employed by the client. This arose as a option in the case of Motorola v Davidson [11]. Furthermore, it was suggested obiter in Franks v Reuters that a contract of employment could emerge between the agency worker and the end user from the conduct of the parties.[12] Similarly, in Dacas v Brook Street Bureau UK Ltd, Sedley LJ and Mummery LJ stated obiter that a duration of one year could lead to an implication of an employment contract between an agency worker and the client.[13]
Following this reasoning, the Court of Appeal upheld a decision in Cable & Wireless v Muscat where after a period of two years, an agency worker had become one of the client's permanent employees[14]. Thus, by 2007 it seemed to be a viable assumption that the consistent use of an agency worker could establish a contract of employment with the client.[15]
JAMES V LONDON BOROUGH OF GREENWICH
The claimant, Mrs. James, was an agency worker, who upon her return from a two month absence, was told that she had been replaced and was no longer required.[16] She brought a claim for unfair dismissal. Her claim was dismissed by both the Employment Tribunal and the EAT as she was held not to be an employee.[17] The case was then appealed and brought before the Court of Appeal.
There was much eagerness when the case was being decided, as it was anticipated to clarify the issue of legal status.[18] The leading speech was given by Mummery LJ, with whom Thomas LJ and Lloyd LJ were content to agree.[19] Before deciding the case, any uncertainties that were remaining in preceding cases were resolved. Dacas [20] was dismissed as an authority to show that a contract of employment would be implied between the client and the worker in a "tripartite agency situation" because it was accepted only as a possibility.[21]
Mummery LJ recognised that agency-provided workers will fall within the scope of the ERA 1996 in only two circumstances. Firstly, in certain situations where express arrangements exclusively purport to administer the rights and duties of the parties, an employment contract could be implied. In this case, as there were express contractual relationships between the agency and agency worker, and the agency and client, the need to imply the third part of the trilateral relationship between the worker and client was unnecessary.[22]
Secondly, a contract of employment will be implied only when necessary[23] ; hence, resorting back to common law principles, rather than relying on the concepts of control and mutuality.[24] For example, these principles will apply when exposing sham arrangements where both parties intended to misrepresent their relationship.[25] In effect, the circumstances in which a contract of employment can be implied has been severely limited as a result of this decision.
Mummery LJ upheld the decision of the tribunals[26], and dismissed the appeal.[27]
POST JAMES
Shift in Principle
The approach taken in James is a retreat from Dacas [28], and one which returned to the orthodox practice based upon common law principles.[29] There has been a complete shift in principle in the jurisprudence of the courts[30] ; but this change has not done anything to help resolve the current problem where many agency workers are left without a contract of employment, nor has their legal position been clarified.[31]
Thus, the present arrangement is that a lot of these workers are not considered employees.[32] It is quite challenging for them to establish an employment relationship with the client, as they are unable to show the degree of necessity required (James [33] ); and also very unlikely that they can argue the existence of such a relationship with the agency, as the mutuality or control present is not sufficient enough (Dacas [34] ).[35]
Hence, it comes as no surprise that in RSA Consulting Ltd v Evans, the Court of Appeal assured that an 'implied contract' of employment was unlikely.[36] Similarly, in Muschett v HM Prison Service, Rimer LJ felt compelled by James to hold that the agency worker had no employment status, since a contract of employment could not be implied with the end-user because it was unnecessary.[37]
[...]
---
[1] [2008] IRLR 302.
[2] Patricia Leighton & Michael Wynn, 'Temporary Agency Working: Is the Law on the Turn?' Company Lawyer, 29 (2008), 7-15, at 7.
[3] Chris Forde and Gary Slater, 'Agency Working in Britain: Character, Consequences and Regulation', British Journal of Industrial Relations, 43 (2005), 249-271.
[4] Werner Nienhuser and Wenzel Matiaske, 'Effects of the 'Principle of Non-discrimination' on Temporary Agency Work: Compensation and Working Conditions of Temporary Agency Workers in 15 European Countries', Industrial Relations Journal, 37 (2006), 64-77, at 75.
[5] Edward Brown, 'Protecting Agency Workers: Implied Contract or Legislation?' Industrial Law Journal, 37 (2008), 178-187, at 179.
[6] Deirdre McCann, Regulating Flexible Work (New York: OUP, 2008), at 146.
[7] [1984] ICR 365 (EAT).
[8] [1997] IRLR 353 (CA).
[9] [2001] IRLR 269 (CA), at para 41 (Mr Justice Buckley).
[10] See Augustin v Total Quality Staff Ltd (UKEAT/0343/07/DA).
[11] [2001] IRLR 4 (EAT).
[12] [2003] IRLR 423, at para 21 (Mummery, LJ).
[13] [2004] IRLR 358, at para 68 (Mummery LJ) and 77 (Sedley LJ).
[14] [2006] IRLR 355 (CA).
[15] Gwyneth Pitt, Employment Law, (6th edn, London: Sweet & Maxwell, 2007), at para 3-014.
[16] James, [Abbildung in dieser Leseprobe nicht enthalten] 1 above.
[17] Ibid.
[18] Nicola O'Neill, '"Temp" to "Employee"', Company Secretary's Review, 1(2008), 1-2, at 1.
[19] James, [Abbildung in dieser Leseprobe nicht enthalten] 1 above, at para 62 and 65.
[20] Dacas, n 13 above.
[21] James, [Abbildung in dieser Leseprobe nicht enthalten] 1 above, at para 47 (Mummery LJ).
[22] Ibid, at para 41 (Mummery LJ).
[23] Ibid, at para 43 (Mummery LJ); the requirements of necessity are outlined in The Aramis [1989] 1 Lloyd's Rep 213.
[24] Michael Wynn, 'End of the line for temps?' The New Law Journal, 158(2008), 352-353, at 353.
[25] James, [Abbildung in dieser Leseprobe nicht enthalten] 1 above, at para 51 (Mummery LJ); Sham definition drawn by Consistent Group Ltd v Kalwak [2008] IRLR 505.
[26] Ibid, at para 44-45 (Mummery LJ).
[27] Ibid, at para 53 (Mummery LJ).
[28] Dacas, n 13 above.
[29] Michael Wynn and Patricia Leighton, 'Agency Workers, Employment Rights and the Ebb and Flow of Freedom of Contract', The Modern Law Review, 72(2009), 91-102, at 92.
[30] Michael Wynn, [Abbildung in dieser Leseprobe nicht enthalten] 24 above, at 353.
[31] Michael Wynn and Patricia Leighton, [Abbildung in dieser Leseprobe nicht enthalten] 29 above, at 102.
[32] Michael Wynn, [Abbildung in dieser Leseprobe nicht enthalten] 24 above, at 353.
[33] James, [Abbildung in dieser Leseprobe nicht enthalten] 1 above.
[34] Dacas, [Abbildung in dieser Leseprobe nicht enthalten] 13 above.
[35] Simon Deakin and Gillian Morris, Labour Law, (5th edn, Portland: Hart Publishing, 2009), at 155.
[36] [2010] EWCA Civ 866, at para 32.
[37] [2010] EWCA Civ 25, at para 38.
Details
Seiten

14

Jahr

2011

ISBN (eBook)

9783668496712

ISBN (Buch)

9783668496729

Dateigröße

563 KB

Sprache

Englisch

Katalognummer

v371879

Institution / Hochschule

University of Manchester – School of Law

Note

A

Schlagworte