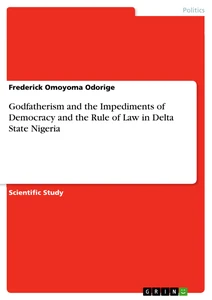 Godfatherism and the Impediments of Democracy and the Rule of Law in Delta State Nigeria
Wissenschaftliche Studie 2017 23 Seiten
Zusammenfassung
In the developing world of Africa, transition of a group of people into the class of political elites is mostly facilitated by a 'godfather' (a prominent member of the elite class) or a network of godfathers. Both the sub-elite and non-elite could be recruited into the political elite class when they agree to meet the strident conditions for such a recruitment exercise.

The godfather is a self-seeking enigma with material frame of opulence, affluence and influence mixed with ruthless decisiveness. Political godfathers use their influence to block others from being relevant participants in the politics of the society through their wealth and power. Godfathers are political gatekeepers that determine the entrants. He or she is the impervious guardian figure that manipulates the political landscape by dictating and providing the lifeline and navigational direction to the godson or goddaughter who in turn, surrender to reciprocate with a service of total submission, subservience and provisions to the oracular personality with less priority concern to the citizens.

In the course of reaching a conclusion, this paper sets out to historicize on the trajectories of the democratic and human conflicts that emanates from Godfatherism in Delta state of Nigeria with related references to other parts of the country; to examine the causative factors orchestrating the phenomenon of Godfatherism in the state; to specifically ascertain some selected incidences of Godfatherism in the electoral processes in Delta state within a specified period; to identify the implications of the prevalence of godfatherism in the developmental process of Delta state; and to offer recommendations on practical ways to arrest the malaise of Godfatherism.