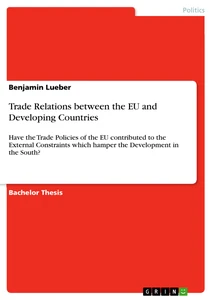 Zusammenfassung
The research question of this paper, first of all, necessitates an outline of the main tenets of the dependency theory.

Thus, the first sub-question will be: How does the dependency theory account for the underdevelopment in the South? The second research question provides a closer examination of the composition, the details and the evolution of trade policy between the EU and developing countries. Therefore, the second chapter will address the sub-question: How has trade policy and development cooperation of the EU with the developing country manifested itself, and what are the circumstances under which the trade regimes of the EC towards developing countries have come into existence?

Based on a better understanding of EU trade policy, the effect of EU trade on developing countries will subsequently be analyzed. The question that underlies the third chapter is: Have the trade policies of the EU contributed to the external constraints which hamper the development of developing countries?