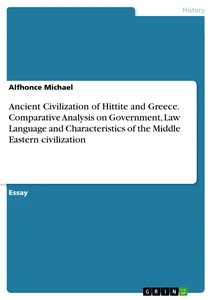 Ancient Civilization of Hittite and Greece. Comparative Analysis on Government, Law Language and Characteristics of the Middle Eastern civilization
Essay 2016 9 Seiten
Zusammenfassung
This paper deals with the civilization of the Greeks and the Hittites.

It considers all aspects of the civilizations but especially what we know of law, literature and government: How do they compare? How are they different?

It lists some of the people who exemplify those characteristics of the civilization and how did they do so. Why does that person matter?
Details
Seiten

9

Jahr

2016

ISBN (Buch)

9783668530850

Dateigröße

438 KB

Sprache

Englisch

Katalognummer

v373284

Institution / Hochschule

Kenyatta University

Note

79.1

Schlagworte