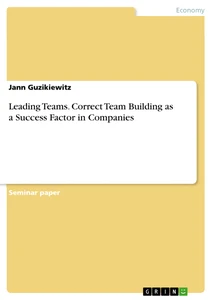 Leading Teams. Correct Team Building as a Success Factor in Companies
Seminararbeit 2016 37 Seiten
Zusammenfassung
The paper provides a general definition for the terms "team" and "leadership", followed by an analysis of how to lead teams effectively. By identifying team dynamics, the different types of teams are explained by using Belbin's team roles and the dysfunctions of a team. The meaning of leadership is reconsidered in this context. The role of a leader is analysed along with different leadership styles. An example of a team at ABC working against the corporate strategy is examined, ABC's strategic direction and export team described, and the current team structure and dynamics analysed. A GAP-Analysis is made, leading to recommendations of action.

Today's organisations are facing the challenges of the 21st century. Globalisation as well as a radical transformation in structure, resources, and expertise is increasing the level of competition in industry. One of the effects is that many successful companies have changed their organisation structure from a functional matrix and to a dynamic, team-orientated system. Thus, teams are key elements of organisations' business results by becoming performance and learning centres.

Teams are more than just a group of people working together. It is about the dynamics in the team. These team dynamics are responsible for a team's success or failure. Today's teams are more diverse, geographically dispersed, digital and dynamic than ever before. The management of teams is the critical success factor for organisations and has become a complex challenge for all team leaders. It is necessary to strenghten skillsleading to an understanding of team dynamics and to the ability to identify potentials and synergies as well as risks and weaknesses of teamwork within the own organisation. To generate future competitive advantages and sustainable growth companies need to build high-performing teams that align all members to work towards a common goal and maintaining the strategic direction of the company.

Therefore, this paper will examine team dynamics. It will analyse how organisations and team leaders can build teams that work towards a common goal, in accordance with the organisational strategy.
Details
Seiten

37

Jahr

2016

ISBN (eBook)

9783668526822

ISBN (Buch)

9783668526839

Dateigröße

1.3 MB

Sprache

Englisch

Katalognummer

v375255

Institution / Hochschule

Buckinghamshire New University

Note

1,3

Schlagworte