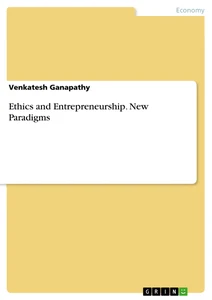 Ethics and Entrepreneurship. New Paradigms
Fachbuch 2017 50 Seiten
Zusammenfassung
Ethics is the systematic study of rightness and wrongness of human conduct and character as known by natural reason. Ethics can be defined as the critical, structured examination of how people and institutions should behave in the world of commerce. In particular, it involves examining appropriate constraints on the pursuit of self-interest, or (for firms) profits, when the actions of individuals or firms affects others.

Entrepreneurship is the act of being an entrepreneur, which can be defined as one who undertakes innovations, finance and business acumen in an effort to transform innovations into economic goods. This may result in new organizations or may be part of revitalizing mature organizations in response to a perceived opportunity. The most obvious form of entrepreneurship is that of starting new businesses. However, in recent years the term has been extended to include social and political forms of entrepreneurial activity. When entrepreneurship is describing activities within a firm or large organization it is referred to as Intrapreneurship and may include corporate venturing when large entities spin-off organizations.

Those two aspects are here brought together to an "Ethical Entrepreneurship" - discussing the role of entrepreneurial development, ethical challenges in entrepreneurship, theories of entrepreuneurship et al.. The paper comes to focus on challenges faced by women entrepreneurs in India and women entrepreneurs forging ahead with startups.
Details
Seiten

50

Jahr

2017

ISBN (Buch)

9783668533691

Dateigröße

992 KB

Sprache

Englisch

Katalognummer

v375939

Note

1.00

Schlagworte