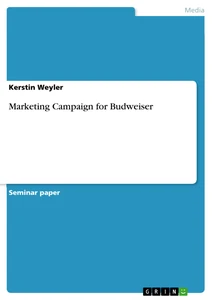 Leseprobe
Table of contents
I. Introduction
II. Situation Analysis
1. Historical Background of Anheuser-Busch
2. Sector and Size
3. Brands
4. Services
5. Competitors
5.1 Market Share of the Top 3 Brewers in the United States
5.2 Market share of the four Budweiser brands
III. Marketing Analysis
1. Customer Analysis
1.1 Customer Profile
1.2 Customer Buying Behaviour
2. Marketing Environment
2.1 Social Forces
2.2 Technological Forces
2.3 Economical Forces
2.4 Political Forces
3. Marketing plan
3.1 Mission Statement & Marketing objectives
3.2 Marketing Strategy
4. The four P´s
4.1 Product
4.1.1 Product Life Cycle
4.1.2 Packaging & Corporate Identity
4.1.3 Branding
4.2 Price
4.3 Place & Distribution
4.4 Promotion mix
4.4.1 Advertising
4.4.2 Public Relations & Sponsorship
4.4.3 Personal selling
4.4.4 Sales promotion
IV. Recommendations
1. Product Portfolio & Objectives
2. Communication to Retailers
3. Communication to Customers
4. Further recommendations
5. Evaluation
V. Appendix
1. Historical background of Beer; Ingredients
Bud Ice
Calories
2. Prices
3. Market share
3.1 Market Share in the US Market of Premium Regulars
3.2 Market share of Premium Light Beers in the United States
3.3 Market share of Premium Ice Beers in the United States
3.4 Market share of Premium Ice Light Beers in the United States
3.5 Top Ten international Brewers
4. Definitions
4.1 Promotion
4.2 Advertising
4.3 Sponsorship
4.4 Public Relations
VI. Bibliography
1. Primary Literature
2. Secondary Literature
I. Introduction
One of the reasons for choosing to analyse the company Anheuser-Busch with its brand family Budweiser lies in the fact that every group member already had experience in writing reports about relatively "small" (European) companies and therefore preferred analysing the largest beer brewer in the world.
The group consisted of 5 people from different countries (Sweden, Austria, Germany and Holland) who came to England with the European Erasmus programme.
The work as a team has been helpful and challenging, in fact the cultural differences have helped providing the group with different point of views and interesting information from the own background.
The report contains the following key-points in order to give a comprehensible structure and consequently a good analysis of the company Budweiser:
- Situation Analysis
- Marketing Analysis
- Recommendations
The situation analysis gives an internal and external view of the chosen company and provides the reader with a general knowledge to understand the marketing analysis and the following recommendations.
As the language knowledge might not be at the same level of other English students the group members excuse themselves and hope that the ideas will nevertheless be understandable.
II. Situation Analysis
1. Historical Background of Anheuser-Busch
In 1860 Eberhard Anheuser (1805-1880) acquired Bavarian Brewery and renamed it "Anheuser Busch & Co. Bavarian Brewery".
Adolphus Busch (1839-1913) began working in the company for his father in law as a salesman and manager, becoming a full partner in 1869 and president after E. Anheuser´s death in 1880.
He is considered to be the founder of the company, as he was the driving force who transformed the local brewery into an industry giant through the application of modern technology and marketing. He was the first U.S. brewer to use pasteurisation, artificial refrigeration and refrigerated railcars as well as the first to bottle beer extensively. Technological innovations allowed him to produce higher-quality beer more efficiently and to market it throughout the country.
In 1876 Busch introduced Budweiser, America's first national beer brand. Today Budweiser is the world's best-selling beer brand.
August A. Busch Sr. (1865-1934) and Adolphus Busch III (1891-1946) led the brewery through World War I, Prohibition, the Great Depression and World War II.
In 1919, 37 states ratified the prohibition amendment for beer which was only relegalized in 1933. During this period August Sr. introduced new products, including soft drinks, ice cream, baker's yeast, refrigerated cabinets, auto and truck bodies.
Under August III´s guidance the company introduced many new beer brands, acquired SeaWorld and made Anheuser-Busch one of the largest theme-park operators in the nation. The company opened new can manufacturing and malt production facilities. It also moved into the international beer marketplace.
2. Sector and Size
The company is the world's largest brewer, with 9% market share. It operates 14 breweries (12 in the US and 2 overseas) and sells beer in more than 80 countries. In the United States Anheuser-Busch commands a more than 45% market share. As to December 1999 the company had 23.645 full-time employees. In 1999 Anheuser-Busch sold about 100 million barrels of beer worldwide.
3. Brands
The Anheuser-Busch company produces the following brands:
- Budweiser Family (Budweiser, Budweiser Light, Bud Ice, Bud Ice Light)
- Michelob Family (Michelob, Michelob Light, Michelob Dry, Michelob Classic Dark, Michelob Golden Draft, Michelob Golden Draft Light),
- Speciality Brews (Michelob Amber Bock, Michelob Hefe Wizen, Michelob Pale Ale, Michelob Honey Lager, Red Wolf, Michelob Winter, Brew Spiced Ale, Redhook Brands, Tequiza, Catalina Blond, Widmer Brands, Pacific)
- Nonalcohol Brews (O´Doul´s, O´Doul´s Amber, Busch NA)
- Busch Family (Busch, Busch Light, Busch Ice)
- Natural Family (Natural Light, Natural Ice)
- Malt Liquors (Michelob Malt, King Cobra, Hurricane Ice, Hurricane Malt Liquor)
- Imports (Rio Cristal, Kirin, Azteca)
4. Services
Besides the products Anheuser-Busch is involved in the following services/actions:
- recycling of aluminium beverage containers
- malt production, rice milling, real estate development, creative services, metalized and paper label printing, railcar repair and transportation services
- entertainment theme parks in the United States
- waste reduction, conservation, recycling and animal protection.
5. Competitors
Anheuser Busch, the producer of Budweiser beer, has Miller Beer and Coors as main competitors in the United States.
All these competitors produce the same brands, as for example "Premium Regulars", "Light Beer", "Ice Beer" or "Ice Light Beer".
5.1 Market Share of the Top 3 Brewers in the United States
The Anheuser-Busch Brewery, has a market share of 47,5% (including all their brands Budweiser, Busch Beer, Michelob and Tequiza) which is twice that of the nearest competitor Miller Beer. Miller Beer, owned by Philip Morris Inc., reaches a market share of 22.1% with all their beer brands. Coors, the smallest beer brewer of these big three, reaches a market share of 10.7% in the US market.
Details can be seen in the following graphic[1]:
Abbildung in dieser Leseprobe nicht enthalten
Anheuser-Busch is the international market leader with an international market share of 9%, followed by Heineken with 5.5% and Miller with 3.9%. (graphic p.19)
5.2 Market share of the four Budweiser brands
- Budweiser: has a market share of 70.1%, which is 6 times as much as the nearest competitor Miller with its brand "Miller Genuine Draft". (graphic p.18)
- Budweiser Light: has a market share of 43.6% in 1999, followed by "Miller Lite" with 25% and by "Coors Light" with 24.2% (graphic p.18)
- Bud Ice: Bud Ice is the market leader with a market share of 38%, followed by the major competitors Miller Ice (25%) and Coors Ice (18%). (graphic p.19)
- Bud Ice Light: has a market share of 21% (graphic p.19)
III. Marketing Analysis
1. Customer Analysis
1.1 Customer Profile
- Budweiser: Budweiser has a large range of customers in age, gender and income. The biggest group is represented by the 21-27 year-old, which account for 26% of beer sales. This group mainly consists of men and is still growing. Budweiser is trying to ditch the 'laddish' stereotype in favour of a more unisex appeal, as one in six lager drinkers is a woman. This is reflected in recent advertising campaigns, where Budweiser has toned down its blue collar, all-American male image.
- Bud Light: Bud Light is targeted at 21 to 30 year old people
- Bud Ice and Bud Ice Light: are targeted at the "contemporary adult" in the age of 21 to 34 years.
1.2 Customer Buying Behaviour
The Budweiser customer uses a "routine response behaviour" when buying the product as beer is a low cost, low risk item that requires very little search and decision effort[2].
The tendency of demand towards special beers has resulted in the introduction of Bud Ice and Bud Ice Light which answers to the demand of drinks with less alcohol.
As women drinkers prefer a more manageable pack size, smaller bottles (25 cl) are produced.
People from 21-37 form their brand loyalty during their first period of beer purchase. Budweiser has to address them correctly in order to attach them to the brand.
2. Marketing Environment
The environmental forces that affect the business of Budweiser can be described with the aid of the 'STEP'-model[3]:
2.1 Social Forces
- Demographic trends: the target group of Budweiser (21-27 year old) is growing and should increase throughout the next decade, which contributes to a growing industry.[4]
- Status: people want more than just the bare necessities; they want the highest standard of living possible, the want luxury.
- Lifestyles and Habits: people want to have fun and to enjoy their leisure time with friends. The company fulfils this need by founding new brands (Bud Ice, Bud Ice Light) and entertainment parks in order to "adding to life's enjoyment".
- Norms and values: 1982 there were 18.444 drunk-driving crashes. The company successfully supported the law by developing a campaign against drunk-driving called "Responsible drinking". In 1998 the crashes lowered of 41% to only 10.959[5].
2.2 Technological Forces
- innovation: Since Anheuser-Busch is the biggest brewer in the world, they are seen as an example for other brewers in production processes and innovation. Anheuser-Busch started their own packaging group that supports the beer company, they introduced environmental friendly packaging and reduced waste. They focus on new developments in technology and on their possible effects on marketing activities.
2.3 Economical Forces
- General economic conditions: the changes in the economy have a broad impact on the success of organisations' marketing strategies. The growing trust in shares from the "old" economy is important for Budweiser, since they are well established in five stock exchanges around the world (New York, London, Frankfurt, Paris, Swiss) for a long time now. The introduction of the Euro will affect the Budweiser business. The company made appropriate arrangements with key financial institutions to ensure smooth handling of Euro receipts and it is Euro ready by 2001. The exact impact of the Euro on the European operations cannot be predicted at this moment[6].
- Buying power: As economies around the world are getting stronger, people are getting greater buying power and are willing to spend more money on luxury products as beer[7].
[...]
---
[1] Anheuser-Busch Companies. Adding to life's enjoyment. Annual Report 1999, p. 9
[2] Dibb, Sally; Simkin, Lyndon; Pride, William; Ferrell, O.C. (1994). Marketing. Concepts and Strategies. 2nd European Edition. Boston. Houghton Mifflin Company, pp.99-100
[3] Hutchings, Andy (1995). Marketing. A resource book. Pitman Publishing. London, p.19
[4] Anheuser Busch Companies (1999). Adding to life's enjoyment. Annual report 1999, p.1
[5] Anheuser-Busch (1999). We all make a difference. IN: Horizons Third Quarter 1999, pp.6
[6] Anheuser Busch Companies (1999) Adding to life's enjoyment. Annual report 1999, p.37
[7] http://www.ft.com (15.5.2000)