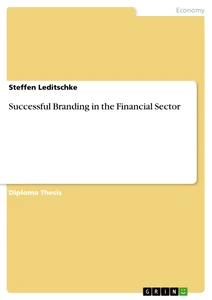 Successful Branding in the Financial Sector
Diplomarbeit 2004 104 Seiten
Leseprobe
Index of Contents
Index of Figures
Index of Tables
1 Basics
1.1 Why are Brands in Focus
1.2 Way of Analysis and Work Objectives
1.3 Basic Definitions
1.3.1 Brand
1.3.2 Branding
1.3.3 The Brand as a Concept
2 Marketing communication (MC)
2.1 Contents of Marketing Communication
2.2 Integrated Marketing Communication (IMC)
2.3 Attributes To Be Integrated
2.3.1 Employees
2.3.2 Customers and business partners
2.3.3 Databases
2.4 Corporate Communication
2.4.1 Components and Objectives
2.4.2 Corporate Branding
2.4.3 Corporate Banking
3 Building Strong Brands
3.1 Brand Identity versus Brand Image
3.1.1 Sending Out Brand Identity
3.1.2 Brand Image Perception
3.1.3 Brand Identity versus Brand Image
3.1.4 The Need for Differentiation
3.1.5 Tools for Building Strong Brands
3.1.5.1 The Differ Model
3.1.5.2 The Brand Identity System
3.1.5.3 Comparing Differ and The Brand Identity System
3.2 Brand Value
3.2.1 Brand Added Value
3.2.2 Defining Brand Equity
3.2.3 Measurement of Brand Valuation
3.3 Brand Loyalty
3.3.1 The Concept of Brand Loyalty
3.3.2 How to create Commitment
3.3.3 Building Brand Community
3.3.4 Loyalty in the Financial Sector
4 Services and Brands
4.1 Growing Importance of Services
4.2 Services Branding
4.2.1 Intangibility
4.2.2 The Inseparability of Production and Consumption
4.2.3 Heterogeneity
4.2.4 Perishability
4.3 The Positive 'Vicious Circle'
4.4 The Peculiarity of Financial Service Brands
4.5 Criteria for Successful Service Brands
4.5.1 Focused Position
4.5.2 The Importance of the Consistent Message
4.5.3 Creation of (New) Values
5 Analysis of Financial Suppliers
5.1 Daimler Chrysler Bank
5.2 Case Study - Postbank
5.3 Case Study – Citibank
6 Conclusion
7 Appendix
8 References
Eidesstattliche Erklärung
Index of Figures
Figure 1: Corporate Identity
Figure 2: Brand Identity versus Brand Image
Figure 3: Four Phases of Differentiation
Figure 4: Differ's ladder
Figure 5: What is a Strong Brand?
Figure 6: Progression of Economic Value
Figure 7: Customer Retention
Figure 8: Successful Services Management
Figure 9: High emotional value for customers of DaimlerChrysler Bank
Index of Tables
Table 1: Characteristics of Corporate Brands
Table 2: Name Recognition and Unique Image
Table 3: Brand Identity System
Table 4: Differences in Valuation between Interbrand and Semion Brand Broker
Table 5: Extract from Interbrand Top 100 from 2001 - 2004/ / /
Table 6: Relationship Banking versus Transaction Banking
1 Basics
1.1 Why are Brands in Focus
The commercial banking industry has undergone significant change in the past years. "Today, large commercial banks operate in a far more dynamic marketplace. The cost of funds fluctuates rapidly and there is increased competition from both inside and outside the traditional banking industry."[1] With growing competitiveness in the banking industry, and similarity of services offered by banks, it has become increasingly important that banks identify the factors that determine the basis upon which customers choose between providers of financial services. Aaker and Joachimsthaler state "in an increasingly crowded marketplace, fools will compete on price. Winners will find a way to create lasting value in the customer's mind."[2] But considering the national bank market many banks still do exactly this. They compete on price as the latest campaign of the 'Commerzbank' shows (3.1% p.a. until the end of February 2005). Although the last years proved that in times of rapid economic change many German banks are not protected. They experienced the decline of profits, the loss of customers towards new financial providers and reacted with closures of branches and the dismissal of thousands of employees. Then they stepped into the war on price advantages without realising that other banks, like the direct banks, strive to a position that allows cheaper banking. Additionally the image of the national bank representatives is actually influenced by discussion about unethical payment in the management boards and some managers were recently under suspect of agreeing to payments that for other managers who did not deserve it in consideration of the general public. The same customers that receive this news every day shall be the customers that trust the bank employees and do business with them. Modern consumers are even more critical and better informed before stepping into banks. By mass media and sources like the internet they are informed or even inform themselves so it is harder to satisfy them because their general knowledge about banking products is better than a few years ago. Besides they learned from their experiences made in the last years. Hence it is necessary to have a tool to be able to persuade and tie consumers in different ways than the price on the current account. The brand can and must fill this gap. Consumers still are human beings and have emotions that can be influenced. Branding here must be like a bridge that ties consumers and banks together. The objective must be to strengthen the relationship between bank brand and customer in order to make customers immune against some bad publicity.
Challenges confronting bank managers include developing: a capacity to meet and exceed the performance levels of sophisticated competitors, a customer-focussed marketing approach, an ability to manage numerous and often very diverse products and services, a capability to measure both market performance and product profitability, and initiative and entrepreneurial thinking within their organisations. In times of fast economic changes managers often are in a non-enviable position because they have to think of concepts to protect their companies against volatile markets. But theory and literature already deliver the ideas but it seems that only a few banks apply these concepts. One is the concept of creating a strong brand. MORI
(Market & Opinion Research International), one of the largest independent market research companies in Great Britain, conducted a survey among Directors from leading companies that confirms this assumption. 94% of them agree that the asset which offers the greatest protection during a downturn is a strong brand.[3]
The requirement for especially German banks is though to focus more on branding and apply theories that lead to success. The strategies until today do not have the success that has been expected by the persons in responsibility. This work therefore concentrates on the concept of the brand including several important attributes that are necessary to explain the idea of the strong brand. In each chapter the author relates certain examples of financial institutions to the branding discussion in order to show clearly the connection between branding and banking.
1.2 Way of Analysis and Work Objectives
This paper is subdivided into six chapters. In the first four chapters theories concerning branding and related topics are dealt with. In every chapter the author introduces several theoretical elements that can be applied to make financial brands more successful. The fifth chapter is an analysis of banks especially considering their branding activities. There is comparison between the in the theoretical chapters introduced elements and the practice in German banks.
The first part deals with the phenomenon brand and its increasing meaning, the set of difficulties and the objectives of this work as well as three basic definitions concerning the topic brand.
In the second chapter the author occupies with two concepts of communication. At first marketing communication is reflected and secondly the further development the integrated marketing communication approach and its ingredients will be introduced. The main emphasis in this chapter is put on the last section - the corporate communication issue. Here, all parts belonging to corporate communication are defined and distinguished to the other parts. The corporate branding section is in focus of the corporate communication topic and deals with the concerning difficulties and peculiarities of companies that act corporate. The following part corporate banking is occupied as an application of corporate strategies on the financial sector.
The third chapter is the main part of the work and divided in five subparts. In the first subpart the concepts of brand identity and brand image are introduced and defined. After this the author compares both concepts to make a distinction. The next part shows the need for differentiation in order to show the necessity of being distinguished in increased competitive markets. The next step deals with two models which can be used for companies as a help or support to build a strong brand. These models will be compared as well in order to find similarities in both approaches. The brand value section occupies with different terms related to value that all have different meanings although all terms anyhow carrying the word 'value'. The measurement of brand valuation shortly introduces two valuation concepts and gives a number of figures to outline different companies with different values and interprets the results. The brand loyalty part deals with the general definitions of loyalty concerning the branding literature. The next two subsections deal with the internal and external creation of commitment and the brand community idea - both reflecting parts of the entire loyalty concept. The last part goes deeply in loyalty figures and opinions especially concerning the financial sector and interprets them. The fourth chapter gives an overview of several aspects that evolved through the close analysis of services. A short introduction is followed by the explanation of typical services criteria that lead to the interpretation of a 'services cycle'. The next subpart outlines diverse service elements that especially concern financial institutions. The last section of the fourth chapter introduces three essential criteria that promise to become a successful service brand when correctly adjusted and applied to each specific company. This section ends up with the recommendation of new possible values for banks in general.
In the fifth chapter three bank brands are shortly introduced and then are analysed regarding several aspects in order to figure out if it is possible to confirm a successful financial branding strategy to the analysed institutions or if not what the reasons are.
The last chapter summarises the work and the findings, including a critical appreciation, as well as an author's evaluation how successful branding in the financial sector could look like.
1.3 Basic Definitions
In the following three subsections the author will define and distinguish between the brand, branding, and the brand as a concept in order to make clear that there are differences. In branding literature there are not always clear delimitations.
1.3.1 Brand
Concerning the brand or branding literature there is a wide variety of definitions for the term brand or better no clear unique definition. It's more a discussion and depends on the objective of the work behind. This paragraph will focus on similarities and differences in defining the brand to make clear what the term brand can mean.
Riezebos describes a brand as every sign that is capable of distinguishing the goods or services of a company.[4] The mentioned sign can be the name, a term, sounds or colours[5], a word, a logo, a form mark or the brand name, a symbol or the design or even the combination of all the mentioned things.[6] The brand shall identify the company or the product it stands for. Each of the mentioned terms has only the objective to symbolise the content of the brand. Jones describes a brand as a product that provides a functional benefit plus added values that some consumers value enough to buy.[7] But it is not enough to just mention the word product in order
to describe the term brand, because most companies offer more than only one product but nonetheless these companies are brands and do not only represent one of their offered products. Differ sees the brand as an individual total experience of a company or a product. It is the result of everything the individual is exposed to – that consumers choose to evaluate.[8] This definition focuses on the experiences that consumers come in mind thinking about brands and has a similar content as the description of Uggla who defines the brand as a "holistic entity, and not as a name or symbol add on the product."[9] Finally Ambler and Styles define a brand as the promise of the bundle of attributes that someone buys .the attributes that make up a brand may be real or illusory, rational or emotional, tangible or invisible.[10] So obviously there are almost as much definitions of the term brand as writers who defined it. Concluding the above used definitions brands are obviously differently interpreted in the literature but they all identify the "thing" they stand for. They should represent the branded objective. Therefore they must be clearly differentiated from other brands or competitors and the contents should be obvious and easy to understand for the target groups. Brands have a value for the branding company and the consumers that shall be influenced by the brand.
1.3.2 Branding
Branding diverted from the verb 'to brand something' is different from the noun brand. The main difference is that branding is an activity, the brand itself is not. "Branding refers to the act of engraving the identification of the sender into the product."[11] It includes the efforts behind the brand to differentiate products and companies. And "branding is more than giving a product, such as a current account, a name."[12] Nonetheless it is striking that branding and the brand are closely related to each other and not only linguistically. But even this close connection does not mean that they are the same. According to Kotler and Bliemel[13] it is a common mistake in the literature that they are used in the same context. This would include that branded articles are nothing else than 'marked' articles because any mark on any product would imply that the object is branded.
Branding came up with the industrial revolution in the nineteenth century through the use of individual brand names and the activities to distinguish them. By branding something you give meaning to anonymous products and you make them distinguishable[14] from other services that were replaceable before. Furthermore there is identification through branding. The recognition by a consumer is a necessary condition to make a branded article out of an 'unbranded' article. The meaning of differentiation will be explained more detailed in a section below. The main objective of the activity branding is referring to Pickton and Broderick to build economic value for both consumers and brand owners.[15] But all other stakeholders are naturally influenced as well. Subsuming branding-definitions Esch found a good explanation for branding by formulating: "Branding contains all efforts, which are suitable, to set an offer out off a number of the same kind of offers and to allow an unambiguous assignment to one certain brand."[16]
1.3.3 The Brand as a Concept
Originally a brand and a product were strongly related to each other. An invented product got a certain name and the brand was created. Due to this products and brands were complementary and the brand became the product-plus.[17] Recent developments made the brand more independent. So there is no strict association between single products and brands but more the brand as an idea that can be related for example to several products. So one could say older strategies in marketing brands were more product driven meanwhile more actual strategies tend to be more market driven.[18] This distinction between the old and the more modern approaches clarifies that a brand is more than only added to a product but a concept.[19] A simple example is Adidas, one of the most famous German brands, which is not only representing one single product or product line but the whole offer that the brand Adidas is recalling when it comes up to a customers mind.
"The brand-as-a-concept approach also implies that the accent in marketing shifts from transaction to relation management, where the brand can be seen as the link between the brand owner and the user of the brand."[20] According to this statement the distribution of the branded article is in focus. The place where consumers buy or use their branded products is the interface between owner and consumer and the presence of the brand at the selling point is the critical factor because consumers should be able to get the brand wherever they want it that place and point of production become more and more redundant but 'The Coca-Cola Company' "has set itself the goal of being present wherever people want cola."[21] The shift from transaction to relation does not mean that Coca-Cola is now sold personally all over the world but more the idea that between brand and consumer is a relation by providing Coke in each part of the world.
2 Marketing communication (MC)
2.1 Contents of Marketing Communication
"Marketing Communication is the collective term for all the communication functions used in marketing a product."[22] This includes for example advertising, public relations, direct response marketing, sales promotion etc. "The purpose of marketing communication is to add value to a product for both customers and the company."[23] Gaining value for customers does not only mean that the product has more benefits, features or improvements than other comparable products but also and more important they gain value by good reputation (brand image) and good name recognition (the brand name awareness). Companies gain value from marketing communication because the higher the brand name awareness and the better the reputation of their brand is the better they sell their products. Considered from the consumers' perspective marketing communication is an instrument from which a brand can gain a certain meaning for consumers, whereby they can start to see it as a valuable attribute.[24]
In a marketplace consisting of such a wide variety of companies, products, messages and types of customers there are lots of ways how to do marketing communication and there is not one concept to do it. Because of the different objectives in different companies and the many markets they work in, the efforts of marketing communication always depend on the possible financial resources, the products, the competitors, the customers and the potential customers. Even though marketing communications are a common and well-known tool with lots of characteristics and possible attributes there are still managements of many organizations who "think they have fully met their communication responsibilities by setting up advertising and/ or public relations departments."[25] But only the exploitation of an extract of instruments does not mean a successful marketing communication. Those managers fail to realise that everything about an organisation 'talks'. Customers are influenced by impressions from physical facilities, employees, officers, stationery, and a hundred other company surrogates, so only advertising and/ or PR are not enough to talk of MC. "Marketing communication in the traditional parameter mix approach has been identified as persuasion, which entails a primarily one-way communication mode."[26] Marketing communications tell consumers what to expect from a brand, and operations to deliver on those expectations. The word 'tell' in this definition underlines the one-way of communications without interaction.
2.2 Integrated Marketing Communication (IMC)
IMC can be considered as a progression or as a next step in the development of Marketing Communication. "Integrated Marketing Communications are a cross-functional process for creating and nourishing profitable relationships with consumers and other stakeholders by strategically controlling or influencing all messages sent to these groups and encouraging data-driven, purposeful dialogue with them."[27] This means that the older concept of marketing communication is widened. The definition of IMC lacks the word communication which is replaced by dialogue or cross-functional process, what means that MC was more focussed on the one-way communication while IMC combines one-way and two-way communication. The traditional modelling of MC as a one-way information transfer process involving an active sender and a passive recipient are seen as obsolete in the newer marketing literature.[28] Two-way communication is facilitated through a greater use of events and sponsorships where employees of companies take part to create experiences for their customers. The "value of the experience lingers in the memory of any individual who was engaged by the event."[29] These new approaches have become necessary because the increasing competition in the market caused by mass media affected for example decreasing brand loyalty and the lower effects of advertising. Nonetheless Andersen claims that branding is one-way oriented communication as well as advertising.[30] Even though branding activities are planned by internal divisions branding still takes place at the interface between customer and brand owner because employees represent their brand while dealing with customers. The contents of the brand must be communicated and if there is a proved development towards two-way communication within IMC then the employees involve the customers while representing their brand and persuading their clients. Additionally the brand is a perceived message in the consumers' mind and each consumer has a different picture and perception. Branding thus 'happens' in the minds of all involved stakeholders and depends on individual perceptions. So branding is not only transferred or communicated in one direction.
Duncan gives another important point to differentiate between traditional MC and IMC by stating the focus of integration should be on relationships and the marketer must be the integrator.[31] IMC is a fundamental shift in the role and purpose of marketing in which the customer is seen "as a participant in the development and adaptation of services."[32] Former manipulating tactics included in MC are now turning to customer involvement – from telling and selling to communication in terms of dialogue and sharing of knowledge. This kind of new communication needs to be integrated internally. Otherwise, "it is difficult, if not impossible, for the brand to be integrated externally in the minds of customers, prospects, and other stakeholders."[33] This has to do with the external credibility of the employees with their customers when they are not integrated respective involved in the messages they shall communicate. And thus the aspired improvement or building of relationships must fail.
2.3 Attributes To Be Integrated
Communication was formerly a field reserved to a small group of marketing persons. With the change of paradigms from one-way to two-way communication and with the development of the focussed marketing of relationships that IMC includes more than persuading "viz. such roles as informing, listening and answering which require interaction."[34]
2.3.1 Employees
IMC nowadays is a field that is not only reserved to a certain few number of people but more to all employees anyhow involved in consumer processes. It is even necessary to involve the employees in the communication process because they are the ones who represent the brand and what it stands for in the eyes of the consumers and so they have to send out the desired messages in the customized dialogue. The related problem is that a large organisation makes it hard to control and inform thoroughly. The more people there are the more opinions and heterogeneous personalities exist that all must be integrated and informed about the original intended message.
Marketing staff can develop the ideas of how and what must be communicated through internal marketing but the task of the interaction is in the hands of all employees dealing with customers. Internal marketing can be regarded as a program that promotes the customer-focus philosophy and keeps employees informed of important marketing activities that affect both them and the company's customers. The focus on the employees has become important because due to sources like the Internet more and more employees have the opportunities to get in contact with customers and thus they need to be involved in the backgrounds and marketing philosophy. Internal communications are exceedingly necessary for the external success. The CEO does not represent the company in the customers' eyes. Outlining the importance Duncan states that in the case of service brands, so banks as well, "where there is personal interaction with customers, employees are the brand."[35] How they perform is how customers perceive the brand's performance. The more employees are involved, the more they feel like being an integrated and important part of the company and the better they are informed about strategies, the higher their morale is and the higher is the level of customer satisfaction.[36]
2.3.2 Customers and business partners
"Saying that customers and other stakeholders (particularly suppliers, vendors, dealers and distributors) must be integrated into a company is another way of saying they need to have input regarding how the organization operates."[37] This can be considered as a way to focus more on customers. Imagine customers that help a company to develop new products or ideas. This is helpful because customers develop for customers and thus know about their own wishes. Building up customer advisory boards that meet periodically and get into dialogue with company's representatives in order to give feedback are an imaginable step into this (right) direction.
Integration of customers also means the integration of departments that receive and answer questions, work with ideas and are able to handle complaints. The complaint-management should be even in focus because as Brunner stated complaints are a signal that a customer is willing to continue the relationship the relationship with the bank. Non satisfied customers do not contact the bank any more and break up with the relation abruptly or at least gradually.[38] So complaints are even chance to avoid the circumstances that lead to these complaints and should be taken seriously. A successfully handled complaint or the integration of ideas tie customer and bank (company) closer together, by increased interaction and hence a closer relationship. And as the interpretation of integrated marketing communication includes higher interaction and two-way communication are important attributes to follow.
2.3.3 Databases
Databases are supposed to track all the appearing interactions IMC causes. Employees being in contact with customers should have access to all gathered information for existing customers. As experiences in practice show most companies do not provide all available information. Each department, as accounting, production, customer service, distribution, marketing, and sales, has its own customer databases.[39] Unless these databases are integrated into one database it will be impossible to have a complete picture of a customer and thus give an expert response or request to complaints.
2.4 Corporate Communication
2.4.1 Components and Objectives
Corporate communication plays an important role in the formation of congruent perceptions because all internal and external stakeholders reflect a wide variety of ages, skills, knowledge etc. and thus lots of different perceptions. So it is exceedingly necessary that at least the message of communication is consistent. "Corporate Communications can be defined as the total integrated approach to the communications activity generated by all functional departments of a company, aimed at establishing and maintaining the link between strategic objectives, the corporate identity and the corporate image in line."[40] A more broad explanation to describe the content of corporate communications is thus the visualisation of the corporate identity.
Corporate identity is "how the company is seen by the key groups or 'stakeholders' on whom the company depends for its success."[41] This definition refers to consumers' perception of an identity. The explained identity concept that is explained in a following section is in contradiction to this theory, because an identity is sent out and the image is perceived. So the definition of a corporate identity that "is interpreted as an organisation's ethos, aims and values that create a sense of individuality which differentiates a brand"[42] fits more. Wilkinson and Balmer define corporate identity as the "factors relating to the organization which define what the organization is. As such an organization's identity is experienced through the totality of signals emitted from the organization including its products, services and corporate actions."[43] This definitions includes the term 'emit' what again stands for the sent-out identity of a company. Almost like trying to define the term brand it is almost impossible to find one definition the literature works with. Again there is a lack of consensus regarding precise definitions.
illustration not visible in this excerpt
Figure 1: Corporate Identity[44]
The figure by de Pelsmacher points out the same contents of corporate communications as Balmer and Stotvig[45] figured out. As the picture shows the corporate identity is linked to other related terms that must be defined. De Pelsmacher defines corporate culture as "the deeper level of basic assumptions and beliefs that are shared by members of an organisation, that operate unconsciously and define in a basic "taken for granted" fashion and organisation's view of itself and its environment."[46] Culture is, according to Uggla, the basis for most bank brands. Choosing a bank means choosing a certain kind of relationship with money one wishes to have. Services are mostly kind of identical but banks communicate different cultural systems. Uggla gives the following example to visualise his statement. "The American Express Gold Card symbolizes dynamic, triumphant capitalism. Money is shown, or even flashed about. Visa Premier, on the contrary, represents another type of capitalism, such as the German kind, making steady quiet progress."[47] The culture includes behaviour and appearance and consumers identify with the culture of a company they desire. In a strong simplification corporate culture could be explained as "the way we do things around here."[48] Corporate strategy, on the other hand, includes the strategic priorities followed by a company. The strategy should aim in "communicating your unique identity so the right people know you, value you, and, most of all, support you"[49] Strategy and culture build the corporate personality that reflects the company's mission. Corporate personality refers to the "distinct mix of ideologies present within the organization. These ideologies are revealed through the value systems and through behaviours of personnel."[50] The personality is first defined by the management and then must be communicated to all other employees including "what it wants to achieve, what its place in society should be, what the values and beliefs of the company are and how it wants to attain its goals."[51] This implies if all employees are informed about the personality they must be familiar with the basic (core) mission and the objectives of that mission and the most essential thing - they must be "prepared to behave consistent with this set of basic principles and objectives."[52] The behaviour referring to the figure above is one part of the communicated corporate identity. If the corporate identity is defined and the organisation's ethos, aims and values are clear then the behaviour must be adapted to these messages. All people being anyhow involved in external contact with stakeholders and also all people that communicate the corporate identity among the employees through all employee levels (from top-management until front line personnel) must behave like the corporate identity intends it. Otherwise corporate identity ideas are useless. Imagine a bank that proclaims extra customer-friendliness (e.g. by means of an advertising campaign) and then employees do not know that they must behave differently the effect may be completely destroyed by behaviour that is inconsistent wit this principle. Corporate symbolism or corporate design must include a consistent house style on letter heads, business cards, vehicles, gifts, clothes, equipment, etc. because it is the visualisation of the corporate identity. This term is exceedingly important for the external communication, as the brand is presented to the outside world in a consistent manner. This contains slogans and logos as well.[53] Corporate communications as last part of the figure are the preferred types of communications a company is exploiting. Some prefer aggressive communications (so called guerrilla types) – some comparative advertising – always dependant on the intended strategy and the belonging objectives.
The rule for all 'corporate' involved terms is the same – consistency. Therefore it is necessary to monitor the corporate communications facing rapid changes in business environment that alter the structure and the strategic direction companies. A further reason for corporate identity is a clear differentiation of the brand compared with competitors. Developing a distinctive corporate identity can become of crucial importance in developing a unique market position – just be different as anybody else, but do not forget the strategic or corporate objectives and the target audience. Having "a well-established corporate identity can lead to increased motivation of the company's own employees"[54] because employees feel more like a part of a family and are stimulated positively to do a better job, feel more committed. Finally a consistent corporate identity creates confidence and goodwill with external target groups of stakeholders – higher quality employees are attracted, public relations cause better publicity and the general public may have a more favourable view.[55]
2.4.2 Corporate Branding
illustration not visible in this excerpt
Table 1: Characteristics of Corporate Brands[56]
Considering actual developments there is a moving emphasis from line branding to corporate branding. Balmer and Gray even claim that "corporate brands represent one of the most fascinating phenomena of the business environment in the twenty-first century."[57] But how is corporate branding different from the classical line branding or product branding perspective? "The key difference in conceptualisation is that corporate brand values tend to be grounded in the values and affinities of company founders, owners, management and personnel, whereas product brand values tend to be contrived and are the product of the not inconsiderable skills of invention held by marketing and advertising creatives."[58] This quotation is supported
by McDonald, de Chernatony, and Harris who ascertain that line consumers' perceptions of line or product brands are predominantly derived from advertising, packaging and distribution whereas corporate branding is more concerned with interferences resulting form interactions with its staff.[59] Another important difference is corporate branding "requires greater focus within the organisation."[60] This is outlined by the rising importance of the whole brand management concept. Nowadays much more employees are involved in the branding processes demanded by a fast changing market and fast developing competitors. So there is higher need to co-ordinate all the corporate marketing activities. Further corporate branding does not only address the matching of "external opportunities, but also considers the integration of internal activities."[61] This is necessary to grant a cohesion and therefore consistency in information delivery.
As shown in the table of Balmer a characteristic of a corporate brand is tangibility. But how can services, especially financial services, which are naturally intangible, be tangible within a corporate brand? Because of their intangibility service brands even "run the risk of being perceived as commodities."[62] A strong corporate brand can overcome this problem with a clear set of values which result in positive perceptions. Making the intangible more tangible includes for example exploiting more "tangible physical elements like uniforms, office decor, and the type of music played while a customer is waiting on the telephone."[63] This "tangibalising" should be consistent with the offered service.
As mentioned above corporate branding involves more than only customers but multiple stakeholder groups. This fact implies the importance of "consistent messages about a brand's identity and uniform delivery across all stakeholder groups."[64] Internal consistency and congruency are vital to the successful external communication. The intended identity should be checked before it is communicated. This means that members of the brand team within the company should check their own perceptions of the developed message and then ask the employees about their perceptions as well because the employees should at least understand and know
about the backgrounds and the contents of the brand they have to represent and communicate to the external world. Taking the duty of being part of the corporate brand and be consistent with the intended message requires commitment of all involved employees which is mentioned in Balmers' table above. That is why employees play a crucial role in most recent literature about corporate branding. They need to be recognised as the "brand's ambassadors." The front line personnel constitutes the interface between "the internal and external environments and has a powerful impact on consumers' perceptions of both the brand and the organisation."[65] And "consumers and other stakeholders tend to prefer corporate brands with a clear and consistent presentation."[66] This includes a consistent delivery of the service what means in banking services that a service must be the same in Munich, Berlin and Hamburg if a bank communicates a corporate message. But still it is crucial that corporate marketers adopt a planning perspective which "incorporates both internal marketing as well as the traditional, external perspective to ensure that there is synergy between employees' actions, resulting in optimising consumers' satisfaction."[67] This quotation supports another point from Balmers' table the intricacy as characteristic because the internal and external messages must be communicated through different channels and must be nonetheless 'corporate' anyhow.
Then a corporate brand can be "a powerful navigational tool to a variety of stakeholders for a miscellany of purposes including employment, investment and, most importantly, consumer buying behaviour."[68] Companies therefore have to ensure that all members of the organisation behave in accordance with the desired corporate brand cogitations, and thus a successful corporate brand must have a "clear corporate mission and philosophy, an understanding of the corporate brand's personality and identity, and accurate information about its stakeholders' perceptions of the corporate brand."[69] Corporate branding enables greater consistency across communication programmes and facilitates staff's understanding of the service organisation, helping to unify their behaviour in presenting the brand to consumers.
2.4.3 Corporate Banking
There is no logical difference between corporate branding and corporate banking because the term corporate banking includes the entire theory concept of corporate branding only applied on the financial sector.
"In the financial services sector, corporate brands tend to predominate. Consumer and financial policies have traditionally evaluated policies by considering the parent's corporation historical performances, so company-linked brand names are common."[70] But it is advisable for financial service providers to follow the corporate brand strategy if new products or market segments fit into the existing customer bases. Advantages are then that consumers will not be confused e.g. being served by the same staff but using different names for different products or offers. Another point that supports the corporate branding or banking approach is the fact that too many financial institutions still divide advertising from public relations and from direct marketing although customers look at all of these activities as being from "the bank".[71] On the other hand it is dangerous to use the corporate brand if it is not sure that a radical change in strategy could have a negative impact on the existing brand.
An example is First Direct, a product-specific brand that should stand for a "fresh banking" rather than for the adaptation of old traditional values and operating methods of HSBC. First direct was launched as a stand-alone brand because there was no broad experience with the direct bank segment and thus First direct should not negatively affect the corporate brand HSBC by a sudden image change, and vice versa.[72] So if First Direct would have failed as many other direct banks, that meanwhile merged or have been bought back by their 'parent' banks, there would have been less damage to the image of HSBC than if the brand would have been tied to the corporation. The example of First Direct is only one example of the increase in competition within the financial services market.
As explained in the corporate branding section employees are crucial in corporate branding activities, in the services industry and so of course in the banking or financial services sector as well. Staff corporately embodies the service brand in the consumers' eyes.[73] Hence the front-line staff dealing with the consumers is of key importance in the bank-customer relationship[74] and thus should be corporately 'banked' including all necessary information, being trained, etc. as the mission intends it.
3 Building Strong Brands
3.1 Brand Identity versus Brand Image
3.1.1 Sending Out Brand Identity
"In organization theory the identity concept relates to discussions of organization's self image and relation to the surrounding world."[75] In other words the question is what a company wants to represent and how it wants to be perceived. This is underlined by Aaker's definition of the brand identity as "a unique set of brand associations that the brand strategist aspires to create or maintain. These associations represent what the brand stands for and imply a promise to customers from the organizational members."[76] A brand identity is thus the 'brand picture' a company wants to build up in their consumers' mind. It relates to encoding a marketing communication message to the outside world and is a concept appearing on the sender's side in the marketing communication process.[77]
The structure of the brand identity comprises a core and an extended identity. The core identity is the "central timeless essence of the brand" whereas latter point comprises elements, which are "organized into cohesive and meaningful groupings that provide texture and completeness."[78] According to Aaker "brand identity consists of twelve dimensions organized around four perspectives" which he calls "brand-as-product, brand-as-organization, brand-as-person and brand-as-symbol" whose contents will be closer explained in section 3.1.5.2.. These four main perspectives are a part of a brand's core identity, containing elements of brand meaning that do not change.[79] Hence, all other attributes are part of the extended identity.
Core identities should be based on non varying values and unique qualities[80] and must remain constant even when the brand is in change. Once selected it is not advisable to change over markets (e.g. Dresdner Bank's logotype the 'Ponto Eye'). This statement is underlined by another quotation by Uggla who states that the "brand identity is a necessary concept that helps to bring coherence into corporate strategy and helps to avoid the trapping and opportunism connected to image obsession."[81] The image discussion will follow in the next section but the statement about the correlation between the necessary communication of the desired brand identity and the related core contents confirms the fact that corporate strategy has a remaining and long term focus as well. This includes the necessity to be and to act true to their own communicated identity. The extended identity comprehends adding details that help portray what the brand stands for. "When the core identity can be easily identified and the relationship between the core identity and the extended identity can be recognized, the brand identity is considered rich and has a depth of brand meanings."[82] All elements can be more or less influenced by a company but they still must be communicated. Regardless which channel a company uses the brand message needs to be the same for the same target group.[83]
But a brand identity may not be generally discussed to the area of external marketing communication activities but as well as a vehicle that is communicated internally. The intended corporate identity must be lived and represented by the employees in customer action. Therefore there is a need of internal communication that tells the employees how to represent the identity. Furthermore employees should be trained for instance in seminars how the company wants to be represented. Due to different personalities there can be misinterpretations of the identity in the employees' minds. With seminars and training a company makes sure that there is more consistency in understanding the desired messages. The brand identity then can better bridge the gap between the obvious visual identity, the company's value and heritage (the core identity) and the brand image.
[...]
---
[1] Strieter, J. , Gupta, A. K. , Raj, S. P. , Wilemon, D. (marketing of financial services, 1997), p. 128
[2] Aaker, D. A. , Joachimsthaler, E. (Brand Leadership, 2000), p. 16
[3] Anonymous (Value of Brand, 2003), www.wolff-olins.com
[4] Riezebos, R. (Brand Management, 2003), p. 32
[5] An article in the FAZ with the headline "Marken brauchen die richtige Dosis Bekanntheit" proves
this claim. As the association of the colour 'magenta' with the Deutsche Telekom it is now possible to register clear colour brands or even sound brands as the European Court of Justice recently confirmed. The objective of the companies is a so called top-of-mind awareness with a special colour or sound that only associates one brand to it.
[6] Turley, L. W. , Moore, P. A. (brand name strategies, 1995), p. 42
[7] Jones, J. P. (Strong Brands, 1999), p. 69
[8] Järnfeldt, J. , Norström, N. – (Lecture material from the Differ guest lecture, 2003)
The 'Differ model' is a brand building tool developed by Differ – a Swedish management consultancy in branding since 1996. According to own statements they are one of the market leaders concerning advising companies in branding activities. They have international clients but especially from Sweden and other Scandinavian countries e.g. SEB, Tetra Pak and Coca Cola.
[9] Uggla, H. (Brand association, 2000), p.108
[10] Ambler, T. , Styles, C. (Brand development versus new product development, 1996), p.10
[11] Uggla, H. (Brand association, 2000), p.74
[12] De Chernatony, L. , Dall'Olmo Riley, F. (Principles of Service Branding, 1999), p. 184
[13] Kotler, P. , Bliemel, F. (Marketing Management, 1995), p. 679
[14] Dörtelmann, T. (Marke und Markenführung, 1997), p. 77
[15] Pickton, D. , Broderick, A. (Marketing Communications, 2001), p. 37
[16] Langner, T. , Esch, F. R. (Integriertes Branding, 2004), author's translation, p. 5
[17] Riezebos, R. (Brand Management, 2003), p. 14
[18] Moran, R. T. , Riesenberger, J. R. (Global Challenge, 1994), p. 66
[19] Riezebos, R. (Brand Management, 2003), p. 14
[20] Riezebos, R. (Brand Management, 2003), p. 15
[21] Riezebos, R. (Brand Management, 2003), p. 15
[22] Duncan, T. (Integrated Marketing Communication, 2002), p. 15
[23] Duncan, T. (Integrated Marketing Communication, 2002), p. 15
[24] Riezebos, R. (Brand Management, 2003), p. 40
[25] Enis, M. B. , Cox, K. K. , Mokwa, M. P. (marketing classics, 1991), p. 44
[26] Andersen, P. H. (relationship development and marketing communication, 2001), p. 169
[27] Duncan, T. (Integrated Marketing Communication, 2002), p. 18
[28] Andersen, P. H. (relationship development and marketing communication, 2001), p. 169
[29] Pine II, B. J. , Gilmore, J. H. (The Experience Economy , 1999), p. 12
[30] Andersen, P. H. (relationship development and marketing communication, 2001), p. 173
[31] Duncan, T. (Integrated Marketing Communication, 2002), p. 19
[32] Duncan, T. (Integrated Marketing Communication, 2002), p. 19
[33] Duncan, T. (Integrated Marketing Communication, 2002), p. 22
[34] Andersen, P. H. (relationship development and marketing communication, 2001), p. 169
[35] Duncan, T. (Integrated Marketing Communication, 2002), p. 23
[36] Duncan, T. (Integrated Marketing Communication, 2002), p. 23
[37] Duncan, T. (Integrated Marketing Communication, 2002), p. 23
[38] Brunner, W. L. (Beratungsqualität, 1993), p. 452
[39] Duncan, T. (Integrated Marketing Communication, 2002), p. 24
[40] De Pelsmacher, P. (Marketing communications, 2001), p. 11
[41] Macmillan, K. (Strategy: an introduction, 1986), p. 83
[42] Harris, F. , de Chernatony, L. (Corporate branding, 2001), p. 442
[43] Wilkinson, A. , Balmer, J. M. T. (Corporate and Generic Identities, 1996), p. 23
[44] de Pelsmacher, P. (Marketing communications, 2001), p. 11
[45] Balmer, J. M. T. , Stotvig, S. (corporate identity and private banking, 1997), p. 170
[46] de Pelsmacher, P. (Marketing communications, 2001), p. 11
[47] Uggla, H. (Brand Association, 2000), p. 89
[48] de Pelsmacher, P. (Marketing communications, 2001), p. 11
[49] Engelberg, M. (Building Brand Identity, 2002), p. 82
[50] Balmer, J. M. T. , Stotvig, S. ( corporate identity and private banking, 1997), p. 170
[51] de Pelsmacher, P. (Marketing communications, 2001), p. 12
[52] de Pelsmacher, P. (Marketing communications, 2001), p. 12
[53] An example is the appearance of the big four private banks in Germany, which all use one logo and
one slogan in advertising.
[54] de Pelsmacher, P. (Marketing communications, 2001), p. 15
[55] de Pelsmacher, P. (Marketing communications, 2001), p. 15
[56] Balmer, J. M. T. , Gray, E. R. (corporate brands, 2003), p. 977
[57] Balmer, J. M. T. , Gray, E. R. (corporate brands, 2003), p. 972
[58] Balmer, J. M. T. , Gray, E. R. (corporate brands, 2003), p. 979
[59] McDonald, M. H. B. , de Chernatony, L. , Harris, F. (Corporate Marketing, 2001), p. 338
[60] Harris, F. , de Chernatony, L. ( Corporate branding, 2001), p. 441
[61] Harris, F. , de Chernatony, L. ( Corporate branding, 2001), p. 441
[62] McDonald, M. H. B. , de Chernatony, L. , Harris, F. (Corporate Marketing, 2001), p. 338
[63] McDonald, M. H. B. , de Chernatony, L. , Harris, F. (Corporate Marketing, 2001), p. 345
[64] Harris, F. , de Chernatony, L. ( Corporate branding, 2001), p. 446
[65] Harris, F. , de Chernatony, L. (Corporate branding, 2001), p. 441
[66] McDonald, M. H. B. , de Chernatony, L. , Harris, F. (Corporate Marketing, 2001), p. 342
[67] Harris, F. , de Chernatony, L. (Corporate branding, 2001), p. 453
[68] Balmer, J. M. T. , Gray, E. R. (corporate brands, 2003), p. 972/ 973
[69] McDonald, M. H. B. , de Chernatony, L. , Harris, F. (Corporate Marketing, 2001), p. 342
[70] McDonald, M. H. B. , de Chernatony, L. , Harris, F. (Corporate Marketing, 2001), p. 337
[71] Britt, P. (Building brand image, 1997), p. 29
[72] McDonald, M. H. B. , de Chernatony, L. , Harris, F. (Corporate Marketing, 2001), p. 338
[73] McDonald, M. H. B. , de Chernatony, L. , Harris, F. (Corporate Marketing, 2001), p. 346
[74] O'Donnell, A. , Durkin, M. G. , McCartan-Quinn, D. (corporate banking in the UK), p. 273
[75] Uggla, H. (Brand association, 2000), p. 76
[76] Aaker, D. A. (Strong Brands, 1996) p. 68
[77] Uggla, H. (Brand association, 2000), p. 77
[78] Aaker, D. A. (Strong Brands, 1996), p.68/69
[79] Uggla, H. (Brand association, 2000), p.95
[80] Aaker, D. A. (Strong Brands, 1996), p. 87/ 88
[81] Uggla, H. (Brand association, 2000), p.86
[82] Aaker, D. A. (Strong Brands, 1996), p. 89
[83] Jones, G. S. (Brand image, 2000), p.175
Details
Seiten

104

Jahr

2004

ISBN (eBook)

9783638372848

Dateigröße

1.2 MB

Sprache

Englisch

Katalognummer

v38114

Institution / Hochschule

Hochschule für Technik und Wirtschaft Berlin

Note

1,0

Schlagworte