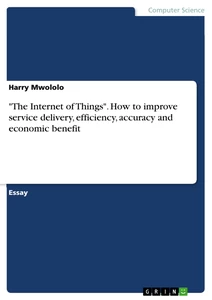 "The Internet of Things". How to improve service delivery, efficiency, accuracy and economic benefit
Essay 2017 4 Seiten
Zusammenfassung
The Internet of things (IoT) refers to the inter-networking of several physical gadgets, smart devices, vehicles and buildings, as well as, other devices that are embedded with sensors, actuators, software, electronics, and network connectivity that enable the connected devices to gather and exchange data.

The IoT lets the devices to be controlled and sensed remotely across the prevailing infrastructural network. Through this approach, the internet of things creates opportunities for more direct physical world integration into computer-based systems, further leading to improved service delivery, efficiency, accuracy, as well as, economic benefit in addition to reduction of human intervention.

By 2016 the internet of things vision had advanced as a result of a convergence of several innovations such as instantaneous analytics, global wireless communication, machine learning, embedded systems and commodity sensors. The conventional fields of wireless sensor, embedded systems, automation, control systems and several other technologies led to advancing the Internet of Things.