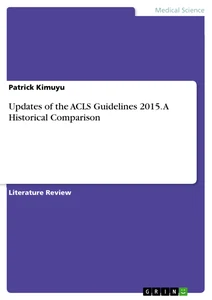 Updates of the ACLS Guidelines 2015. A Historical Comparison
Rezension / Literaturbericht 2017 11 Seiten
Leseprobe
Inhalt
Introduction
How the Phenomena Impacts Healthcare Delivery
How the Phenomena Impacts Nursing Care
Asystole and Pulseless Electrical Activity: Historical Context
Current Practice Guidelines for Asystole and Pulseless Electrical Activity
Ventricular Fibrillation and Pulseless Ventricular Tachycardia: Historical Context
Antiarrhythmics
2015 Guideline Updates
Amiodarone and Current ACLS Practice
Lidocaine
Implications of the Literature Review
Potential Research Questions
References
Introduction
Over the years, the American Heart Association has made outstanding contributions and numerous improvements to cardiopulmonary resuscitation and advanced cardiac life support guidelines. It is due to adequate use of resources and continuous research that millions of lives are saved in the United States. Such guidelines serve health care providers and other members of the healthcare team as a resource to ensure adequate and timely response to those individuals who experience cardiac or respiratory arrest. However, according to AHA statistics, "More than 326,000 people in the US suffer out-of-hospital cardiac arrests each year. Statistics prove that if more people knew CPR, more lives could be saved" (American Heart Association, 2016). In other words, dissemination of knowledge on the matter has direct outcomes on increasing survival rates. Therefore, the guidelines and the implementation methods are on continuous review based on new evidence. It is important to provide those who suffer cardiac or respiratory arrest with timely services because delays could end up affecting the outcome of those who experience reversible damage. Healthcare providers around the world have become informed on the benefits of updated competence and direct patient outcomes and quality of care. The American Heart Association has published the new 2015 cardiopulmonary resuscitation guidelines, where changes and updates are reflected in an effort to put the best available evidence in practice. The purpose of this review is to compare the 2015 AHA updates with historical evidence in an attempt to explicate the implications and limitations of pharmacology in advanced cardiac life support.
How the Phenomena Impacts Healthcare Delivery
Medical research and technology continue to open new doors for patients who are affected the most by clinical decision. In other words, knowledge about disease, medications, and interventions are no longer reserved for health professionals. Individuals can now seek to gain understanding through research. The Internet is one tool commonly used to help patients gain an understanding on his or her health condition and appropriate management. Therefore, each year there is more awareness on CPR and ACLS standards of practice for individuals and healthcare providers. The American Heart Association is a non-profit organization in the United States that uses research to reduce disability and deaths caused by cardiovascular disease and stroke.
The 2015 AHA guidelines on treating pulseless arrhythmia when promoting pressure support and return of spontaneous circulation pharmacologically have been reviewed and updated with the purpose of establishing one standard of care throughout the United States. The organization published updates on the recommended drugs to be used for asystole, pulseless electrical activity, ventricular fibrillation and pulseless ventricular tachycardia. The new changes will help promote effective treatment and return of spontaneous circulation. Therefore, it is essential for all members of the healthcare team to acquire the necessary skills, attitudes, communication, and appropiate resource utilization to help obtain positive patient experience and outcomes.
How the Phenomena Impacts Nursing Care
Over the years, The American Heart Association has taken part in the development of measures to help ensure timely and accurate treatment and interventions for those who experience cardiac or respiratory arrest. By having a clear understanding of the guidelines on basic life support and advanced cardiac life support the nurse can build a strong foundation on tested evidence. Leading to improved patient outcomes in acute and non-acute care settings. Nursing is not a profession that can be defined easily because it is variable in nature. A nurse is the person most involved in the care of those experiencing a difficult time in their health. Nursing is also a profession that focuses on the care of all individuals within the community. However, in order to maintain professionalism in patient care it is essential to follow the code of ethics. As demonstrated in the A.H.A 2015 updates, ethics is greatly emphasized during critical decision periods.
By following the code of ethics and principles highlighted in the AHA updates, health care providers can make educated decisions with a foundation in positive patient outcomes. One of the most important rules that guide the nurse's professional practice is the "Do no harm" principle. This principle serves physicians and nurses as a guide to primarily consider the patient's well being above all. As stated by the American Nurses Association, "Clear, accurate, and accessible information is an essential element of safe, quality, evidence-based nursing practice" (2014, para 2). In an attempt to maintain clarity, the AHA created algorhythms to help increase patient safety, promote better inter-professional communication and prevent delay of care in the general population and acute care settings.
Today, being able to refer to A.H.A guidelines is a tremendous advantage that many countries around the world lack. The guide is detailed and specifically tailored to the incidences of cardiac arrests in the United States and at the same time is setting driven. As stated in the update, there are now two separate algorithms for cardiac quality cardiopulmonary resuscitation. The algorithm for non-healthcare personnel is a basic approach to cardiopulmonary resuscitation and life support. All individuals are encouraged to become familiar with the basic course of action that a non-HCP personnel rescuer should perform for life support.
Asystole and Pulseless Electrical Activity: Historical Context
Asystole and Pulseless Electrical Activity (PEA) are the two non-shockable rhythms. Therefore, ACLS providers focus more on identifying primary cause, performing CPR, and administering epinephrine. However, over the years the American heart Association has contributed with specific guidelines that are based on research. Such guidelines have been updated twice in the past six years, 2010 and 2015. In the A.H.A 2010 guidelines, the use of Epinephrine and Vasopressin is recommended along with other medications aiming to treat the specific cause of the PEA. As highlighted in the 2010 book guidelines, epinephrine 1 mg IV/IO is administered every 3-5 minutes with an option to change the first or second dose of epinephrine for Vasopressin 40 mg IV/IO (American Heart Association, 2011). The 2010 CPR and ACLS manual also states that asystole often represents an agonal rhythm confirming death, rather than a rhythm to be treated. It is for the same reason that cardiac defibrillation is not recommended.
An article written by Todd A. Miano, Pharm.D and Michael A. Crouch, Pharm. D on the role of Vasopressin in the treatment of cardiac arrest was reviewed. It states that vasopressin like Epinephrine is effective promoting peripheral vasoconstriction, an essential goal when treating cardiac arrest patients. However, Vasopressin dilates cerebral blood vessels, improving cerebral perfusion during cardiac arrest (Miano & Crouch, 2006). By doing so patients can experience less neurologic deficits upon return of spontaneous circulation. The research also highlights that Vasopressin can be effective in treating hypoxia and metabolic acidosis for patients with prolonged cardiac arrests. Another point mentioned in the article is that when compared to Epinephrine, Vasopressin has a longer half-life of 10 to 20 minutes (Miano & Crouch, 2006). The article notes that Vasopressin is studied in animal models in contrast to Epinephrine in animal and in vitro studies. According to Miano and Crouch, for the first time the updated 2005 AHA guidelines suggested one dose of vasopressin 40 units may be given intravenously or intraosseous to replace the first or second dose of epinephrine in all pulseless cardiac arrests (Miano & Crouch, 2006). An identified cofounding variable in the article was that patients studied had received both epinephrine and Vasopressin. Therefore, there was no isolated study for Vasopressin.
Current Practice Guidelines for Asystole and Pulseless Electrical Activity
According to the official website for the 2015 American Heart Association recommendations and updates for cardiopulmonary resuscitation measures are based on an "[e]xtensive evidence review process that was begun by the International Liaison Committee on Resuscitation after the publication of the International Liaison Committee on Resuscitation (ILCOR) 2010 completed in February 2015" (2016, para 3). The 2015 recommendations for asystole and pulseless electrical activity when the rhythm check reveals a non-shockable rhythm, is to begin chest compressions, and continue CPR for two minutes before the rhythm check is repeated.
Administration of Epinephrine as soon as possible after the onset of cardiac arrest continues to be the initial treatment for a non-shockable rhythm. It is because a large observational study compared Epinephrine given at one to three minutes with Epinephrine given at three later time intervals (American Heart Association, 2016). The study was able to conclude that a positive relationship existed between early administration of Epinephrine and increased return of spontaneous circulation, with increased percentages of survival to hospital discharge, and neurologically intact survival. In contrast, according to a systematic review and meta-analysis created by Koko Ang, MD, MPH; and Thwe Htay, MD regarding the use of vasopressin for cardiac arrest concluded that, "[t]here is no clear advantage of vasopressin over epinephrine in the treatment of cardiac arrest. Guidelines for Advanced Cardiac Life Support should not recommend vasopressin in resuscitation protocols until more solid human data on its superiority are available" (Koko Aung & Thwe Htay, 2005). The AHA has also concluded that when Vasopressin is administered as a substitute for the first or second dose of epinephrine no advantages were discovered. Therefore, Vasopressin has been removed from the algorithm in an attempt to keep simplicity and clarity.
A literature review with the goal of identifying the standard of practice for treating asystole and or pulseless electrical activity pulseless arrhythmias when promoting pressure support and return of spontaneous circulation pharmacologically, has been conducted. A nonrandomized study was found in reference to the use of Epinephrine as the first line of treatment for asystole and or pulseless electrical activity. An article published by Clifton W. Callaway, MD, PhD for the University of Pittsburgh, focused on the implications of epinephrine as the primary drug administered to reverse cardiac arrest. Callaway (2013) states that dose, timing, and indications for epinephrine use are based on limited animal data and recent studies question whether Epinephrine provides any overall benefit for patients. The available clinical data suggested that epinephrine administered during CPR could increase short-term survival, but would not benefit or harm patients in the long-term or affect functional recovery (Clifton W. Callaway, 2013). In other words, the author implies that the longer the patient remains in asystole the higher the dose of total Epinephrine. The results of the studies correlate increased Epinephrine dosages with negative neurological outcome upon return of circulation and reductions of microvascular blood flow despite macroscopic increases in perfusion pressures (Clifton W. Callaway, 2013). The implications for patients can be more harming than beneficial for long-term quality of life, creating and ethical dilemma. In addition, the total dose of Epinephrine administered is proportional to how long a patient remains in cardiac arrest, resulting in higher doses for patients who fail to respond to initial treatment. Therefore, adverse relationship between Epinephrine dose and outcome is largely attributed to systematic bias in study design (Clifton W. Callaway, 2013). The conclusion states that more trials are needed. In addition, according to a systematic review and meta-analysis done by Ignacio Morales, MD; Maria Del Rocio Valverde-Leon, MD; and Maria Aurora Rodriguez-Borrego, MD; regarding the use of epinephrine in cardiac arrest concluded that "administration of epinephrine appears to increase the rate of ROSC, but when compared with other therapies, no positive effect was found on survival rates of patients with favorable neurological status" (Ignacio Morales, Maria Del Rocio Valverde-Leon, & and Maria Aurora Rodriguez-Borrego, 2016).
[...]
Details
Seiten

11

Jahr

2017

ISBN (eBook)

9783668594203

ISBN (Buch)

9783668594210

Dateigröße

422 KB

Sprache

Englisch

Katalognummer

v384456

Institution / Hochschule

Egerton University

Note

1

Schlagworte