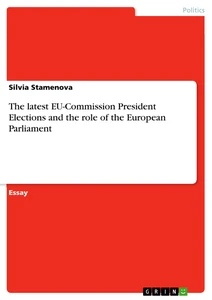 The latest EU-Commission President Elections and the role of the European Parliament
Essay 2017 8 Seiten
Zusammenfassung
The question posed in this paper relates to the latest EU-Commission President Elections and the European Parliament's role in them. The examination of this question is imperative since recent literature on the subject has regarded the situation of the democratic deficit within the Union as simply "putting a little more weight" on the average's citizen's vote by convincing them that they are also voting for not just national representatives, but for Commission President, as well.

Unfortunately, this is a matter usually ignored in today's studies on the subject. This paper, therefore, describes the whole election process and explains the election process in 2014 (Jean-Claude Juncker), all specifications, all differences and circumstances. However, it gives some interesting conclusions on what the EP's real motivation was?

However, it is not clear whether it was power, policy or democracy. If we take for granted that different motivations might have existed, and ask why the European Council accepted the "Spitzenkandidaten" procedure, we will reach some interesting conclusions. Formally, the Council is in charge of nominating the Commission president, and member states until then have always wanted to keep this privilege. Hence, exploring the issue what important member states said about the EP's initiative, how they reacted, and why some of them in the end gave their assent will be beneficial for the essay.
Details
Seiten

8

Jahr

2017

ISBN (eBook)

9783668613058

ISBN (Buch)

9783668613065

Dateigröße

472 KB

Sprache

Englisch

Katalognummer

v387416

Institution / Hochschule

Bildungsforum Wien Gesellschaft für Aus- und Weiterbildung

Note

5.00

Schlagworte