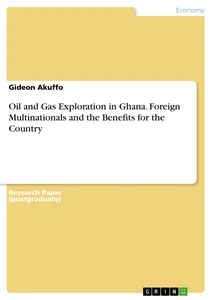 Oil and Gas Exploration in Ghana. Foreign Multinationals and the Benefits for the Country
Forschungsarbeit 2016 16 Seiten
Leseprobe
Inhalt
1.1 Background to the Research
1.2 Statement of the Problem.
1.3 Goal and Objective of the research
1.4 Research Questions:
1.5 Scope of the Research.
1.6. Rational of the Study
2 LITERATURE REVIEW
2.1 Introduction
2.2 Local Oil Companies in Business
2.3 Factors Influencing Participation of Foreign Investors.
2.4 Conclusion
RESEARCH METHODOLOGY
3.1 Research Design and Strategy
3.2 Research Technique
3.3 Target Population
3.3.1 The sample population
3.3.2 Sample Size and Method
3.4 Data Collection Method
3.5Data Analysis
3.5.1.Organising the data collected
3.5.2. Identifying the Framework
3.5.3. Second order analysis
3.6 Ethical Guidelines
3.7 Confidentiality
3.8 Consent
3.9 Limitation of Research
3.10 Validity
3.11 Reliability
3.12 Concluding Thoughts
3.13 Timeline for Completion.
REFERENCE
1.1 Background to the Research
The African continent is surely blessed with huge deposits of natural resources. Oil and Gas features much among these high earning and enviable natural resources. Libya, Nigeria and Algeria including Egypt are known to have discovered this precious resource decades ago. Countries like Ghana, Kenya, Tanzania Uganda and Mozambique are however the newest to join this discovery. As a result of this, the spotlight has usually been on these countries when it comes to Oil and Gas trade by other continents.
Abbildung in dieser Leseprobe nicht enthalten
Sources: US Energy Information Administration (International Energy Statistics), Oil and Gas Journal
Please Note: This table refers to proven oil reserves which may be very different to reserve estimates.
The table above shows the billions of barrels of oil per country on the African continent.
1.2 Statement of the Problem.
Cocoa, God, bauxite, manganese and other non-traditional exports like foodstuffs are key foreign exchange commodities Ghana can boast of to depend on for its GDP growth. The country since its discovery of oil in June 2007, has since been controlled by foreign giants even until in December 2010 when it started production commercially. But the question is, where does the billions of Dollars oil monies end up and what is at stake for the ordinary Ghanaian?
1.3 Goal and Objective of the research
1. To adopt a formalised and academic approach to analysing what effects citizens feel economically about the influcks of foreign multinationals in the sector.
2.The prime objective of this research is as stated, to probe into the real economic benefits there is to ordinary Ghanaians considering these larger percentages of profits going to these foreign multinationals.
3. This work therefore will seek to dissect into some specific expectations and anticipations of most Ghanaians before and after the commencement oil and Gas production.
4. We will analyze if indeed these gains have made any significant economic impact at all on the soil of Ghana.
5. We will therefore finally have an authoritative unbiased conclusion on the proposed research work.
1.4 Research Questions:
1. How effective is government in dealing with this matter.
2. What practical avenues are put in place for Ghanaians who want to invest in this sector
3. What real benefits are there for Ghanaians directly from the foreign investors.
There are very direct and clearer line of questioning which will facilitate finding solutions to help get the research its goals. These questions will appear in the questionnaires and interviews. They are as follows:
- How has lives improved since the oil find?
- What is the health status of those living in the area so far ?
- Are there any job placements or employment opportunities created?
- Has there been more skill development, training for institutions upgrade for inhabitants
- Is there any infrastructural development in the area now?
- Are there perceived corruption in the sector?
- Is there any faul play in award of contracts to foreigners instead of locals?
- How effective is government in dealing with this matter
1.5 Scope of the Research.
This work will be focused primarily on the business angle as well as the socioeconomic benefits at stake in the oil and gas sector for Ghanaian indigenous people and the citizenry as a whole.
1.6. Rational of the Study
The main rational of this study is to assess what practical avenues are put in place for Ghanaians who want to invest in this sector by government to have upper hand and opportunity in the oil and gas sector.It also focuses on assessing real benefits there are for Ghanaians directly from the foreign investors.
2 LITERATURE REVIEW
2.1 Introduction
The literature review section places emphasise on the relevant factors as against the expectations of the citizens concerning this sector.
Like many other oil producing countries on the African continent, much of the stakes or profit from this lucrative venture go to the foreign multinationals.
This discovery was first by Kosmos Energy at the Jubilee Fields. There was also the Mahagany-1 exploration, meaning the country has huge potential of producing billions of barrels in some years to come which will compete with other nations on the world market.It is estimated that Anadarko Petroleum Corp has 23.49%, Kosmos Energy 24% ,Tullow oil 36.05 , Sabre Oil and Gas 2.81 and Ghana has 13.65% stake. This is in respect to the Jubilee Fields discovered by Kosmos Energy.
Anadarko Petroluem Corp. which is US based also discovered more oil deposits on the West Cape Three Points of Ghana. It had its stakes as follows :
Kosmos enrgy:30.875% , Ghana: 10%, Tullow Oil: 26.396 , Anadarko Petroleum Corp: 30.875 and sabre Oil and Gas: 1.854%
Source: Reuters
Government per its discussions with other key stakeholders including trade unions and economic pressure- groups was to create a special fund or account before the commencement of the oil exploration in large commercial quantities . The anticipated revenue was to help provide educational facilities first, secondly an improvement in health facilities in the Central and Western regions of Ghana and the rest for roads in the hinterlands. Source: (Imani Ghana)
The Government of the day failed to adhere to those plans as usual. But then other pressure-groups came in to ensure the passing of a long awaited bill which will make clear, regulations governing the oil and gas sector. This is seen to be a benchmark and blueprint as done by other oil exploring countries.
The petroleum regulation on Local Content and Participation in Petroleum was approved by parliament on the 3rd of March 2011. It was then enacted in 2013. This encourages and legally backs indigenous people,giving them the right to participation in our oil and Gas sector. It is geared towards progressive inclusion of Ghanaian citizens into most if not all areas of the oil and gas industry so as to fully develop through expertise maximization, skill and education including effective transfers of technology and know-how.
The Ghana National Petroleum Corporation (G.N.P.C) is mandated to regulate and ensure the implementation of the Local Content Policy especially within the upstream petroleum sector for the interest of Ghanaian citizens. Ironically, the upstream is where there is rather low participation of indigenous firms .
Most of the areas the policy had to address are as follows:
•Increase capacity and international competitiveness of domestic businesses
•Maximization of value-addition through the use of local expertise. Local goods and services including local financing in the petroleum industry
•Creation of petroleum and related supportive industries
•Providing for robust and transparent monitoring and reporting systems to ensure the good delivery of local content policy objectives.
Local businesses must be given first preferences in any petroleum bid including licensing. There must also be at least 5% stake of local involvement in any deal awarded to international multinationals according to the policy.
There has been several events of maltreatment and infringement of rights of local workers but foreign companies though the policy is said to be in operation. Tullow Oil layed-off 100s of workers during the oil price downturn. They rather maintained the foreign workers with the justification that their services and expertise were much needed.
The government spokespersons on energy were silent over this matter until the masses and pressure groups,through the media came hard on them. Although they were reinstated, those who had to finally go home were not given full retrenchment benefits.
In spite of that, it must be said that Tullow Oil has make some bit of strides in promoting education. There is a scholarship scheme to annually sponsor needy but brilliant students. This and other activities are held annually but there is more economic impact expected by majority of the locals from these multinationals.
2.2 Local Oil Companies in Business
Local investors in the oil and gas sectors of Ghana are mainly found in the midstream and most especially in the downstream (retail) sectors where oil and gas finally gets to the final consumer. Majority of local companies rather do well in the downstream instead. there are over 137 companies in the downstream with about 10% being foreign owned. They are Shell, West Africa Petroleum Company Ocean (Wapco), UBI , Oando Energy and So energy.
Some midstream foreign operators are Ebony Oil and Gas, Blue Ocean and Vivo Energy .
Government is said to owe the Bulk Distribution Companies to the tune of over $600million. This has impeded their operations leading to several job cuts in recent times.
It is estimated that a total of 1,451,767,250 liters of Petroleum and 110,364,470 liters of Gas were consumed through the Oil Marketing Companies (OMCs) from January to June 2015 about 15% higher compared to 2014.
The table below depicts the performances of OMCs both multinational and local from January to May 2015 from a sampled number out of the 137
OMCs PERFORMANCE STATISTICS FOR JANUARY-MAY 2015
Abbildung in dieser Leseprobe nicht enthalten
Source: National petroleum Authority (NPA) of Ghana
Hint: companies in red are multinationals operating in the downstream or retail sector
2.3 Factors Influencing Participation of Foreign Investors.
We delve more into circumstances leading to the call-up or interference of foreign multinationals in the sector. This will give a better understanding of the core issu es at stake in the sector being addressed. It forms part of the contextual information required to make a case out of the whole study.
There has rather been low participation of local companies in many African countries like Ghana where there is oil and gas drilling and exploration (upstream). This is due to many challenges which are now considered realities.
Foreign investments into the country in the oil and gas sector have been on the rise but it has not resulted much in job creation for citizens of the country. This has been a taugh challenge for the government.
Technological expertise and infrastructure is contributing factor. Ghanaian indigenous firms lack the know-how, exploration gadgets, machinery and technical logistics to embark on new discoveries, exploration and operation of any serious business concerning oil and Gas in the country. This has therefore necessitated foreign collaboration or intervention.
Tullow Oil which is British owned, apart from operation on the Jubilee Field is working on other oil prospects in the country including Enyenra, Tweneboa and Ntomme (TEN) fields in some few years to come. This of course has no local company participation in this stream which carries much revenue and profitability all on the basis of their low technological expertise.
Dana Energy Corporation of United Kingdom, Hunt Oil Company and Devon Energy Corporation all from United States were announced to have also commenced operations on various blocks in the country in . (Dr. A Ofori Quaah , Acting Chief Executive of the National Petroleum Corporation (GNPC)
Corruption and lack of transparency in government can also not be over emphasized. There have been suspected alliances between government officials and foreign investors in the sector to the detriment of local companies who compete for contracts. Some African countries including the Democratic Republic of Congo set up the Extractive Industries Transparency Initiative (EITI) which focus on complaints of locals in the oil and gas sector on corrupt practices. Though not much, such a move has brought some corrupt government officials to book.
Not much has been heard about the Ghana in terms of dealing with corruption in this regard.
Abbildung in dieser Leseprobe nicht enthalten
Source Data: Global Corruption Perceptions Index 2014, Transparency International
Lack of funds also play a role . Ghana's only refinery , The Tema Oil Refinery (TOR) since 2012 have lost more than $63 million as a result of its inability to refine crude oil. This is due to broken down but very expensive equipment. It had the capacity to produce over 45,000 barrels daily years back. (Source: Reuters)
The facility needs about $900 million to run effectively. This has resulted into laying-off and relieving of duty of over 400 local workers so far.
TOR is highly indebted to many banks both domestic and foreign. To worsen the plight of local workers, it is alleged government may sell it out to competing foreign multinational oil companies. This will further lead to laying off more workers.
The massive taxing and continuous tax increment of petroleum products is also stifling growth in general in this sector. Though is it a relief to assume locals are participating in the downstream sector, the heavy taxes placed on petroleum product have been a disincentive and even led to the collapse of over 40 Oil Marketing Companies just under 5 years, creating avenue for more foreigners with huge capital to take over.
When such happens, less local people get to be trained or employed and much of their profits are repatriated to their countries. Successive governments have failed on this part since they place their main source of revenue on taxing petroleum products in the country.
2.4 Conclusion
conclusions to these types of research are mostly portrayed to be bias , tilting to the already formed opinion of the researcher. But it must be noted that participants, interviewees and those interrogated best feel the assertion being places or formed by the research. The work will loose its value if there is no clear reason supporting a claim or an ideology of the begining stated problem.
the sector has arrived at a point where there seem to be little or no hope assured the citizenry as government seem not to be proactive in implementing effectively the Local Content policy, ensuring knowledge transfer, skill and capacity building . There is not clear application of revenue generated in the economic growth of the Ghana since the inception of the oil find though the expectation was on improving our education and health sectors with these huge gains.
Our subsequent study will deal with an analysis on research conducted in these oil drilling areas to seek opinions on the natives on this matter so as to get further empirical evidence.
We anticipate that the findings and concerns revealed by participants of this research work in the oil and gas industry will be duly recognised as the true picture on the ground so as to help the government of Ghana and other stakeholders in this sector to make reforms , restructure and enforce or implement already known existing policies in sector to protect and promote economic growth especially in those operational areas.
RESEARCH METHODOLOGY
3.1 Research Design and Strategy
For the purpose of effectiveness and a better appreciation of this work, more of Qualitative approach will be adopted to arrive at a valid conclusion on the findings of this work. This approach is seen to be best for this research work since it deals with the perception and beliefs of the citizenry in the oil and gas sector.
Qualitative approach is shaped to understand people's experiences, perspectives and understanding of aspects of their socioeconomic lives .
The line of questioning to the parties include the use of 'WHAT' , 'HOW' and WHY and qualitative methodology is adopted when confronted with such a study.
(Nouria Bricki,Judith Green hdl.handle.net)
A drawback of use of the qualitative approach is the fact that the sample size is small leading to a perception of the true picture of the research not being arrived at. There is also the believe that it is difficult to exclude the biases of the researcher with this type of methodology. But this research is surely far from that.
3.2 Research Technique
A survey is used to acquire information from persons thus within a population. This can be in comparism to variables or interrelationship between variables among a group of people
Data collection will be: Personal interviews, group interviews,telephone calls and questionnaires.
Polit and Hungler (1999) Principels and Methods (6th Ed) Philadelphia,Lippincott.
3.3 Target Population
The population focuses on the people of Takoradi in the Western Region of Ghana where much of the oil exploration started. this area was also considered because of the fact that the inhabitants have a better feel of any impact be it negative of positive before and after the oil find.
3.3.1 The sample population
Workers in the oil and gas sector including the offices of the National Petroleum Authority( NPA) in Takoradi, The Bulk Oil Storage and Transport (BOST),local wokers Jubilee Oil fields sub-traditional chiefs of smaller towns in the Takoradi municipality , a section of Takoradi Polytechnic students since they have expectations of working in the sector after school, ordinary low-class or low income level citizens as well as the middle-class.
Consideration will have to be made to include a few workers of TOR in the Tema Industrial Area.
3.3.2 Sample Size and Method
As stated earlier, for the sake of the qualitative method applied, there is the need to stick to a smaller sample size so as to engage more with the participants since it all about knowing their perception on the my area of research. In this regard, more clearer answers to the research questions are given (Ingleton and Seymour 2001)
There is a point of diminishing return on any qualitative research sample because of the fact that a larger sample will not lead to more information and quality with respect to this research I am embarking on.(Ritchie et al.,Lewis and Elam,2003)
At least 9-11 workers of BOST, 4 traditional chiefs in the area, 20 final year students of the Takoradi Polytechnic, 10-15 local workers of Jubilee Fields, 10 low income level citizens, 4 senior level TOR workers and 5 foreign workers of
3.4 Data Collection Method
Since it is a survey, there will be one-on-one interviews including questionnaires sent out to those who are not within my immediate reach considering the timeframe and the level of accessibility to them.
The questionnaire contains questions that bother on the oil and gas sector as stated to help arrive at the fact that indeed the inception of multinationals in the game has rather had an adverse effect on the people.
The questionnaires will exhibit the following:
- How has lives improved since the oil find?
- What is the health status of those living in the area ?
- Are there any job placements or employment opportunities created?
- Has there been more skill development, training for institutions upgrade for inhabitants
- Is there is there infrastructural development in the area
- Are there perceived corruption in the sector?
- Is there any faul play in award of contracts to foreigners instead of locals?
- How effective is government in dealing with this matter
- What practical avenues are put in place for Ghanaians who want to invest in this sector
- What real benefits are there for Ghanaians directly from the foreign investors
Abbildung in dieser Leseprobe nicht enthalten
1= very poor 2= poor 3= average 4=good 5= very good
3.5Data Analysis
Indeed the research must be analysed to connect with the purpose or finding we want to achieve. In analysing the data or survey conducted, there is the need to interpret the survey, interviews and observations including value judgement with a coding or computerised system for a better arrival to substantiate the conclusion we expect to have concerning the Oil and gas industry in Ghana.
It must be noted however that both quantitative and qualitative data analysis require good coding and labeling so as to have an easy identification of similarities and differences.
For the purpose of this research it is presumed that our expected answers from our partakers will be subjective, descriptive and interpretative in nature.
The analysis combine the concepts of phenomenology and case-study approach. These two approaches are where there is a comparison and study over a period of time, the experiences and grievance of a people or group in events or a setup ( oil and gas sector).
There are relevant steps to achieving a good qualitative analysis.
3.5.1.Organising the data collected
For the interviews made, we resort to the use of the HyperTranscirbe Software for transcription of the voices heard. We use language translation software like the SYSTRAN since not all the people would be comfortable expressing their answers in English which will lead to data labeling of those transcripts
3.5.2. Identifying the Framework
This will set the explanations guided by the research questions asked, leading to the arrival of the coding plan. The codes are then modified and entered into a computer software. One could use the ATLAS or the SPSS.it is said that the use of computer softwares distances the researcher from the text but it has the advantage reducing stress when cutting and pasting by hand which causes delay. It also helps produce more powerful analysis by insertion of codes into the file and there is a better way of retrieval of information when needed. Because of the population, scope and sample size chosen, the Atlas software will be used for this exercise.( www.atlas.com)
3.5.3. Second order analysis
We identify the recurrent events or responses, look out for those respondents with far different views and opinions build the sequence of events and we develop the hypothesis including testing.
3.6 Ethical Guidelines
For the fact that the area of study is very sensitive, politically motivated and risky, respondents and most people to be contacted are aware of the purpose of this academic study and that their personal details including identity will not be revealed or disclosed. In most cases, respondents have been subjected to isolation and even loss of jobs for disclosing or being part of such exercises in our part of the world. (Nouria Bricki, Judith Green,16th,oct.2015)
3.7 Confidentiality
It is essential to protect identities of those who we got information from. When vital information is given by respondents, the researcher is expected not to expose or disclose hardcore facts or data about respondents in unprotected files and dockets, such confidential conduct will be adhered to.
3.8 Consent
People must be well informed about the purpose and full consequence of what they are doing so as to have their candid and fair opinion. They must know that it is rather for a positive outcome.This may take for form of verbal consent since a written form of consent usually scare ordinary and take away the interest of respondents.
3.9 Limitation of Research
One aspect of this research with the use of the qualitative approach is the fact that the sample size is small leading to a perception that the true picture of the research may not be arrived at.
It is also difficult to have a vivid outcome since perception of humans change over time depending on their experiences, information and status.
Nonetheless, this work will ensure the outcome truly represent what the true picture is.
3.10 Validity
There is content validity in this work. This is because of the fact that the very important and critical questions are asked the right people. All elements of this work have been ensured to relate to the actual findings expected to be achieved. Martym Shuttle worth, (July 6, 2009)
3.11 Reliability
The whole study and approach applied to this work will prove to be reliable and dependable because of that fact the the source of information and methodology applied to arrive at the final outcome are trusted. The Ghana government,any well meaning entity or can rely on this work for as a reference for policy reinforcement, amendment or positive action for the people affected.
3.12 Concluding Thoughts
In conclusion, I would like to assure that the proposed research will bring out the best and true reflection, adopting the qualitative approach because of its nature. It is my ambition that the findings will be considered and implemented effectively looking at the general revelation of its outcome.
3.13 Timeline for Completion.
Bellow is the timelines for steps to be applied in completion of the work. (Gantt Chart)
Abbildung in dieser Leseprobe nicht enthalten
REFERENCE
City fm Businee Desk,2007 edition.
Dr. A Ofori Quaah , Acting Chief Executive of the National Petroleum Corporation (GNPC)
Global Corruption Perceptions Index 2014, Transparency International
Ingleton and Seymour, 2001
Imani Ghana Press release, Feb,2010
Sen Hossi, Ghana Chamber of Bulk Oil Disributors
Martym Shuttle worth, (July 6, 2009)
National petroleum Authority (NPA) of Ghana quarterly release .(2015)
Nouria Bricki,Judith Green hdl.handle.net
Nouria Bricki, Judith Green,16th,oct.2015
Polit and Hungler (1999) Principels and Methods (6th Ed) Philadelphia,Lippincott
Ritchie et al.,Lewis and Elam,2003
US Energy Information Administration (International Energy Statistics), Oil and Gas Journal
[...]
Details
Seiten

16

Jahr

2016

ISBN (Buch)

9783668666917

Dateigröße

609 KB

Sprache

Englisch

Katalognummer

v415849

Institution / Hochschule

University of Ghana, Legon – Economics Department

Note

4.5

Schlagworte