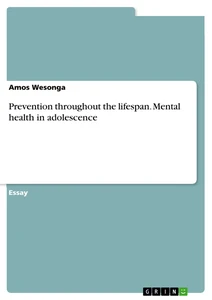 Prevention throughout the lifespan. Mental health in adolescence
Essay 2015 9 Seiten
Leseprobe
Table of Contents
Part 1
Introduction
Importance of prevention
Recommendations
References
Part 2
Local community prevention program for the Young Adult life stage
Part 3
Thesis statement
Alcoholism has the following effect on workplace
Prevention of alcohol in workplace
Alcohol's Effect on Family
Culture and subculture
Impact on the Community
Conclusion
References
Part 1
Introduction
Adolescence is the transition from childhood to adulthood. Every Child's social and emotional development is different. Kid's development is a product of his or her unique combination of development of the brain genes, environment, involvement with family and friends, influence from the community and culture. Mental health is vital during adolescent since it includes emotional, psychological, and social well-being. Also, it affects how a person thinks, feel, act, handle stress, relate to others, and make choices. Adolescence involves many changes, both positive and negative. There is need to prevent the negative ones from occurring since they may cause adverse effects on one's life.
Importance of prevention
During the adolescent stage, children are in developmental transition. They are sensitive to environmental or surrounding influences. Some environmental factors, such as family, peer group, school, neighborhood, policies, and societal cues can either support or challenge young people's health or well-being. Ensuring that they have good mental health helps them to take important decisions in life and lead a better adult life (Saxena, 2012). Prevention at this stage is critical, given that public health and social problems such as suicide, smoking, substance use and abuse, teen and unplanned pregnancies among others begin at this stage.
Self-management behaviors initiated in adolescence are long-lasting. Family bonding plays an imperative role in prevention since parents can train their children. Programs designed by schools and community on prevention can intervene in the life of a child and transform it for the better (Cavaleri, Olin, Kim, Hoagwood, & Burns, 2014). Additionally, promotion of students' health by schools should be an essential part of its core businesses since it increases academic attainment and development in life.
Gladstone, Beardslee, & O'Connor (2011) established depression to be a common psychiatric problem among the adolescents. Major depressive episode (MDD) is approximately 2% for children and increases to 4% to 7% during adolescence. Data provided by the National Comorbidity Survey (NCS) shows that the prevalence of MDD approximate 14% for adolescents aged 18 years and 20% of the youths tends to have a depressive disorder when they reach the age of eighteen years (Eija & Kaija, 2010). Therefore, a preventive measure is the most effective approach that can help to control the rising rate of depression as children approach adolescent age.
Recommendations
Primary level
Primary level children spend more time in schools even than they do at home. Fazel, Hoagwood, Stephen, & Tamsin (2014) suggest that schools play an essential role in the development of children in peer relationships, social interactions, academic achievement, cognitive development, emotional control, behavioral potentials and moral growth. Therefore, learning institutions should create a range of integrative care that can progress mental health, as well as educational attainment for kids. However, this process requires a reconfiguration of education and mental health systems to implement evidence-based practices required.
Secondary level
During the secondary level, some of the mental disorders already manifest (Sareceno, 2014). Therefore, the state should aim at lowering the rate at which disorders show among the youths by detecting and treating any diagnosable conditions.
Tertiary level
Any individual who approaches the tertiary level has developed disability conditions (Sareceno, 2014). Therefore, the primary aim should be an enhancement of rehabilitation of the affected persons. At this stage, it is also worthy to prevent relapses and recurrence of illness.
[...]
Details
Seiten

9

Jahr

2015

ISBN (eBook)

9783668729100

ISBN (Buch)

9783668729117

Dateigröße

563 KB

Sprache

Englisch

Katalognummer

v429304

Institution / Hochschule

Eastern Illinois University

Note

Schlagworte