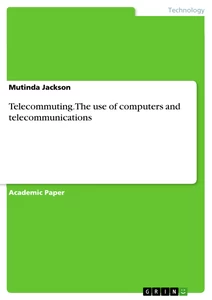 Leseprobe
Computer of data communication remains to be a fundamental part of both the modern systems as well as retrieval systems of their online access. The current information system has been noted to operate in an online interactive mode whereby the user has the opportunity of interacting with the host from a diverse remote location by using a communication link, unlike the conventional systems. Telecommuting or telecommunication can be categorized as an alternative type of work arrangement, whereby responsibilities or duties are carried out at an off-site location, not to mention that the employees utilize telecommunications technology to connect to the workplace. Scholars have demonstrated diverse factors behind the emergence and development of telecommuting.
One of the factors is that several firms are downsizing their operations with the aim of lowering costs through reduction of the office space. Another factor is that the elevated competition from the United States and even the international scope has forced many organizations to adopt extended workdays together with flexible schedules of work so as to respond better to the needs of their customers. Furthermore, this concept has emerged due to the fact that there is an elevating affordable and cost effective development of computer and telecommunication technologies. Thus, teleworking has tremendously developed from its diffident beginnings in the early 1970s to achieve unparalleled level today and it is expected to continue expanding in the years to come (Kelly et al., 2011). The objective of this essay is to discuss the nature of telecommuting, its impact on the individual and the organizations for which the teleworkers work along with its future development.
Notably, telecommuting is encompassed by a significant expansion of the places or locations as well as times that are considered favorable for work (Magazine, 2001). Research has it that there are three core components of telecommuting which include: utilization of the IT (Information Technology), de-localization of work and link with the organization at hand. First, it should be understood that telecommuting essentially relies on the processing and manipulation of information, not to mention that it depends on information transformation (Golden, 2006). As a result, Information Technology remains to be one the main constituents of telecommuting since it has the capacity of enabling employees to remain in constant communications with their colleagues.
In addition, unlike the independent employees, the telecommuters demonstrate a significant link with the organization involved. In this sense, telecommuting is not restricted to permanent employees since the employees working on the basis of contracts can also telecommunicate. On the contrary, it has been noted that differences may exist between the telecommuting form; ubiquitous in every group (Kelly et al., 2011).
According to research, different scholars have agreed that telecommunication among the employees that are not permanently employed contains a greater number of challenges compared to permanently employed ones. This kind of telecommuting has also been observed to normally include clerical work whereby the workers are salaried on the basis of a piecemeal (little by little), or even in some cases, on an hourly basis. Furthermore, research maintains that the adverse effects that are generally accrued to this home-based telecommuting do not usually come from the location itself, but instead from the contractual arrangement nature (Golden, 2006).
Arguably, time and space (location) does not necessarily constrain telecommuting. In this sense, work de-colonization assumes four different forms that include: home-based telecommuting (telecommuting from home), mobile work and satellite offices along with neighborhood work centers. First, home-based form of telecommuting normally takes place in a dedicated area of the residence of the employee's place. In this form of telecommuting, there is a subsidization of the fees of installing the equipment, either in whole or in part by the firm in question (Noonan & Glass, 2012).
On the other hand, satellite offices have been noted to assume the form of small managerial affiliates that are generally situated in proximity to areas of residence where a telecommunications link with the headquarters is maintained permanently. A satellite office is comprised of an interesting complexity for firms that aim at keeping their workers in more conventional environments, though nearer to their areas of residence (Kelly et al., 2011). One of the major distinctions between neighborhood work centers and satellite offices is the fact that they are not organizational units. In real sense, these forms of telecommuting are private centers of information that contain tools of telecommunication, which are generally shared by workers from distinct organizations (Magazine, 2001).
Concerning mobile work form of telecommuting, the brick and mortar concept of location is not entertained (Golden, 2006). In other words, in, the employees are empowered by mobile work form with the ability to carry out activities in diverse locations and in an impromptu manner; for instance, this may take place in a car, hotel room, and classroom or even in a plane. This form of telecommuting has been observed to contain a significant number of advantages such as making it possible for a better and even more individualized consumer service (Magazine, 2001). In this case, this happens through allowing enterprises to dispatch representatives of sales directly to the locations of the customers. Consequently, teleworking will not be limited to any single form, and cannot be restricted to working from residential areas on a full time basis.
Telecommuting has been seen to comprise of several impacts on both individuals as well as on organizations, as it can transform enterprise in several ways, both in the negation aspects and even positive ways. According to different surveys done by scholars and economists, a great number of companies that execute telecommuting, report high satisfaction percentage with the experience. One of the positive impacts of telecommuting on organizations is that it reduces absenteeism, increase employees' general satisfaction along with increasing the loyalty of the workers in the organization (Noonan & Glass, 2012). Literally, telecommuting reinforces the initial relationship between organizations and their workers. On top of this, it remains evident that telecommuting enables enterprises to retain workers who may have otherwise quit their jobs alongside attracting skilled workers who were otherwise not willing to relocate, especially the ones that wanted flexibility. Arguably, the abovementioned benefits may be attributed to the fact that this process has the capacity of reducing the restrictions that are inflicted by conventional work surroundings, such as travel and even schedules. Again, telecommuting here depicts an increase in the cohesion between family life and work; making the workers, feel appreciated by their mangers (Magazine, 2001).
Another positive impact of telecommuting is improved productivity as well as that of work quality, a phenomenon that is widely observed in many organizations (Magazine, 2001). Nevertheless, some empirical studies that directly and objectively relied on productivity gains' measurements have demonstrated that managers in most cases resort to subjective evaluation methods. Fortunately, statistics maintain that telecommuters strongly respect constraints concerning scheduling, not to mention that they have the capacity of organizing their work in a manner that their family obligations cannot interfere with their work (Kelly et al., 2011). Most significantly, telecommuters have portrayed a great deal of productivity compared to their colleagues. On top of this, it is noted that these telecommuters contain work of higher quality compared to the work performed by the conventional employees.
A good number of companies have also demonstrated the aforementioned impact, for instance, on the output assessment of the American Express proved that the work carried out by their telecommuters was higher than that of the workers operating in the offices. Similarly, a New York Telephone agency reported a significant increase of about forty-three percent in productivity that was linked with telecommuting, with all these companies showing momentous improvements (Kelly et al., 2011). A number of factors have been associated with such increase in productivity gain linked with telecommuting. For example, the lower levels of interruptions and interference, conducive working conditions and environments, strong focus on achieving the end results instead of a mere technical presence at work and even the possibility of workers to choose more convenient working hours along with more time spent in working. Some scholars have maintained that these productivity gains are mainly connected to the reduction or elimination of the conventional commuting that is compensated by the willingness of the telecommuter to work for extra time (Golden, 2006).
Another positive impact of telecommuting is that it allows the company to reduce certain expenses. Notably, lower costs can possibly be realized after the application of the concept of office space reduction, reduction of the energy consumption and spaces of parking along with reducing overcrowding of offices. Subtly, several agencies have reported high profits and savings through mere selling of their buildings, reducing their leased office space, for example, the IBM in the United States of America (Shockley, 2014).
In addition, telecommuting allows a significant organizational flexibility together with a superior ability of fast response to uncertainties. As a matter of fact, a number of enterprises are using telecommuting as a way of decentralizing their operations alongside organizing them into networks (Noonan & Glass, 2012). Again, an organization has the power of increasing its flexibility through hiring of workers under the arrangements of contractual aspects, for instance, on a temporary basis. Scholars and economists agree that telecommuting allows enterprises to provide working hours that are flexible for its employees. On top of this, telecommuting offers a more efficient application of the information system of the company, especially at the non-office hours, for example, during the weekends or night (Golden, 2006).
On the contrary, telecommunication also contains some adverse organizational impacts. In most cases, the employees better qualified for telecommuting remain to be the ones the organizations aim at retaining on-site. Moreover, there is loss of synergy in telecommuting that comes out as a result of physical absence of the main workers in the office (Magazine, 2001). Another negative effect is that the managers that are in charge of telecommuters may be dissatisfied. In most cases, this phenomenon crops up because several mangers face difficulties in adapting their styles of management to this novel reality that is imposed by telecommuting.
Substantially, telecommuting consists of a number of positive and even some negative impacts on individuals. For example, one of the major benefits of telecommuting comes from the reduction/elimination of the required time to physically commute to work (Noonan & Glass, 2012). Through reduction of time and distance between their residence and place of work, telecommuting plays a major role in alleviating high stress levels. In this sense too, this form of working awards individuals with the ability to reconcile their individual obligations with that of the work; providing them with more freedom of time management between work, family and leisure activities (Golden, 2006).
Furthermore, telecommuting has been seen to play a vital part in lowering the number of distractions in the conventional office surrounding, hence, allowing a high concentration as well as focus on crucial tasks. On this issue of cost, telecommuting normally lowers the costs that are linked with work; aspects that range from travel costs, glooming or even restaurant booking (Shockley, 2014)s.
In contrast, telecommuting can also produce unfavorable impacts on individuals. Some of these negative impacts include increased levels of overworking, personal life invasion, confidentiality issues and even lack of adequate feedback that are linked with work performance. On top of this, social isolation may present itself from the telecommuters, an issue that is highly cited in telecommuting (Noonan & Glass, 2012). Conflicts between family obligations and those of work may also emerge in telecommuting, though these problems may be avoided by making sure that a room in the residential area has been set specifically for telecommuters.
Concerning the future development of telecommuting, it is quite significant to note that telecommuting markets are attracting a great majority of population growth together with net domestic migration. Accordingly, the trends of the national population growth have proved to correspond to areas where working from home is highly admired. In this context, home-based working is popularly expanding faster compared to nations' average (Kelly et al., 2011). Likewise, in the trends of the net domestic migration, which refers to movement within a nation, also favor areas where working from home is highly admired. Such movements have been noted to favor telecommuting simply because they occur in areas where telecommuting is highly significant (Shockley, 2014).
Therefore, the aforementioned demographics vividly show that telecommuting has the possibility of continuing its growth in the years to come. Since new ICTs', for example, tablets and Smartphone's have tremendously revolutionized work together with life nowadays, the world will is, thus, expected to experience a detachment of work from the traditional office spaces (Magazine, 2001). As it was predicted in the 1970s, work of the future will be relocated in nearby employees' homes, facilitated by technology, depicting the manner through which today's office is mainly aided by the use of internet connections.
To sum up, one of the factors behind the emergence and development of telecommuting as noted is that several firms are downsizing their operations with the aim of lowering costs through reduction of the office space. Another factor is that the elevated competition from the United States and even the international scope has forced many organizations to adopt extended workdays together with flexible schedules of work so as to respond better to the needs of their customers. This concept has emerged due to the fact that there is an elevating affordable and cost effective development of computer and telecommunication technologies. Some of telecommuting significant impacts include lower absenteeism levels, high levels of loyalty, increased productivity, flexibility, increased flexibility and savings among others. However, it also contains adverse impacts such as absence of workers from office, loss of synergy from the company and even lower control of the organizational data. Telecommuting is also expected to expand and grow as technology advances, and for years to come, it will still remain significant in organizations.
References
Golden, T. D. (2006). The role of relationships in understanding telecommuter satisfaction. Journal of Organizational Behavior,27(3), 319-340.
Kelly, E., Moen, P., & Tranby, E. (2011). Changing workplaces to reduce work-family conflict: Schedule control in a white-collar organization. American Sociological Review, 76, 265-290.
Magazine, S. (2001). Beyond Telecommuting: Development and Test of the Concept of Remote Work. Indiana: Purdue University.
Noonan, M., & Glass, J. (2012). The hard truth about telecommuting. Monthly Labor Review, 135(6), 38-45
Shockley, K. (2014). Telecommuting. Retrieved from http://www.siop.org/whitepapers/scientificaffairs/telecommuting/telecommuting.pdf
[...]
Details
Seiten

7

Jahr

2018

ISBN (eBook)

9783668733336

Dateigröße

436 KB

Sprache

Englisch

Katalognummer

v429515

Institution / Hochschule

Mount Kenya University

Note

A-

Schlagworte