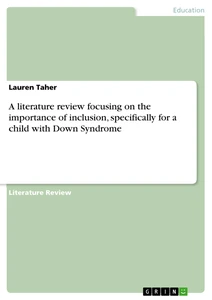 A literature review focusing on the importance of inclusion, specifically for a child with Down Syndrome
Rezension / Literaturbericht 2013 7 Seiten
Leseprobe
A literature review focusing on the importance of inclusion, specifically for a child with Down Syndrome
This literature review will focus on the importance of inclusion within the primary school classroom and the wider school environment. The main focus will be Julie, a five year old child with the genetic condition Down's Syndrome, that according to the NHS (2014), causes a level of learning disability and a characteristic range of physical features. Under the Equality Act (2010), Julie, has 'a physical or mental impairment' which has a ' substantial and long-term adverse effect on [her] ability to carry out normal day-to-day activities'. Relevant literature will be reviewed throughout this assignment, including a number of educational policies, to establish the importance of inclusion, especially in relation to Julie and her individual needs.
Down's Syndrome occurs when 'an individual has a full or partial extra cpopy of chromosome 21.' (National Down's Syndrome Society, 2012.) Down's Syndrome is a genetic condition, effecting the brain, nervous system and the emotional system, often leading to a severe delay in mental development and a distinctive physical appearance (Arlene, 2014). One symptom of Down's Syndrome is an increased risk of heart malformations (Arlene, 2014); Julie has previously spent a large proportion of time in hospital, as she has a small hole in her heart.
The National Curriculum (2013) discusses the importance inclusion and how lessons should be planned to ensure that there are no barriers affecting children's learning. Black (2000), and Deppeler (2011), report that inclusion is the involvement of every student in all aspects of the school environment, despite the presence of individual differences. The Special Educational Needs and Disability Code of Practice (2014), also implies that all children are entitled to an education which allows them to make progress in their learning, becoming a confident individual, living a fulfilling life.
It is vital that the SENCO at Julie's school reviews her needs, identifying her personal, social and communication development targets for improvement, ensuring that she is helping 'to support individual pupils with SEN'. (SEND Code of Practice 6.88, 2014.) This information can be discussed with Julie's parents, as the SEND Code of Practice (2014) and the Children and Families Act (2014) indicate that if a pupil is receiving SEN support, it is appropriate for schools to have discussions with parents on a regular basis to review the child's progress, and to identify the responsibilities of both the school and the parents. In addition to this, Karaaslan et al (2013) highlights the importance of parental involvement for children with Down's Syndrome, evaluating the benefits of using Responsive Teaching to promote children's development by encouraging pupils parents to engage in highly responsive interactions with them (Mahoney et al 1992).
According to Siller et al (2002) and Mahoney et al (1985), one of the major social and environmental influences on the development of young children is parental responsiveness. This could have the potential to benefit the child, and their parents, however would require extensive planning, something Arthur et al (2010) indicates is vital to ensure differentiation and inclusion. Bird (2001) also demonstrates the importance of parental involvement, commenting on how parents could help to plan schemes of work to ensure it has the child's life experiences and interests in mind. Due to section 19 of the Children and Families Act (2014), the class teacher and Julie's mother could work commutatively to develop techniques and strategies so that Julie is continuing to make progress within her learning at home, which will in turn be reflected within the classroom (SEND Code of Practice 6.65, 2014).
Julie is at a very early learning stage and has very limited speech. The possibility of intermittent hearing loss has also been recorded on Julie's medical records; in their early years, 80% of children with Down's Syndrome suffer from mild to moderate hearing loss (Buckley et al, 2002), potentially having an impact on their language. As stated by Westwood (2001), differentiation is vital within schools therefore differentiation by task and outcome may be appropriate in some aspects of Julies learning (TS 5a, 2012). Buckley et al (2002) discusses how it is important for children with Down's Syndrome to communicate using non-verbal methods of communication, such as hand gestures, helping to increase their communication ability, as well as their confidence, thus helping them to feel more included within the classroom environment. Similarly, Nancollas (2012) agrees, identifying that children with Down's Syndrome often find it easier using other means of communication, or in many cases sign language. In contrast, Lorenz (1998) proposes that there are a number of individuals who believe that these methods will delay speech development in children with Down's Syndrome, however does recognise that using sign language can reduce frustration significantly, allowing time for speech to develop naturally.
The children in Julie's class, and wider school environment could be taught some elements of sign language in order to help Julie to feel included within the school community. The learning of this could take place in the participation of a signing 'club' which could be run for one lunchtime each week. This would require planning to ensure its effectiveness, and may involve an external experienced teacher within this field to contribute to the lessons. Julie's class could also sign along to a song such as ' Head, Shoulders, Knees and Toes', as Kumin (2008) highlights that children with Down's Syndrome often have a positive response to music.
Although Julie shows an interest in the other children in her mixed reception and year one class, she usually makes the decision not to play directly with them. The SEND Code of Practice (2014) indicates that it is important for Julie to interact with other children who do not require any SEND assistance, therefore circle time could be a technique that gradually encourages children with Down's Syndrome to develop their social skills, increasing their confidence, helping to promote inclusion. As Cooper (2000) discusses, circle time gives a sense of security, purpose, belonging and identity, where sensitive issues can be brought to light and discussed.
According to Greenfield (2004), working outdoors with children provides them with open-ended opportunities, for learning, problem solving and developing their social competence. Julie enjoys being outside, therefore teaching styles could be adapted, thus differentiated to encourage her to learn through outdoor play, TS 5c, d (2012). Although it is vital that children with SEN interact and take part in activities within school alongside those children who do not require SEN support (SEND Code of Practice, 2014), it is also important for Julie to work on her personal targets, which will contribute towards her assessment, such as developing her confidence in using the outdoor equipment; children relish the physical challenges in certain activities, increasing their self-esteem, feeling a sense of achievement from successfully completing a challenging task (Barnes et al, 2004). In addition to this, the National Curriculum (2013) advocates that lessons should be planned to ensure differentiation where necessary. Similarly, both Mitler (2000) and Westwood (2001) share the opinion that inclusion involves changing schools in order to ensure that they are more responsive to every child's needs. Westwood (2001) goes on to highlight that it is important to teach 'things differently according to observed differences among learners.' Westwood (2001) indicates the importance of differentiated activities, therefore activities could be planned to suit Julies needs, ensuring differentiation, especially those in relation to the outdoors. Collado et al (2013) and Thompson et al (2008) both discuss how direct contact with nature is an inexpensive, readily available tool that enhances pro-environmentalism. This enforces the idea that allowing Julie time to express herself through outdoor play will help her progress within her learning, allowing formative assessments to take place to ensure Julie is meeting her targets, as well as encouraging her to gain confidence in the outdoor environment.
Despite the fact Bird et al (2001) disagrees with the use of visual aids, proposing that they confuse the child, according to Wilkinson et al (2008), using visual forms of aided alternative and augmentative communication with children with Down's Syndrome, such as photographic stimuli, can not only increase their ability to communicate with others in the classroom, thus promoting inclusion, but can also enhance all children's capability in visual processing. Children with Down's Syndrome can often struggle expressing themselves through verbal language, (Buckley et al, 2002) therefore keeping a visual diary to record their inner thoughts and feelings may be an effective method to stimulate learning, whilst contributing to assessment (Deppeler, 2001); as outlined in the SEND Code of Practice 6.63, 6.75 (2014), the progress of all pupils is monitored. Visual representations could be used throughout the classroom and wider school environment, for example they could accompany words around the school, such as toilet, in addition to the classroom where they could take the form of a photograph of books to represent the book corner, or a picture of coats to represent the cloakroom. A visual timetable could be displayed on the board each morning with a picture next to each lesson, as part of the Picture Exchange Communication System (PECS), helping Julie to get into a routine, as well as the rest of the class, as Julie is in a mixed reception and year one class, therefore these visual aids will benefit everyone at their early learning development stage.
Throughout this assignment, a range of sources have been reviewed in relation to inclusion, analysing the fundamental issue that every child has the right to an education, despite the fact they may require SEND support; 'a child is a person first and their difficulties are an add-on which, although posing difficulties, can be overcome by a good teacher with little more than information, appropriate support and a positive attitude.' (Black, 2000) In reference to the Equality Act (2010), Down's Syndrome is a disability, which requires changes to be made within the teaching practice and school setting to ensure that they benefit within the learning environment, to the same extent as a person who does not have a disability benefits. The literature suggests that every child has the right to receive a high quality, challenging education that maximises their potential, stretching and reflecting both their abilities and interests. The literature indicates different, and often contrasting, ways inclusion can be achieved, particularly revolving around organised planning, differentiation and assessment as these are at the centre of implementing an inclusive environment.
[...]