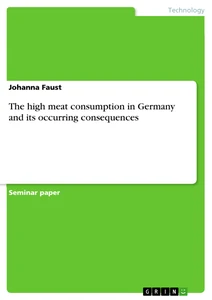 The high meat consumption in Germany and its occurring consequences
Hausarbeit 2018 15 Seiten
Zusammenfassung
This term paper is dealing with the high meat consumption in Germany and its occurring consequences.

Essays and dissertations dealing with meat consumption in Germany have been used as a basic collection of literature. Using neutral literature made it possible to give a broad overview of the topic. Besides one will have a closer look at its development and possible reasons for people to continue eating meat nowadays.

The meat inspection law means 'meat' when talking about fresh or prepared parts of warm-blooded animals, which can be used for human consumption. Despite this containment one has to note that marine animals and other not warm-blooded animals are used for the consumption of meat as well. Still, for the following paper Hellichs and Schroeters definition of meat is enough, because it deals mostly with cattle and horses. On this occasion we deal mostly with meat products, which are produced and used in Germany.

Since the last bovine spongiform encephalopathy crisis, short BSE-crisis, the industry must deal with a scandalous image on meat. Besides, bird flu, foot-and-mouth disease and different scandals with packaging lead to uncertainty within the German consumers. Their trust has been misused and people started to call for environmental friendly and animal friendly meat production.

Today the meat consumption minimally decreases with every year, but the global consumption is still increasing. This causes consequences such as the increase of meat production which causes heavy environmental damages, which are responsible for devastating global impacts. The question, why people still consume that much meat despite they know what impact it has on the environment, arises.
Details
Seiten

15

Jahr

2018

ISBN (eBook)

9783668853188

ISBN (Buch)

9783668853195

Sprache

Englisch

Katalognummer

v453064

Institution / Hochschule

Universitetet i Oslo

Note

2,0

Schlagworte