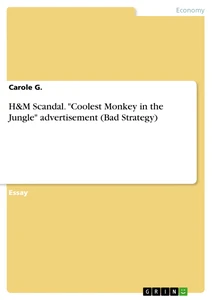 H&M Scandal. "Coolest Monkey in the Jungle" advertisement (Bad Strategy)
Essay 2018 8 Seiten
Leseprobe
H& M Scandal: "Coolest Monkey in the Jungle" advertisement (Bad Strategy)
The H&M Group
H&M is a global Swedish fashion and design apparel retailer founded in 1947. It's one of the world's leading fashion companies reaching customers across the globe with over 4'800 stores worldwide and a strong online presence. It features nine clearly defined brands which ensure that H&M satisfies various customer needs and segments around the world. H&M's overall strategy for growth is to expend their network of physical stores – especially in emerging markets – as well as web shops in order to enhance their customer's seamless shopping experience through modern technology, digital innovation and social media platforms.
H&M: Facts and Figures
Abbildung in dieser Leseprobe nicht enthalten
Scandal of the "Coolest monkey in the jungle" hoodie advertisement
In the first week of January 2018, H&M UK created a worldwide controversy by advertising a green hoodie with the slogan "Coolest Monkey in the Jungle" in its online store featured by a black boy model while a white child model was presenting an orange sweatshirt saying "Mangrove Jungle – Official Survival Expert".
Abbildung in dieser Leseprobe nicht enthalten
Immediately, the company was faced with an outcry on social media from celebrities, journal- ists, advocates for social justice and consumers, most of them widely criticising the advertise- ment as being racist, offensive, derogatory and negligent. Furthermore, the company was criti- cised for showing a serious lack of social aware- ness and racial sensitivity (cf. Bever 2018).
Reasons for the worldwide outrage
So why did this advertisement of a hoodie featured by a black child model trigger such a shitstorm? The ref- erence to a monkey is historically perceived as being inappropriate because of its featuring in racial and eth- nic decrial. Comparing Black people to a 'monkey' implies a racist undertone because of its historical use for demeaning and dehumanizing people of African descent. Twitter user Volkan called the advertisement dis- gusting because of its "projection of (…) neocolonial thinking" (Volkan 2018).
One can argue that the context shouldn't be ignored in this matter. The hoodie advertisement was not a motive of a worldwide campaign but only an image in an online store of the fashion giant. Nevertheless, many social media users were stunned how nowadays it has been possible that such an ad was approved. And how none of the individuals involved in this product cycle of a global brand was aware of the implica- tions and the obvious and objective offensiveness of this advertisement. Brand designer Alex Medina posted on Twitter: "In the year 2018 there's no way brands/art directors can be this negligent and lack awareness. If look at other sweaters in same category they have white kids. We have to do better" (Medina 2018).
Consequences of the scandal for H&M
Soon after the incident the hashtag #BoycottHM already surfaced on Twitter and major influencers voiced their criticism and joined the protest towards the clothing giant. The Weeknd (Canadian pop star) an- nounced the end of his collaboration with H&M and deleted pictures showing his two H&M clothing collec- tions (cf. The Weeknd 2018). NBA star LeBron James, known for speaking up about social issues, shared an altered image with the child wearing a crown. He stated: " I see a young King!" (kingjames 2018).
Social media outrage was however not the only consequence H&M had to face. In South Africa the situation escalated when several stores of the Swedish brand got vandalized by activists and protesters. The police had to intervene to stop the violence and H&M temporarily closes all its stores in South Africa in order to ensure the safety of their employees and customers (cf. Flanagan/Tahir 2018).
Furthermore, the public criticism also led to a decrease of H&M's shares on the stock market. They slid to its lowest level since April 2009. This was an additional setback since the company had already reported a de- cline in sales in December 2017 and announced the closure of stores (cf. Spiegel Online 2018).
Some Twitter users however thought of the ad as being a lack of cultural awareness and pure ignorance on the side of H&M without malicious intent. A Twitter user stated: "I worked for them for years and they're clueless sometimes. The head office in Sweden is very disconnected to issues of racism, cultural & social chal- lenges. They seriously probably think this is cut e" (Zimmerman 2018).
Strategic move – Why was the ad a bad strategy?
Strategy Wheel: To place the strategy of H&M as a whole with a focus on this spe- cific case of unfortunate advertisement and assess the actual situation, the Strat- egy Wheel of Hilb and Henkel (cf. Hilb 2018: 37) is being used as a tool for a brief analysis.
Abbildung in dieser Leseprobe nicht enthalten
In s id e H&M – guidelines, policies, values: The lack of cultural and racial sensitivity in this case is especially striking because of H&M's self-promoted and highly praised corporate social responsibility (CSR) – among others their strong belief in values like fairness, diversity, equality, transparency and ethical and responsible behaviour. The fashion giant is proud to have a history in sustainability as part of their vision and as the core of its (business) strategy. The three key ambitions are: leading the change, circular & renewable, fair & equal. H&M implements a culture of engagement regarding environmental (e.g. recycling, garment-collecting pro- grammes, climate-friendly) and social responsibility (e.g. fair job and working conditions, no child labour, diversity) for a better future and a sustainable fashion industry. The company has systematic way to ensure the implementation of a set of values, policies and guidelines in all aspects of their business in order to achieve their vision and goals. Additionally, they do have an extensive and broad set of group wide policies in place to guide and ensure their sustainable work – such as Global Non-Discrimination policy, policy on diver- sity, inclusiveness and equality and on human rights. These state among others a fair and equal treatment of every individual, a zero tolerance policy on discrimination, respect of human rights, value-driven way of working and interacting with the world. H&M is aware that its marketing has a major impact on their sur- roundings. "We are responsible for influencing our customers around the world through our products, cam- paigns and messaging" (H&M Group 2018a: 56). The company wants to "(…) challenge prejudice and restric- tive stereotypes and be part of creating an inclusive society. We act as stewards for diversity and inclusive- ness by engaging with our customers through global marketing campaigns and collections that aim to recog- nise and support everyone's right to proudly be, and express, who they are" (H&M Group 2018a: 68). Sys- tematic evaluations as well as trainings are being made to follow-up on the implementation of H&M's stand- ards, policies and values (cf. H&M Group 2018a). With this mindset in place, the racial and therefore insensi- tive implications of this ad should have been obvious to all H&M employees involved in the product cycle.
In tended vs. Emerged strategy: Instead of having realized and implemented an intended marketing and advertisement strategy for the introduction of new products to consumers, it seems that this ad was the result of an individual decision making where the overall strategic guidelines and policies of the company have been ignored. This resulted in a negative emerged strategy regarding the launch of the hoodie collec- tion. This happened due to a lack of judgement (and maybe knowledge) and an inadequate communication between the different individuals involved as well as negligence of the company's overriding values, objec- tives and standards that come along with their CSR. "(…) it is vital that no matter what our role is at H&M, we always live according to our values and guidelines and that we are all good H&M role models in every- thing we do" emphasized Karl-Johan Persson, CEO of H&M (H&M Group n.d. b: 2). By taking them into ac- count, the insensitive ad and consequently negative public reaction could definitely have been prevented. The fact that it hasn't in this specific case shows a poorly working strategic planning and control system which would be a core aspect of a good strategy (cf. Grünig/Kühn 2005: 7-20).
[...]
Details
Seiten

8

Jahr

2018

ISBN (eBook)

9783668873872

Sprache

Englisch

Katalognummer

v453229

Institution / Hochschule

Université de Fribourg - Universität Freiburg (Schweiz) – Wirtschafts- und Sozialwissenschaftliche Fakultät

Note

5.5 (Schweiz)

Schlagworte