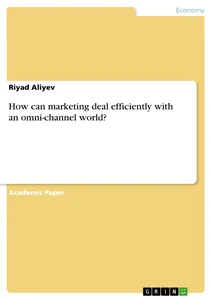 How can marketing deal efficiently with an omni-channel world?
Akademische Arbeit 2019 12 Seiten
Leseprobe
Table of Contents
Introduction
Literature Review
Discussion
Case
Conclusion
Reference
Introduction
American Marketing Association's first ever intellectual agenda has identified seven big problems that all marketing community currently confront in the modern world. Jaworski, Malcolm& Morgan pointed out "the AMA's intellectual agenda seeks to serve as a big tent source of guidance and inspiration that includes both theoretical and applied knowledge that will ultimately provide actionable insights, frameworks, tools, and resources for the AMA community". The fifth problem listed by the agenda is dealing with an omni-channel world. As the emergence of digital media omni-channel has become a priority for marketers. Haukingham (2017) claims that a customer using several different channels buys up to 30% more compared to a mono-channel customer. Nowadays, the marketing industry not only understands the advantages of the omni-channel marketing but is confronting a compulsion from customers to be omni-channel as a standard. Despite the importance of omni-channel strategy to marketers, delivering a seamless customer experience across multiple channels is a complex, multi-faced challenge for them. Implementing a successful omni-channel strategy requires adjusting management methods as well as management itself otherwise it can end up a huge amount of loss. According to a study conducted by 1WorldSync (2017) "45 percentof merchants and suppliers have lost more than $1 million in revenue due to cross-channel commerce challenges, and more than one in ten have lost more than $3 million". Therefore, in order to overcome challenges and be successful in the omni-channel world, marketers need to be more careful while implementing the strategy.
Literature Review
In the current world, the emergence of the internet which brought connectivity and transparency has led to drastic changes in the power structure. As every aspect of life, the marketing community has been affected by the power shifts, and so, old theories and practices start to be challenged by new ones. One of the new strategies is omni-channel marketing. Rigby, the first person originated the term, defined omnichannel as the integration of all available channels for making customer shopping experience seamless. These channels could be physical stores, websites, kiosks, direct mail and catalogs, social media, call centers, mobile devices, televisions, gaming consoles, home services, networked appliances and more (As cited in Singh, 2017). In other words, since companies have started to compete in global marketplaces which have been changed by new technology, companies need to reach the customers wherever they are, on whatever device they may use, in whatever way they wish to purchase. Mosquera, Pascual& Ayensa added that advances in information technology and communication have caused an increase in a number of retailing formats such that consumers get in touch with companies during the customer path (2017). Moreover, in spite of the fact that omni-channel, multi-channel, and cross-channel are used interchangeably in some literature, omni-channel should not be confused with multi- or cross-channel. According to Piotrowicz & Cuthbertson (2014), while multi-channel means using different channels that work independently, "in an omni-channel environment, the channels work together, such that customers can use digital channels for research and experience the physical store in a single transaction process". While interacting the companies at any time, customers suppose to have a similar brand experience as the channels are managed together (As cited in Mosquera, et al., 2017). Dorman added that in a multi-channel business model, each channel is functioning separately to reach different segments of customers (2013). Nonetheless, "cross-channel retailing is the set of activities involved in selling merchandise or service through more than one channel or all channel widespread at the same time but with a partial interaction with the customers and/or a partial integration controlled by the retailer" (Simone, Sabbadin, 2017). Shortly, the main factor that differentiates omni-channel from multi- or cross-channel is that in omni-channel strategy different channels are used through one purchasing process. For instance, one channel used to obtain pre-purchase information, another channel for sales fulfillment and yet another channel for post-purchase service (Valos, 2009). The review excluded sources about optimization of the physical channel and advanced payment systems and focused only on changes in channel management and threats of channel integration. In addition, the scope of the review was to find the answer to the question: what are the new challenges in implementing the omni-channel retailing?
The rapid development of the e-commerce industry has a significant impact on traditional retailers in terms of moving into the online market. Namely, "retailers and e-tailers are facing pressure to adapt since a strategy focusing on a single channel may no longer be sufficient to attract the demanding customers of the 21st century" (A Deloitte Point of View, 2015). Nevertheless, omni-channel marketing is harder than it may seem. Hence, omni-channel retailing requires to consider new risk management techniques including reconfiguring internal processes to provide new services previously not required. Valos (2009) spoke up for the idea that omni-channel marketing creates some challenges that include "the internal politics when the role of a traditional channel is reduced or modified, understanding synergies when multiple channels provide complementary roles, and balancing effective and efficient performance measures". Consequently, when the retailers decide to implement an omni-channel marketing, they ought to consider the new development requires an adjustment in the functional and operational management. Since achieving success in omni-channel marketing relies on the capability to design and implement an intensive strategy for how to be present in the channels that customers desire, both now and later, management needs to invest significant time in planning before executing. If they establish independent and disintegrated channels, it is hard to go forward (A Deloitte Point of View, 2015). Secondly, while talking about integration threats, channel cannibalization can be an important concern for retailers who are trying to advance the integration among their channels according to some researchers. Thus, some retailers are still reluctant to implement omni-channel marketing due to the cannibalization threat. According to Webb (2002), "they believe that this kind of strategy would move their customers from their current channel into the new one and thereby cannibalize the sales instead of increasing total sales" (As cited in Simone& Sabbadin, 2018). After all, despite the fact that omni-channel marketing is a new trend in the marketing industry, dealing with an omni-channel world has certain challenges such as managing the channels and channel cannibalization.
The purpose of the review was to find an answer to the question what are the new challenges in implementing the omni-channel retailing? Conclusion driven from the review was that managing channels and cannibalization threat are the factors that have to be considered before implementing omni-channel marketing strategy. Namely, managing channels correctly is sometimes challenging for companies as it requires precise efforts and more time. Furthermore, integrating channels may lead to cannibalization which dismantles the sales rather than growing total sales. Consequently, managers have to be more careful while integrating channels and implementing omni-channel since a small mistake can result in huge issues. The result was contributed and explored deeply in the research project.
Discussion
Nowadays, consumers on average seamlessly move between the physical and digital worlds. For example, a consumer may search a product online and then go to a store to test it. After comparing different prices online, he or she finally purchase the product. From the example, it is shown that both digital and physical spaces are involved in purchasing experience as they blur more closely together. The reason why an omni-channel marketing approach is so powerful is that consumers engage with brands in an omnichannel manner, and this trend increases day-by-day. Therefore, brands need to adjust their strategies to readily deliver the right message to the right person at the right time. Brennan asserted "the brands who are able to make this transition effectively, and provide the contextually relevant experiences consumers expect, are the ones that will thrive in the long term" (2018). Nevertheless, it is not an easy task to build and implement a strong omni-channel marketing strategy. According to the report by Brightpearl (2018), despite the fact that 9/10 retailers and brands currently possess or are planning to have an omni-channel strategy, only 0.8 out of 10 believe they succeed in omni-channel. These numbers show that most brands fail to be successful in the omni-channel world, and most commonly there are two reasons behind the failure: failure to integrate sales channels and failure to manage out-of-stocks and share inventory visibility. First of all, one of the most common missteps taken by retailers is to treat each channel separately instead of integrating sales channel into one omni-channel platform. Consequently, brands have to manage these independent channels with their own supply chain and inventory allocation processes. In addition, as each channel is designed separately, they are unable to easily communicate with each other which lead to dissatisfaction of consumers. According to a study conducted by Forrester, half of the customers suppose that they will be able to buy online and get in-store (Miller, 2014) which would not be possible in separate sale channels. The second failure scenario is that if a customer searches a product online and then visits the store to purchase where are told that online inventories are available, but in-store stocks have been cleared, or other way around. "27% of consumers would be very likely to leave and visit another retailer's store if a product is out of stock" as reported by Miller (2014). The example indicates a lost opportunity for the brand. Also, except lost revenue, it means the loss of a potentially loyal customer which nowadays is a company's most valuable asset. To overcome these challenges and achieve to execute strong omni-channel marketing strategy there are a few steps that brands should consider. Jordano suggested, "developing a strategy to optimize customer and prospect engagement at every touch point, targeting the right audience at the right time with relevant content and accurately determine what target markets will best react to your messaging are the tips and best practices forimplementing an effective omni-channel strategy" (n.d.). Furthermore, integrating sales channels completely, understanding individual consumer preferences deeply, providing consumers with real-time updates on availability of a particular product are some of the tactics that should be considered by brands to be successful in the omni-channel world. After all, omni-channel marketing provides a seamless experience in the path to purchase as customers jump from one channel to another; therefore, if all these techniques are implemented correctly, it will eventually end up with driving up productivity especially increasing commitment. In conclusion, in the modern digital era, omni-channel marketing which means providing an integrated online/offline experience for customers regardless of touch points has become key to marketing success. However, companies face challenges in executing effective omni-channel strategy such as integrating sales channels and managing out-of-stocks and sharing inventory visibility. Therefore, brands should use certain techniques to overcome the obstacles including, integrating sales channels completely, understanding individual consumer preferences deeply and so on. The successful omni-channel marketing will lead to increases in productivity specifically higher commitment.
Case
In today's world, consumers suppose much more from their shopping experiences than ever before. For example, they want to be able to search a product on mobile, order it on their computer during lunch break, and finish it off at a physical store. Therefore, the customer path to purchase must be seamlessly integrated between online and offline experiences. In short, the goal of omnichannel retail is to make sure that consumers achieve a sale regardless of what channels are used. When we talk about the integrated channel that provides shoppers a seamless experienceacross online and offline channels, Oasis British fashion retailer, one of the best example of an omni-channel retailing company, comes to the mind first. Oasisstarted to operate in 1991. It has approximately500 stores in the UK and other 26 countries including Europe, Scandinavia, the Far East, Middle East, Mediterranean and South America plus an e-commerce website, app and around 80 standalone stores, 200 concessions within other department stores. In 2011, the company introduced an investment program worth £7m to renovate its brand image and increase market share through the integration of all its retail channels. Oasis could successfully implement the omni-channel retail concept and therefore, was verified as one of the top omni-channel performers globally in 2011. The key factor lying behind the success is channel management. Namely, as the retail industry has a high BAR median but narrow BAR range, success is often determined by channel proximity and accessibility to key markets. Correspondingly, driving customers to its sales channels through traditional and digital media has helped Oasis to become a leading example in the industry.
[...]
Details
Seiten

12

Jahr

2019

ISBN (eBook)

9783668891906

ISBN (Buch)

9783668891913

Sprache

Englisch

Katalognummer

v455636

Note

A