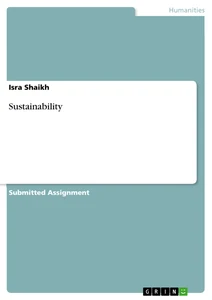 Leseprobe
Sustainability
The terms Sustainable and Sustainability are utilized to portray various methodologies toward enhancing our lifestyle. Etymologically the word intends to support or persevere. Manageability does not have an unbending definition. Sustainability implies diminishing our mischief on the earth and eventually turning around the damage we have just caused. Sustainability implies recharging assets at a rate equivalent to or more noteworthy than the rate at which they are expended. It talks of human efforts to endure for something to meet their essential needs. It enhances the growth of resources in order to come up with the demand of people and fulfill their needs.
The present worries on manageability center around human exercises and methodologies of changing human dispositions to advance sustainability. The administration of homesteads, businesses, and condition rely upon societal standards. On the off chance that the general public trusts that specific practices would influence the future age, it should seriously think about making laws that would turn away such practices. The asset usage design will in general characterize manageability. Sustainability is a training that goes for making accessible life open doors for the pending age. The decisions showed in the general public posture both alluring and non-attractive results. However, sustainability is basically everything that we require for our survival and prosperity, either specifically or in a roundabout way from our condition. It makes and keeps up the conditions under which people and nature can exist in gainful harmony. Ecological sustainability includes settling on choices and making a move that are in light of a legitimate concern for securing the normal world. Natural sustainability is tied in with settling on mindful choices that will diminish your business' negative effect on the earth. It isn't just about diminishing the measure of waste you create or utilizing less vitality, however is worried about creating forms that will prompt organizations.
Sustainability shows a lot of positive features for the future generations and it saves natural resources and renew these resources in order to utilize them. Some people argue that changes may cause harm and may affect but if we thoroughly see all these things, they have quite positive number of things. In 'food, annual crops and fate of civilization' we came to know that through applying different chemicals on the agricultural land it produces food in a good amount. It enhances the quantity of food for humankind and this staple food is necessary to meet the needs of all mankind.
Jean-Anntheleme Brillat- Savarin, eighteenth century gastronomist drew a distinction between the animals and human's intake of food. The sustainability of food depends upon the both outcome of earlier and current situations. In early times when new people came, they brought farm animals and growing crops. This will help to grow more food. It is a great way to enhance the production by using different ways and ideas to cope up with the current situation. By using different methods, it maintains the integrity of soil and enhance soil productivity.
At present we are encountering a warming of the atmosphere which is called global warming. The environmental change is achieved by our exercises that include the arrival of critical measures of ozone depleting substances. For the most part ozone harming substances enable warmth to be caught and furthermore allows some warmth additionally escape once more into space. Cognizance and responsiveness will enable us to discover routes on the most proficient method to decrease the threats of an Earth-wide temperature boost. We are fit for building a manageable way of life that we as a whole long for. Thus, we should likewise make a superior and more brilliant reality where we would all be able to live in congruity with nature. In the event that we deal with our waste transfer strategies successfully and think about maintainability, the world will see an obvious change. (McKibben)
Michael Pollan's in his book portrays key social changes that how in primitive times families eating habits have changed, for example, mothers and conventions, to promoting and the sustenance business. The outcome is that more wellbeing claims are made for nourishment than any time in recent memory, however individuals are less healthy. All through the twentieth century, logical comprehension of sustenance and wellbeing grew new speculations, for example, the lipid theory, which contended that expanded utilization of fat and cholesterol were adding to heart illness. The outcome is that more wellbeing claims are made for nourishment than any time in recent times people are not healthy as they eat food filled with nutrition. (Pollan)
Sustainability is control as a sorting out idea for present day life has come to fruition, to some degree, in light of three momentous exercises that people have gradually consumed. In such a general public native would be definitely mindful that woods, fruitful soils, fisheries, and clean water are resources for be utilized at a rate no quicker than their inborn rates of generation. We have spent a great part of the previous century demonstrating how sharp we can be; we will just prosper in the following on the off chance that we can indicate how shrewd we can be. We have to be careful while using all the natural sources and think about for our future generations. This is the only way to save something for our future and they also can enjoy the all basic necessities of life. (UhL)
Rob Hopkin is of view that sustainability can only be possible when all people form a community and work together for the betterment of planet. He started to take small initiatives from the town then moving towards the cities, states and then nation. He urges all the people to form a community and work in a group to save the environment and nature. He believes that we have to live in a limit until we achieve our goals. We should not waste our energies and natural sources. The people have to think about their generations to give them a good environment and healthy atmosphere which is free from pollution and dirt. (Jackson)
Crop rotation is the act of planting diverse yields in a similar homestead to improve soil ripeness and help control ailments and bugs. Yield pivot is gainful from multiple points of view; above all, it's chemical free. This implies utilizing this cultivating practice keeps up uprightness of your soil, making it a feasible advancement practice. The common methodology these days is that with the end goal to safeguard worldwide assets for who and what is to come a basic idea of sustainability, business organizations must accept a critical job all the while. A whole framework is attempting to furnish buyers with broad and exact data about the supplements, empowering them to make educated, solid healthful decisions, and outfitting them with choices to discard squander with insignificant effect on nature.
[...]
Details
Seiten

4

Jahr

2018

ISBN (eBook)

9783668932449

Sprache

Englisch

Katalognummer

v464250

Note

A

Schlagworte