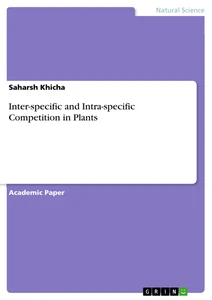 Inter-specific and Intra-specific Competition in Plants
Akademische Arbeit 2019 26 Seiten
Zusammenfassung
This investigation was planned to work on the different types of competition and solve the problem of the farmers suffering from shortages of crop production. Hence, the research question was framed: "Does decreasing distance (70mm, 50mm, 30mm, 10mm) of the wheat (Triticum aestivum) and chickpea (Cicer arietinum) seeds sown in the presence (5% solution of urea) and absence of urea effects the shoot length (mm) due to inhibitory effects of intraspecific and interspecific competition between them?"

Crop production in India is labour intensive with limitation of scientific techniques. Unawareness in farmers for correct distance of sowing seed leads to low production of crops. This is due to overlapping of niche and thus the realised niche of a species which is the actual mode of existence resulting from adaptation and competition is developed.

A research was undertaken by in Journal of Experimental Botany which acknowledged various factors that affect the crop production and solutions to overcome competition. The research would make farmers aware of a major factor like competition, that should be considered while crop production.

Details
Seiten

26

Jahr

2019

ISBN (eBook)

9783668975743

ISBN (Buch)

9783668975750

Sprache

Englisch

Katalognummer

v489009

Institution / Hochschule

The University of Hong Kong

Note

A

Schlagworte