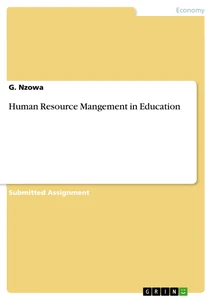 Human Resource Mangement in Education
Einsendeaufgabe 2019 22 Seiten
Leseprobe
HUMAN RESOURCE MANAGEMENT IN EDUCATION
QUESTIONS AND ANSWERS
QUESTION ONE: Find out about five basic characteristics you want to be possessed by the employees in your ideal organization, then suggest the methods to be used to obtain people with those qualities.
QUESTION TWO: Explain the evolution in understanding treatment and use of people who are working in an organization. Identify the key concepts used to refer to those people and their management at different times in the evolution process.
QUESTION THREE: Discuss the major issues related to the government employees' management in schools in Tanzania.
QUESTION ONE
According to Aswathappa, (2009), the term Organization refers to a group of people working together to achieve a set of goals, those people who work in the organization have structure patterns of interactions, meaning that they expect each other to complete certain tasks in an organized way. Rafael, (1996), defined an Organization as structured social system consisting of groups and individuals working together to meet some agreed objectives.
Heathfield, (2018), in the other hand defined an employee as an individual who was hired by an employer to do a specific job. The employee is hired by the employer after an application and interview process results in his or her selection as an employee. This selection occurs after the applicant is found by the employer to be the most qualified applicant to do the job. Therefore, for an Organization to be successful in achieving its desirable goals and objectives, it requires quality employees.
Due to the fact that employees are the most important assets in the organization, in my ideal Organization I would like to have employees with the following characteristics as explained below;
First, strong work ethic – despite the fact that an employee need to have all the necessary knowledge, skills, attitude and aptitude, but when employees possess strong work ethics, the Organization's maintenance cost decreases because employees will be well aware of their duties and responsibilities towards the Organization. Reddy, (2015) argues, employees with strong work ethics will realize that they should not do any damage to any of the machines and equipment are given to them as they are very valuable for the Organization and doing damage to these things will be a wrong act, so automatically things will be taken care of and everything will work systematically. Therefore, employees with strong work ethics will do the following to the Organization;
- Increase in productivity
- Employees will work in team
- There will be no trouble in the working environment
- Will create good image of the Organization to the public
- Employees will be able to make ethical decisions
- Legal issue will decrease in the Organization. Gupta, (2011) postulates that, employees with strong work ethics are able to settle all grievances and disputes by mutual negotiations, conciliation and voluntary arbitration.
Second, self-motivated employees who can work effectively with little direction is another basic characteristic for employees. Aswathappa, (2009) argues that, motivation among employees is reflected in a passion to work for reasons that goes beyond money or status and they are quality oriented. Self-motivation among the employees is a primary means of realizing the Organizational goals. Employees who are self-motivated will lead to;
- Improve the overall efficiency of the Organization
- Build friendly relationship among employees hence creating the co-operative work environment
- Achieve employees' personal goals
- Employees job satisfaction
- Self-development of employees.
Hanson, (2003) in the other hand stipulates some qualities a self-motivated employee possesses including;
- Intensity of will (determination)
- Commitment (belief in goal)
- Self confidence
Therefore, for an Organization to be successful and competitive, employees should be highly self-motivated.
Third, team-oriented - many Organizations succeed based on the work of teams and entire departments, not just individuals. According to Mustafa, Glavee-Geo & Rice (2017), the self-managing teams do better than when they are supervised from the above. When the team has new ideas they can sit together to brainstorm ideas hence creating create more effective solutions to their Organization's problems. Working together for a human is a more productive process than working in isolation. Teamwork also maximizes the chances of learning from each other experiences. Team members can also gain from each other. Every individual is different and has some qualities. One can always benefit something or the other from his team members which would help him in the long run (Wehbe, 2017).
Tasks are accomplished at a faster pace when it is done by a team rather than an individual. An individual will definitely take more time to perform if he is single handedly responsible for everything. Wehbe, (2017), postulates that, when employees work together, they start helping each other and responsibilities are shared and thus it reduces the work load and work pressure. Every team member is assigned one or the other responsibility according to his specialization, level of interest and thus the output is much more efficient and faster (Williams, Duray, & Reddy, (2006).
"Coming together is a beginning. Keeping together is progress. Working together is success" - Henry Ford.
Therefore, the above proverb by Henry Ford can very well highlight the importance of working together in teams (team-oriented employees). Aswathappa, (2009) in the other hand mentioned some significance of team – oriented employees including;
- Enhances performance
- Cost reduction because of reduced crap, errors and turnover
- Quality decisions
Fourth, flexible and adapting in a meaningful way – For an Organization to be successful, employees should possess the character of flexibility and be willing to pick up new skills and adjust to shifting goals. According to Heathfield, (2018), employees who are flexible normally;
- Reduce negative spillover
- Reduce stress at workplace
- Becomes updated due to adaptation to new situations and ability to learn new things
- Ensure creative and innovative ideas
- Improve self-motivation
More specifically, Mueller, (1992) adds that, managing the employees whoa are flexible is simple and not stressing than those who are not flexible. That is to say, the flexible employees simplify the work of Management in the Organization.
Firth, positive attitude – this is another characteristic of employees that makes an Organization success in its operations. In his work "Organizational Behavior" Aswathappa, (2009) explains that, when the attitude of an employees toward his or her job is positive, there exists job satisfaction. Dissatisfaction exists when the attitude is negative. Job satisfaction often is a collection of attitudes about specific factors of the job.
Gupta, (2011) associates positive attitude with the employees' morale. To make it clear, he indicated the significance of positive attitude among the employees including;
- Higher performance with little supervision
- Low absenteeism
- Low labor turn over
- Good discipline
- Stability and growth of the Organization, therefore, it is necessary for an Organization to have employees with positive attitude.
Any Organization would like to have employees with the mentioned qualities; however, it is not easy as it requires careful and appropriate strategies. Recruiting the best employees takes a combination of creativity and diligence. The following are the suggested strategies to be used in obtaining the employees with strong work ethics, self-motivation, team - oriented, flexible and with positive attitude.
First, developing accurate job descriptions before recruitment – the first step is to make sure there is an effective job description for each position in the Organization. Job descriptions should reflect careful thought as to the roles the individual will fill, the skill sets they will need, the personality attributes that are important to completing their tasks, and any relevant experience that would differentiate one applicant from another. Without first preparing job descriptions, many candidate with no quality to the position will apply and will bring unnecessary problems during recruitment process. However, although some applicants will ignore these requirements and respond regardless, including this information will help limiting the number of unqualified applicants.
Second, careful recruitment or hiring – this is the major strategy that can be used to obtain employees with the mentioned qualities. Flippo, (1990) defined the term recruitment as the process of searching for prospective employees. In his work "Human Resource Management", Gupta, (2011), argues that recruitment is the process or a series of activities rather than a single act or event. According to Whitehead, Boschee and Decker (2013), a highly critical aspect of any Principal's job is recruitment and selection of highly quality staff. In education context, the best recruitment of staff is super critical for the success of any school as well as for the Head of school. Recruitment of the right employees therefore, fosters a dynamic of change in the Organization.
For a recruitment process to be successful and obtain employees with the above qualities it requires the following;
- Recruitment policies and procedures need to be clear so as to get the best employees. Whitehead, Boschee and Decker (2013) postulate that, when the recruitment policies are clear, good recruitment and selection yield immense rewards. That is to say, the Organization needs to be clear about the most skills and attributes needed by the applicant through their stipulated policies. According to Martin, (2016) a recruitment policy lays down the organization's objectives for recruitment and the framework to be used to implement the recruitment program. Part of the policy includes coming up with a system to be used to implement the procedures and the programs by selecting the most qualified candidates. A good recruitment policy should provide the following;
i. Its main focus should be to hire candidates whose skills and experiences exceeds the set requirement
ii. Should be unbiased
iii. Help employees to realize their full potential
iv. An equal opportunity for all employees and ensure that every candidate is treated with respect and dignity
v. Transparency, be a merit based and task oriented type of selection
vi. It should abide by the relevant public legislation and policies on employment and hiring relationships
vii. An avenue to integrate the needs of the employee with those of the organization
- Recruitment should follow the following steps as proposed by Whitehead, Boschee and Decker (2013) and Gupta, (2011);
i. Preliminary screening of credentials
ii. Screening of credentials
iii. Reference checks
iv. In – depth interview
v. Hiring decision
However, making good selection of employees does not have to be linear. Because hiring the bright and the best candidates alone may not make sense in all circumstances. The skills and ability need to be highly considered in a particular job requirement and market orientation. During the process of recruitment or selection, employers need to avoid any bias so as to get the right applicant.
Third, consideration of past candidates - often when hiring for a position, there are a few talented candidates that end up not making the cut due to timing or other external factors. When recruiting for a similar position, consider re-visiting the resumes of past applicants. These candidates are already familiar with the Organization and may have picked up new skills and experience since the last meeting. When it comes to finding and hiring great employees, employers have to be persistent and willing to think outside the box (Whitehead, Boschee and Decker, 2013: Martin, 2016).
Fourth, including peers in the interview process - Sometimes the best person to interview a candidate is someone already working in the same or similar role rather than the Organization's management team alone. This employee already knows what it takes to excel in the position, and can verify whether candidates have the skills and experience needed to do the job well. Also, current employees can give an accurate description of day-to-day experiences and help candidates better understand what they can expect if hired (Gupta, 2011).
In conclusion, by using these recruitment strategies, it is easy to quickly discover highly qualified, passionate professionals ready to join the Organization team. However, after recruiting the required candidates, retention of the employees should be one of the top priorities. Employee's retention can be done through;
- Fairness and equitable treatment to all employees despite of their differences such as gender, race, religion, tribe, disability and a like.
- Employees should be allowed to use their talents and skills
- There should be a platform for employees to speak their mind freely within the organization
- Provision of training
- Ensuring employment security
- Motivation
- Reduction of status differences within the organization
- Sharing information and
- Recognizing and rewarding good work and creating a free from stress environment in general.
[...]