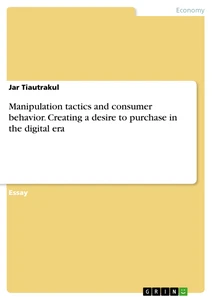 Manipulation tactics and consumer behavior. Creating a desire to purchase in the digital era
Essay 2019 16 Seiten
Leseprobe
Manipulation Tactics and Consumer Behavior:
Creating a Desire to Purchase in the Digital Era
A desire to purchase goods and services is fostered by marketers. Marketers can incorporate manipulation tactics into their efforts to create mass product appeal, effectively controlling consumer behavior. This practice however is not permitted as per the American Marketing Association's Statement of Ethics. This ethics statement incorporates the principles of maleficence and honesty as core components of ethical norms and values, respectively. These ethical principles are congruent with the technological capabilities that serve as the foundation of the digital era, as the digital era results in increased transparency. This transparency ultimately leads some corporations to adjust their marketing approaches, which others may or may not implement differing forms of consumer manipulation.
The Digital Era
The digital era changed many of the ways that goods and services are presented to potential consumers. These changes were accompanied by transparency. Transparency often makes it difficult, if not unwise and unethical, for implementation of tactics that aim to manipulate consumer behavior. Some corporations are starting to recognize this transparency issue and have adopted a "come clean" approach to marketing to promote their products. However, this isn't to say that manipulation tactics have been completely eradicated. Consumer behavior is still subject to the effects of marketing, but the boundary between coercion and manipulation may have become a little blurred with the advances in technology that have been created digital era.
What is Marketing?
Kotler (2011) defines marketing as the activity, creative processes, and set of institutions for delivering, creating, exchanging offerings, and communicating that are valuable for clients, consumers, partners and overall society. Additionally, the concepts that are inherent within the marketing context are applicable to all types of exchange, be it goods, personages, services, ideas or places that may occur between individuals, governments, for-profit and nonprofit firms, and NGOs. Marketing theories are developed from a firm-oriented perspective that was designed to include the exchanging dyad (Kotler, 2012)
Historical Need to Identify the Truth
Historically, researchers were aware that reforms were needed to help remedy the "tainted truth" that was inherent in our purchasing society. They were also aware that there really wasn't anything that could be deemed a perfect study. However, they called attention to the fact that something needed to be done by researchers that would serve to meet the needs of society so that individuals were capable of distinguishing good research from bad research (Bush, 1997).
Moreover, Cunningham (1999) noted that a societal need existed for consumers to view themselves and their behavior in a way that they may not ordinarily have conceived of. Specifically, Cunningham (1999) noted that consumers should begin to analyze ads from a potentially manipulative perspective, as viewing ads in this fashion may serve as a wake-up call for everyone.
Suggestions were also made that included providing individuals with the tools necessary for research evaluation, and providing consumers with the education concerning the use of such tools. Researchers called on both the media and the public to require that technical appendixes be provided with all research studies (Bush, 1997).
Additionally, Bush (1997) noted that it was unlikely that the public would be able to rely on the government for any such assistance. However, it was reported that various efforts were in progress (in 1997), as some professional organizations had begun to make initial attempts to remedy the issue, but were not evidencing significant success in this regard. Bush (1997) noted that these researchers hoped that universities may be able to provide assistance with this matter, and called on both colleges and universities to examine what they were selling to private interests (Bush, 1997).
Historical Call-to-Action
Historically, researchers effectively made an initial and compelling point that, contrary to public opinion, society really did not have a steady stream of unbiased objective information that could hope to illuminate knowledge, or advance the interests of the people. Rather, they claimed that the information-generating system was in fact sick. Bush (1997) noted that these researchers then proceeded to propose many initiatives that could serve to resuscitate the overall system, and called on everyone involved in the research field to consider their proposed initiatives.
The Digital Era
Fast-forward to the digital era. The digital era allows for both connectivity and transparency. Social customer communities are changing to reflect these concepts and are consequently more horizontal and inclusive. Individuals in these communities are not afraid of using social media platforms to discuss companies, products or related services. This effectively means that customers can no longer manage disgruntled customers on an individual level. Additionally, social circles serve to influence potential consumers more so than traditional advertising efforts. Customers are peer-driven and desire to conform to others. They place greater trust in the opinions of family, Facebook and friends, than they do in corporate advertising efforts.
Kotler, Kartajaya, and Setiawan (2017) report that the digital era is effectively changing the world economy, as economic power is becoming evenly distributed across countries. Globalization is leveling the playing field as consumers are stating their needs, and companies are attempting to meet them. These factors are resultantly impacting the concept of corporate competition, as competition is now becoming horizontal rather than vertical, as in years past. Horizontal competition, within the context of the digital era, is filled with transparency. Corporations may respond to this transparency by creating a desire for consumer purchases through honesty (Kotler et al., 2017).
Marketing in the Digital Era
Kotler (2012) reports that the current complexity of organizations and markets has evidenced a need to approach marketing with greater fluidity and decreased compartmentalization. Moreover, it was found that traditional marketing perspectives may serve to distract corporate integration, which may resultantly cause marketing to be undermined by itself, effectively leading to the failure of both the vision and of any potential success (Kotler et al., 2012).
Marketers acknowledge that knowing how and where spontaneous consumer communication occurs, and the degree that the consumer is willing to share information with others, combined with the true (not merely stated) reasons for consumer behavior is necessary (Zak, 2015). Moreover, they highlight they importance of attracting consumer interest to encourage consumer participation in research activities. Zak (2015) states that consumer behavior is impacted by social networks, the internet, social media, the digital combination of communication media forms, smartphones, various other innovative applications and technologies. These digital platforms also foster the expansion of traditional marketing methods used for research purposes, and the development of novel approaches and techniques that will continue to be implemented throughout the digital era (Zak, 2015).
Connectivity and Targeting the Customer
Kotler et al. (2017) notes that there are three forms of connectivity: mobile, experiential and social. Connectivity effectively changes the market, which leads to changes in marketing. However, they note that human touch won't be completely eliminated in future as customers will continue to desire modern technological capabilities with a personal touch. However, their desire to purchase will be triggered by social influence. Therefore, Kotler et al. (2017) note that when customers seek brand advice from friends through online platforms, it is imperative that die-hard brand advocates are also on these platforms just waiting to persuade them to purchase their products.
Kotler et al. (2017) note that these loyal brand advocates are essential for maintaining the success of businesses in the digital age. Moreover, they encourage companies to more-or-less ignore the majority of negative advocates (from a marketing perspective) as a substantial base of brand-loyalists are capable of ensuring continued corporate profits, despite negative opinion. This holds true even if there is about a 50/50 split between negative advocates and brand-loyalists. McDonald's and Starbucks were identified as two corporations with substantial negative advocates that survive and thrive due to brand-loyalists (Kotler et al., 2017).
Corporate Stalking or Monitoring? Watching Online Behavior
Hoffman & Novak (2011) report that the internet focuses on, and nearly obsesses over, social media. It is steadily becoming less about technology and is instead becoming increasingly focused on the capabilities that technology affords the individual. The use of social media allows internet users with the ability to perform a myriad of actions online, ranging from connecting with others, to sharing videos and purchasing products.
Consequently, Hoffman & Novak (2011) note that with the continued evolution of dynamic online social interaction, there is a need for marketing managers to develop a deeper and broader understanding concerning both how and why individuals use social media, to effectively ensure that consistent practices that are based on the online consumer's behavior can be developed. Consequently, they report that there is a need to develop this type of acute understanding, particularly as greater numbers of individuals are spending more time interacting with other potential consumers through social media applications (Hoffman & Novak, 2011).
Research conducted by Hoffman & Novak (2011) endeavors to: monitor consumers' online behavior through their social graphs including identified likes, information shadows, and check-ins. Additionally, these researchers strive to analyze the evolution of social media through use of the "4C approach": control, connect, consume and create. Finally, they advise that social media efforts, respective of garnering insight into consumer behavior, should be conducted by use of the "LEAD model": listening, experimenting, applying and developing (Hoffman & Novak, 2011).
[...]
Details
Seiten

16

Jahr

2019

ISBN (eBook)

9783668977457

ISBN (Buch)

9783668977464

Sprache

Englisch

Katalognummer

v490950

Institution / Hochschule

Atlantic International University

Note

A

Schlagworte