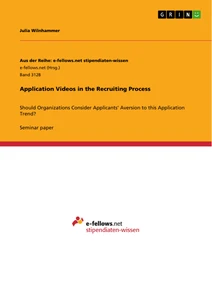 Application Videos in the Recruiting Process
Should Organizations Consider Applicants' Aversion to this Application Trend?
Seminararbeit 2018 40 Seiten
Leseprobe
Table of Contents
List of Abbreviations
1 Introduction
2 Theoretical Background
2.1 Definition of Key Terms and Concepts
2.1.1 The Recruiting Process
2.1.2 Digital Transformation of HR and Recruiting
2.1.3 Electronic Selection Systems
2.1.4 Videos in the Electronic Selection Process
2.2 Application Videos
2.2.1 Opportunities for Organizations and Applicants
2.2.2 Applicants' Reservations and Threats for Organizations
2.3 Derivation of Hypotheses
3 Method and Data
3.1 Data Collection and Measures
3.2 Sample
4 Results
5 Discussion
6 Conclusion
References
Appendix
Abstract
New forms of applications are emerging with the introduction of image-based communication in the application process. The trend of application videos hast the potential to reduce costs and risks for organizations among other considerable opportunities, but this application type has not been popularly implemented by organizations in their recruiting processes yet. However, there is practically no scientific research on the use of these videos and whether (and to what degree) applicants accept this application trend. For this term paper, applicants' aversion to application videos and potentially related constructs are empirically examined via an online survey with a sample of students from all over Germany. Results show relatively high aversion to application videos among the participants but there are differences depending on the students' fields of study. Correlation analysis reveals a weak negative correlation between video technology acceptance and aversion to application videos. Furthermore, aversion to application videos is positively correlated with participants' risk aversion whereas no significant correlation with job application experience was be found. This term paper emphasizes that applicants' aversion to application videos is substantial and should therefore be carefully considered in the adoption of this trend. It represents continuation of research on e-selection solutions and builds a sound starting point for future research on application videos.
List of Abbreviations
Abbildung in dieser Leseprobe nicht enthalten
1 Introduction
Higher transparency of the labor market, increased employee mobility, and skills shortage led organizations to adapt a more talent-centric view of employment. Attracting talents is strategically decisive for the organizations' long-term success. This is why the process of recruiting and selection of employees takes on a key role in winning the "war of talents". These Human Resource Management (HRM) tasks are so paramount because of their impact on the organization's long-term financial performance. If it works to create an engaging candidate experience in the recruiting process, positive future effects are promoted (rise of reapplications, referrals, retaining or gaining candidates as customers, etc.). Moreover, recruiting is very cost-intensive (costs and time for sourcing, pre-screening, interviewing, etc.) and fraught with risk. Therefore, quality of recruiting and selection decisions is the primary objective to prevent organizations from costly consequences in the future (Dessain, 2016, p.102 ff.).
Digital recruiting can radically improve recruiting efficiency and effectiveness. Tools, techniques, and technologies come into action (Purvis, 2016, p.146). One example is the increasing use of electronic application systems which are allegedly a revolution. Ullah and Honarfar (2017) indicate that this tool did, in fact, change the way of information exchange in the application process, while not actually revolutionizing it. However, there are new application trends like application videos which offer organizations extensive opportunities (p. 9). Organizations received the first video applications in 2012. Since then, hype surrounding this application trend could not be observed: the potential of application videos has neither been recognized by applicants nor by organizations. The general consensus is that the main impediment hampering the implementation and this paradigm shift are technical barriers which bear more complexity and slowness for the application process. Despite the challenges, a few organizations use application videos (p. 19 f.). Today there are already apps and web-platform solutions for structured video applications (p. 31). These platforms can be regarded as video job markets or agents between employers and job applicants. Platforms like Talentcube, Skillster, or Jobclipr pre-select applicants for employers by means of recorded videos, test results, and algorithms (Pörnbacher, 2018).
Even if digital recruiting solutions may help with effectiveness and efficiency, candidate experience in the application process must not be neglected due to its huge impact on the organization's performance. Therefore, it is equally essential to research and evaluate applicants' acceptance of upcoming solutions. For electronic interviews (telephone, videoconference), there is some research on both their effectiveness (Silvester, Anderson, Haddleton, Cunningham-Snell, & Gibb, 2000; Straus, Miles, & Levesque, 2001), and on their acceptance by applicants (Bauer, Truxillo, Paronto, Weekley, & Campion, 2004; Chapman & Rowe, 2002; Chapman, Uggerslev, & Webster, 2003), but these two aspects have not been scientifically researched for application videos in particular.
In light of this research gap and the upcoming paradigm shift for the application process, this term paper sheds light on the opportunities and threats for organizations and applicants, but above all, on applicants' reservations about this type of application. Thus, applicants' aversion to application videos is empirically examined here. This work seeks to answer the following research question in particular: is applicants' aversion to application videos correlated to video technology acceptance, risk aversion, and experience in the application process ?
The remainder of this paper presents key terms and concepts (Section 2.1) before application videos are brought into focus (Section 2.2). In Section 2.3, hypotheses are derived and visualized in the research model. To examine the latter, Section 3 outlines the research approach and methodology. Section 4 shows results of the empirical investigation and Section 5 provides discussion points before this paper concludes with final considerations in Section 6.
2 Theoretical Background
2.1 Definition of Key Terms and Concepts
2.1.1 The Recruiting Process
In comparison to the plurality of HRM tasks, recruiting is externally focused. It is aimed at providing the organization with job candidates (also applicants further on) who have the knowledge, skills, abilities, and other attributes (KSAOs) for the vacant positions and match the organizations' culture (Stone, Lukaszewski, Stone-Romero, & Johnson, 2013, p.51). Often the terms recruitment, staffing, and talent acquisition are used interchangeably. The key players in the recruiting process are the applicant and the hiring manager (Dessain, 2016, p.100; Stone et al., 2013, p.51).
The recruiting process can be grouped into five high-level interrelated steps (see Appendix 1). This can be understood as a sequence of hurdles which applicants are thought to clear in order to get a job offer. At each step multiple hurdles may exist. Especially for the early steps, where minimal qualifications are set as hurdles, high scores in one predictor cannot make up low scores on another (Stone et al., 2013, p.63). The recruiting process starts with demand planning and job analysis for establishing job requirements and specifications. After that, sourcing candidates and receipt of applications take place. The third step is pre-selection: initial screening determines if applicants' KSAOs meet the minimal qualifications. Then applicants proceed with pre-employment tests. If they clear these hurdles, they get the chance for an interview where personnel specialists test communication and interpersonal skills and applicants get the chance to ask questions. The interview is part of the fifth step – the final selection. In this step, all the prior assessments are used to estimate applicants' job performance and the hiring decision is made. If candidates meet the requirements, the recruiting process ends with the final step of offering the job and contracting (Dessain, 2016, p.111).
Within the recruiting process, the application process can be identified. It starts with the submission of application materials by the applicant and – if successful in the applicants' views – it ends with the job offer (Ullah &Honarfar, 2017, p.26). The hiring manager's view on this process is referred to as the selection process. The steps of the traditional selection process are characterized by paper documents, several face-to-face encounters, and low use of (digital) technology. The application typically consists of the cover letter, a CV, certificates, and potentially other application materials traditionally handed in as hard copies (Tseng, 2010, p.571). Applicants are expected to visit the organization to fill out application blanks, to conduct pre-employment tests, and finally, to sit for a face-to-face interview (Stone et al., 2013, p.52).
2.1.2 Digital Transformation of HR and Recruiting
In order to attract and retain talents and thereby respond to competition, organizations need to seize the chances of digital transformation (Larkin, 2017, p.59). Therefore, the HR function will leverage digital solutions to develop modern HR service delivery that comply with clients expectations (Purvis, 2016, p.159). This will include the use of digital communication technology and how it will redefine the way organizations connect and engage with their workforce (Jesuthasan, 2017, p.60).
This is especially true for recruiting resulting in the emergence of digital recruiting. This can be defined as the use of diverse forms of technology for improving recruiting processes in terms of (cost) efficiency, effectiveness, and impact (Purvis, 2016, p.156). The adoption of web-based technologies and software analytics is expected to rise further (Lal, 2015, p.3) as well as the "increase in plug-and-play digital solutions related to recruitment and talent" (Larkin, 2017, p.55). These trends act as a catalyst for rethinking the underlying recruiting process and cause the need for process changes (Purvis, 2016, p.157 ff.), e.g. when new tools are available for assessing whether an applicant is a good fit (Dessain, 2016, p.112).
[...]
Details
Seiten

40

Jahr

2018

ISBN (eBook)

9783668982314

ISBN (Buch)

9783668982321

Sprache

Englisch

Katalognummer

v491729

Institution / Hochschule

Technische Universität München – Chair of Corporate Management

Note

1,0

Schlagworte