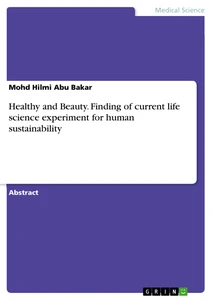 Healthy and Beauty. Finding of current life science experiment for human sustainability
Zusammenfassung 2019 27 Seiten
Leseprobe
Table of Contents
CLONING AND CHATACTERIZATION OF ALPHA ENOLASE GENE OF 6A STREPTOCOCCUS PNEUMONIA TOWARDS INDUCTION OF NETOSIS
CONSTRUCTION OF FIVE EXPRESSION CLONES FOR PLASMODIUM KNOWLESI APICAL MEMBRANE ANTIGEN 1 (PK AMA1) USING PICHIA PASTORIS EXPRESSION SYSTEM
ISOLATION AND CHARACTERISTICS OF METHICILLIN-RESISTANT STAPHYLOCOCCUS AUREUS (MRSA) AND METHICILLIN-SUSCEPTIBLE STAPHYLOCOCCUS AUREUS (MSSA) CLINICAL ISOLATES IN TERENGGANU
RECOMBINANT PLASMODIUM KNOWLESI APICAL MEMBRANE ANTIGEN-1 (PK AMA1) EXPRESSION FOR THE PHAGE-DISPLAYED BINDING PEPTIDES SELECTION
THE POTENTIAL EFFECT OF MALAYSIAN TRIGONA HONEY ON ENTERIC AND RESPIRATORY INFECTIONS BY USING WISTAR RATS MODEL
THE GENOTYPIC AND ALLELIC CHARACTERIZATION OF VEGF PROMOTER (RS833061) VARIATION(S) AND THEIR ASSOCIATION WITH LIPID PROFILE, ANTHROPOMETRIC INDICES AND PHYSICAL ACTIVITY LEVELS AMONG MALAY OBESE
ANTIBACTERIAL AND ANTIBIOFILM ACTIVITIES OF MALAYSIAN TRIGONA HONEY AGAINST PSEUDOMONAS AERUGINOSA AND STREPTOCOCCUS PYOGENES
THE ROLE OF SOX 10 GENE IN THE DEVELOPMENT OF GLIOBLASTOMA MULTIFORME
BIOFILM INHIBITION OF PERIODONTAL PATHOGEN BY PROBIOTIC STRAINS: GENE
AN ASSOCIATION STUDY ON GENETIC POLYMORPHISM OF HBB GENE AMONG BETA-THALASEMIA MINOR PATIENTS
BIOACTIVE COMPOUNDS, NUTRITIONAL VALUE, AND POTENTIAL HEALTH BENEFITS OF INDIGENOUS DURIAN (DURIO ZIBETHINUS MURR.): A REVIEW
UNRAVELLING THE EFFECTS OF SOLUBLE DIETARY FIBRE SUPPLEMENTATION ON ENERGY INTAKE AND PERCEIVEDSATIETY IN HEALTHY ADULTS: EVIDENCE FROMSYSTEMATIC REVIEW AND META-ANALYSIS OF RANDOMISED-CONTROLLED TRIALS
DETERMINATION OF SOX GENE EXPRESSION IN BRAIN TUMOR IN EAST COAST MALAYSIA
GENETIC ASSOCIATION OF VARIATIONS IN HIF 1 (RS11549465) AND NFKΒ 1 (RS28362491) WITH ANTHROPOMETRIC INDICES AND LIPID PROFILE IN MALAY OBESE ATTRIBUTES
IN VITRO ANTIBACTERIAL PROPERTIES OF ETLINGERA ELATIOR FLOWER EXTRACTS AGAINST ACNE-INDUCING BACTERIA: PROPIONIBACTERIUM ACNES AND STAPHYLOCOCCUS AUREUS.
THE EFFECTS OF CALORIE RESTRICTION ON COGNITIVE RECOVERY AMONG TRAUMATIC BRAIN INJURY PATIENTS
STUDY PROPOSAL: ASSOCIATION BETWEEN DIETARY PATTERNS AND CORONARY HEART DISEASE (CHD) RISK FACTORS AMONG MALAYSIAN POPULATION
PREVALENCE OF LATENT TUBERCULOSIS INFECTION AND ITS ASSOCIATED FACTORS AMONG DIABETIC PATIENTS AT PRIMARY HEALTH CARE IN TERENGGANU
PREVALENCE OF CYBERBULLYING VICTIMS AND ITS ASSOCIATED FACTORS AMONG FORM 2 AND FORM 4 STUDENTS IN KUALA TERENGGANU, MALAYSIA
STUDY PROPOSAL: DETERMINATION OF PROANTHOCYANIDIN CONTENTS IN MELON MANIS TERENGGANU (CUCUMIS MELO L.) AND THERAPEUTIC APPLICATION AMONG KNEE OSTEOARTHRITIS PATIENTS
THE RELATIONSHIP OF FRUIT INTAKE WITH BRAIN DERIVED NEUROTROPHIC FACTOR (BDNF) PROTEIN LEVEL AMONG ADOLESCENTS IN TERENGGANU
STUDY PROPOSAL: PREVALENCE AND RISK FACTORS OF HYPERTENSION AMONG ADULTS IN TERENGGANU'S FELDA
THE CONCEPT OF WELL-BEING AMONG HEMODIALYSIS CHRONIC KIDNEY PATIENTS: A CORRELATION STUDY
STUDY PROPOSAL: DEVELOPMENT OF DIETARY RISK CALCULATOR TO PREDICT CORONARY
We were proud for having Postgrad Colloquium 2019, Faculty of Health Sciences Universiti Sultan Zainal Abidin (UniSZA). It was held on 30th April 2019 at Academic Building UniSZA Main Campus Kuala Nerus, Terengganu, Malaysia. Total of 24 students including 15 students from Laboratory Based Research category and 9 students from Community Based Research category of Faculty Health Sciences and Faculty of Medicine were participated. We congratulated to the winners Omar Mahmoud Said Alshajrawi from Faculty of Medicine, Masters student for the Laboratory Based Research category and Mohd Ibrahim Abdullah from Faculty of Health Sciences, Doctorate student for the Community Based Research category. Both of you were pretty amazing. See again next year on 2020 to all researchers.
CLONING AND CHATACTERIZATION OF ALPHA ENOLASE GENE OF 6A STREPTOCOCCUS PNEUMONIA TOWARDS INDUCTION OF NETOSIS
Problem Statement : S.pneumoniae is gram positive pathogenic bacteria with no available vaccine that cover all of its pathogenic serotypes. Eno1 of S.pneumoniae is a virulence protein that is responsible for bacterial dissemination into human body causing septicemia and meningitis by catalyzing plasminogen into its active form, plasmin, causing degradation of extracellular matrix which grant S.pneumoniae the ability to penetrate into body circulation system. At the same time Eno1 was found to induce neutrophil extracellular traps (NETs) production (NETosis), in vitro. How does S.pneumoniae Eno1 mutant affects NETosis in vitro is unclear, and what is the impact this mutation on immunogenicity and bacterial dissemination remain to be elucidated.
Methodology : S.pneumoniae 6A strain is selected duo to high prevalence in Malaysia. S.pneumoniae Eno1 gene was amplified by PCR using specific primers. The PCR product was inserted into pTOPO 2.1e cloning vector using manufacturer protocols and the transformation mixture was transformed into TOP10 E.coli competence cells for harvesting to achieve desired transformant efficiency selected against antibiotic and selectable markers. The transformants were confirmed genotypically and the plasmid was extracted to be confirmed for a successful cloning. The insertion was confirmed by DNA sequencing using direct sequencing and restriction enzymes analysis. Furthermore, the plasmid backbone was also conformed using universal primers (M13 F and M13 R) and restriction analysis.
Results : S.pneumoniae Eno1 gene was successfully PCR amplified and cloned into pTOPO 2.1e cloning vector harvested in TOP 10 E.coli at a high transformant efficiency. Restriction enzymes analysis confirmed a successful insertion of Eno1 into pTOPO plasmid.
Conclusion: The results of plasmid transformation into E.coli will be used for mutating Eno1 and transformed back into S.pneumoniae for future in vitro and in vivo testing.
CONSTRUCTION OF FIVE EXPRESSION CLONES FOR PLASMODIUM KNOWLESI APICAL MEMBRANE ANTIGEN 1 ( PK AMA1) USING PICHIA PASTORIS EXPRESSION SYSTEM
Problem Statement : Plasmodium knowlesi is a fifth human malaria parasite, which previously only cause infection in macaque (simian malaria). Infection in human is potentially fatal due to short erythrocytic cycle (blood stage) that leads to high parasitaemia. Generally, Plasmodium is an obligate intracellular parasite and invasion required a complex invasion mechanism. Apical membrane antigen 1 (AMA1) is a potent vaccine candidate and target for antimalarial due to the role in parasite-host cell invasion. The present study aimed to construct five expression clones encompassing different regions of PkAMA1 ectodomain for immunogenicity study.
Methodology Five genes of PkAMA1 domain constructs, i.e., Domain I (DI), Domain II (DII), Domain III (DIII), DI-DII, and DII-DIII were ligated into pPICZαA vector and then cloned into Escherichia coli multiplication host (DH10β). Correct insertions of targeted genes were confirmed by DNA sequencing. The correct gene for respective pPICZαA clone was then re-transformed into the gene of Pichiapastoris expression host (KM71H) that enables recombinant protein expression using yeast expression system.
Results : Five expression clones were constructed and encompassed respective gene sequences, i.e., DI (1225bp), DII (1021bp), DIII (913bp), DI-DII (1639bp), and DII-DIII (1327bp) for the expression of DI (26kDA), DII (19kDA), DIII (15kDA), DI-DII 42kDA), and DII-DIII (31kDA) target proteins
Conclusion : The five clones were successfully constructed and cloned into Pichia Pastoris. The clones were ready for recombinant protein expression.
ISOLATION AND CHARACTERISTICS OF METHICILLIN-RESISTANT STAPHYLOCOCCUS AUREUS (MRSA) AND METHICILLIN-SUSCEPTIBLE STAPHYLOCOCCUS AUREUS (MSSA) CLINICAL ISOLATES IN TERENGGANU
Problem Statement: Staphylococcus aureus is a well-known nosocomial pathogen that is capable of developing antimicrobial resistances and giving rise to the emergence of multidrug resistant (MDR) strains such as methicillin-resistant S. aureus (MRSA). The present study is aimed to evaluate the current trends in antimicrobial resistance among S. aureus clinical isolates in Terengganu, Malaysia.
Methodology A total of 260 non-duplicate S. aureus isolates were collected from Hospital Sultanah Nur Zahirah (HSNZ) from July 2016 to June 2017. Antibiotic resistance towards 26 antibiotics were carried out using the Kirby-Bauer disc diffusion method and minimum inhibition concentration (MIC) values for tigecycline and vancomycin were determined using e-test strips. The prevalence of the macrolide-lincosamide-streptogramin B (MLSB) resistance phenotypes was determined using the D-zone test. The clinical data of each isolates were also obtained and the origin of each isolates was determined.
Results : Of the 260 S. aureus isolates, 112 were MRSA and 148 were methicillin-susceptible S. aureus (MSSA). Majority of the isolates were obtained from pus (62.3%) and patients more than 50 years in age (35.8%). Generally, MRSA isolates displayed higher level of resistance to multiple antibiotics, with MDR being more prevalent in MRSA (82.1%) than in MSSA (10.8%). No vancomycin-resistant isolate was detected. The MLSB resistances were observed predominantly in MRSA isolates compared to MSSA isolates. Patients with MRSA isolates had significantly longer median hospital stay compared to MSSA (p = 0.008). Fatal cases of both MRSA and MSSA were reported in older patients with bloodstream infections. Hospital-acquired strains were the dominant circulating strains (67.8%). However, some community strains were able to cause serious diseases such as infective endocarditis and necrotizing enterocolitis.
Conclusion : Infection control and preventative measures should not be taken lightly as the high prevalence of MDR as well as occurrence of serious diseases indicated that S. aureus can still present enormous challenge to health.
RECOMBINANT PLASMODIUM KNOWLESI APICAL MEMBRANE ANTIGEN-1 ( PK AMA1) EXPRESSION FOR THE PHAGE-DISPLAYED BINDING PEPTIDES SELECTION
Problem Statement : Plasmodium knowlesi is a fifth human malaria parasite widespread in forested area of Southeast Asia and the infection is potentially fatal. Plasmodium knowlesi human infection recorded higher cases than other Plasmodium species in East Malaysia. Thus far, malaria vaccine is still unavailable and the development for effective anti-malaria treatment is in urgent need. Apical membrane antigen-1 (AMA1) is one of the prominent Plasmodium merozoite surface proteins sought for malaria drug development due to its crucial role in host cells invasion. Phage display is an effective and inexpensive technique useful in malaria research. The peptides from random phage display library which bind to Pk AMA1 protein are significant in order to study peptide-antigen interaction which would directly improve malaria drug development. Thus, the present study aimed to express soluble recombinant Pk AMA1 protein in Pichia pastoris expression system for binding peptides selection.
Methodology .The codon-optimized Pk AMA1 ectodomain gene was cloned into pPICZαA vector and amplified using Escherichia coli TOP10F' host. The successful clone construct was re-transformed into expression host, Pichia pastoris KM71H and expressed with methanol to produce recombinant Pk AMA1 protein. The binding peptides were selected using phage display libraries, i.e., Ph.D 7 and Ph.D 12 (NEB). Generally, three rounds of biopanning were carried out. The biopanning selected phage-displayed clones will be sent for DNA sequencing for binding peptide determination. Binding peptides will be further validated by Phage ELISA.
Results : An approximately 54 kDa recombinant Pk AMA1 protein was successfully expressed and validated by SDS-PAGE and Western blot analyses. The binding peptides selection for the Pk AMA1 protein was still in progress.
Conclusion : The recombinant Pk AMA1 protein was successfully expressed in Pichia pastoris system. The affinity selection of binding peptides for the Pk AMA1 protein will be validated.
THE POTENTIAL EFFECT OF MALAYSIAN TRIGONA HONEY ON ENTERIC AND RESPIRATORY INFECTIONS BY USING WISTAR RATS MODEL
Problem Statement : The respiratory Infections can be as mild as the common cold, otitis media and pharyngitis, or they can be severe—sometimes even invasive and fatal—as with pneumonia, which is especially the case in the elderly or those suffering from chronic lung disease and The number of serious infections with Staphylococcus aureus is increasing; this is true for both community-acquired (CA) and nosocomial infections. The enteric infections by Enteropathogenic E. coli is recognized as an essential intestinal pathogen that frequently causes acute and persistent diarrhea in humans and animals.
And because of the honey has broad-spectrum antibacterial activity and enhancement of specific and non-specific immune response against bacterial infections we will use malaysian trigonahoney to control the enteric and respiratory infections .
Methodology A total of 40 rats were used for this study and allocated into 8 groups. Rats were infected by E. coli and S. aureus bacteria after administration of Trigona honey three weeks in therapy group and four weeks in preventive group and there are two group for control with water ( healthy) and with honey (uninfected),after that lung, and intestine were collected for the total bacterial count and molecular examination of immune cytokines and oxidative stress expression and blood was collected for Evaluation of major organ functions by hematological analysis (Blood Chemistry).
Results : Trigona honey exerted a strongly antioxidant effect in E. coli and S. aureus infected rats as indicated by the upregulation in mRNA of superoxide dismutase (SOD) and glutathione peroxidase (GPX), Densitometric analysis revealed that using of Trigona honey as therapeutic medication is more beneficial than preventive effect as it normalized and upregulated SOD expression in intestine. in lung tissues, showed a more protective effect than that showed as therapeutic and showed upregulation in glutathione-S-transferase (GST) mRNA expression , And did not show any changes on alpha-1 acid glycoprotein (AGP) mRNA compared to both control and E.coli injected rats On Contrast, S.aureus suppressed mRNA expression in lung tissues and administration of Trigona honey as preventive as medication did not affect AGP mRNA, Administration of Trigona honey as preventive and therapeutic medication induced suppression in α 2-MG and TNF-α mRNA expression in both organs. Bacterial count per gram of organs significantly decreased in both infections. In summary Blood parameters, the Prior administration of honey reported decrease in liver biomarkers in preventive and therapy groups in infection, increase in immunity biomarkers and increase in inflammatory cytokines.
Conclusion : Trigona honey possess strong and more antioxidant, immunomodulatory,antibacterial properties and effect on blood parameters antioxidents , imminity and Renal and hepatic biochemical measurements particularly. When used honey as protective treatment.
THE GENOTYPIC AND ALLELIC CHARACTERIZATION OF VEGF PROMOTER (RS833061) VARIATION(S) AND THEIR ASSOCIATION WITH LIPID PROFILE, ANTHROPOMETRIC INDICES AND PHYSICAL ACTIVITY LEVELS AMONG MALAY OBESE
Problem Statement : Vascular Endothelial Growth Factor (VEGF) is one of the factors regulating adipogenesis related angiogenesis affecting different physical activity levels among obese. This study was focused on diet-induced and inflammation-induced obesity by targeting, reference single nucleotide polymorphism (SNP), rs833061, based on its role in angiogenesis derived adipogenesis. This study aimed to determine the genotypic and allelic frequencies of VEGF promoter polymorphism' and their associations with anthropometric indices, lipid profile indices, and level of physical activity.
Methodology : This ethically approved, cross-sectional study was conducted with a total of 193 subjects inclusive of obese (n = 93) and non-obese (n = 100). The anthropometric measurements and associated lipid profile indices of the subjects and controls were determined and calculated. The molecular characterization of VEGF promoter polymorphism (rs833061) was performed computationally followed by allele-specific polymerase chain reaction (PCR).
Results : It showed that the VEGF genotypic frequencies of CC, CT and TT genotypes in all subjects were 34.1%, 37.1% and 28.7% respectively. The frequencies of the T and C alleles were 52.7% and 47.3%, respectively. The CC, CT and TT genotypic frequencies in obese were 29.0%, 36.6% and 34.4% (P<0.010), while in non-obese groups the genotypic frequencies were quite different as 39.7%, 38.4% and 21.9% (P<0.075), respectively. These results from obese and non-obese subjects showed that allele 'T' (52.7%) was more common among obese, while allele 'C' (59.0%) was more common to non-obese subjects. Anthropometric measurements and lipid profiles did not differ significantly between the VEGF genotypes in both obese and non-obese groups. The means difference of anthropometric measurements [all parameters significant (P<0.001) except conicity index] and lipid profile [all significant (P<0.001)] have shown a significant difference between obese and non-obese groups. The level of physical activity based on respondents (obese = 30 and non-obese = 42), showed that most respondents were highly active in both obese and non-obese groups. Results of physical activity levels (mild, moderate & severe) in obese were 2 (6.67%), 13 (43.33%), and 15 (50%) respectively, while physical activity levels (mild, moderate & severe) frequencies of non-obese were, 1 (2.38%), 13 (30.95%), and 28 (66.67%) respectively. The correlation analysis among obese anthropometric and lipid profile showed fair to good correlation with WC and fat percentage. The overall, triglyceride (TG) showed good correlation with WC (r=0.420), WHR (r=0.500) and AVI (r=0.407), while TG/HDL has also shown good correlation with waist circumference (r=0.437), waist to hip ratio (r=0.489) and abdominal volume index (r=0.426).
Conclusion : As per objectives the rs833061 genotypes were mostly heterozygous (CT = 37.1%) among Malay population in alignment with other populations with dominant major 'T' allele to be more prevalent as compared to ancestral 'C' allele among Malays. Lipid profile indices (ratios) and anthropometric measurements were highly correlated beside physical activity level, had shown the high trend for severe physical activity levels among Malays. The VEGF genotypes for rs833061 were not associated with anthropometric measurements and lipid profile. To the best of knowledge, this is the first study in Malaysia discussing the role of promoter variation of VEGF in obesity-related physical severity.
ANTIBACTERIAL AND ANTIBIOFILM ACTIVITIES OF MALAYSIAN TRIGONA HONEY AGAINST PSEUDOMONAS AERUGINOSA AND STREPTOCOCCUS PYOGENES
Problem Statement: The antibacterial activity of honey has been researched scientifically and used medicinally for many years. Most of the research works conducted focused on honey produced by honey bee and very few on the honey from stingless bees. Rising figure of therapeutic drug resistivity and low susceptibility by bacteria and other microbes and the resulting side effect of some pharmaceutical products, leads to the use of natural remedies such as honey. The use of natural remedies as a form of alternative therapy without much consideration to factors such as the chemical properties, pharmacological properties and compatibility with theories may result in worsening the condition rather than curing (Seeley, 2009). In Malaysia, there is lack of enough available data on the therapeutic value of stingless bee honey, which is highly needed since the stingless bee honey is readily available and utilized by the dwellers. Objective: This study aimed to investigate the antibacterial and antibiofilm activities of Trigona honey against Pseudomonas aeruginosa and Streptococcus pyogenes.
Methodology: The antimicrobial and anti-biofilm activities were examined by agar well diffusion assays, minimum inhibitory concentration (MIC), minimum bactericidal concentration (MBC), time-kill curve, biofilm formation in 96-well plates and scanning electron microscope.
Results: Agar diffusion assay showed that Trigona honey to possess highest total antibacterial activity against Pseudomonas aeruginosa and Streptococcus pyogenes, 25.2±0.6mm and 26.7±1.0mm respectively. Trigona honey possessed the lowest MIC value against Pseudomonas aeruginosa and Streptococcus pyogenes was 20% (w/v) and MBC was 25% (w/v). Also, MIC50 was between 10%-12.5% (w/v) and MIC90 was between 20%-25% (w/v) concentration of honey for both bacteria. In time-kill curve Trigona honey was inhibited P.aeruginosa and S.pyogenes in a 3 log10 at 18 hours, and total viable counts (TVCs) were killed after 24 hours at honey concentration of 25%. In biofilm degradation assay Trigona honey was degraded 70% of Pseudomonas aeruginosa and 68% of Streptococcus pyogenes biofilm. Also in biofilm inhibition assay Trigona honey was inhibited 91% of Pseudomonas aeruginosa and 89% of Streptococcus pyogenes biofilms. Scanning electron microscope images of P.aeruginosa and S.pyogenes shown that Trigona honey was changed shape, size of cells, destroyed cell wall integrity and lysed the cells in both bacteria. Scanning electron microscope images for biofilm of P.aeruginosa and S.pyogenes shown that Trigona honey was decreased cell density and cells appeared curved of P.aeruginosa and cell was appeared rough, holes and crevices of S.pyogenes, totally Trigona honey was disrupted and damaged biofilm formation.
Conclusion: This study demonstrates that Trigona honey has high antibacterial and antibiofilm activities against both bacteria in vitro and showed the efficacy of honey against biofilm in different degrees of potential effect. The study support previous finding that Trigona honey can be used as an alternative medicine for various bacterial infections.
[...]