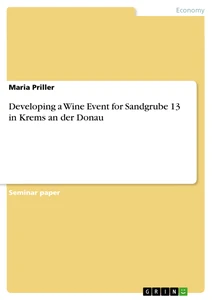 Developing a Wine Event for Sandgrube 13 in Krems an der Donau
Seminararbeit 2018 30 Seiten
Leseprobe
Table of Contents
1 Introduction
2 Qualitative Research - Interview
2.1 Research gaps
2.2 Journey Map – Six Aspects to consider
2.3 Interview Info & Facts
2.4 Desktop Research
3 Quantitative Research
3.1 Results
4 Personas
5 Stakeholder Map
6 Customer Journey Map
7 Walls
7.1 Question Wall
7.2 Idea Wall
8 Idea Portfolio
Questionnaire
Results
Stakeholder Map
Customer Journey Map
1 Introduction
The reason why our project team decided to work on a service design project of Winzer Krems, Sandgrube 13 is, that we wanted to focus on a regional authentic service project that is also related to the wine culture in Krems and the Wachau valley. In addition, we were looking for a service project that is also interesting for the huge amount of younger people and students studying (and living) in Krems. Trying to find the perfect match of those two factors, the winery "Winzer Krems eG, Sandgrube 13 in 3500 Krems" came to our mind. Additionally, the fact that there is not much offered in Krems regarding the student nightlife lead us to the idea to combine the Sandgrube 13 with a student's event. That way the idea of creating a wine event for younger people/ students was born!
In order to evaluate and research everything in detail, we used different methods where qualitative and quantitative research and ideation specifically were applied. Sequentially various tools we utilized to implement those methods such as a questionnaire, an in-depth interview, the stakeholder map, personas, a question wall as well as the idea clustering. During the overall creation process of the service design project, continually many small iterations have been done.
Altogether the methods and tools mentioned above helped us to design a very hands-on and customer-oriented event.
Introducing Winzer Krems, Sandgrube 13
Winzer Krems, Sandgrube 13, is one of Austria's best-known wine addresses. Its setting is unique: Located at the gateway to the World Heritage cultural landscape of the Wachau, it counts as one of the most beautiful stretches of river valleys in Europe.
Winzer Krems has its historical roots in the Krems-Stein winegrowers' guild, founded in 1447. Today, as Austria's dominant producer of quality wines, they combine traditional viticulture with state-of-the-art cellar technology. Winzer Krems encompasses 980 winegrowers from Krems and surrounding wine-growing villages and in the cellars at Sandgrube 13 the grapes produced are turned into fine wines.
At the Sandgrube 13, the wine cellar of Winzer Krems, a unique tour called "SANDGRUBE 13 wein.sinn" can be booked which lasts approximately 1,5 hour. It includes along the circular trail: Wine in the vineyard, in the cellar, in spectacular 4D film, in art and in the glass – a journey of a different kind to discover the fascination of wine.
2 Qualitative Research - Interview
After having the idea of our subject, which is mainly based on wine, regionality as well as arts and culture, we conducted a qualitative interview with the head of Marketing Stephan Nessl of Sandgrube 13 in Krems.
The interview, including a wine tasting at Sandgrube 13, took us approximately two and a half hours. First of all, Mr. Nessl introduced us to their company in detail. Then we had the possibility to participate in a wine tasting there including a visit into the wine cellar where all wines are stored, the 4D cinema and also the "digital tables" which showed various scenarios where and when to drink wine. These tables are digital installations like screens projected on tables. By doing this, we had the opportunity to slip into the shoes of the customers of Sandgrube 13.
In our opinion, the wine tasting tour was very interesting and diverse, but the focus is heavily put on older people which is their main target group at the moment.
After the participation in the wine tasting and having a proficient overview of the company, we asked Mr. Nessl various questions in order to process an in-depth interview with him. Examples of such questions are if they would like to change their target group, if they are satisfied with their number of visitors and also if they are having some shortcomings in their company structure. Due to the fact, that we all listened to Mr. Nessl and each other and tried to understand everything, we had a very pleasant conversation flow. The outcomes of this interview were that Sandgrube 13 has some deficits in Marketing. For example, their website is outdated, they are not promoting the company very well and what is most, they do not attract younger people at all. Mr. Nessl told us that they are interested in attracting a younger target group and making the brand more popular among youth adults. Moreover, Sandgrube 13 also wants younger people to prefer wine from Sandgrube 13 over another brand when purchasing wine in a supermarket. Concluding, Sandgrube 13 strives to attract a younger target group, especially students, and wants to make the brand more attractive to them.
Out of this interview, we came up with the idea, to introduce a wine event for younger people where we would like to exhibit different kinds of art and provide various drinks and food e.g. an own small street food market and of course a dancefloor with a DJ or band. More details of the event will be explained in the following chapters.
2.1 Research gaps
Throughout our quantitative and qualitative research, we identified three main research gaps. Firstly, we lack information regarding the motivational factors for the students to attend an event at Sandgrube 13. Furthermore, we did not examine what prevents the younger generation from visiting Sandgrube 13. Last, the third research gap refers to the step "hangover" in our journey map. We are not sure if the hangover is positively or negatively affecting the experience of the event. By doing this, we outlined some pain points.
Summing up, we are missing some qualitative data which could be at the same time a hint for further research.
2.2 Journey Map – Six Aspects to consider
We also considered the six aspects in order to develop our journey map. First of all, our journey map is future stated because the event is not existing yet, but we would like to design such an event with the aim to attract a younger target group. Moreover, our whole journey map is mainly research-based, which means it relies strongly on the research with the end-user/customer of such an event. Nevertheless, some items are assumption-based. In addition, we are focusing on a high- level scope because we are capturing an end-to-end experience. The main actors of our event are visitors (customers). Moreover, our journey map is experience centered because we are not considering what happens before and after the event – the post- event stage but instead we are focusing on the time during the event. For the visualization of our journey map we used text lanes, a storyboard, the emotional journey and the dramatic arc as well as different files.
Our user story: As a student in Krems, I want to attend a fun event with my friends and good wine and food so that I have an awesome night to remember.
2.3 Interview Info & Facts
Out of the interview with Mr. Stephan Nessl, Marketing Director of Winzer Krems, we evaluated that there is a big interest in attracting younger people to their vineyard and also increasing brand awareness amongst them.
Some key figures and facts about Winzer Krems vineyard (research & evaluation mainly during the interview):
Annual visitor numbers:
Winzer Krems welcomes approximately 24.000 visitors per year, doing the "SANDGRUBE 13 wein.sinn" tour.
Seasonality (in terms of tourists visiting):
The absolute high-peak-season is September and October, but the overall wine- tourist season for Winzer Krems is May until October.
Statistical and demographical data (Number, age, language, nationality, the reason for visit, etc.…?):
Unfortunately, there does not exist any statistical data about the overall tour visitors. But: Out of the 24.000 visitors in 2016, it can be said that 60% were tourist groups and the other 40% were individual guests.
The group tourists mainly are river cruises guests, guests from different kinds of cooperation or other tour operators. For the river cruises, it can be said that the majority are elderly people (estimated age 50+), interested in traveling, many Americans, well-heeled.
Out of the group of individual guests, it can be said that half of them visited the "SANDGRUBE 13 wein.sinn" with the "Niederösterreich Card". For the NÖ-card visitors, statistical data is available, but this applies then only to 20% of the overall tour visitors. All the individual guest are mainly Austrians and Germans.
As already mentioned, unfortunately, there is no documented evidence and statistical data about the average age of the overall 24.000 annual visitors. However, Mr. Nessl estimated the average age at about 45 – 50 years.
- This shows us that there is definitely a lot of room for improvement to attract younger people to the vineyard and also increase brand awareness of the winery itself.
2.4 Desktop Research
In general, the wine industry is putting a lot of focus on the younger wine drinkers, as they are their future source of income. In the recent years, food festivals and especially wine festivals have become very popular in many countries all around the world. Special events and festivals are significant factors that can motivate and attract younger people, which provides the wine industry an opportunity to give the younger generation an understanding of wine and influence thereby their attitude and purchasing behavior. (Dodd, Yuan, Adams, & Kolyesnikova, 2005)
As the goal of Sandgrube 13 is to attract a younger target group, a wine event would be the ideal opportunity for that. In this case a cooperation with the organization "Students of Krems". This group is engaged and represents the interest of the students of Krems of all universities IMC FH Krems, KPH Wien/Krems, Danube University Krems, Dental Private University as well as the Karl Landsteiner private university.
"Students of Krems" organizes a lot of events all over the year in order to create fun for the students and to get to know each other. One of the most popular events is the "Müllner Clubbing" used to start a new semester officially. This event takes place at the Heuriger Müllner, where the inn is transformed into a party location and provides a unique clubbing atmosphere each semester. This event has become very popular among the students and the Heurigen Müller has become an important place for the young adults in Krems, not only for the party purpose but as an eating place as well. Müllner clubbing has become a tradition for the student's life in Krems and cooperating with "Students of Krems" could help Sandgrube 13 to create their wine event and make it another important and well know tradition. It could be organized that this event is created for example for every semester ending and thereby increase the awareness of Sandgrube among the local youths.
In order to find out whether the students and the young adults from Krems would be interested in such an event, a questionnaire was developed and sent out. In the following pages, the results of this survey are presented.
[...]
Details
Seiten

30

Jahr

2018

ISBN (eBook)

9783346002143

Sprache

Englisch

Katalognummer

v493789

Institution / Hochschule

FH Krems – Tourism & Leisure Management

Note

2

Schlagworte