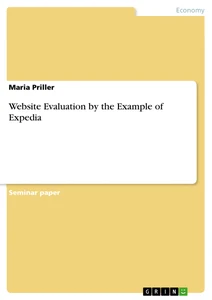 Website Evaluation by the Example of Expedia
Hausarbeit (Hauptseminar) 2017 14 Seiten
Leseprobe
Table of Contents
Table of Contents
List of Figures
List of Figures
1 Website Supplier – Expedia
2 E-Business Models
2.1 Revenue Model
2.1.1... Advertising Revenue Model
2.1.2... Transaction Fee Revenue Model
2.1.3... Affiliated Revenue Model
3 Questionnaire
3.1 Design and Content
3.2 Navigation
3.3 Customer Relationship and Trust
3.4 Added Value for Customers
3.5 Booking process
3.6 Hygiene and Motivational Factors of the Website
List of References
List of Figures
Figure 1 Advertisements on expedia.com
Figure 2 Availability of Rooms
1 Website Supplier – Expedia
A small division within Microsoft launched the online travel booking site Expedia.com in 1996. The main goal back then was to offer the consumer a new way to research and book their travel independently. Nowadays, Expedia is among the top leaders in online travel, with a notable portfolio of leading travel brands like Hotels.com, Trivago, Hotwire and many more.
The website can be used to book airline tickets, rent a car, book cruises, make hotel reservations or to combine the offers available on the website and also to book a holiday package. The travel website uses global distribution systems like Amadeus and Sabre especially for flights and hotel bookings, as well as Worldspan and Pegasus, together with its own reservation systems for bulk rate reservations.
Expedia Inc. describes their mission as revolutionizing, making travelling through the power of technology possible. The travel company aims to own and power the best travel brands in the world. Independent, innovative and fast are the key characteristics that are kept in mind. Primary growth drivers are and will be in the future: technology, product innovation, customer loyalty and global expansion.
Expedia's competitive advantages are: to own the best supply position in the world, being the scale in world class technology and operating platforms as well as unsurpassed intelligence through insight and best practices.
As per today, expedia.com is presented at over 200 travel booking sites in over 75 countries and more than 150 mobile websites in nearly 70 countries and 35 languages. Expedia employs over 20.000 people in more than 30 countries. The travel brand has 435.000 properties and over 500 airlines as suppliers. Since the past decade the gross bookings of Expedia tripled. The business results as of June 2017, the Q2 of 2017, showed gross bookings of $83.8 billion, revenues of $9.4 billion and 298 million rooms nights.
2 E-Business Models
The e-Business model, like any business model, describes how a company functions; how it provides a product or service, generates revenue, and how it will create and adapt to new markets and technologies. The four traditional components of an e-business model are: value proposition, sources of revenue and the required activities, resources and capabilities. In a successful business, all of its business model components work together in a cooperative and supportive way.
2.1 Revenue Model
Revenue models are a part of the business model. A revenue model displays how a business will earn money, hence which product or service is offered in order to generate revenues. Online revenue models not only sell goods or services, but also generte income through various streams for example by selling advertising space (banners), subscription, affiliate marketing and many more.
The following models are the once fitting best to expedia.com:
2.1.1 Advertising Revenue Model
An advertising revenue model is a business model that emphasises on the sale of advertising space as a source of revenue. Fees are generated from advertisers in exchange for advertisements. This type of revenue model is based on contacts that are made. This can be CPM, cost per mille, 1000 ad impressions are payed, hence ad is shown 1000 times. CPC - cost per click on the advertisement, for every click, a certain price is paid, for a hotel this could be for example 10% of the room rate. CPA – cost per action, or acquistion, payment has to be made when a specific action took place, like booking a trip to Ireland via the advertising.
When visiting expedia.com advertising is displayed on the main page. The advertising shown is travel related as well as non travel related, as shown below.
Abbildung in dieser Leseprobe nicht enthalten
Figure 1 Advertisements on expedia.com
2.1.2 Transaction Fee Revenue Model
A company receives commissions based on volume for enabling or executing transactions. Furthermore, the revenue is generated through transaction fees, by the customer paying a fee for a transaction to the operator of a platform, in this case Expedia. The company is seen as a market place operator providing the customer with a platform to place his or her transactions for example to book a flight to Spain and a Hotel in Barcelona.
2.1.3 Affiliated Revenue Model
The affiliate revenue model is like an interface between merchant and customers, which leads to a win-win situation: the merchants sell their products or services and the affiliates get the commission.
Expedia does not provide tourism products, but mainly helps tourism product suppliers to sell their products, in order to obtain the "commission" income.
Expedia sells at a specified price according to suppliers' requests and therefore Expedia receives a commission at a certain proportion of suppliers' income. The e-partners of Expedia focus on different kinds of services. Now they also include Expedia Affiliate Network (EAN), Hotels.com, Hotwire, Egencia Business Travel, Trivago, HomeAway and many more. Meanwhile, Expedia is also founding a partner service, to collect more e-partners.
3 Questionnaire
Rating: poor (1) – acceptable (2) – fair (3) – good (4) – excellent (5)
3.1 Design and Content
Abbildung in dieser Leseprobe nicht enthalten
The overall look and feel of the website is very well and the layout is appealing for website visitors. In the header, you can find a booking form for flights and it directly leads to a number of hotels at a certain destination. Furthermore, it is possible to rent a car, book a train ticket or combine all those services. The layout is clearly structured and well designed. Points of criticism are that below the booking form, many advertisements pop up and there is too much information displayed regarding flights, hotels and holidays. From our point of view, this information is only necessary for people that are is interested in a specific hotel or destination.
The layout supports both, the experienced as well as the inexperienced internet user because of the header that contains the most important services like booking a flight or a hotel. Moreover, it is possible to book something only with one click. When you are searching for special hotels or destinations, you will find all reviews and recommendations of previous guests that is a big advantage to form an opinion and to make the right decision.
Furthermore, all pictures are provided in a high quality. Unfortunately, the picture on the homepage is hidden because of the booking form. From our point of view it would be more advantageous to show more appealing pictures from different destination to attract more customers and to speak with them on an emotional level. All pictures support the content but there is no video on the website.
The text on the website is comprehensive and easy to read for all customers but generally, you will not find many text passages on the website. If you scroll down, e.g. at holiday rentals, there is way too much information and connected links to other websites.
Onwards, the spelling and the grammar of the provided text is clear and correct in every language. Expedia offers its website in 33 different languages what is really worth mentioning. A disadvantage is the difficulty to switch from one to another language and to find where you can switch. Several websites provide this service in the right corner but on this website, you have to switch at the bottom of the site.
The loading time of the website is really fast in all browsers and also the comparison of numerous offers works quickly.
Moreover, all menu texts for example "things to do" or "last minute" are easy to understand and meaningful. All pages of the website are scannable regarding key words or the text structure but sometimes, as mentioned above, there are too many hyperlinks, which makes a quick overview a bit more difficult. Nevertheless, at some webpages, it would be advantageous to provide some more text passages for a better understanding.
[...]
Details
Seiten

14

Jahr

2017

ISBN (eBook)

9783668978904

Sprache

Englisch

Katalognummer

v493794

Institution / Hochschule

FH Krems

Note

1

Schlagworte