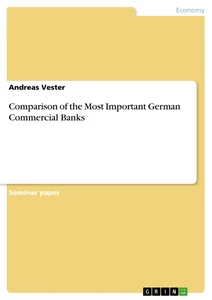 Comparison of the Most Important German Commercial Banks
Seminararbeit 2004 31 Seiten
Leseprobe
Table of contents
List of Tables
List of Figures
Abstract
1. Introduction
2. Deutsche Bank AG
2.1. Overview
2.2. Operating Business Evaluation
3. Commerzbank AG
3.1. Overview
3.2. Operating Business Evaluation
4. Allianz Group (Dresdner Bank)
4.1. Overview
4.2. Operating Business Evaluation
5. HypoVereinsbank AG
5.1. Overview
5.2. Operating Business Evaluation
6. Comparison between German and U.S. Commercial Banks
7. Advanced Analysis
7.1. Economic Reasons for the Relative Underperformance of German Commercial Banks
7.2. Mergers & Acquisitions
7.3. German Commercial Banks and Asset Management
8. Summary & Conclusion
References
List of Tables
Table 2-1: Relevant indexes and characteristics for Deutsche Bank AG 9
Table 3-1: Relevant indexes and characteristics for Commerzbank AG 10
Table 4-1: Relevant indexes and characteristics for Dresdner Bank 13
Table 5-1: Relevant indexes and characteristics for HypoVereinsbank AG 16
Table 6-1: Comparison of ROE between German commercial banks 17
Table 6-2: Comparison of ROA between German commercial banks 18
Table 6-3: Comparison of ROE between U.S. commercial banks 19
Table 6-4: Comparison of ROA between U.S. commercial banks 19
Table 6-5: Market Capitalization as of 12/31/2003 21
Table 7-1: Mergers & Acquisitions of Deutsche Bank AG 25
Table 7-2: Mergers & Acquisitions of HypoVereinsbank 25
Table 7-3: Mergers & Acquisitions of Allianz (Dresdner Bank) 26
Table 7-4: Assets under management (AUM) as of 12/31/2003 27
List of Figures
Figure 1-1: Banking Industry in Germany – Market Shares 7
Figure 6-1: Comparison of ROA between major German commercial banks and U.S. Average 20
Figure 6-2: Comparison of ROA between major German commercial banks and U.S. Average 21
Figure 6-3: Stock Market Development 22
Figure 7-1: Real GDP Growth rate: United States vs. Germany 24
Abstract
The German banking industry is a highly regulated market with over 2,200 banks[1]. These banks are not equal at all. On the one hand, there are private owned commercial banks; on the other hand there exist savings banks, so-called 'Sparkassen', as well as 'Genossenschaftsbanken' that are equal to credit unions in the U.S. The German banking industry is just at the beginning of a structural change. In the recent past there have been a couple of mergers and bankruptcies within the banking industry. But a big change did not happen yet.
In this paper we analyze the four biggest and most important German commercial banks – Deutsche Bank, HypoVereinsbank, Commerzbank, and Dresdner Bank – and their standing within the international banking industry. We examine the profit situation, the credit management, the worldwide role in asset management, as well as mergers and acquisitions during the past few years. Additionally, we expounded possible structural changes and chances within the German banking industry in the near future.
1. Introduction
The German banking industry is a large market of over €6,600 billion[2]. 2,200 banks that are employing around 750,000 people as of October 2004 share this market. Compared to 3,280 banks as of January 1999 and 2,575 banks as of December 2001 it shows a declining trend in the number of banks.[3] The German banking industry is mainly divided in commercial banks, savings banks, and credit unions.
There exist 489 local operating savings banks as of December 2003, which are owned by municipals. These savings banks belong to the 'Sparkassen-Finanzgruppe'. Besides that the 'Sparkassen'-Group mainly consists of 11 building and loan associations ('Landesbausparkassen'), 36 public insurance companies, and 12 'Landesbanken'. The 'Landesbanken' are similar to the savings banks, but they are owned by states and they are operating nationally as well as internationally[4]. The market share in lending and deposits of the 'Sparkassen'-Group equaled 40% in 2002[5]. The strength of the 'Sparkassen' consists in its presence in almost every city. 'Sparkassen' are offering a wide range of services to everybody, especially to low wage-earners. 393,000 employees are working in 22,600 branches with total assets of €1,000 billion making the savings banks a strong competitor for commercial banks[6]. With the help of the savings banks, local governments are able to control economic policy tasks of the banking industry. The liabilities of the 'Sparkassen' are guaranteed by the owner and as a result by the German tax payers. For this reason the default risk of a 'Sparkasse' is almost zero. As long as the municipal covers his savings bank, it cannot fail. The deposits are also insured by the savings institutions insurance fund ('Sicherungssystem der Deutschen SparkassenFinanzgruppe'). This is a very important advantage for savings banks, if they issue debentures. For the reason of the public guarantee the ratings for 'Sparkassen' are always excellent and therefore these institutions are able to borrow money for a lower interest rate than they would be able without the public guarantee. This covering practice of the German government can be interpreted as unfair towards private owned competitors and is therefore questionable. For this reason, the European Competitive Commissioner launched a proceeding for illegal subsidies at the Supreme European Court of Justice.[7]
At the end of 2003 there existed 1,392 credit unions ('Volks- und Raiffeisenbanken' or 'Genossenschaftsbanken') in Germany with more than 15 million members. The total amount of assets exceeded €560 billion at this time. Comparable to American credit unions 'Volks- und Raiffeisenbanken' are not-for-profit depository institutions which are mutually organized and owned by their members (depositors). Member deposits are used to provide loans to other members and earnings from these loans are used to pay interest on member deposits. The market share of the credit unions equaled 18% in deposits and 14% in lending as of the end of 2002[8]. The deposits are insured by the 'Bundesverband der Deutschen Volksbanken und Raiffeisenbanken' (BVR) which has also the responsibility to take preventive as well as restore measures regarding credit unions.[9]
The third important pillar within the German banking system contains commercial banks. There existed 252 of this so-called 'Kreditbanken' in August 2004. The overall market share of commercial banks equaled 28.5% in deposits and 24.9% in lending as of December 2002[10]. The total amount of assets equaled €1,800 billion. Within the commercial banking sector there are four big banks ('Großbanken') which have alone a total amount of assets exceeding the €1,000 billion range.[11] These big banks are Deutsche Bank, Commerzbank, HypoVereinsbank, and Dresdner Bank, which are analyzed in more detail in the following chapters. In general, German commercial banks are offering any kind of financial service such as brokerage, deposits, lending, credit cards, trust banking, funds, and mortgage loans. Deposits in commercial banks are insured by the commercial banks insurance fund ('Einlagensicherungsfonds des Bundesverbandes deutscher Banken e. V.'). This insurance covers up to 30% of the liable equity capital of the bank per customer. For instance, for Deutsche Bank AG deposits are insured up to €5,916,381,000[12] per person. This insurance covers time deposits, demand deposits, savings deposits, but not bearer bonds issued by Deutsche Bank.
In comparison to U.S. banks, it is legally allowed for German banks to own common stocks of other companies. This fact led to a strong involvement of German banks in all kind of companies such as industrial companies, insurance companies, or even other banks, for instance. It is also common to do interlocking shareholding with competitors, i.e. Allianz and Munich Re (the world largest reinsurance company) are holding more than 20% of each other's stocks[13]. After a change in taxation laws selling of common stocks became tax free and commercial banks started to change their stake policy, i.e. they sell a great deal of shares of companies that do not belong to the bank's core business.
illustration not visible in this excerpt
Figure 1 - 1 : Banking Industry in Germany – Market Shares[14]
2. Deutsche Bank AG
2.1. Overview
Deutsche Bank AG, based in Frankfurt am Main, Germany, is ranked as the second largest bank worldwide by assets, with €850 billion as of June 30, 2004. The biggest German commercial bank, founded 1870 in Berlin, is employing 66,000 employees to serve more than 13 million clients in 74 countries all over the world. It is engaging in seven core business fields such as global markets, global equity, global corporate finance, global banking and transacting, private and business clients, private wealth management, and asset management. Deutsche Bank is also a market leader in international currency, stock, and bond trading.
The internationalization of Deutsche Bank started with the acquisition of Morgan Grenfell Group in 1989. Through the acquisition of Bankers Trust in 1999 and the asset manager Scudder in 2002 Deutsche Bank became an important player in the U.S. market. The public presence and the possibility of further acquisitions in the U.S. were supported by a listing at the New York Stock Exchange in 2001. Since the 1990s Deutsche Bank is selling shares of companies, which do not belong to its core activities. This policy should strengthen the main business and the internationalization of Deutsche Bank. But nevertheless, in 2003 Deutsche Bank was still holding shares of other companies worth €10 billion. The biggest stakes were 11.8% in DaimlerChrysler, 2.5% in Allianz, and 10% in Linde[15].[16]
2.2. Operating Business Evaluation
As the second largest commercial bank worldwide measured by assets Deutsche Bank is far away from being the most profitable commercial bank. This is reflected in the valuation of the stock and thereupon in the market capitalization of Deutsche Bank. Since the 1980s when Deutsche Bank was number two by market capitalization a couple of big management mistakes led to a fall behind its international competitors, especially U.S. commercial banks.
illustration not visible in this excerpt
Table 2 - 1 : Relevant indexes and characteristics for Deutsche Bank AG[17]
Concerning the operating income and thereupon the ROE and the ROA one can state that the values increased during the time period from 1997 till 2000. But at the same time one has to take into account that after the end of the stock market boom in 2000 the return on equity and assets fell dramatically. Analyzing the overhead ratio (non-interest expense relative to total operating income), the credit quality (bad credits relative to all credits), and the fee income ratio (fee income relative to total income) it becomes clear that the main problem of Deutsche Bank is not the revenues side but the expenditures side. While the credit quality was in an acceptable range during the whole sample period (between 1.68% and 2.51%), the overhead ratio tended to be relatively high on an average basis. Besides this, the fluctuations (given by the standard deviation) showed that the bank had some significant problems to manage or smooth its expenditures.
On the other hand, the fee income ratio of Deutsche Bank is a significant income source. With a fee income ratio between 70% and 80% the bank was able to compensate some losses that occur because of poorer credit qualities and higher overhead costs. The stronger engagement in investment banking and asset management could be seen as the reason for the increasing fee income ratio. The deterioration of the credit rating by Standard & Poor's as well as Moody's is a hint for the poor performance of Deutsche Bank in the recent past. It becomes clear that the bank has to improve its profitability, even if it is still high compared to other German commercial banks. (See table 2-1)
To sum up, Deutsche Bank seems to have a clear global strategy for the new century. With its focus on the international market Deutsche Bank is getting more independent from the highly competitive German banking market.
3. Commerzbank AG
3.1. Overview
With total assets of €380 billion Commerzbank AG, headquartered in Frankfurt am Main, Germany, is the fourth largest German and one of the most important European commercial banks. 32,000 employers are serving 7 million clients within Germany and abroad.[18] Commerzbank is focused on medium-size companies and private clients in Germany and the European market. It is also engaged in the U.S. market with branches in New York, Atlanta, Chicago, and Los Angeles.
3.2. Operating Business Evaluation
From an economic point of view the situation of Commerzbank can be interpreted as very critical. Table 3-1 states that the bank is suffering losses since 2002. In 2003 the return on equity equaled -24.50% and was therefore the lowest return during the sample period (1998 – 2003). This huge loss was particularly caused by a write-off on the bank's share portfolio worth €2 billion.
illustration not visible in this excerpt
Table 3 - 1 : Relevant indexes and characteristics for Commerzbank AG[19]
However, there is a concrete downtrend recognizable, which leads to the assumption that Commerzbank has some serious problems. Every ratio, namely the overhead ratio, the credit quality, and the fee income ratio, deteriorated during the sample period. Especially significant is the increase in bad loans compared to all loans (credit quality). The credit quality rose from 1.90% in 2001 to more than 3% in 2003. This fact led to increase costs or write-offs, respectively, which could not be compensated through lower overhead costs or higher fee income. Instead, the opposite took place. The overhead costs rose, which intensified the increase in losses.
The traditional low fee income ratio shows the weak position of Commerzbank in investment banking, trading, and asset management. For instance, the investment banking division is too small to be competitive on an international basis. The business field of Commerzbank with medium-size companies and private clients is very interest rate- sensitive. The decline of the interest rates since 2001 caused lower revenues within this core-business. Moreover, with the reduced financial strength of Commerzbank Standard & Poor's and Moody's have lowered the bank's rating as well. This led to an increasing cost of raising funds from the capital markets.
[...]
---
[1] Cp. http://www.bundesbank.de/stat/download/bankenstatistik/S131ATIMB2425.PDF
[2] Cp. http://www.bundesbank.de/stat/download/bankenstatistik/S131ATIMB2425.PDF
[3] Cp. http://www.bundesbank.de/stat/download/bankenstatistik/S131ATB10607.PDF
[4] Cp. http://www.sparkassen-finanzgruppe.de/owx_medien/media0/71.pdf
[5] Cp. http://www.sparkassen-finanzgruppe.de/owx_medien/media0/69.pdf
[6] Cp. http://www.sparkassen-finanzgruppe.de/owx_medien/media0/62.pdf
[7] Cp. http://www.sparkassen-finanzgruppe.de
[8] Cp. http://www.sparkassen-finanzgruppe.de/owx_medien/media0/69.pdf
[9] Cp. http://www.bvr.de
[10] Cp. http://www.sparkassen-finanzgruppe.de/owx_medien/media0/69.pdf
[11] Cp. http://www.bundesbank.de/stat/download/bankenstatistik/S131ATIMB2425.PDF
[12] Cp. http://www.bdb.de/verband/index.asp?channel=183210
[13] Cp. Allianz Group annual report as of 2003
[14] Cp. http://www.bundesbank.de/stat/download/bankenstatistik/S131ATIMB2425.PDF
[15] Cp. Deutsche Bank annual report as of 2003
[16] Cp. http://www.deutsche-bank.de/geschichte/
[17] Own calculations based on Deutsche Bank annual reports as of 1997-2003
[18] Cp. https://www.commerzbank.de/aktionaere/zahlen_fakten/kenn.html
[19] Own calculations based on Commerzbank annual reports as of 1998-2003
Details
Seiten

31

Jahr

2004

ISBN (eBook)

9783638458696

Dateigröße

711 KB

Sprache

Englisch

Katalognummer

v49398

Institution / Hochschule

Indiana University of Pennsylvania

Note

A

Schlagworte