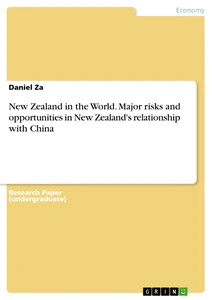 New Zealand in the World. Major risks and opportunities in New Zealand's relationship with China
Studienarbeit 2018 8 Seiten
Leseprobe
A confidential strategy paper outlining the major risks and opportunities in New Zealand's relationship with China.
This paper was already submitted to the Victoria University of Wellington, New Zealand as part of the research assignment on New Zealand in the international affairs.
Background (The Early Beginning)
When you drink water, think of its source.1
New Zealand's first officially recognised the People's Republic of China (PRC) on December 22, 1972. Since then, China and New Zealand bilateral relations have been developing steadily with frequent high-level cooperation and exchanges in many fields. The high-level contacts and visits between two leaders of both nations have also improved afterward. Chinese Premiers, General Secretary of the Communist Party of China and Chairman of Standing Committee of National People's Congress visited New Zealand occasionally. There were several New Zealand Prime Ministers and Speakers of the House also visited to China. Three months later, on 28 March 1973, the Associate Minister of Foreign Affairs, Hon. Joe Walding, led a team to Beijing to establish a direct high-ministerial contact between two nations (Elder, 2013).
The very first era of relations between China and New Zealand was marked by China attributes "five firsts" to New Zealand. First, in 1997, New Zealand became the first Western nation in the world to agree bilateral term for China's accession to the World Trade Organisation (WTO) by establishing the bilateral negotiations component of that process. Second, New Zealand was the first country to recognise China's status as a market economy in April 2004. Third, New Zealand was also the first developed country to enter the Free Trade Agreement (FTA) negotiations with China officially launched FTA negotiations in November 2004. Fourth, in November 2008, New Zealand became the first Organisation for Economic Cooperation and Development (OECD) country to sign a high-quality, comprehensive, and balanced FTA with China. Fifth, New Zealand and China jointly announced the continue negotiations to enhance bilateral FTA in November 2016 which was a first for a developed country with China over organic food certification (NZ-China FTA, 2018).
Introduction
The robust and strong economic ties with China were partially because of better relationship between New Zealand and the United States after the alliance between the two governments worked together in the mid-1980s over nuclear weapon ban by New Zealand prevented US naval ships from entering New Zealand's waters. But Sino-NZ relations has been largely developed after US Secretary of State Hillary Clinton visited New Zealand in November 2010 and co-signed the Wellington Declaration which greatly restored relations between two nations. In November 2014, Chinese President Xi Jinping visited New Zealand and met with Prime Minister John Key and both agreed to further strong trading ties, since then, New Zealand was became a strong early supporter of the Asian Infrastructure Investment Bank (AIIB) (Lanteigne, 2016).
China is changing the world economy as currently ranking the top trading partner in most developing countries. The impact of China's rise in the global economy and Asia-Pacific regional order mean China is likely to become the global post-American hegemon. That might be nightmares for New Zealand that China's assertion of its power is likely to be accompanied by an extension of its major preoccupation and influencing with New Zealand's economic, political and strategic interests. New Zealand's policy-makers should bear in mind for this trajectory of China's power for the next five years or more. Because of both its wealth and external interests expand generate China's economy will continue to grow strongly, resulting in significant challenges for leaders to negotiate.
This paper will outline three issues. First, I examine the China's economic globalisation power influences to New Zealand Second, I will explain the China's regional and strategic concerns over New Zealand and how it effects on New Zealand regional strategy, particularly focus on how New Zealand's strategy shapes over Asia-Pacific regions, particularly ASEAN. Third, I will focus on China's rising as a tool of political and economic influences to New Zealand under Xijiping government and examine the advantages and disadvantages of China's rising power impact on New Zealand.
Last, I will conclude that the main challenges and opportunities for New Zealand policy-makers to questions upon political judgement rather than economic and strategic concern. First, in dealing with China, New Zealand needs to seek better understanding of how much stronger will be like in the next five years. We need to regulate to the reality of China's growing influence in the South Pacific region and seeking opportunities to encourage positive policy by China rather than following their strategic denial.
China's Economic Globalisation and Its Influence on New Zealand
China has been emerging world order in terms of economic and political power in the 21st century. China has also become the new champion of free trade as an economic protectionism and leading economic globalisation in the international system. Chinese President Xi Jinping addressed during his speech at the Asia-Pacific Economic Cooperation Summit in Vietnam in November 2017 that "more open, more balanced, more equitable and more beneficial" trading agreement benefit the existing "multilateral trading regime" and outlines the importance of "practicing open regionalism " (Heydarian, 2017).
In late 2013, President Xi officially announced his doubled down economic project by initiating the trillion-dollar One Belt One Road Initiative, a mega project that try to connect from Asia to Europe and Africa through a network of Beijing-funded roads, railways, and shipping lanes.
Many scholars and policy-makers have been concerned over China's initiation of the New Silk Road plan that would largely impact on global development. It is important question to consider how will China finance itself for infrastructural projects that it has so far proposed under the plan and what are the impacts of such development on the global finance system? One reason is that China has achieved an agreement with international financial institutions and other countries that there is also need to sustain infrastructural development in many places around the world to achieve and benefit a win-win cooperation. Another reason is that Chia is now able to show to other stakeholders that it has very strong financial and human resources capabilities as well as political influences that can enter into such cooperation.
As China is the second largest economic power and represents the most significant trend in this century, Beal and Kang argue that Sino-NZ economic relationship is significantly asymmetrical on with largely rely on the Chinese market. Therefore, the bilateral economic relationship between New Zealand and China represent a strategic shift in New Zealand's foreign economic relations. According to the Reserve Bank of New Zealand, Chinese economy has been indirectly influence on New Zealand by the dependence of New Zealand's relations with other trading partners on China. As China's rapid growth is one of the major shift of the world economic order, and the China's expanding of its trading relations is making a systematic change in the global economy. Furthermore, the rapid growth and expanding of New Zealand's economic relations with China is a replication of the growing influence of the Chinese economy on the world economy as a whole. The growing trend of China's economy, therefore, economic relations with New Zealand's major trading partners would significantly become an indirect influence of the Chinese economy on New Zealand (Beal & Kang, 2017).
Another important factor of China's indirect influence on New Zealand economy is that China has been changing trade terms for New Zealand. China's economic integration into the world economy is significantly influence on the relative prices over the last two decades. Because China has been largely growing demand for raw materials and merchandise goods and supply, and large amounts of manufacturing goods from China that has led to major changes in the price level. As China's large scale of commodity imports and manufacturing export, whenever Chinese companies enter the international market, they make the export cheap, then import with the expensive prices. China is playing the world market by either the supply from China or the demand for China, which is likely to influence the level of prices through a change of equilibrium between supply and demand (Beal & Kang, 2017).
This factor is beneficial for New Zealand because the structure of both New Zealand's exports and imports is opposite to China's. As a result, a total of the higher prices for New Zealand's export of agriculture-based products and lower prices for New Zealand's imports of manufacturing prices has continued to improve in its terms of trade, which was reaching up a 37-year high in 2011.
China's Regional and Strategic concerns: Impact on NZ regional strategy
Economic growth create incentives for a developing country such as China to enhance noncombat military capabilities, especially for domestic missions. The relationship between economic growth and regime security in developing countries, especially authoritarian regime, economic growth is an important factor of legitimacy for the state. The process of economic growth sometime increase political instability, and when political instability increase, leaders may decide to use their country's armed forces to maintain internal political stability. China is a rapidly developing country in the world which offers a rich environment to explore the relationship between economic growth and military strategy. Many leaders in developing countries exercise the process of rapid economic growth as a tool to create new challenges for the state as well as sources of political unrest, which can limit future growth and initially threaten legitimacy (Goldstein & Mansfield, 2012).
[...]
---
1 Chinese phrase associate most often with the concept of ancestor worship. It could means never forget your origin or roots. The water you are enjoying today is to sustain your body must not be forgotten or ignored.