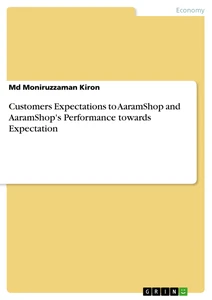 Customers Expectations to AaramShop and AaramShop's Performance towards Expectation
Ausarbeitung 2018 12 Seiten
Leseprobe
Contents
Introduction
1.0 Customers Expectations and AaramShop Performance towards Expectation
1.1 Easy trade
1.2 Customer emotion
1.3 Good quality service
1.4 Reasonable price
1.5 Convenience and fast delivery
2.0 Contribution to success
2.1.1 Simplicity
2.1.2 Freedom of Choice
2.1.3 Uniqueness/ Roll-out
2.1.4 Meeting with trust & expectation
2.1.5 Delivers Value for retailers and customers
2.2 Factors
2.2.1 Lack of Understanding
2.2.2 Technology Risk
2.2.3 Deep Rooted Practises
2.2.4 Illiteracy
2.2.5 Feats of considered a middleman
2.3 Barriers of Success
2.3.1 Lack of Understanding / Simplicity
2.3.2 Technology Risks / Freedom of Choice
2.3.3 Deep Rooted Practices / Meeting with trust & expectations
2.3.4 Feats of considered a middleman / Delivers Value for retailers and customers
3.0 Delivery model
3.1 Bargaining Power of Customers (High)
3.2 Bargaining Power of Suppliers (Low)
3.3 Threats of New Entrants (High)
3.4 Threats of Substitute (Low)
3.5 Competitive Rivalry (High)
4.0 References
Introduction
AaramShop, a web based grocery platform developed by Vijay Singh, MD and CEO which was established on Jun 1, 2011 currently operating in Asia pacific area, India. AaramShop is hybrid retail platform that enables sales and marketing of Fast Moving Consumer Goods /CPG brands to "short on time or high on stress" shoppers. It enables grocery shopping for food by utilizing the strength of the area retailers and incorporates them with opportunities given by the AaramShop web. The core thought of AaramShop is to empower independent retailers, who have a physical presence, to have a web-store, which enables them to connect better with modern consumer. Today, more than 70,000 items are available to customer over 40,000 retailers to choose from 100 urban cities in India. AaramShop as considered as most favorable commerce platform for all stakeholders.
1.0 Customers Expectations and AaramShop Performance towards Expectation
Customer service becomes more significant than ever. More than 67% of respondents believe that good service is "significant" to whether or not they do business with a company. Six-tenth customers have stopped doing business with a company because of poor customer service. Lesonsky, R. (2018, September 21). There are 5 areas have be found by this study for briefly discuss the customer expectation of AaramShop and what they achieved.
1.1 Easy trade
Now days, customer has more options for they choose than at any point in history. (Morgan, B. 2015, January 22) "Make the purchase easy" becoming the most urgent expectation for customer. When the issue comes to AaramShop, customers expecting the short buying process, convenience online order and wide service coverage. Therefore, AaramShop allow customer get the chance that easy done the purchase in its online Website, customer no need waste time in queuing in the off line store. What's more, customer can use the digital cash to purchase the goods, which make the payment will done in 1 second. It's also very convenience for customer making shopping lists on the AaramShop App.
1.2 Customer emotion
Abbildung in dieser Leseprobe nicht enthalten
1.3 Good quality service
contact points of interest, including email addresses, versatile numbers and addresses to consistently keep clients refreshed by means of messages and SMS on offers and arrangements. Clients' practices and task focuses to their exchanges can be followed, and remunerates for clients can be associated.
1.4 Reasonable price
Historically, customers always have expected the quality service with fair pricing, and the customers of AaramShop are no exception. Whereupon, AaramShop give many discount by digital coupons. Besides, AaramShop has set up a reasonable price for delivery, the 65% of the online store provide average 7 $ for delivery service and there are only about 23% store supply over 10 $ for the delivery. Hence the price of delivery service is affordable for most of the family. In addition, because of the goods will direct send from retailer to the customer without the need to re-invent the supply chain it also does not have any additional costs.
1.5 Convenience and fast delivery
Delivery for online purchases has come a long way since the early days of ecommerce. Indeed, a recent survey found that expectations around shipping time are higher than ever, and that this is partly driven by Amazon Prime. Hence the customer of AaramShop require relatively fast delivery even shipping is free. Therefore, AaramShop created "Store to Home" model as delivery forms. Store to Home model does not require a warehouse orders are picked from vendors and delivered directly.
Abbildung in dieser Leseprobe nicht enthalten
2.0 Contribution to success
2.1.1 Simplicity
Targeted for busy urban customer, AaramShop is an integrated technological platform that is stress-free and simple to operate by both retailer and customers. A consumer can use FB, website or install Aaram app, select on their preferred retailer's web store plus examine their product catalogue, offerings and provide order. Through assistance of precise postal code locality, customers could search for existing product rebates, promotions and incentives accessible from reliable kirana stores. Through enhancing ease, comfort towards virtual payments amenities for instance cash upon delivery facilities, Indian shoppers seemed pretty happy and relaxed checking fresh household grocers online. (Bikramjit Rishi, 2016)
2.1.2 Freedom of Choice
AaramShop provides customer and retailer with platform of choice of buying and selling items from either offline or online basis. AaramShop follows Store to Home model whereas, customers could place an order from the online portal or mobile App where items are picked from retailer, vendors and delivered directly to them (Bikramjit Rishi, 2016). Consumers can explore various inventories and options available to choose in the web content. Thus, eliminating the need of physically visiting vendors towards finding precise item besides waiting in prolonged columns for payment. Customer are given opportunities to select desired stores of their preferences whose promises to deliver deserved quality as well as quantity items (Bureau, 2017).
2.1.3 Uniqueness/ Roll-out
First time in India, AaramShop came out with an integrated technological platform to roll-out that made local grocers their business partners thru ensuring a continuous online and offline capabilities and experiences for both customer and retailer. AaramShop passes together, via its application besides locality benefits towards customers from their neighborhood retailers, info associated with incentives at web stores, within a few clicks (Bikramjit Rishi, 2016) . Customers were benefited of cash on delivery preferences by company. Moreover, AaramShop provide web orders that reach customer's doorstep within 45 minutes. AaramShop's offline presence expected to partner within 14000 Indian kirana stores in 100 states whereas BigBasket Inc. operates only in 22 cities (Bureau, 2017). Besides, AaramShops exceptional online store custom standings, free delivery facilities and well customer relationship management (CRM) support made them roll-out from other brands.
2.1.4 Meeting with trust & expectation
Years of success in marketing technique by AaramShop, various retailers and brands had started to trust more on AaramShop's online platform. Thus, every kirana shop of the eco-system is now inter-dependent & benefits in their own mean as being a part of AaramShop (Dafria, 2012) . AaramShop make sure all their stock keeping unit (SKU) and Kirana are always updated with guaranteed right quality and quantity grocers' provided to customers. By login into AaramShop App, customer can simply place orders on domestic items as well as get home transported in the given timeframe. Cash on deliver facilities given by AaramShop makes the payment secure for customer. Thus, it allows in saving valuable logistics cost and travelling time of potential customers (Bikramjit Rishi, 2016).
2.1.5 Delivers Value for retailers and customers
AaramShop delivers with unequal access to customers favoured neighbourhood kirana store with above 32 categories and thousands of items (Dafria, 2012). AaramShop provides accessibility towards creating inventory catalogue on the AaramShop application since grocery shopping usually list-driven and the items in the catalogue don't vary ominously above a timeframe. AaramShop blended with numerous options contained in-premium deals for customer, retailers and brands to create value. Towards retailer's, AaramShop aimed an exceptional amenity offering, AaramOffer, that allows particular retailer to tailoring and adapting tier incentives to involve and engage customers on the website with free of charge. Then again, company also launched AaramShop Grocery Festival, which appoints with consumers through loyalty programmes and redeem promotions offers and deals. Once ordered, items home delivered within timeframe unmatched by any other online platform (Bikramjit Rishi, 2016).
2.2 Factors
2.2.1 Lack of Understanding
There are wide varieties of points that customers face in a typical FMCG purchasing. Some of the points which fall under illiteracy are mentioned below;
1) The absence of the information about offers and the deals going in the store. Though customers shop at the stores for their convenience but they still lack in attaining information as to what offers and deals are going on and available in the store for the customers.
2) The space controlled on the store floor also being constrained which in terms fail to deliver shoppers with the experience and familiarity towards new stores. Thus, such factor limits the customers or stores to buy only the bare essentials and their needs.
3) The Customer due to some circumstances is either not able to understand or does not even know the inventory available by the store to the customers.
2.2.2 Technology Risk
In the absence of being able to touch or feel a product while shopping online creates a mental barrier within Customers, which then leads to either wrong product sizes or wrong product being bought which ultimately causes a higher return. Due to the rise in rivalry along with the key international players, cutting-edge technology of such players would stance a challenge for the companies doing business locally, especially in the customer analytics and recommendation engines.
One of the biggest concerns for AaramShop is that it depends upon the capabilities of the neighbouring stores. One simple factor being faced in Technology are the upgrades which are needed to be done within these neighbouring kirana stores. According to a study about 95% of these stores have still not embraced moving into the 21st century but still are in their old traditional ways.
2.2.3 Deep Rooted Practises
One weakness seen towards the inventory catalogue model trailed via competitors of AaramShop, is that each time a new rival enters a new city, the traditions and the local taste have to be met. Though this means that the suppliers within the business are regionally specific, but this creates a problem in the selection of the suppliers.
Although, urban towns are coming into the new era of Web and Mobile based commerce but the shopping offline for their product takes preference in shopping in hypermarkets where they have a wide variety of products available, that too at discounted coupons and even other schemes available for their customers.
2.2.4 Illiteracy
The kirana shop owners are quite slow towards the movement of change towards modern technology. A change in the mind set of these owners or operators is needed and the time to incorporate accordingly within the system and then only be able to reap the benefits from the AaramShop model.
2.2.5 Feats of considered a middleman
A method known as Store to Home model is used by AaramShop, preferring India is still sequentially following the lifecycle of an e-commerce, especially inside e-grocery shopping, it has become vital in analysing new or alternate option which can help the business model.
Four options which are most popular are as follows:
- Warehouse to Home
- Store to Home
- Click & Collect
- Drive Thru
Thou, these have their failures and successes, it is vital to have an option lined up depending on the culture, offerings and the availability of capital within the business.
2.3 Barriers of Success
2.3.1 Lack of Understanding / Simplicity
Thou there is a lack of understanding between the customers and the business model. But the model used is very simple and easy to use. AaramShop has tutorials for new customers which help them with the understanding of how to use the platform efficiently.
2.3.2 Technology Risks / Freedom of Choice
The technology helps the customers in making a choice out of many retailers with whom AaramShop is in business with. This helps the customers to buy products from their stores as well as being loyal to them and continue on with being happy with the supplies.
2.3.3 Deep Rooted Practices / Meeting with trust & expectations
Thou most of the population considers that meeting their trust and expectations will be hard to none, when ordering online, this is actually not the case. AaramShop provides the customers with amenities such as cash on delivery and a given time to deliver by the customer making the produce delivered to be fresh.
2.3.4 Feats of considered a middleman / Delivers Value for retailers and customers
This model gives retailers and other shops the motivation and the resources to target customers who want a specific product but are only available with them. It creates a better value for the retailers and also enhances the brand image for AaramShop.
3.0 Delivery model
A company's adherence to delivery is a crucial feature or aspects that decides the success of the company in an industry. A negative shipping experience has a huge impact on business. It distresses towards the brand image, loyalty of customers, and can increase costs (GO & JE, 2015). So, Porter's five forces will assist to draw a conclusion that AaramShop should worry about their delivery model.
3.1 Bargaining Power of Customers (High)
As customers have various options to purchases grocery goods so bargaining power of customers is High. In India, there are numerous options available for customers to buy grocery goods on online such as from Big Basket, Local Banya and so on. Moreover, grocery goods are categorized under undifferentiated products which are naturally undistinguishable. As a result, customers enjoy the freedom of substitutable goods from competitors or other suppliers. Therefore, customers have freedom of choice to switch, AaramShop must provide and maintain a better experience for its customers in terms of delivery of the products (Rishi, Kapoor, & Bhatia, 2016).
3.2 Bargaining Power of Suppliers (Low)
Bargaining power of suppliers is Low. Grocery goods are undifferentiated products which are mostly perishable such as milk, salt, sugar, packaged ice etc. and suppliers must provide the products to the sellers in order to reduce lose. AaramShop's biggest suppliers is Kirana Stores. Kirana stores is the neighborhood of AaramShop and customers of AaramShops enjoy the freedom to select their closest Kirana stores so that they can be assure of quality. Furthermore, as there are various sources available in the market switching cost is not high for AaramShop. Plus, most of the revenue which is made by AaramShop comes from ads of the several grocery brands on its web-portal. However, with a model which is used by AaramShop, everybody is a winner (Rishi, Kapoor, & Bhatia, 2016).
3.3 Threats of New Entrants (High)
Organization entering into online or virtual world no longer unanticipated. As a result, threats of new entrants is High. Moreover, e-grocery is very much accessible, convenient, effortlessness shopping experience for buyers and a fast-developing marketplace online grocery stores are progressively gaining popularity among the people of India. It has been anticipating that in this modern era it is an exclusive prospect for any online retailing business particularly for the e-grocery space. Therefore, in order to cope up with the threats AaramShop should always focus on satisfying customers by executing a great delivery methods along with other services (Rishi, Kapoor, & Bhatia, 2016).
3.4 Threats of Substitute (Low)
Threats of substitute is Low. AaramShop's only substitution could be offline stores and their mode of delivery. Buyers can only change their preference to offline and to other online grocery which is available to them. However, there is no significant change in-terms of cost and no brand loyalty (Rishi, Kapoor, & Bhatia, 2016).
3.5 Competitive Rivalry (High)
E-grocery merchandizing is developing almost eight time faster than before on the ground of organizations globally. The marketplace of India is not behind. Accordingly, the competitive rivalry is very High. There are some other organization like BigBasket.com, Local Banya, and Green Cart and so on operating their business within the same segment and trying to be profitable. Which indicates the competitive rivalry is very high and increasing gradually (Rishi, Kapoor, & Bhatia, 2016).
In terms of delivery, AaramShop practises the "Store to Home" method of delivery model which is one of the most convenient and suitable delivery model for business like AaramShop. Moreover, it require a small capital of investment, as the model does not require any warehouse. So, AaramShop should not worry about their delivery model, and they should stick to it. However, there is some limitations with "Store to Home" delivery model. Therefore, with the aim of enlightening the limitations and achieve high efficiency in terms of delivery AaramShop could also adopt click and collect model.
4.0 References
Bikramjit Rishi, A. K. (2016). Emerald Emerging Markets Case Studies. AaramShop.com reinventing the.
Bureau, P. G. (2017). We hope to partner with over 40,000 stores by April 2017: MD & CEO, Aaramshop. Retrieved from Food Grocery: https://www.indiaretailing.com/2017/01/25/foodgrocery/c/hope-partner-40000-stores-april-2017-md-ceo-aaramshop/
Dafria, A. (2012). Shop Groceries Online Aaram Se With AaramShop.com. Retrieved from YourStory: https://yourstory.com/2012/04/shop-groceries-online-aaram-se-with-aaramshop-com/
GO, I., & JE, O. (2015). Impact of Leadership Style on Organization Performance: A Critical Literature Review. Arabian Journal of Business and Management Review. doi:10.4172/2223-5833.1000142
Hurtola, & Jenny. (2011). The importance of social media in building customer loyalty for Company X. Laurea Leppävaara. Retrieved from https://www.theseus.fi/bitstream/handle/10024/27665/Jenny_Hurtola.pdf?sequence=1
Parvatiyar, A., & Sheth, J. N. (2001). Customer Relationship Management: Emerging Practice, Process, and Discipline. Journal of Economic and Social Research. Retrieved from http://citeseerx.ist.psu.edu/viewdoc/download?doi=10.1.1.334.8408&rep=rep1&type=pdf
Abbildung in dieser Leseprobe nicht enthalten