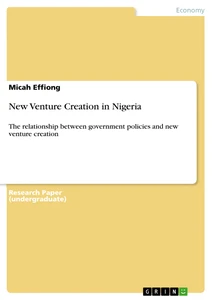 New Venture Creation in Nigeria
The relationship between government policies and new venture creation
Studienarbeit 2019 53 Seiten
Leseprobe
Table of contents
ABSTRACT
Introduction
1.1 Background to the study
1.2 Statement of the problem
1.3 Objectives of the Study
1.4 Research Questions
1.5 Research Hypotheses
1.6 Significance of the Study
1.7 Scope and Limitations of the Study
1.8 Definition of Key Terms
1.9 Conclusion
CHAPTER TWO. REVIEW OF LITERATURE
Introduction
2.1 CONCEPTUAL FRAMEWORK
2.1.1 Concept of Entrepreneurship
2.1.2 History of entrepreneurship
2.1.3 Characteristics of Entrepreneurship
2.1.4 Recent Development of Entrepreneurship in Nigeria
2.1.5 Roles of entrepreneurship in the Nigerian Economy
2.1.6 Government Entrepreneurial Policies
2.1.6.1 Dimension of Government Entrepreneurial Policies
2.2 CONCEPT OF NEW BUSINESS VENTURE
2.2.1 Start-up motive:
2.2.2 Innovativeness:
2.2.3 Risk Taking:
2.2.4 Conceptual Model
2.3 THEORETICAL FRAMEWORK
2.3.1 Economic Theory of Entrepreneurship
2.4 EMPIRICAL REVIEW
2.5 Conclusion
CHAPTER THREE. RESEARCH METHODOLOGY
3.0 Introduction
3.1 Research Design
3.2 Area of the Study
3.3 Population of the Study
3.4 Sampling/ Sampling Technique
3.5 Method of Data Collection
3.6 Scoring of Research Instrument
3.7 Method of Data Analysis:
3.8 Decision Rule Regarding Testing of the Hypotheses
CHAPTER FOUR. DATA PRESENTATION, ANALYSIS AND DISCUSSION OF FINDINGS
4.1 Introduction
4.2 Presentation of Data
4.3 Testing of Hypotheses
4.3.1 Hypothesis One
4.3.2 Hypothesis Two.
4.3.4 Hypothesis Three
Table 4.3.5 Comparison of hypotheses and descriptive analysis
4. 4 Discussion of Finding
CHAPTER FIVE. SUMMARY, CONCLUSION AND RECOMMENDATION
5.0 Introduction
5.1 Summary
5.2 Conclusions
5.3 Recommendations
5.4 Suggestion for Further Research
Bibliography
ABSTRACT
This study, "Government Policies on Entrepreneurship and New Venture Creation in Nigeria; A Study of Akwa Ibom State" was to examine the relationship between government policies on entrepreneurship and new venture creation in Akwa Ibom State. In specific, some of the objectives include: to determine the relationship between Loans/Credit facilities and Start-up Motive in Nigeria; to examine the relationship between Loans/Credit facilities and Innovativeness in Nigeria and to investigate on the relationship between Loans/Credit facilities and Risk Taking in Nigeria. A total population of one hundred fifty five (150) entrepreneurs in Uyo metropolis was ascertained through purposive sampling techniques to have 75 male and 75 female respondents on purpose for this study because it suitable for addressing the issue or research questions at hand and it gives a wider view selection of the respondents of the study at ease effort. In order to collect primary data, 150 questionnaires were administered to the male and female entrepreneurs in Uyo metropolis.After analyzing the variables, the result of the findings that there is a positive Government Policies on Entrepreneurship and New Venture Creation in Nigeria; A Study of entrepreneurs in Uyo metropolis thus,government of Nigeria should give full support to entrepreneur to eradicate low level of entrepreneurial development and then provide a better and enabling environment for potential and prospective entrepreneurs. CHAPTER ONE
Introduction
Entrepreneurship is essential for the sustenance of economic vitality in today's market economy; and when a greater number of new businesses enter the market, competition and economic growth is enhanced (Klapper et al, 2006). To examine explore on the entrepreneurial government policies, this chapter shall focus on the background of the study, significance of the study objectives, statements of the problem, research questions, and limitations of the study as well as definition of key terms.
1.1 Background to the study
One of the tools of fostering economic growth in today's century is entrepreneurial activities. It aid in the sustainability of economic energy in today's market economy; and when a greater number of new business ventures are created especially manufacturing, competition and economic growth are enhanced. It is however pertinent to understand that the importance of entrepreneurship development in several economies globally cannot be overemphasized; as such majority of countries worldwide have established programmes to support entrepreneurship in their various countries (Gangi & Timan, 2013).
It has been established that entrepreneurship is an instrument for creating job as well as economic development (Friedman, 2011). Entrepreneurship serves as a source of income generation for major group both rural and urban inhabitants without recognized paid job (Ihugba, Odii, & Njoku, 2014) and also serves as an element of change and transformation of economic, culture and society development (Moghimi 2008). As a matter of necessity, governments through their laws, regulations, investments, and other policies create a considerable impact on where entrepreneurs choose to establish new enterprises and the probability that those enterprises will succeed (Bhat and Khan 2014).
In other words government policies on entrepreneurship can help improve business growth or otherwise. Although in Nigeria there are already existing governmental policies and activities designed to support/spur entrepreneurship development and creation of new ventures in Nigeria, policies were formulated in relation to financing, taxation, regulations on trade, and encouragement of innovation activities. Etc. Similarly, in Nigeria, over the past three decades, government evolved policies and programmes aimed at developing entrepreneurship through the development of small and medium scale enterprises (Tende, 2014). Certainly, small firms are driver for individuals to channel their entrepreneurial ambitions through creation of new enterprises, new commercial activities, new economic sectors, generate jobs for others, produce goods and services for society, introduce new technologies, substitution of imports, mobilize domestic savings and utilization of local resources through foreign exchange export. Government policies were found to have fully moderate the relationship between entrepreneurship development and new venture creations (Iwuamadi, 2010).
1.2 Statement of the problem
In Nigeria, different administrations at various times have geared their efforts towards developing its entrepreneurship. Several developmental and financial assistance instruments were employed (Oni and Daniya, 2012). Similarly, many scholars have written widely on entrepreneurship and its potency to generate employment through establishment of new ventures, thus, under-scoring the essence, significance and relevance of this sub-sector in the development of any given economy. Lee and Osteryoung, (2004) reported that the capability of business owner to influence government policy is related to the success of entrepreneurial activities.
Moreover, Ihugba, Odii and Njoku, (2011) argued that even though Nigerians are possibly one of the most entrepreneurial people globally, government is not doing enough to encourage entrepreneurs through policies. Similarly, Sriram and Mersha (2010) discussed the factors that contribute to success of new business venture in Africa especially the start-up. They reported that effective government policy is very crucial in encouraging successful business enterprises. Several other studies have shown that government policy is positively related to entrepreneurship such as Mason, and Brown, ( 2011) who studied on Creating good public policy to support high-growth firms and Small Business Economics and Greene, (2012) who investigation was on; Should the focus of publicly provided small business assistance be on start-ups or growth businesses?
On the contrary, Friedman, (2011), who examined on the relationship between governance effectiveness and Ihugba, Odii, and Njoku, (2011), who investigated on theoretical Analysis of Entrepreneurship Challenges and Prospects in Nigeria entrepreneurship also found government policy to be negatively related to entrepreneurship. Subsequently, of all the studies none have exhaustively deliberated government policies on entrepreneurship and new venture creation hence this study is to examine the roles of government policies on entrepreneurship and new venture creation in Nigeria.
1.3 Objectives of the Study
For this study, the general objective is to examine the relationship between government policies on entrepreneurship and new venture creation in Akwa Ibom State. However, the specific objectives for this study are stated as follows:
i. To determine the relationship between Loans/Credit facilities and Start-up Motive in Nigeria.
ii. To examine the relationship between Loans/Credit facilities and Innovativeness in Nigeria.
iii. To investigate on the relationship between Loans/Credit facilities and Risk Taking in Nigeria.
1.4 Research Questions
i. What is the relationship between Loans/Credit facilities and Start-up Motive in Nigeria?
ii. What is the relationship between Loans/Credit facilities and Innovativeness in Nigeria?
iii. What is the relationship between Loans/Credit facilities and Risk Taking in Nigeria?
1.5 Research Hypotheses
From the reviewed of extant empirical studies, the following three hypotheses are formulated to suit the purpose of this study.
i. Ho1: There is no significant relationship between Start-up Motive and Loans/Credit facilities in Nigeria.
ii. Ho2: There is no significant relationship between Creativity/Innovativeness and Loans/Credit facilities in Nigeria.
iii. Ho3: There is no significant relationship between Risk Taking and Loans/Credit facilities in Nigeria.
1.6 Significance of the Study
This research work is aimed at finding the role of government policies on entrepreneurship and new venture creation. It is also aimed at highlighting the effect of government policies on entrepreneurship and the establishment of new venture creation.
Academic Significance: It will also serve as reference document to students, government, and other researchers as an advancement of knowledge in management and other field. This study, when completed will contribute earnestly to the existing body of knowledge on government policies on entrepreneurship as well enrich the body of literature on new venture creation.
The overall returns of this study shall be beneficial to the economy as a whole. It is therefore hoped that the perusal of findings would be of great help to individuals, institutions, entrepreneurial organizations, government and researchers who will make use of this work. This study has the potentials of making important contributions for instance;
Businesses: This study will enlighten businessmen on various government policies on entrepreneurship that can facilitate business growth and development in the long run. It will also expose to new venture business government policies on entrepreneurship that can aid in accessing start up finance and smooth running of business. This study when completed will unravel government policies on entrepreneurship to many new business ventures that did not succeed and recommend possible criteria for success.
Government: This study will expose to government reasons for the low level of entrepreneurial development and then provide a better and enabling environment for potential and prospective entrepreneurs. It will facilitate entrepreneurial policies evaluation if really it is effective to new venture business establishment. This study will also aid government to implement flexible policies on entrepreneurship that will ensure rapid creation of new ventures and market penetration. It will indirectly contribute to the GDP of the country when there is creation of job opportunities, boom in market system through new venture creation.
1.7 Scope and Limitations of the Study
This research is to examine the roles government policies on entrepreneurship and new venture creation in Nigeria. The surrounding constraints in the course of this work are thus; data constraint, financial constraint, limited information due to the type of research work and time constraint. This research work collates data from both secondary and primary sources, as such there could be errors made by those the data are generated from; hence this research work incorporates such errors.
a. Time: Time has been a major constraint that has militates against the realisation of the objectives of the research; especially as the researcher had to carry it out in the midst of academic pressure.
b. Finance: Finance being the life wire of any business and any research work, has posed a major barrier that has immensely militates against the realisation of researchers objectives. The researcher faced inadequate finance for the acquisition of the necessary stationery for the work.
c. Recalcitrant attitude from respondents: Some of the respondents were not ready to give out the required information needed due to the fact that, they think, the researcher wants to know about their privacy, this issue militates against the realisation of researchers objectives.
1.8 Definition of Key Terms
Entrepreneurship: Entrepreneurship entails the process of using private initiative and know-how to grow and diversify an existing venture or new enterprise with high growth potential (UNDP, 1999; Ujunwa, Salami and Umar, 2011). According to Gana (2001) entrepreneurship is defined as the willingness and ability of an individual to seek out investment opportunities in an environment, and be able to establish and run an enterprise successfully based on the identified opportunities.
Government: Government is part of the environment of business and within a focal country which exercises legal and regulatory control over all business organization, as well as initiates the major strategies for the attainment of national development objectives. It could also be seen as a person or group of persons into whose hands the state has placed for the time being, functions of political control.
Policies: Policies are guides and directives that are formulated to shape the thinking, actions and decisions of a people in a given area.
New Venture: This is a global program that provides services for the development of small and medium enterprises (SMEs) whose main goal is to generate a positive environmental or social change within their own communities. It is defined by the wants or needs customers satisfy when they buy a product or service.
1.9 Conclusion
Entrepreneurship is vital for swift and sustained economic growth and development. There are a number of entrepreneurship development programmes in Nigeria many of which are expected to offer direct support to new business ventures. Availability of government entrepreneurship development programme tends to stimulate anticipated equitable policies that are success driven. However, the absence of a harmonized and well focused national entrepreneurship policies render most of the initiatives ineffective. Also, entrepreneurs should recognize that new ventures require strategy. They have to see their competitive environment with particular clarity and endeavour to create unique position that is worth defending. However, for the entrepreneurs to be effective in creating new business ventures, the government needs to create an investor-friendly environment encompassing stable macroeconomic policies.
CHAPTER TWO. REVIEW OF LITERATURE
Introduction
Entrepreneurship plays an important role in solving social, economic and environmental problems (Hall, Daneke and Lenox, 2010). Entrepreneurship policies result to more opportunities that finally affect better economic performance. However, the obvious question is there any relationship between these government entrepreneurial policies and creation of new ventures? The focus of this research is on the relationship of these policies and creation of new ventures". Thus, this chapter present the general conceptual framework for both the dependent and the independent variables. It presents a review of theoretical framework which explains theories that relate to the subject matter and the empirical review describes what has been practically observed and validated objectively in relation to the subject matter.
2.1 CONCEPTUAL FRAMEWORK
2.1.1 Concept of Entrepreneurship
The term "entrepreneur" is a French word derived from the verb "entreprendre", which means to do or to undertake (Cunningham and Lischeron, (1991); Shmailan 2016)? It can be divided into two parts, "entre", meaning "between", and "preneur" meaning "taker". Literally, then, an entre-preneur is a "between-taker", or "go-between" Filion, (2011). Moloi and Nkhahle-Rapita (2014) said entrepreneurs are individuals who accept risks and who are innovative in terms of their business management skills.
Also in cunningham and Lischeron (1991) as cited in Shmailan (2016), the word entrepreneur was first used by Cantillon in the early 1700's to describe someone who takes a risk by purchasing certain things at one price and by selling another unknown price. The French further defined an entrepreneur as someone who had certain personal traits that made them produce more. More so, Harold (2004) stated that entrepreneurs take personal risks in initiating change, and they expect to be rewarded for it. They need some degree of freedom to pursue their ideas; this in turn requires that sufficient authority be delegated.
Sarmah and Singh (2004) stated that entrepreneur is one who can transform raw materials into good and services and who can effectively utilize physical and financial resources for creating wealth, income and employment; who can innovate new products, standardize of existing products for creating new combinations of production factors such as new methods of production, new products, new markets, finds new sources of supply and new organizational forms; or as a person who is willing to take risks; or a person who, by exploiting market opportunities, eliminates disequilibrium between aggregate supply and aggregate demand or as one who owns and operates a business.
According to Desai (2005) entrepreneur is one who can see possibilities in given situation, where others see none and has the patience to work out the idea into scheme to which financial support can be provided. Moreover, a common definition of an entrepreneur is a person who establishes companies and other business entities, and is self-employed through the company or business entities (Casson and Casson, 2014; Naude, 2013; Elena, 2017). More so, the career of an entrepreneur is an aspiration shared by many in the capitalistic countries around the world (Minarcine and Shaw, 2016).
By positive impact of the businesses, entrepreneurs can advance the competitiveness and productivity of a country they operate in, as well as strengthen the economic growth (Naude 2010, in Naude 2013; Elena, 2017). Subsequently, Peter and Clark (1997); Egai (2008) affirms that entrepreneurial development is a disposition to accept new ideas, new methods and making people more interested in present future than the past. The entrepreneurial class provides leadership in resource change, innovation, technical progress and capital formation to produce new knowledge, new production techniques/possibilities, profits and economic growth.
2.1.2 History of entrepreneurship
Initially, entrepreneurship started when people produced more products than they needed, as such, they had to exchange these surpluses (Adeoye, 2015). For instance, if a blacksmith produced more hoes than he needed, he exchanges the surplus he had with what he had not but needed; maybe he needed some yams or goat etc. he would look for someone who needed his products to exchange with. By this way, producers came to realize that they can concentrate in their areas of production to produce more and then exchange with what they needed. So through this exchange of products, entrepreneurship started. A typical Nigerian entrepreneur is a self-made man who might be said to have strong will to succeed, he might engage the services of others like; friends, mates, in-laws etc. to help him in his work or production. Through this way, Nigerians in the olden days were engaged in entrepreneurship (Adeoye, 2015).
Nigeria was traditionally an agricultural country, providing the bulk of its own food needs and exporting a variety of agricultural goods, notably palm oil, cacao/cocoa, rubber, and groundnuts (peanuts). At this time, the place called Nigeria had entrepreneurs who had the entrepreneurial mind-set prevalent at the time. The peoples of Hausa, Ibo, Yoruba and Benin all had their own entrepreneurs (13th-19th century), who were exposed to entrepreneurship opportunities outside their native areas. The Hausas had astute entrepreneurs who managed workers with skills in tanning, dyeing, weaving, and metalworking which were highly developed. The Hausas have long been famous for wide-ranging itinerant trading, and wealthy merchants shared the highest social positions with the politically powerful and the highly educated. In Hausa land, entrepreneurial success in Islam is not merely measured by the end result but also by the way and means of achieving them (Ebo 2012).
The Ibos also specialized in buying and selling goods and have perfected their entrepreneurial expertise in inventory control, management and distribution which up till today, has remained their prevalent way of entrepreneuring. The Yoruba are predominantly town dwellers who practiced small-scale, domestic agriculture and are well known as traders and craftspeople. Since the 13th century, Yoruba artists have been producing masterpieces of woodcarving and bronze casting. Like the Ibos, the finished products were traded on as business ventures and enterprises.
The Portuguese, the first Europeans to traverse the coast of western Africa, were attracted to Benin City in 1486. The Oba established trading contacts with the Portuguese and initially sold them some war captives, which the Portuguese sold as slaves (another sad reminder) to the Akan of Asante (modern Ghana) in exchange for gold. Later, Benin's trade with Europeans in the 16th and 17th centuries was in palm oil, ivory, pepper, and textiles. Dutch traders to Benin City in the 17th century remarked about the astute entrepreneurs they met in Benin kingdom (Ebo 2012).
To understand the challenges and opportunities of entrepreneurship in 21st century, it is necessary to look at the history of entrepreneurship. Even though entrepreneurs are celebrated nowadays for their successes (Minarcine and Shaw, 2016) and are seen as an example for others, the history of entrepreneurship starts as early as in the medieval times according to Casson and Casson (2014). Many of the earliest recorded entrepreneurial activities were often encouraged or even organized by the monarchs, the state or the church. According to Casson and Casson (2014), entrepreneurship is a "basic human capability, which has been displayed in civilization through the times more or less".
2.1.3 Characteristics of Entrepreneurship
According to Longeneeker, Moore (1994) as cited in Manuel, (2006) a common stereotype of the entrepreneur emphasizes such characteristics as Vhigh need for achievement, a willingness to take moderate risks, and a strong self-confidence.
1. Need for achievement: A desire to succeed, where success is measured against a personal standard of excellence; entrepreneurs always ensure that they attend the apex of their desire in the course of their operations not minding the risks involved.
2. Willingness to take risk: The risk that entrepreneurs take in starting and/or operating their own business is varied. By investing their own money, they assume a financial risk. If they leave secure jobs, they risk their careers. The stress and time required in starting and running a business may also place their families at risk. And entrepreneurs who identify closely with particular business ventures assume psychic risk as they face the possibility of business failure.
3. Self-confidence: Individuals who possess self-confidence feel they can meet the challenges that confront them. They have a sense of mastery over the types of problems they might encounter. Studies show that successful entrepreneurs tend to be self-reliant individuals who see the problems in launching a new venture but believe in their own ability to overcome these problems.
Also Wheelen and Hunger (2000) identified four entrepreneurial characteristics such as:
- The ability to identify potential venture opportunities better than most people;
- A sense of urgency that makes them action oriented;
- A detailed knowledge of the keys to success in the industry and the physical stamina to make their work their lives;
- Access to outside help to supplement their skills, knowledge and abilities.
2.1.4 Recent Development of Entrepreneurship in Nigeria
Entrepreneurship in Nigeria started when people in the villages and farming communities produced more products than they needed, as such; they had to exchange these surpluses with those who needed them within their immediate and neighbouring communities. The exchange of goods for goods or services was based on trade by barter initially, until commodity money was developed and used. Exchange encouraged specialisation among producers, and the communities came to realize that they can concentrate on the areas of production they are best fitted. Consequent on the above, the culture of entrepreneurship started in Nigeria (Nicks, 2008; Raimi and Towobola, 2011).
The federal government of Nigeria since the 1960s has put in place different kind of institutional framework to reduce youth unemployment in the country. The role of government in SMEs' development in Nigeria became significant only after the Nigeria civil war (1967-70). Since the mid-1980s there has been an increased commitment of government to SMEs' growth and development especially after the introduction of the Structural Adjustment Program (SAP) in 1986. Added to this is the establishment of the National Directorate of Employment (NDE), National Open Apprenticeship Scheme (NOAS), the Small and Medium Enterprises Development Agency of Nigeria (SMEDAN), National Poverty Eradication Programme (NAPEP), the Youth Employment Scheme (YES) among many others. All of these programmes were targeted at creating enabling environment for SMEs stability and survival. Fundamentally, the Nigerian government promotes entrepreneurial culture through initiatives that build business confidence, positive attitude, pride in success, support and encouragement of new ideas, social responsibility, providing technological supports, encouraging inter-firm linkages and promotion of research and development (Nzewi, Onwuka and Onyesom, 2017).
In the early 2000s, entrepreneurship studies were introduced into the Nigerian educational system especially in higher institutions as a mandatory course. The Centre for Entrepreneurship Development (CED), which has the objective of teaching and encouraging students of higher institutions (especially in science, engineering and technological (SET)) to acquire entrepreneurial, innovative, and management skills, was established. The Centre's goal is to make the graduates self-employed, create job opportunities for others and to generate wealth (Thaddeus, 2012).
In the past fifty years or so, the government had established various financial support institutions specially structured to provide succour and to assist SMEs to contend with some of the hurdles along their growth path. Some of these specialized institutions include the Nigerian Industrial Development Bank (NIDB), the Nigerian Bank for Commerce and Industry (NBCI), the National Economic Reconstruction Fund (NERFUND), the Nigerian Export- Import Bank (NEXIM), the National Directorate of Employment (NDE), Industrial Development Coordinating Centre (IDCC), the Micro Finance Banks (MFB), Family Economic Advancement Programme (FEAP), the Nigerian Agricultural and Cooperative Development Bank (NACDB), Presidential Initiatives, such as the YouWin Programme, the Subsidy Reinvestment Programme (SURE-P) amongst others. These support institutions and other incentives created by the government were conscious efforts by the Nigerian government aimed at improving the performance of SMEs in the country (Nzewi, Onwuka and Onyesom, 2017). However, policy instability and frequent changes of government have affected the implementation of programmes by these support institutions and by extension has impacted negatively on the performance of new ventures.
[...]