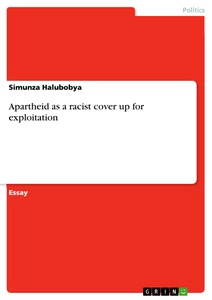 Apartheid as a racist cover up for exploitation
Essay 2013 6 Seiten
Leseprobe
Apartheid was a system of racial discrimination and separation, originating in political measures in the previous colonies and republics on South African territory and expanded by the creation of the Union through the Nationalist Party's growing parliamentary influence. There are other important dimensions to the peculiar South African model, such as extreme class inequality and authoritarian attitudes. In the system, the people of South Africa were divided by their race and the races were forced to live apart from each other. In line with this background, this piece of writing will discuss and show that apartheid was a racist cover up for exploitation.
1 The National Party introduced apartheid as part of their campaign in the 1948 elections and with the National Party victory, apartheid became the governing political policy for South Africa until the early 1990s. The laws of apartheid remained in effect for the better part of 50 years. Under apartheid, nonwhite South Africans were forced to live in separate areas from whites and use separate public facilities and contact between the two groups was limited2.
The Afrikaner National Party's goal was not only to separate South Africa's white minority from its non-white majority, but also to separate non-whites from each other and to divide black South Africans along tribal lines in order to decrease their political power. As indicated earlier, it was clear that apartheid was racist cover up in South Africa because the Afrikaner National Party won the general election under the slogan "apartheid" in 1948 which means separateness3.
Apartheid began after the National Party gained power in South Africa in 1948 and its all-white government immediately began enforcing existing policies of racial segregation under a system of legislation that it called apartheid. The word apartheid means "separateness" in the Afrikaans language and it described the rigid racial division between the governing white minority population and the nonwhite majority population4.
Apartheid was racist cover up in South Africa because racial segregation and white supremacy had become central aspects of South African policy long before apartheid began. In addition, apartheid was a racist cover up in that the controversial 1913 Land Act, passed three years after South Africa gained its independence, marked the beginning of territorial segregation by forcing black Africans to live in reserves and making it illegal for them to work as sharecroppers5.
To add on, in the National assembly, Africans throughout South Africa were represented in the Senate by four Europeans which cleanly show that Africans were not free to represent themselves in parliaments. This was done in an effort to ensure that there was no opposing and no political power to the blacks having got rid of the African right to direct representation in parliament, the government had to make sure Africans had no element of control of ownership in the new South Africa of apartheid.6
In addition, apartheid was racist cover up in South Africa because it denied non-whites participation in national government and the government introduced a series of Land Acts that set aside more than 80 percent of the country's land for the white minority, and "pass laws" required non-whites to carry documents authorizing their presence in restricted areas. In order to limit contact between the races, the government established separate public facilities for whites and non-whites, limited the activity of nonwhite labor unions and denied non-white participation in national government7.
The Population Registration Act of 1950 provided the basic framework for apartheid by classifying all South Africans by race, including black Africans, mixed race and white and later, a fourth category was added which were the Asians including Indian and Pakistani. This clearly shows that apartheid was a racist idea and not an economic system in South Africa because in some cases, the legislation split families; parents could be classified as white, while their children were classified as colored8.
Apartheid was racist cover up in South Africa because the origins of apartheid lie in a complex interaction between class interests of white labour as well as of sections of capital and racism/ethnicity, reinforced by ideological and security factors. The dominance of white agriculture and white labour until the mid-1960s was based on political, not economic power. Apartheid was the result of racist sentiments, particularly among Afrikaner nationalists, who from a political standpoint have been the dominant power factor during most of the period since the union of South Africa in 1910, and that the system, on the contrary, has impaired economic growth9.
Moreover, places of residence were determined by racial classification by the government and between 1960 and 1980a lot of non-white South Africans were removed from their homes and forced into segregated neighbourhoods in one of the largest mass evictions in modern history. Most of these targeted removals were intended to restrict the Black population to ten designated "tribal homelands". The government announced that relocated persons would lose their South African citizenship as they were absorbed into the homelands10.
The government had the power to destroy a number of freehold blacks townships on the western edge of Johannesburg and their resident were forced into huge new municipal township of Soweto where they were brought under strict government control. Other laws were introduced to tighten regulation against illegal squatters in towns or white owned farms, and to provide for the deportation of unemployed blacks from urban areas. This was in an effort to ensure that the system of apartheid was viable11.
In conclusion, the essay has shown that apartheid was a racist cover up for exploitation because it was a system of racial discrimination and separation, originating in political measures in the previous colonies and republics on South African territory and expanded by the creation of the Union through the Nationalist Party's growing parliamentary influence. It has also been noted that there are other important dimensions to the peculiar South African model, such as extreme class inequality and authoritarian attitudes and that in the system, the people of South Africa were divided by their race and the races were forced to live apart from each other
[...]
Details
Seiten

6

Jahr

2013

ISBN (eBook)

9783346128300

Sprache

Englisch

Katalognummer

v535562

Note

Schlagworte