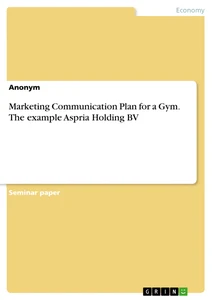 Marketing Communication Plan for a Gym. The example Aspria Holding BV
Hausarbeit 2019 27 Seiten
Leseprobe
Table of Contents
1 Introduction
2 Aspria Holding BV
2.1 Company Profile
2.2 External Factors
3 Objective
4 Target Group
5 Strategy of Aspria
6 Operational Plan
6.1 Communication Techniques
6.2 Timing Strategy
7 Implementation of Marketing Activities
7.1 Sales Promotion
7.2 Billboards
8 Costing
9 Evaluation
Appendix
References
1 Introduction
Health and fitness are becoming increasingly important in contemporary society. The German population is being encouraged to improve their own health through communication media, health insurance and politics. This results in a rising trend to take part in more sport within the population. According to a survey by Forsa, every third German (33%) is an active member of a sports club and every fourth German (24%) regularly trains in a gym (Göbel, 2016). The fitness industry benefits from this trend and the sector has great potential for growth (Appendix A).
On the basis of the Porters Five forces analyses (Appendix B), it can be stated that the health and fitness sector is characterised by increasing competition, due to low entry barriers, and price wars between lower-cost chains. Those factors result in a medium level of rivalry. Besides the aforementioned aspect, several substitutes exist, for example running or swimming, which are often less expensive than a gym membership.
Abbildung in dieser Leseprobe nicht enthalten
Supplier power is characterised as average due to the number of suppliers. Often gyms can compare and choose between several providers of equipment. In addition, buyer power is fairly moderate, for example, on the one hand, a gym membership is not essential for the daily life of consumers and they can choose between several providers, yet on the other hand, gyms often offer long-term contracts where customers are usually unable to exit easily (Marketline, 2017, 11-16).
2 Aspria Holding BV
2.1 Company Profile
Aspria Holding BV, with its headquarters in Amsterdam, is owner and manager of eight premium sports and wellness clubs (Aspria, 2018a). The company was founded in 2000 and has been steadily growing ever since. In 2009, they opened their first branch in Hannover, Germany and, seven years later, the Hannover site now generates an annual turnover of about £8.1 million (Bundesanzeiger, 2016).
Aspria is located at the Rudolf-von-Bennigsen-Ufer on the waterfront of the Maschsee. The club is centrally located, just a few minutes walk to the city centre, and has good transport connections. The fitness studio, with an indoor and outdoor surface area of 33,000 square metres, offers over 150 courses and personalised training included in their memberships. Moreover, they have a large wellness area with many saunas, steam baths, spa treatments as well as pools and a private beach. Furthermore, they offer a vast fitness room with modern equipment and weightlifting areas. By offering personal training schedules and sessions, nutrition counselling as well as body fat analysis, they are able to assess the needs of every member individually. In the sports club, there is also an integrated restaurant and a bar where they can ensure the physical well-being of their guests. As a service for families, they also provide childcare while the parents are working out. In general, Aspria is more than a gym and is often seen as a lifestyle product by costumers. In terms of target market, they aim for the upper segment of the fitness sector in the market. The average price for a membership is around £105 per month (Aspria, 2018b).
2.2 External Factors
With regard to the external impact, microeconomic and macroeconomic factors should be taken into account. According to the PESTEL-Analysis (Appendix C), there are macroeconomic factors which have a significant impact on the company. The most important element for Aspria are sociocultural factors which include the population demographics and attitudes towards health. Moreover, as Aspria enjoys a reputation of being a premium sports club, technological factors play an essential role. Therefore, they should provide the latest equipment and be able to respond to new developments.
In regard to the microeconomic factors especially the competitors should be taken into account. One of the direct competitors is the Elan Fitness centre which is located 12 kilometres away from the Aspria. They have a slightly smaller range of sports facilities and spa area but are also known as one of the premium fitness centres in Hannover. The average price for the membership is around £80 per month (Elan, 2018).
Among the indirect competitors are some mid-range and several low-cost chains which include for example McFit, EasyFitness or Fitness First (Appendix D). These fitness centres just offer basic workout areas and do not have many of the additional services such as wellness or personalised training sessions. The monthly rates range from £10 up to £50 (Fit for Fun, 2018; Prinz Hannover, 2018).
3 Objective
Since there is still a great potential for growth within the sector, Aspria should focus on the market penetration strategy, according to Ansoff (Appendix E). This strategy involves the consolidation of their existing product (the gym) within the existing market to gain a higher market share within the fitness sector.
Therefore, the operational marketing objective for the following campaign is to increase the number of memberships. Using the SMART–Model (Appendix F), the objective can be stated as follows: Increase the number of memberships by 10% by the end of the year 2019. This means that the Aspria, which currently have 6000 members, should aim to increase its membership by 600 to a total amount of 6600 by the end of the year.
In the key message of their campaign, Aspria should focus on the added value services which other competitors are not matching. They need to point out their premium positioning within the market. Therefore, the key message will be: "Spend quality time while working out!"
4 Target Group
By using the key bases for segmentation such as demographic, psychographic and behavioural segments, the target group can be defined as follows.
The demographic characteristics of the target group are both men and women between the age of 30 and 45 years. This represents about 25% of the population in Hannover (Landeshauptstadt Hannover, 2018, 18). As the membership is in the upper price category, the target group is usually part of a higher socio-economic group, likely to have an above average monthly household income and a high level of education as well as a secure employment. Economically, this target group does not have to restrict their spending particularly because they have high purchasing power. The catchment area of the target group should be limited to the centre of Hannover within a radius of ten to fifteen kilometres since proximity to the fitness studio is essential.
A psychological factor refers to the high value of a health-conscious lifestyle. Many of them tend to be body-conscious and therefore they have a higher interest in fitness. Often the targeted group operates in pressured situations and tries to find a proper balance between work and leisure time. In terms of status, they are interested in exclusive memberships as a status symbol.
In terms of behavioural characteristics, customers usually visit the gym twice a week and spend about 2-3 hours in the facilities, to achieve a better work-life balance. Most of those people have recognised the need for physical activity in order to stay fit and healthy. The higher prices are accepted and seem justified as they are expecting a high standard of quality in regard to services and facilities.
5 Strategy of Aspria
With still untapped market potential and capacities within the company, Aspria is still in the growth stage of the product life-cycle (Appendix G). This in turns means, the consumers are already aware of the brand and the characteristics of Aspria. Therefore, the strategy will be aimed at highlighting the brand position against their competitors. It is essential to create a brand preference by emphasising all the added value services and position it as unique (De Pelsmacker et al., 2004, 149).
Taking into consideration the objectives and strategy of the company, concrete actions should be defined. These will be based on the marketing and the four Ps: product, price, place and promotion. In terms of product, Aspria is offering health and fitness‑related services for the consumers. However, the added value is provided through the large wellness area, the latest equipment and many additional services. They are providing a comprehensive package not only for those who want to work out but also for enjoying quality time. Therefore, they adopted a premium price strategy. As a customer loyalty program, they usually offer only one‑year contracts, but also the option of a ten-session card. With regard to place, they offer their services only at the physical place of the company; in Asprias' case in the heart of Hannover, located at the landmark 'Maschsee' and seven other international locations. As for the promotion, Aspria has not been an active participant in its promotional strategies yet. Currently, they are running their own website and Facebook page with around 7900 fans (Aspria, 2018b; Aspria Hannover Maschsee, 2018). Occasionally in the past, they have conducted PR campaigns in Hannover and sponsored local events (Hannoversche Allgemeine Zeitung, 2018a). Nevertheless, more activities could be done to increase the promotional aspect. To specify the objective and planned communication techniques, first of all, a creative brief should be taken into consideration (Appendix H).
6 Operational Plan
6.1 Communication Techniques
Facebook is the most popular social network in Germany and fifty percent of the age group 35-49 are using this platform weekly, the trend is upwards (Waltz-Oppertshäuser, 2018). Therefore, they should put more effort into advertising, using social media platforms. It is an effective way to target information about the campaign and enter a two-way dialogue with potential customers to spread messages and build relationships. The sports club could advertise through targeted profiling since they are already keeping up information on their Facebook page regularly (Aspria Hannover Maschsee, 2018).
An additional advertising tool could be a blog. This type of marketing technique is becoming more and more important for businesses (Colliander and Dahlén, 2011). The blog may not have any particular content about the fitness centre but it can still pull in the targeted audience through helpful tutorials, clips or content about fitness and health as well as creating a good work-life balance. This could help more people to be exposed to the brand and indirectly learn more about the actual gym.
Besides using social media platforms, out-of-home media should be taken into consideration. Through increasing mobility, potential customers can be reached via billboards (Zukunftsinstitut, 2018). The sheer size of most billboards makes this marketing technique literally outstanding. However, the message must be very short and clear as people often just pass by and only have a short time in which to register visual information (Canwell and Sutherland, 2004, 35). As there is already a high brand recognition within the population in Hannover, it would act as a reminder medium. However, billboard often works also very well together with print media. This is why Aspria should place an advertisement in a newspaper, such as the 'Hannoversche Allgemeine Zeitung' with a reach of about 542,000 readers, before releasing billboards as the target audience is used to read the newspaper daily (Hannoversche Allgemeine Zeitung, 2018b). This type of media can target the audience especially in regard to geographic characteristics and has the advantage of submitting specific information. Nevertheless, the costs for print media are comparatively high to the short life lifetime (Baines et al., 2017, 431).
An additional marketing activity, but rather short term-strategy, are sales promotions which engage people to try out a product or service and actually stimulate actions. Usually, this type of interventions is promotional offers which are limited in time and support other marketing activities (De Pelsmacker and Kitchen, 2004, 48).
To reach the target market specifically without a lot of scatter loss, Aspria could also start a sponsorship with the Hannover marathon which takes place once a year in April. Usually, this event attracts about 25,000 participants who are highly interested in sports. This would further increase the brand awareness and could lead to more interest in the gym (Blythe, 2014, 553-554; Hannover Marathon, 2018). Ideally, this type of marketing tool could also entail positive PR.
6.2 Timing Strategy
The proposed marketing plan is going to be for one year, starting in January 2019 and ending in December 2019. All marketing activities should be coordinated carefully and scheduled taking into account recognised trends. Google Trend Chart shows that there is the biggest peak in demand for gym memberships at the beginning of January (Appendix I). At the turn of the year, many people have several New Year's resolutions and do more for their fitness and health. However, there is also a higher demand at the beginning of April and mid-September of which Aspria could take advantage. The company should avoid promoting during the low season, such as summer holidays, due to a limited marketing budget (Appendix J). Therefore, all marketing tools, except of blogs, will be used seasonal. The blog will be kept continuously to maintain interest of readers.
[...]
Details
Seiten

27

Jahr

2019

ISBN (eBook)

9783346125224

ISBN (Buch)

9783346125231

Sprache

Englisch

Katalognummer

v535675

Institution / Hochschule

University of Lincoln

Note

1,0

Schlagworte