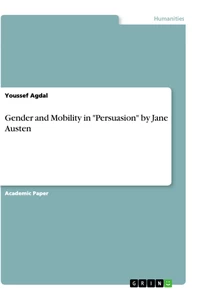 Gender and Mobility in "Persuasion" by Jane Austen
Akademische Arbeit 2019 10 Seiten
Leseprobe
Outline:
I. Introduction
II. Plot Summary
III. Aspects and Forms of Mobility:
1. Capability and Empowerment
2. Economic Dependence, Subordination and Passivity
3. Suffering
IV. Conclusion
I. Introduction
This term paper is part of a Gender Studies master programme course entitled "Anglo- American Women's Writings". Each student in the class was assigned a novel to read and analyze a gender-related issue that is discussed in it. I was assigned to read and analyze Jane Austen's Persuasion. This term paper examines how women's mobility is hindered by their economic dependence on men. The term mobility is used to signify the movement of people from one place to the other in the course of everyday life. This paper explores how the Georgian era played an essential role in shaping gender roles in the novel, taking into consideration the point of view of Jane Austen as a woman of the English gentry in rural England at the turn of the 19th century. This paper questions how different events, decisions, and actions, related to mobility, are expected based on what Jane Austen sees as natural difference between males and females. The focus is on events that stress how mobility fosters men's empowerment and deepens women's subordination and passivity. The analysis also clarifies how men's mobility enhances their freedom and provides distraction and enjoyment. Women's mobility is also hindered by the female traditional roles of mothers, caregivers, and assistants; it is also delayed by the fear of the unknown outside. Women's movement is usually decided by men, and they only accompany and assist men to fulfill their plans or they go out to enjoy nature and visit other families.
II. Plot Summary
Persuasion was the last novel Jane Austen completed, and it was only published after she passed away. It covers many themes such as society and class, marriage, family, and gender, among others. The novel is about the Elliot family of Kellynch Hall who are in financial shortage. Their pride of baronetcy and nobility has long been larger than what their wealth allows. This weak financial situation pushed the family to move out of the ancestral mansion and rent out to someone else to increase their income. They end up moving out, and Admiral Croft, a newly rich man, and his wife move in.
Although the Crofts are total strangers to the Elliots, it turns out that Captain Wentworth, who asked the middle Elliot daughter, Anne, for marriage eight years ago is Mrs. Croft's brother. Wentworth did not please Anne's family and her mentor, Lady Russell as his service in the navy did not enable him a decent salary or noble social status. It was Lady Russell who eventually persuaded Anne to break up with Wentrworth, and Anne has been suffering since then. Meanwhile, Wentworth has made a fortune and built a status but has never got back in touch with her.
At present, Anne's arrogant father Sir Walter, her equally arrogant older sister Elizabeth, and Elizabeth's assistant Mrs. Clay leave for the fashionable town of Bath where they can maintain a noble status more cheaply than at home. Anne stays with Lady Russell, and then with Mary, the youngest member of the Elliot, who is married with children to Charles Musgrove. Excitement starts when Captain Wentworth comes to pay a visit to his sister Mrs. Croft. His anger at Anne for declining his offer for marriage is still overwhelming him; he is now doing some flirting with her cousin-in-law, Louisa Musgrove.
Anne and the Musgroves go to a close coastal village called Lyme with Captain Wentworth to visit his old friend Captain Harville. The latter invited the guests to meet his cheerful family and his depressed friend, Captain Benwick, who is still affected by the death of his fiancée; his pastime is reading the saddest poetry he can find. Everyone has a nice time during the meeting. In a walk by the seaside, Louisa, full of excitement, tries to leap off a staircase into Wentworth's arm, but it was missed; she falls down with her head first into the pavement. Everyone is shocked by the incident, she is unconscious.
Because of her state now, Louisa stays in bed with the Harvilles at Lyme to avoid any complications, while Lady Russell accompanies Anne to see what the new life of her father and sister is like. Anne and Lady Russell find out that her father and Elizabeth have been frequently meeting with William Elliot, a member of the Elliot's family and an heir. Mr. Elliot is interested in getting married to Anne, while Elizabeth has her eyes on him. Life goes on and Anne receives a letter from her sister Mary with the best news she has heard in years: Louisa is getting married, but not to Captain Wentworth. Captain Benwick found a way to her heart and they are now planning to make some poetry of their own.
Moving his eyes away from Louisa who is now taken, Captain Wentworth decides to head off to the town of Bath. In a rainy morning, together with Elizabeth, Mrs. Clay and Mr. Elliot are out shopping when Anne runs to Captain Wentworth who is discovering the streets of Bath. They meet by chance again at a concert; Anne then discovers that Wentworth still loves her and that he is jealous of Mr. Elliot. After her visit to her old friend Mrs. Smith, Anne discovers that he is a selfish hypocrite. Anne is relieved to have a good rationale to refuse Mr. Elliot as a husband if her family forces her to marry him. She actually loves and wants to marry Captain Wentworth.
The next meeting of Captain Wentworth and Anne where they have an opportunity to exchange meaningful glances, Anne sends him some hints that connote that he should propose again. It is clear that Captain Wentworth understands Anne's non-verbal messages; so, he leaves her a note that basically says "I like you. Do you like me? Check Yes or No". Soon after this meeting, they meet again in the street and all the misunderstandings are sorted out. Marriage is to happen soon and even Lady Russell joins them, and all is well.
III. Aspects of Mobility
1. Capability and Empowerment
Mobility in Persuasion enhances men's empowerment in alignment with the gender norms of the Georgian era. Most of the times, men's movement takes place for the sake of making fortune and maintaining or improving social status. When the poor Wentworth's offer to marry Anne was declined as his occupation in the navy did not reward him a high salary or noble social status to satisfy the Elliots' arrogance, he disappeared and was never seen in town. Eight years later, the now highly regarded Captain Wentworth is just returned to England and pays a visit to his sister Mrs. Croft, wife of Admiral Croft, the new tenants of the Kellynch. Captain Wentworth' movement out of the village and England in general has made of him a wealthy noble man worthy of status and consideration, and he is now the centre of many discussions and much gossip. Mary and Anne had a short talk after seeing Captain Wentworth, the narrator continues that "the years which had destroyed her youth and bloom had only given him a more glowing, manly, open look, in no respect lessening his personal advantages. She had seen the same Frederick Wentworth (50)." This conveys that not only Captain Wentworth's mobility has resulted in his well-being in many ways, but also Anne's stability and restriction to Kellynch and the town has worsened her overall state.
Captain Wentworth's mobility has also helped him to discover and know about new worlds. This gives him knowledge and impetus to take the word during socializations. And as the saying suggests "Knowledge is Power", Captain Wentworth leads almost all discussions that take place while he is present. Having known that his friend Captain Harville has never been in good health after a severe wound, he decides to immediately go to Lyme to see him; "his description of the fine country about Lyme so feelingly attended by the party, that an earnest desire to see Lyme themselves, and a project for going thither was the consequence (80)." In the long run, the desire of Mary, Anne, Henrietta, and Louisa to see Lyme after Captain Wentworth has assured them that they will enjoy it suggests that women rely on men to move. Men are the ones able to discover and decide about where to go and when. Without Captain Wentworth's mobility, those women wouldn't have enjoyed the walks by the seashore and making new acquaintances wouldn't have been possible.
[...]
Details
Seiten

10

Jahr

2019

ISBN (eBook)

9783346153869

ISBN (Buch)

9783346153876

Sprache

Englisch

Katalognummer

v538919

Institution / Hochschule

Université Sultan Moulay Slimane – Faculty of Letters and Humanities

Note

"manque"

Schlagworte