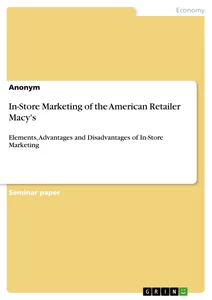 In-Store Marketing of the American Retailer Macy's
Elements, Advantages and Disadvantages of In-Store Marketing
Seminararbeit 2019 28 Seiten
Leseprobe
Table of Contents
I. List of Figures
1 Introduction
2 Background Information
2.1 About Macy's
2.2 A brief Introduction to In-Store Marketing
2.2.1 In-Store Marketing in general
2.2.2 In-Store Marketing and Consumer Behavior
3 In-Store Marketing: General Elements and applied to Macy's
3.1 Store Design and Layout
3.1.1 Store Design and Layout: General Overview
3.1.2 Store Design and Layout: Macy's
3.2 Groupings of Store Offerings
3.2.1 Groupings of Store Offerings: General Overview
3.2.2 Groupings of Store Offerings: Macy's
3.2.3 Shop-in-Shop Design Advantages and Disadvantages
3.3 Store Atmosphere
3.3.1 Store Atmosphere: General Overview
3.3.2 Store Atmosphere: Macy's
3.4 Experiential Retailing
3.4.1 Experiential Retailing: General Overview
3.4.2 Experiential Retailing: Macy's
3.5 Retail Branding
3.5.1 Retail Branding: General Overview
3.5.2 Retail Branding: Macy's
3.6 Omni-Channel Retailing
3.6.1 Omni-Channel Retailing: General Overview
3.6.2 Omni-Channel Retailing: Macy's
4 In-Store Marketing within European Department Store Chains
4.1 In-Store Marketing within European Department Store Chains
4.2 Opportunities for European Department Store Chains
5 Conclusion
II. List of References
I. List of Figures
Illustration 1: Basic Types of Store Layouts
1 Introduction
At a time when customers are increasingly shifting their buying behavior to online retailers like Amazon and discounters like T.J. Maxx, spend more on gadgets and experience over fashion, and seek for better integration across the variety of offerings, retailers have to repurpose their stores and adapt to this change in order to give customers a reason to come into their stores rather than to buy online. The department store chain Macy's has acknowledged the fact that stores have to provide their customers with a unique overall satisfying shopping experience of greater convenience and abundance.
The environment of a store represents one of the most important determinants for a customers' choice of a store and has a strong influence on customer's shopping behavior1, making it an important part of the retail marketing mix. In recent years Point-of-Sale Marketing gained in importance and sales promotion measures has steadily increased. For example, about $60 trillion is spent every year on in-store marketing in the United States, with a growth rate of around 10%.2 In addition, more and more consumers do no longer make their purchasing decisions at home, but are rather inspired by the variety of products on offer, the prices or the decoration of goods and decide their purchases at the point of sale. According to a GfK study, the share of in-store decisions is slightly less than 70 per cent.3 Perhaps precisely for this reason, the US-American department store chain Macy's has recognized the importance of in-store marketing early on and sets good examples for the successful implementation and effective operation of in-store marketing as part of their retail marketing mix.
Macy's uses its merchandise and marketing expertise, as well as its years of experience alongside the long-term positioning concept of in-store marketing to shape its corporate identity, to distinguish itself from other major retailers and to anchor itself in the minds of consumers as a destination rather than being perceived as a corporate giant. Over the past years, Macy's has reshaped several of their stores improving its brick-and-mortar business, providing their customers with highly desirable brands and came up with novel and integrated shopping experiences for their customers.4
Given this background, the underlying paper aims to give a general insight into the topic of in-store marketing and its elements. Furthermore, it gives an insight into Macy's approach to in-store marketing. Additionally, the paper was intended to give answers to the following questions:
What are the precise elements of in-store marketing? As Macy's department stores structure several of their floors with a brand-oriented shop-in-shop design, what are the possible advantages and disadvantages? and where we see the main potential for European department store chains regarding their in-store marketing strategies, compared with American retailers such as Macy's.
2 Background Information
2.1 About Macy's
Macy's, which denotes itself as "one of the nation's premier retailers"5, is an American department store chain founded in 1858 by Rowland Hussey Macy. Macy's Inc. operates more than 680 department stores and runs more than 190 specialty stores, such as Macy's, Bloomingdale's, Bluemercury, Bloomingdale's The Outlet, Macy's Backstage, and STORY among others in 43 states of the United States, the District of Columbia, Guam and Puerto Rico.6 However, its flagship store at New York's Herald Square, which was added to the National Register of Historic Places in 19787, is perhaps the best-known branch and the figurehead of Macy's. The iconic store is especially famous for its Santaland and its festive window decorations during Christmas time, which have been in place since the early 1870's that attract both domestic and international tourists year after year.8 The flagship store covers with more than 2 million square feet an entire city block within the city of New York that offers with 11 floors a fitting framework for a customer's unique shopping experience.9 Macy's retail stores sell a wide range of merchandise, focusing on apparel and specialty goods. Its merchandise portfolio includes men, women, and children apparel, as well as accessories, cosmetics, toys, home furnishings, cook- and housewares and other consumer goods.10 Its flagship stores provide the customers with a shop-in-shop design that features boutiques of various luxury retailers and its market places at "The Market", within several of its department stores, offers a marketplace for up-and-coming brands.11,12 Besides its retail business, Macy's also invests in and operates social and mobile platforms and digital businesses. It runs direct mail catalogs and electronic commerce subsidiaries like macys.com and attaches great importance to its omni-channel presence.13 Additionally, Macy's focuses on impressive in-store design and visual merchandising and is also well-known for its events, which it demonstrates through decades with Thanksgiving Day Parade and Macy's 4th of July Fireworks.
2.2 A brief Introduction to In-Store Marketing
2.2.1 In-Store Marketing in general
In-Store Marketing, also known as Point-of-Sale-Marketing (PoS), can be referred to as "the use of information and communication-related retail marketing instruments within a retailer's outlets"14. Within the framework of PoS marketing, marketing instruments related to information and communication are used as design possibilities throughout the retailer's outlets. This includes measures for the design and the structure of the store layout, the space allocation of goods, the presentation of merchandise as well as measures regarding the store atmosphere and the shop environment, including in-store events.15 The objectives of these measures with regard to consumers include increasing the efficiency of purchasing and achieving an unique image of the company by creating a positive store atmosphere and facilitating the search process.16,17 For companies, store design can be an effective positioning tool for creating a lasting and distinct competitive advantage and differentiating the company from their competition.18 Furthermore, effective measures regarding the store environment can guide customer flows through the store, provide customers with information, delight shoppers through entertainment, and generate additional sales.19
2.2.2 In-Store Marketing and Consumer Behavior
The influence of the store environment on consumer behavior can, according to the cognitive-oriented environmental psychology – researching the ability of human beings to explore, perceive, understand and remember the spatial environment - be attributed to the store environment itself and the consumers personality.20 Accordingly, the stimuli presented within a store environment and the customers' personality variables can influence their affective and cognitive response to the store.21,22 In this regard, two dimensions must be considered: Pleasure, as the level of positive emotions, and Arousal, regarding feelings of excitement and stimulation. These two determinants created by means of store- induced emotion affect the customer response behavior either in the form of approach or avoidance behavior.23 While the form of increased pleasure, regarding approach behavior, can lead to an increased duration of store visit and to additional and unplanned purchasing, and a moderate level of arousal also positively affects approaching behavior, a too high or too low level of arousal can trigger avoidance and may result in panic and hasty escape or disinterest on the part of the consumer.24
However, In-Store measures do not only reach the customer at the moment of the purchase decision, but also remind the consumer of their purchasing desires and open up new possibilities for satisfying their needs. Especially people with little store familiarity and who go shopping without time pressure pay more attention to the In-Store measures and have a relatively high proportion of impulsively purchasing products.25
3 In-Store Marketing: General Elements and applied to Macy's
3.1 Store Design and Layout
3.1.1 Store Design and Layout: General Overview
The layout of a store should be designed in a way that facilitates the movement of customers, create a planned experience for the customers and ensures an optimum sales-space productivity. Aimed to create an efficient layout with qualities of ambience, a clever design can ensure optimum productivity of the sales area and effectively address target groups while reflecting the brand position.26 The creation of an efficient store layout might also consciously or unconsciously guide the customer through the store in specific ways, thereby causing impulse purchases.27 The layout should therefore be planned in such a way that divides the store into logical rooms and functional areas that can easily be comprehended by the customer.28
As already mentioned before, regarding consumer behavior, cognitive-oriented environmental psychology also plays a role in the context of store layout. So-called mental maps help the customer to find his way in the business environment. Mental cartography, can get achieved through markings and orientation points such as entrances, exits, staircases, boards, colored areas and way signs in the stores, helps the customer to quickly find a route through the store, supports the search for specific products and can direct the customer flow. Additionally, the macrostructure of elements and a clever design of displays and aisles can positively influence a customers' perceived shopping convenience.29,30
The choice of a store layout can contain one or a combination of the following basic types: Grid pattern Layout and Free-flow Layout.31
Abbildung in dieser Leseprobe nicht enthalten
Illustration 1: Basic Types of Store Layouts
Source: Zentes et al. (2017), p. 330.
The grid pattern layout is characterized by straight corridors with long rows of parallel aisles. Through the long rows of this layout, the customers are guided past certain shelves without the possibility to bypass the aisles. However, the merchandise is placed in a structured and clear way, providing a uniform presentation of goods and an easy orientation for a fast and efficient shopping process.32,33 This Layout is traditionally favored by supermarkets or FMCG retailers.34
The free-flow (free-form) layout, however, is based upon an irregular pattern attempting to create a customer flow but allowing to freely move between the fixtures. Customers are thus more encouraged and are more likely to browse the merchandise.35 It draws customers to their points of interest but also creates unregulated shopping, which leads to a relaxed shopping experience and can create impulse purchases. The free-form layout gets thus often used by clothing stores.36
There is a whole variety of layouts, however, the boutique layout (shop-in-shop layout) is the most widely used variation of the free-flow layout.37 Within the boutique layout, various types of merchandise are separated and displayed in semi-separate and individual areas. For example, department stores outsource such boutiques to manufactures of well-known brands like Calvin Klein or Tommy Hilfiger. This shop-in-shop design stimulates the customers' curiosity in different brands or themes of the overall offerings of merchandise and creates a unique shopping experience.38
3.1.2 Store Design and Layout: Macy's
Overall, the department store chain Macy's provides its customers with assortments of shoes and clothing of major retailers, but also offers a wide variety of cosmetics, fragrances, housewares, gifts and furniture.39 Like other department stores, Macy's provides a clear floor structure. Looking at Macy's Store Layout, it is particularly noticeable that especially in its top-performing flagship locations, like the one in New York, the department store chain provides its customers with an expanded assortment. Here, "the best that Macy's has to offer (…) an all-sense engagement through fashion, service and experience"40 is provided to the customers.
Regarding its flagship location, the store layout includes a shop-in-shop design within the ground floors. A first-class selection of top fashion brands, such as Louis Vuitton, Gucci, Burberry, and Longchamp have their specialty shop area here. Within its flagship store, Macy's is also carrying a much wider assortment than the remaining locations.41
The merchandise of other major retailers is grouped together in a boutique layout. Highly desirable brands such as Calvin Klein, Ralph Lauren, Michael Kors but also cosmetic and fragrance brands like Clinique and Lancôme are separated, and merchandise is displayed according to brands, allowing for Macy's to differentiate between various branded shops within the store.42
In order to fit the offerings to the different kind of shops, floors or product departments, Macy's also mixes and matches different layouts regarding the remaining merchandise. Therefore, it uses a mixed store layout, with elements from multiple layouts, to create a flexible option of store layout which allows the customers to freely move throughout the department and creates a dynamic flow. For example, sporting goods, handbags and household goods are presented in a mixed layout on a shop floor using a mix of straight, diagonal, and angular design elements allowing the customers to interact with the merchandise and navigate through the store on their own.43
3.2 Groupings of Store Offerings
3.2.1 Groupings of Store Offerings: General Overview
Within the store layout, there is the possibility to group the merchandise in several ways. Especially the retail sector differentiates the groupings of store offerings between an item-oriented presentation, a theme-oriented presentation and a brand-oriented presentation of the products.44
Within an item-oriented presentation, the store is organized by types of items. The areas are divided into several categories of products as for example shoes, trousers, shirts or different household equipment. The advantage is that the products are easy to find within these areas and the customer can choose between many price categories and brands.
On the other side, there is no interlinkage between the products, so the customer has no incentive for additional purchases.
This incentive is more likely in a theme-oriented presentation of products. Here, the merchandise is displayed according to specific themes such as "outdoor" or "office", as well as different seasonal themes like Christmas or Spring. In clothing shops, there is also the possibility to shop a specific "lifestyle" as it provides different areas for casual outfits, business or denim style. This type of offering provides the customer with a full solution, which means that everything related to one theme can be found in this area. With this type of product grouping, the advantage for the retailer is the promotion of cross-selling and the ability to push additional, impulse purchases.
The third option is the brand-oriented presentation of goods. In a fashion store, different products such as shoes, shirts, suits, and trousers for example of well-known brands such as Hugo Boss and Calvin Klein can be grouped together. This form of the grouping of merchandise offerings often takes the form of a shop-in-shop design, meaning the merchandise of this specific area is clearly separated from the rest of the brands inside the retail store. An external company, often the brand manufacturer, takes care of this area and customers are served by staff who is exclusively employed by the brand manufacturer. These shops also have their own marketing concept and several checkout points. Brand-loyal customers, therefore, buy matching products or clothes from the same brand. Large department stores like KaDeWe, Galerie Lafayette and Harrods have also these concession stores, especially in the cosmetic and fashion areas. This way of grouping the merchandise is also called a "house of brands", boutique layout, which is part of the free form store layout.45
3.2.2 Groupings of Store Offerings: Macy's
Depending on the department and floor, Macy's uses all three styles of merchandise groupings for their stores. Inside their store, there is a clear structure across the floors.
When it comes to household goods like towels, kitchen equipment or products like suitcases, Macy's provides its customers with many offers organized by types of items. Depending on the type of products, for example, houseware or kitchen equipment, the customer knows beforehand what he or she wants to buy and is often not interested in other products or additional purchases. Thus, with the item-oriented presentation, the shopper is able to find the best alternative in the easiest and fastest way.
[...]
---
1 See Zentes, J. et al. (2017), p. 327.
2 See Helfgen, J. (2019), p. 10.
3 See GfK (2009), Web.
4 See Wahba, P. (2016), Web.
5 Macy's Inc. (2019), Web.
6 See Macy's Inc. (2019), Web.
7 See National Park Service (2019), Web.
8 See Macy's Tourism Marketing and Development (2019), Web.
9 See Macy's Tourism Marketing and Development (2019), Web.
10 See Macy's.com (2019), Web.
11 See Zentes et al. (2017), pp. 342-344.
12 See Macy's.com (2018), Web.
13 See Nyhus, J. (2019), Web.
14 Zentes, J. et al. (2017), p. 327.
15 See Gröppel-Klein, A. (2012), p. 645.
16 See Zentes, J. et al. (2017), p. 328.
17 See Gröppel-Klein, A. (2012), pp. 650f.
18 See Gröppel-Klein, A. (2012), pp. 648.
19 See Ebster, C./Garaus, M. (2015), p. 3.
20 See Gröppel-Klein, A. (2012), p. 656f.
21 See Gröppel-Klein, A. (2012), p. 656f.
22 See Gilbert, D. (2003), p. 124.
23 See Zentes et al. (2017), p. 328.
24 See Zentes et al. (2017). p. 328f.
25 See Helfgen, J. (2019), p. 11.
26 See Gilbert, D. (2003), p. 124.
27 See Zentes et al. (2017), p. 329.
28 See Gilbert, D. (2003), p. 129.
29 See Gröppel-Klein, A. (2012), p. 656.
30 See Gilbert, D. (2003), p. 124.
31 See Gilbert, D. (2003), p. 124.
32 See Zentes et al. (2017), p. 329f.
33 See Gilbert, D. (2003), p. 124.
34 See Ebster, C./Garaus, M. (2015), p.17.
35 See Ebster, C./Garaus, M. (2015), p.18.
36 See Gilbert, D. (2003), p. 125.
37 See Ebster, C./Garaus, M. (2015), p. 18.
38 See Ebster, C./Garaus, M. (2015), p. 19f.
39 See Macy's.com (2019), Web.
40 Genette, J. in: Zisko, A. (2018), Web.
41 See Macy's.com (2019), Web.
42 See Zentes et al. (2017), p. 343f.
43 See Macy's.com (2019), Web.
44 See Zentes et.al. (2017), p. 330-331
45 See Zentes et. al. (2017), p. 331
Details
Seiten

28

Jahr

2019

ISBN (eBook)

9783346179845

ISBN (Buch)

9783346179852

Sprache

Englisch

Katalognummer

v539276

Institution / Hochschule

Hochschule für Technik und Wirtschaft des Saarlandes

Note

1,5

Schlagworte