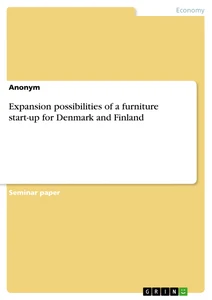 Expansion possibilities of a furniture start-up for Denmark and Finland
Seminararbeit 2020 40 Seiten
Leseprobe
I Table of contents
II Table of illustrations
III Listoftables
IV List of abbreviations
1 Introduction
2 Company presentation OKINLAB GmbH
2.1 History of the company
2.2 Form.bar- product and customer
2.3 Status quo of internationalization
3 Country portrait: Denmark
3.1 Market characteristics
3.2 Customers
3.3 Competitors
3.4 Distributionchannels
4 Countryportrait:Finland
4.1 Market characteristics
4.2 Customers
4.3 Competitors
4.4 Distribution channels
5 Recommendations for an intended internationalization
5.1 SWOT-analysisDenmark
5.2 SWOT-analysis Finland
5.3 Possible scenarios for an internationalization
6 Conclusion
V List of references or works cited
II Table of illustration
Illustration 1: State of the art of the internationalization progess of form.bar in Europe
Illustration 2: Revenue in the eCommerce market split by product types in Denmark
Illustration 3: Revenue in the eCommerce market split by product types in Finland
Illustration 4 : Share of merchandise trade that new policy measures cover
List of tables
Table 1: SWOT-analysis Denmark
Table 2: SWOT-analysis Finland
IV List of abbreviations
CNC: Computer Numerical Control
CPI: Cost Performance Index
DESI: Digital Economy and Society Index
DKK: Danish Krones
LPI: Logistics Performance Index
USP: Unique Selling Proposition
Introduction
Imagine a shopping experience in which you see, feel and live the piece of furniture you would desperately like to buy. And as if this wasn't enough, the fancied product does even match perfectly the structural peculiarities of your house, flat or room. And now think again, this whole new level is far from unreal, in fact such a model does already exist in a similar way and will be under constant development and adaptation as time goes by. The German enterprise OKINLAB GmbH (form.bar) does provide customized solutions when it comes to pieces of furniture of nearly all types. After successful operations within the German market the firm aims to target a foreign market in Northern Europe.
Being mostly driven by consumer spending, the furniture market is under continuous growth. Steady increases in disposable income and a high level of living conditions cause the market to maintain its strength. Related to this is therefore a constant demand for furniture. Challenges and opportunities though pose the new way of shopping and the change of consumer behaviour.1 Especially seen in relation with a relentless technological evolution that redefines human life, future challenges have to be observed from a totally new perspective.
So far OKINLAB GmbH, has not been active in markets outside of Germany, therefore it is their intended step to widen their scope by getting active abroad. There are a multitude of aspects companies have to be taken into account when internationalizing. The main purpose of this work is to analyze these different aspects consisting of market characteristics, distribution channels, customers and competitors in Denmark and Finland, compare them with the business philosophy of OKINLAB GmbH and finally give recommendations about whether a potential internationalization can be judged as a promising step.
In the following an in-depth analysis of the suitability of entering the Danish and Finnish markets will be exemplified. In so doing, first the company OKINLAB GmbH will be presented. After that, the countries Denmark and Finland will be investigated with regards to the above mentioned aspects. In the penultimate chapter a SWOT-analysis will be elaborated for both Denmark and Finland. Derived from the SWOT-analysis possible scenarios for an internationalization will be presented. Finally this elaboration will be completed by a conclusion.
2. Company presentation OKINLAB GmbH
2.1 History of the company
OKINLAB works at the interface between architecture, design, computer science and research. The use of state-of-the-art digital design and production methods plays a central role. The interdisciplinary composition of their team enables an efficient procedure from design to implementation. In doing so, they always set themselves the goal of harmonizing functionality, ergonomics and aesthetics. Nature and its striving for balance and adaptation to constantly changing conditions serve as their inspiration. The symbiosis of technical know-how and bionics enables them to systematically record and simplify wishes and needs as well as the most complex requirements in projects and to fulfil them sustainably during implementation. Based on their experience from research and practice in the areas of living, furniture, interior, exterior, exhibition and product, they guarantee quality and highest efficiency from design to production.
The laboratory for visionary architecture & design concepts was founded by Nikolas Feth and Alessandro Quaranta. The starting point and desire of the two founders was to make people's living and working environments more ergonomic, sustainable, material-efficient and harmonious. Numerous studies and projects using the latest manufacturing and design technologies form the basis of the company.
Nikolas Feth studied architecture at the Saarland University of Applied Sciences (HTW) and was awarded prizes for product, interior and furniture concepts. Starting in 2011, he will be conducting research with Prof. Göran Pohl at the Faculty of Architecture and Civil Engineering at the HTW in the implementation of bionically inspired wooden shell constructions and in the field of structural lightweight construction. In addition, he teaches courses on free-form constructions, parametric design methods and digital manufacturing processes. During his freelance work in renowned architectural offices, he has worked on projects that have received high-profile awards, including the German Timber Construction Prize, the German Architecture Prize, World's Best Sports Building, and has specialized in the areas of computational design and the implementation of complex free-form constructions.
Alessandro Quaranta studied business administration at the University of Saarland (UdS) and the Universitâ degli Studi di Siena. He specialized in strategy, process and IT consulting at the UdS. Based on the research of his diploma thesis on quality management as a basis for international competitiveness in research and teaching, he developed a quality management system for business incubators and academic spin-offs. From 2009 to 2012, he was a lecturer for business simulations at the UdS and consultant for the UdS contact point for knowledge and technology transfer, especially in the area of technologically innovative start-up projects from the IT sector.1
2.2 Form.bar - product and customer
People need freedom to be able to develop. And that is exactly what they want to make possible. Because an individually adapted environment not only saves increasingly scarce living space, but also provides each person with more living space and thus more quality of life. With form.bar, people can design their own furniture for the first time and adapt it to individual ergonomics. The mathematical form optimization and the consideration of the manufacturing specifications already during the configuration process enable the automated production by means of CNC milling at the carpenter's nearby and thus unique pieces in master quality at affordable prices.
Freely formable furniture, self-designed, mathematically optimized and thus harmonious and efficient in terms of function and form. Furniture can now be individually shaped and adapted to special needs and conditions. This also saves a large part of the material used in conventional furniture production by using material only where it is needed. The intelligent software automatically creates the optimized cutting pattern for the carpenter, who can then manufacture the individual furniture to measure in a cost-effective manner. We pass this price advantage on to our customers: furniture made to measure by the carpenter is thus affordable for almost everyone. In the Digital Manufacture, completely individual furniture is manufactured using the latest technology and lovingly finished by hand. The intelligent, patent-pending process and the high quality standard make form.bar shelves not only personally tailored unique specimens but also material-efficient and sustainable furniture.
Only interdisciplinarity from architecture, bionics, mathematics and computer science makes it possible to exploit the available technological potential and paved the way for the innovative furniture configurator form.bar, which not only revolutionizes the understanding of furniture but also heralds a new era in furniture design.
The symbiosis of technical know-how and bionics makes it possible to systematically record and simplify wishes and needs as well as the most complex requirements and to fulfil them sustainably during implementation. Based on their experience from research and practice in the areas of living, furniture, interior, exterior, exhibition and product, we guarantee quality and highest efficiency from design to production.2
The company works really successful and received some prestigious awards in the last 2 years:
- German Design Award Nominee 2020
- Deutschlands Bester Online-Shop 2019
- Saarländischer Staatspreis für Design 2019
- German Brand Award 2019
- TopOnline-Shop2019
- Deutschlands Beste Online-Händler2019
- Deutschlands Bester Online-Shop 2018
- TopOnline-Shop2018
- Gründerszene.de Wachstums-SiegerTop 504
The form.bar target customer can be defined as a middle-aged (35-50 years) person - both male and female, with high monthly income and interest in self-fulfilling tasks during the leisure time. Furthermore, the form.bar customer is interested in transparency, innovations and quick "results". The background is that he/she has a good education, is open-minded and lives in an educated environment and is interested in enjoyment/pleasure such as cooking, traveling, sports, family up to hedonism. Aiming to get an unique product which has a high usability and design - which combination they can hardly find in a common furniture shop, the customer at the same time prefers a product, that not everyone owns. Another goal is to specialize the homes and feel comfortable in it. In addition, the form.bar customer can be somehow defined as an individualist. Each of their target customers is internet-affine, uses social media to get informed and inspired and is a smartphone user.
2.3 Status quo of internationalization
Illustration 1: State of the art ofthe internationalization progess ofform.barin Europe
Abbildung in dieser Leseprobe nicht enthalten
A illustrated above, their partners are consisting of showrooms (green colour, see illustration), consulting (black colour), and carpenters (blue colour). The form.bar network offers a masterful and friendly service around the topic Individual furniture and interior design. This also includes measurement service, planning, production and assembly. At the moment, form.bar is performing its business with over 70 partners in Germany, Austria, Switzerland, Luxembourg, France, Italy and Holland (see illustration), what can be seen as a state of the art regarding the internationalization projects of the start-up. It is their goal to start business activities in more European countries, what will be part of our research.5
The internationalization activities of form.bar are based on the Uppsala model, which means that international companies tend to expand their foreign activities incrementally. They first go to geographically close host countries in order to limit the uncertainty resulting from the psychological distance between the home and host countries. The concept of psychological distance is often associated with dimensions such as culture, language, religion, education and political system, business practices, level of economic development, legal system, but also specific aspects such as general levels of mistrust. Furthermore, it is shown that even after the initial internationalization they remain true to this risk-avoidance-oriented behavior by only gradually venturing into more distant regions of the world market. Therefore, they plan to start their business abroad also in de Scandinavian countries, and we will evaluate the markets in Denmark and Finland.3
3 Country portrait: Denmark
3.1 Market characteristics
Denmark is one of the Scandinavian countries in Northern Europe with around 5.7 Million inhabitants. Denmark is part of the European Union but has maintained its own currency Danish Crones (DKK). It is a wealthy country with a total Gross Domestic Product of 296.655 billion € with an annual growth rate of 1.9%.4 The Danish economy has also high welfare, a fair distribution of income and comfortable living standards.5
The turnover in the furniture market of 2019 was 5653 million € with around 5 million inhabitants. Compared to Germany with a number of almost 80 million inhabitants but only 54 million € revenue, it can be said that in Denmark the invested money for furniture in quite high. Additionally, there is an annual increase of 2.4% in the furniture revenue.6 The number of enterprises in the manufacture of furniture industry in Denmark is also rising since 2008. When 2008 only 403 manufacturers were on the market, in 2015 it is already a number of 491 employers.7 This shows that there must be sufficient demand in the furniture market.
Economies can be ranked by their ease of doing business. The index is regarded as the world's best-known and most comprehensive study on business friendliness and corporate regulation in national economies. Denmark is ranked on Number 4 worldwide, what also may facilitate the entry of form.bar into the Danish market.8
The profession of a carpenter has become more popular in the recent years. According to Mads Arlien-Soborg, which is a lifestyle expert, carpentry is a current trend as young people prefer to create things with their own hands.9 This can also boost the economy regarding the furniture market and can help form.bar as they work together with local carpenters.
3.2 Customers
The Danish customer can be described in the following way: Denmark has a high purchasing power, the purchasing power per capita was 176,738.00 Danish Krones in 2017, what is equivalent to 23,670.84 €. Purchasing Power describes the disposable income (income without taxes and social security contributions, including received transfer payments) ofa certain area's population.10
Regarding the per capita income, it is important to mention that the highest price level for consumer goods and services among the EU Member States was observed in Denmark (38 % above the EU average). Furthermore, Denmark's Annual Household Income per Capita reached 35,679.54 € in December 2017, compared with the previous value of 34,015.09 € in December 2016.11 The Consumer Price Index, which is used as a measurement of inflation and is a key economic figure, which is used by a large number of public and private companies and interested members of the general public in connection with monitoring economic developments stayed constant during 2018 and 2019 and is in August 2019 by 97.4. The base year was 2015 with a Cost Performance Index (CPI) of 100, which shows the constancy in the price index of Denmark.12
But how is it possible to reach a Danish customer? The countries Finland, Sweden, the Netherlands, Denmark and the United Kingdom make up the top five in this year's Digital Economy and Society Index (DESI) by the European Commission. Denmark also remains the country in Europe where citizens use the most internet services.13
That means for the market chances of form.bar, that selling on the Danish ecommerce market is a great option for growth-minded online sellers. There are 5,479,054 Internet users in Denmark and Internet penetration amounts to 96.30%.14 Another important factor to understand eCommerce in Denmark is the importance of mobile phones. In fact, Denmark has the highest penetration of smartphones in the world - 77 percent of the population use a smartphone. Fashion is the most popular eCommerce purchase in Denmark with Clothing, footwear and jewellery being the number one category. This applies to both sales revenues and volume of purchases. Other popular categories include IT, telecom and cameras; home and garden, and flowers/plants.15
The online spending habits of Denmark's residents is following: many customers spend their money into travel, means booking trips and flights (70%), 49% spend their money on physical goods and 22% are other services. The furniture industry thus lies in the 49% of physical goods.16 Furthermore, the online shopping behaviour is slightly rising by comparing 2016 to 2018. The main target groups of for form.bar 20-59 years old people, where almost 80% of them are shopping online. This is a big opportunity for form.bar, when they rather shop online than in the store.17 By 2018 furniture and other home interior articles was on the 4th place by purchased products in the internet. 48% ofthe furniture is bought online.18 19 20
The trend in Denmark regarding furniture is clearly is mixing cheaper things with designer things. Danish design means often clearly structured and modern items in black/white/beige (muted colours) mixed with second-hand and vintage furniture to break the rule and soften the clear and hard modern style. Wood is mixed with high gloss furniture. Many accessories inside the rooms let them feel more comfortable and underline their understanding of the lifestyle of Hygge. Everyone is has its own components and style of art. They see often their house as a kind of art. Extravagant details and single it- pieces make every room special. Therefore, the individual design of formbar products will fit perfectly in their concept.2223
Also it is important to mention that the total tertiary education of Danes is about 80% in total, what means that they fit quite well in the target customer of form.bar.21 Danes are somehow patriotic.22 While only 13% of Danes think their country is the best in the world, a further 57% think their country is better than most others.23
If we explore the Danish culture through the lens of the Hofstede 6-D Model, we can get a good overview of the deep drivers of Danish culture relative to other world cultures, what makes up the Danish customer. But only some parts of the model are relevant for the customer side to make an evaluation ofthe country Denmark possible.
Regarding Individualism, Denmark, with a score of 74 is an Individualist society. They have a high preference for a loosely-knit social framework. It is easy to start doing business with the Danes. Danes are also known for using a very direct form of communication. That could be an indicator for the market openness, and adaptiveness for innovative products as form.bar.
Regarding Masculinity, Denmark scores 16 on this dimension and is therefore considered a Feminine society. It is important for them to keep the life/work balance and you make sure that all are included. That means people in Denmark could prefer a well-designed home to feel comfortable in their leisure time.
Regarding Uncertainty Avoidance, with a score of 23 Denmark scores low on this dimension. That means, curiosity is natural and is encouraged from a very young age. This combination of a highly Individualist and curious nation is also the driving force for Denmark's reputation within innovation and design. Danes also find, what is different is attractive. This also emerges throughout the society in both its humour, heavy consumerism for new and innovative products. That means that Danes are the ideal customers for innovative, and customized products.
Regarding long-term orientation, a low score of 35 indicates that Danish culture is normative. The Danes focus on achieving quick results, what can be an indicator that they prefer to design something by themselves and would love to see the "result" of it.
Denmark has a high score of 70 in the Indulgence dimension, meaning that Denmark is an Indulgent country. They prefer to enjoy their lives and have fun, they have a positive attitude and have a tendency towards optimism Furthermore, they place a higher degree of importance on leisure time, act as they please and spend money as they wish. This could be another indicator that they like to spend money on consuming goods, as customized furniture.27
3.3 Competitors
Potential competitors of form.bar can be divided into two groups: Small online designer shops and big retail chains. To compare them with form.bar, there is especially a focus on the individualism of the companies, the quality of the materials they use, the sustainability aspect as well as the price range.
Form.bar itself is defined by a high quality of material and is using and attaches great importance to the ecological footprint they leave behind. Through the relationship to local carpenters, the furniture is manufactured in a sustainable way. The speciality of the products is the individual and extravagant design. Form.bar products are in a higher price category; a large shelf has a price range from 1,000 to 1,500€.
The first competitor is the Danish furniture brand Normann Copenhagen. Itwas founded in 1999 by the two designers Jan Andersen and Poul Madsen. Within the first 10 years they expanded into a big design company and its products are sold worldwide. It has one flag ship store in Copenhagen and additionally many design stores and an online shop.
The furniture embodies the classic Danish design: covered colours and classical, simple designer pieces. Generally, Normann Copenhagen sells different products than form.bar but what makes them competitive is the fact that all sofas and chairs can be personalized. In the online shops, the customer can choose between the model, the colour pattern and the type of fabric. The pieces will also be delivered worldwide.24 They have a relationship with suppliers from all over the world and production sites in Europe as well as in Asia, but they say that all wooden products imported to Europe follow the EU Regulations. To make the delivery more sustainable, they get transported by ship. Normann Copenhagen also ensures that all furniture is 100% recyclable and they encourage a conscious way to dispose the waste.25 The furniture is also priced at form.bar level with prices from approximately 300 to 600€ for a table and a customized chair for 1000€.26
The next competitor is a small online designer shop called LLLP, which was founded in 1992. It is managed by the owner Nicholas Rose, which took the brand over in 2002. It is more a design platform in the internet which creates furniture together with the customer in a classic Danish Design.
It is based on a three- part concept, where the customer service is a essential part of their business model:
'We design for you', so the customer can choose the original designs and furniture.
'We design together', so the customer can choose from a already defined item and can adapt it to its needs.
'You design with us', so together with LLLP, the customer designs its furniture piece together.
Its pieces are made of sustainable raw materials as birch plywood, black steel and linoleum. They call itself carpentry 2.0.27 The environment also plays an important role for LLLP.
[...]
---
1 See Okinlab (2019), Web.
2 See OKINLAB GmbH (2019a), Web.
3 öSee Wolf, J. (2008)
4 See OECD (2019), Web.
5 See PwC (2019), Web.
6 See Statista (2019d),Web.
7 See Statista (2018a), Web.
8 See the World Bank (2019), Web.
9 See CPH Post Online (2019), Web.
10 See Arcgis.com (2018), Web.
11 See Ceicdata.com (2019), Web.
12 See Statistics Denmark (2019), Web.
13 See Copenhagen Capacity (2019), Web.
14 See Webinterpret (2020), Web.
15 See Axinte (2020), Web.
16 See Statista (2019a), Web.
17 See Statista (2019b), Web.
18 See Statista (2019c), Web.
19 See Delmendo (2019), Web.
20 See Artzee Designs (2018), Web.
21 See Uis.unesco.org (2020), Web.
22 See Uniavisen (2016), Web.
23 See Colson(2016),Web.
24 See Normann Copenhagen (2019a), Web.
25 See Normann Copenhagen (2019b), Web.
26 See Normann Copenhagen (2019c), Web.
27 See LLLP (2019a), Web.