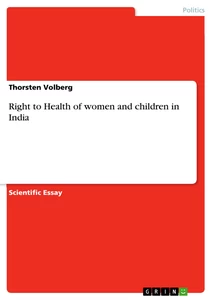 Leseprobe
Table of contents
1. Introduction
2. Women and Children in Indian society
3. Universal Declaration of Human Rights
4. International instruments
4.1. International Covenant on Economic, Social and Cultural Rights (CESCR)
4.2. International Convention of the Elimination of All Forms of Racial Discrimination (CERD)
4.3. Convention on the Elimination of All Forms of Discrimination against Women (CEDAW)
4.4. Convention on the Rights of the Child (CRC)
5. Constitution of India
6. National Human Rights Commission of India (NHRC)
7. Conclusion
8. Bibliography
Right to Health of Women and Children in India
1. Introduction
The primary basis of the United Nations activities to promote, protect and monitor human rights and fundamental freedoms is the International Bill of Human Rights, including the Universal Declaration of Human Rights (1948), the International Covenant on Economic, Social and Cultural Rights (1966), and the International Covenant on Civil and Political Rights (1966) and its two optional protocols. When a State ratifies one of the Covenants, it accepts a solemn responsibility to apply each of the obligations embodied therein and to en­sure the compatibility of their national laws with their international duties.
International human rights law has been designed to protect the full range of human rights required for people to have a full, free, safe, secure and healthy life. Health care is seen as one of the fundamental principles of the global human rights system, and the right to live a digni­fied life can never be attained without it. Since women and children's health is strongly linked to their status in Indian society, a strong focus must lay on the foundation of women and chil­dren's right to health, as it is written down in several international agreements and treaties India has ratified.
2. Women and Children in Indian society
India is one of the few countries in the world where women and men have nearly the same life expectancy at birth. The fact that the typical female advantage in life expectancy is not seen in India suggests that there are systematic problems with women's health. Indian women have high mortality rates, particularly during childhood and their reproductive years. Poor health however has repercussions not only for women but also their families. A woman's health af­fects the household economic well being, as a woman in poor health will be less productive in the labor force. They are more likely to give birth to low-weight infants and they are less likely to be able to provide food and adequate care for their children. (Velkoff and Adlakha, 1) In it's Second Periodic Report to the Committee on the Rights of the Child India recognizes that the position of women in society, their health (...) enhances their ability to improve not only their lives but also the lives of their children and families. Children's rights, especially those of girl children, are irrevocably linked to women's empowerment." (CRC/C/93/Add.5.)
India has 400 million children below the age of 18 years, which is the largest child population in the world. The State considers it "a matter of utmost priority that its children grow and de­velop in health and happiness (...) so that they can realize their complete potential and effec­tively participate and contribute to the social, cultural and economic life of the nation." (CRC/C/93/Add.5.) After all, one third of all children in India live in conditions of object poverty and neglect. Furthermore, children are exposed to many types of deprivation from the time of conception. Wide disparity between the rich and the poor, between urban and rural settings, gender discrimination, and illiteracy among parents are factors impinging on the child's survival, growth and development. (CRC/C/28/Add.10) Inequities, driven by over­whelming poverty, affect both male and female children in the developing world. Yet cultural traditions, scant economic resources and limited opportunities marginalize young girls, while young boys have better access to health care, education and nutrition. Therefore girls are more at risk of malnutrition than boys because of their lower social status.[1] (http://www.unicef.org/india/overview.html)
Family laws also distinguish between legitimate and illegitimate children depending on the status of their parents' marriage or relationship. A child born out of wedlock or of a void or illegal marriage is considered 'illegitimate'. Children pay for the decisions taken by the par­ents and are denied inheritance rights. Even worse, a child born of rape is stigmatized and treated as 'illegitimate', both by society and law. (Thukral, Combat Law)
3. Universal Declaration of Human Rights
In 1948 the General Assembly of the United Nations adopted and proclaimed the Universal Declaration of Human Rights. It was meant to be a common standard of achievement for all peoples and all nations and their universal and effective recognition and observance is meant to be secured – both among the peoples of Member States themselves, which India is since 1945, and among the peoples of territories under their jurisdiction. According to the Right to Health of Women and Children, Article 25 affirms:
(1) Everyone has the right to a standard of living adequate for the health and well being of himself and of his family, including food, clothing, housing and medical care and necessary social services (...)
(2) Motherhood and childhood are entitled to special care and assistance. All children, whether born in or out of wedlock, shall enjoy the same social protection (Universal Declaration of Human Rights)
4. International instruments
Between 1969 and 1997, the Government of India has ratified principal international human rights treaties dealing with Economic, Social and Cultural Rights; Civil and Political Rights; Racial Discrimination; Torture; Discrimination against Women and the Rights of the Child. (Office of the UNHCHR) Regarding to the 'Right to Health' of women and children, the In­ternational Covenant on Economic, Social and Cultural Rights (CESCR); the International Convention of the Elimination of All Forms of Racial Discrimination (CERD); the Convention on the Elimination of All Forms of Discrimination against Women (CEDAW) and the Con­vention on the Rights of the Child (CRC) are the most convenient.
4.1. International Covenant on Economic, Social and Cultural Rights (CESCR)
Economic, social and cultural rights are designed to ensure the protection of people as full persons, based on a perspective in which people can enjoy rights, freedoms and social justice simultaneously. Of all global human rights standards, the International Covenant on Eco­nomic, Social and Cultural Rights provides the most important international legal framework for protecting these basic human rights. It has been ratified by the Indian Government in 1979 and is monitored by the Committee on Economic, Social and Cultural Rights.
Article 12 of the Covenant places emphasis on equal access to health care and minimum guar­antees of health care in the event of sickness, which makes this Covenant the most compre­hensive one on the right to health in international human rights law:
1. The States Parties to the present Covenant recognize the right of everyone to the en­joyment of the highest attainable standard of physical and mental health
2. The steps to be taken by the States Parties to the present Covenant to achieve the full realization of this right shall include those necessary for:
(a) The provision for the reduction of the stillbirth-rate and of infant mortality and for the healthy development of the child;
(b) The improvement of all aspects of environmental and industrial hygiene;
(c) The prevention, treatment and control of epidemic, occupational and other dis­eases;
(d) The creation of conditions, which would assure to all medical service and medical attention in the event of sickness. (CESCR)
The Committee on Economic, Social and Cultural Rights has spent increasing energy on clari­fying and monitoring health rights, having held a general discussion on the topic and adopted a general comment on the rights of persons with disabilities (General Comment No. 5 (1994)). The rights of the people with HIV/AIDS have also received increasing attention from the Committee in recent years. (CESCR Fact Sheet No.16) Furthermore, Article 10 focuses on the protection and assistance for the family, pointing out the weak position of women and chil­dren in many societies and its effect on their health. According to this article, children and young persons should be protected from economic and social exploitation. Their employment in work harmful to their morals or health or dangerous to life or likely to hamper their normal development should be punishable by law. Additionally, mothers are to be accorded substan­tial protection before and after childbirth. (CESCR)
Although the Committee on Economic, Social and Cultural Rights can assist in the imple­mentation of the Covenant from an international perspective, the ultimate effectiveness of this instrument is contingent on the measures taken by the Indian Government to give actual effect to their international legal obligations. In this regard, the Committee has recognized the es­sential importance of the adoption by States of appropriate legislative measures and the provi­sion of judicial remedies, indicating the very legal nature of economic, social and cultural rights. (Craven, 367)
[...]
---
[1] Malnutrition is more common in India than in Sub-Saharan Africa. One in every three malnourished children in the world lives in India. In India, around 46 per cent of all children below the age of three are too small for their age, 47 per cent are underweight and at least 16 per cent are wasted. Many of these children are severely mal­nourished. The prevalence of malnutrition varies across states, with Madhya Pradesh recording the highest rate (55 per cent) and Kerala among the lowest (27 per cent). Malnutrition in early childhood has serious, long-term consequences because it impedes motor, sensory, cognitive, social and emotional development. (http://www.unicef.org/india/overview.html) Furthermore, according to UNAIDS there are 170.000 children infected by HIV/AIDS and even juvenile diabetes is reported to be taking on pandemic proportions. (Thukral, Combat Law)
Details
Seiten

10

Jahr

2006

ISBN (eBook)

9783638492461

ISBN (Buch)

9783638934824

Dateigröße

519 KB

Sprache

Englisch

Katalognummer

v53930

Institution / Hochschule

Ruhr-Universität Bochum – Institute for International Law of Peace and Armed Conflict

Note

1,0

Schlagworte