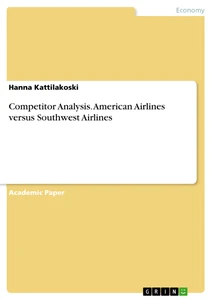 Competitor Analysis. American Airlines versus Southwest Airlines
Akademische Arbeit 2017 25 Seiten
Leseprobe
Table of Contents
1 Introduction
1.1 Overview of American Airlines
1.2 Overview of Southwest Airlines
1.3 Justification for Analysis of Southwest
2 Background Information
2.1 History
2.2.1 Product Line
2.3 Market Overview
2.4 Partnerships
2.5 Competitors of Southwest
2.6 The Southwest Business Model
2.7 Management Information & Key Ownership
2.8 Employees
2.9 Financial Information
3 Perception of Southwest Airlines
3.1 Perception by Media
3.2 Perception by Customers
4 Competitive Intelligence Analysis
4.1 Scenario Analysis
4.2 Five Forces Analysis
5 Prediction of the Future
5.1 Expansion of Products
5.2 Customer Outlook
5.3 Expansion to International Markets
6 Conclusions
7 References
8 Appendix
1 Introduction
Competitive intelligence is the process of monitoring an industry to identify current and future competitors, their activities, how their actions will affect a firm and how the firm should respond to these actions (Business Dictionary, 2017). The scope of this competitor analysis will be on examining a primary competitor for American Airlines, from which the results can help make strategic decisions in the future. Being aware of competition can help a company maintain their competitive advantage or their position in the market. The chosen competitor for American Airlines is Southwest Airlines. Within this paper, the background of both companies will be discussed, with a deep-dive into Southwest strategy as well as other key information. Two competitive intelligence techniques will be applied: Porters Five Forces and Scenario Analysis. Lastly, some predications about the future of the company will be made.
1.1 Overview of American Airlines
American Airlines initially began as a mail carrying service in 1926. In 1936, American Airlines became the first to fly the DC-3 airline in a commercial service from New York to Chicago, marking the beginning of what American Airlines is known as today (American Airlines, 2017). As of 2014, American Airlines Group (AAG) received 57% of its revenue from domestic operations and 43% from the international market (Cederholm, 2014). Within the international market, the largest revenues are from the Latin American region, where American Airlines holds a dominant presence. American Airlines competes directly with two other companies within the three legacy carriers: United Airlines and Delta. Southwest Airlines and JetBlue are low cost competitors who are mostly concentrated within the domestic markets. Recent strategic acquisitions include US Airways, which helped secure American Airlines' market position.
1.2 Overview of Southwest Airlines
Founded in 1967, Southwest Airlines is headquartered in Dallas, Texas. Southwest Airlines is concentrated in the domestic market as a low-cost competitor. Although they offer low cost flights, Southwest differentiates itself through exemplary customer service as well as performance. Annual reports show that Southwest has maintained 44 consecutive years of profitability, stemming from their dedication to their employees, community, and the planet (Southwest Investors, 2017). Southwest is repositioning itself to not be known as a low-cost carrier, but rather a leading airline. With their glowing customer reviews and continued financial success, it is evident that Southwest Airlines is a critical player in the airline industry.
1.3 Justification for Analysis of Southwest
Although American Airlines has several other competitors, Southwest proves to be a threat as their prominence increases. Southwest has been named the nation's largest carrier in terms of domestic passengers boarded (Southwest Airlines, 2017). With new destinations continually being added, including recent additions to the Caribbean, Southwest continues to emerge to be a larger market player, with a possibility to expand into the Latin American market. Since their first flight, Southwest's affordability lead a phenomenon called "the Southwest Effect" which has been shaping the industry (Southwest Investors, 2017). Southwest is particularly important to analyze because of their glowing customer reviews and promising financial results. By conducting competitive intelligence analysis on Southwest Airlines, American Airlines can be better suited to respond to market changes in the future.
2 Background Information
To better understand Southwest's position within the industry, some basic information will be further discussed including history, sales, market, partnerships, competitors, business model, management, employees and finances.
2.1 History
Southwest Airlines was founded by Rollin King and Herb Kelleher, and began service in 1971 between major cities in Texas. With a focus on customer service from the beginning, Southwest was the first company to offer frequent flyer programs, senior discounts as well as fun packages (Aviation Online Magazine, 2017). Southwest remains the only airline to offer free checked baggage, sticking to their policy that they intend to keep costs low (Southwest Airlines, 2017). In 1984, Southwest was ranked number one in customer service for the fourth consecutive year. In 1989, Southwest exceeded the billion-dollar revenue mark. Following, Southwest continued to set a standard for the airline industry, and in 1998 was named the fifth largest US air carrier. Major innovations along the way included in 1994 the introduction of ticketless travel and 1996 the introduction of their webpage, which was the first of the major airlines. In 2013, they began service outside of the continental 48 states with service to Puerto Rico. In 2014, they became an international airline with service to Jamaica, Bahamas and Aruba (Southwest Airlines, 2017). Grand Cayman is the 9th international country, with service beginning in June 2017.
2.2 Sales Overview
In line with their low-cost policy, Southwest manages their sales differently than other lager retailers. The product line, key sales channels and marketing efforts will be discussed next.
2.2.1 Product Line
Southwest's product line consists of domestic, as well as a few select international flights. Being a low-cost carrier, they do not offer premium seats within the cabin, rather every seat is the same and at the same price. All their products are under the "Southwest" brand name.
2.2.2 Key Sales Channels
The only sales channel for Southwest is through them directly. Originating from their beginnings, Southwest did not want to pay travel agents a 10% commission while they were competing directly with car travel. Their tickets were mostly sold by phone, at the airport, or in the office, but sales were always made directly by Southwest. Now, Southwest still does not use third party sites, known as Global Distribution Systems. Distribution costs of tickets drive up prices, and to stick with the low-cost travel, Southwest aims to keep these costs at a minimum (Kuebler, 2010). Thus, the Southwest website is the main distribution channel for airline tickets.
2.2.3 Marketing
Southwest uses marketing to portray both their low costs as well as exemplary customer service. Appendix 2 contains a few examples of some advertising campaigns. Their planes are all painted blue and have the same Southwest logos as another way of advertising through their bold colors. Lately, their advertising has less of a focus on low prices and more of a focus on the stellar customer service.
2.3 Market Overview
The market overview will be discussing key industry sectors, key markets as well as market share for Southwest Airlines.
2.3.1 Key Industry Sectors
Currently, Southwest Airlines operates in 101 destinations in 40 states within the United States. There are 8 international destinations including Dominican Republic, Costa Rica, Belize and Cuba, which shows an expansion into international markets, especially regarding Caribbean and South American countries (Yahoo Finance, 2017). However, historically their key sector has been in domestic markets, in commercial transportation.
2.3.2 Key Markets
The key markets are determined by the top ten airports based on departures as shown in Table 1.
Table 1: Top 10 Airports for Southwest Operations
Abbildung in dieser Leseprobe nicht enthalten
Source: Southwest Airlines, 2017
As the table indicates, these are the most popular cities for Southwest Airlines. These areas also face heavy competition, as traffic to these cities is vast for most airlines. The number of departures directly correlates with the amount of customer traffic in these areas, and serving these markets is critical for Southwest strategies.
2.3.3 Market Share
The market share represents the portion of the airline transportation market that Southwest serves. The market share for the domestic airline transportation market is depicted in Table 2.
Table 2: Domestic Market Share of US Airlines (2017)
Abbildung in dieser Leseprobe nicht enthalten
Source: United States Department of Transportation, 2017
As the table suggests, in the domestic market, Southwest Airlines is the largest competitor for American Airlines. In 2016, American Airlines had a market share of 16,9% and Southwest had a market share of 19,1% (Statista, 2016). The recent acquisition of US Airways, with a market share of 3%, was able to boost American Airlines to have a market share greater than Southwest Airlines. Now, American Airlines has the leading market share, but Southwest poses a threat to the maintenance of that lead.
2.4 Partnerships
Both American Airlines and Southwest Airlines have some form of rewards program. In addition to receiving points from traveling with the airline, customers can also gain rewards by using services from some of the partners of each airline. Rapid Rewards is Southwest's reward program, which offers partnerships with several other companies including travel and credit cards. This is typical for other airlines as well, including American Airlines. Hotel partnerships for Southwest include Best Western, Booking.com, Carlson Rezidor, Choice Hotels, World of Hyatt, LaQuinta Inn, Marriott and MGM Resorts (Rapid Rewards, 2017). American Airlines hotels include Hilton, Starwood Hotels, Marriott Hotels, Choice Hotels, InterContinental and Wyndham (American Airlines, 2017). Though there is overlap in the partnerships, maintaining partners is important for being competitive in the airline industry.
2.5 Competitors of Southwest
Competitors of Southwest include most domestic airlines within the United States, including American, Delta, and United Airlines with whom Southwest has had long rivalries with. However, there have been huge increases in the ultra-low-cost carriers market, with airlines such as Spirit, Frontier and JetBlue. These airlines are competing in the same market and they are serving the same major cities. According to USA Today, there has been an increase in 20% of seats in the low-cost carriers' market in just the third quarter of 2016 (Jansen, 2016). As competition is increasing, having a sustainable competitive advantage is more and more important.
2.6 The Southwest Business Model
Southwest has an extremely competitive business model, which excels in operational efficiency by paying close attention to costs. Southwest saves costs by offering only one type of plane, the Boeing 737. The consistency allows them to save in yearly maintenance costs and other operating costs (Investopedia, 2017). While paying employees an above­average salary, Southwest can cross-utilize employees to lower unit labor costs (Srinivasan 2017). The second largest expense is fuel; price hedging is extremely common for the airline industry since fuel prices have such a direct impact on operating costs.
In order to create operational efficiency, Southwest generally flies to secondary or smaller airports to reduce risks. The smaller airports allow better customer service, in that travel delays are significantly reduced (Srinivasan 2017). Overall, the business model of Southwest allows the company to succeed by focusing on strong customer service, while maintaining operational efficiency in their cost structures.
[...]
Details
Seiten

25

Jahr

2017

ISBN (eBook)

9783346164612

ISBN (Buch)

9783346164629

Sprache

Englisch

Katalognummer

v542210

Institution / Hochschule

Cologne Business School Köln

Note

90.0

Schlagworte