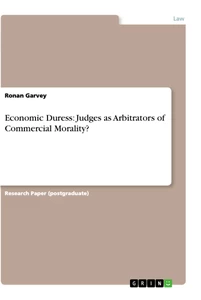 Economic Duress: Judges as Arbitrators of Commercial Morality?
Forschungsarbeit 2015 13 Seiten
Zusammenfassung
This essay delves in the moral aspects of contract law through a detailed analysis of the jurisprudence of economic duress. Answering questions like; Does the common law doctrine of economic duress make courts, not legislators, aribrators of commercial morality. Further, does this inject uncertainty in contract law? Where do judges decide on what is legitimate commercial pressure in hard cases?

I further argue that a legislator should establish the foundations of an absolute test for judges, following the civil law system - to promote efficient and cost effective justice . Put simply - with clear rules, the ability to appeal is reduced.
Details
Seiten

13

Jahr

2015

ISBN (eBook)

9783346166425

ISBN (Buch)

9783346166432

Sprache

Englisch

Katalognummer

v544540

Institution / Hochschule

National University of Ireland, Galway

Note

74.00

Schlagworte