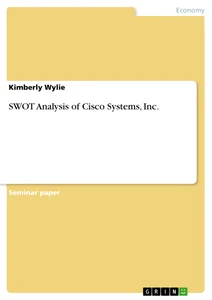 SWOT Analysis of Cisco Systems, Inc.
Hausarbeit 2003 11 Seiten
Leseprobe
Table of Contents
Introduction:
Strengths:
Weaknesses:
Opportunities:
Threats:
Alternatives:
Recommendations:
Evaluation:
Conclusion:
SWOT Analysis of Cisco Systems, Inc.
Introduction:
As technology changes business on a day-to-day basis, one thing continues to remain the same; the human component of any business is critical. Although processes and tasks can often be automated, saving valuable man-hours in the process, this automation means that each human employee who is left is just that much more important. For this reason, Human Resources and the functions they provide are critical to a company's success. Without a strong, innovative Human Resources team, with the processes and procedures in place to allow them to work effectively, the best employees cannot be consistently hired or retained. A company can have the best product or service in the world, but if their staff is lacking, sooner or later their company will suffer. In the end, Human Resources has a dramatic effect on a company's bottom line. Cisco Systems, Inc. is one of the companies that truly has an appreciation for this critical business component.
Founded in 1984, by a group of Stanford University computer scientists, Cisco Systems, Inc. is now
the worldwide leader in networking for the Internet. (…) Since the company's
inception, Cisco engineers have been prominent in advancing the development of IP- the basic language to communicate over the Internet and in private networks. The company's tradition of innovation continues today with Cisco creating leading products and key technologies that will make the Internet more useful and dynamic in the years ahead. These technologies include: advanced routing and switching, voice and video over IP, optical networking, wireless, storage networking, security, broadband, and content networking. ("Corporate Overview")
In addition to their leadership in the technology sector, Cisco Systems is also a leader in how business is conducted, thanks in part to their innovation in Human Resources.
Strengths:
With it's corporate headquarter in San Jose, California, "as of the end of Q4, FY2003 (July 26, 2003), Cisco has 34,466 employees worldwide" ("Corporate Fact") and with this one of the finest Human Resource departments in the world. One of Cisco Systems' strengths is the leadership of their Senior Vice President of Human Resources, Kate DCamp. With over twenty years of Human Resources and business experience, DCamp joined Cisco Systems in May of 2000, as Vice President of Global Compensation. She now "leads a global team of HR professionals responsible for the design and implementation of business strategies, programs and tools that focus on recruitment, retention, leadership, development programs, and productivity." ("Kate DCamp")
Prior to DCamp's joining the Cisco team, she headed up GE Capital's Global Leader Compensation and Executive Programs. She not only was recognized as a 'GE Best Practices Expert', but also "managed all executive, compensation, and recognition related programs for the company's 130,000 employees and 28 businesses". ("Kate DCamp") During her career, DCamp also served as Director of Executive Programs at The Associated Group, in Indianapolis, and was an actuarial consultant at Aetna Life and Casualty. A Magna Cum Laude graduate of Ball State University, DCamp is now "a member of the National Advisory Board on Executive Compensation for World at Work, the professional society for Compensation and Benefits, and holds the professional designations of Certified Compensation Professional and Senior Professional in Human Resources". ("Kate DCamp") In addition to the fine leadership and direction of DCamp, Cisco Systems offers its employees a long list of employee benefits.
Cisco Systems' employees are offered a full arsenal of employee benefits befitting a progressive and innovative West Coast company. Comprehensive medical, dental, and life insurance are just the beginning of their long list of benefits. 401K, vacation, paid holidays, sick time, as well as less quantifiable benefits are all added strengths. These less quantifiable benefits include being one of the more stable technology-based companies. They also have a "spectacular child-care center (that) watches over 400 kids--a rare perk among its Silicon Valley peers" ("100 Best") which is one way they try to help their employees manage that ever delicate business-personal life balance. Cisco also "offers its employees opportunities to work on exciting and innovative projects that influence the lives of people worldwide." ("Benefits") The opportunity for career growth and ongoing training is also available to Cisco employees worldwide through traditional class sessions or e-learning activities. Couple this with flexible hours for certain positions, as well as off-site work available for some, and it's easy to see why Cisco's benefit package is one of the best in the nation, and why they've been ranked number 24 in Fortune Magazine's 100 Best Companies to Work For.
With their recognition as one of Fortune's ' 100 best to work for', the public's perception of Cisco System as an employer is one of their strengths. In addition to this award, Cisco also has been recognized by Fortune as one of 'America's most admired', one of the most globally admired corporations, number 95 on the Fortune 500, and number 247 on the Global 500. ("100 Best") These accolades, in addition to The Financial Times' ranking of number 23 of The World's Most Respected Companies, can help Human Resources recruit highly sought after candidates, and retain those they've already hired.
Cisco System's corporate culture is another strength their Human Resource department can depend on. They not only say they value diversity but openly recognize that "employees from different cultures and geographies bring together their unique backgrounds, experiences, and values to understand the needs of our customers". ("Diversity") This is enhanced with Cisco's embracement of "a philosophy that thrives on change, new technology, teamwork, and partnerships within and beyond the organization." ("Culture") Add to this mix, a policy of philanthropy and corporate responsibility and Cisco has created a culture highly sought after by many prospective candidates.
[...]