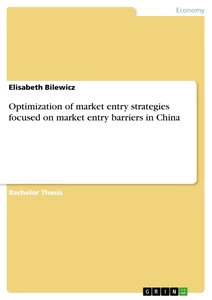 Optimization of market entry strategies focused on market entry barriers in China
Bachelorarbeit 2006 89 Seiten
Leseprobe
Table of Contents
List of Abbreviations
List of Figures
List of Tables
1. Introduction
1.1. Executive Summary
1.2. Scope of work
2. Problem definition and Research methods
2.1. Definition of Problem
2.2. Reasoning and Motivation
2.3. Research methods
2.3.1. Primary Research
2.3.2. Secondary Research
2.3.3. Methods used in Thesis
3. Theories
3.1. Relevant theories for market entry strategies
3.1.1. Export
3.1.1.1. Indirect Export
3.1.1.2. Direct Export
3.1.2. Licensing
3.1.3. International Franchising
3.1.4. Joint Ventures
3.1.5. Overseas branches and factories
3.1.6. Subsidiaries
3.2. Selected theory for market entry strategy
3.2.1. Definition of Joint Ventures
3.2.2. Types of Joint Ventures
3.2.2.1. Equity Joint Ventures
3.2.2.2. Contractual Joint Ventures
3.2.2.3. X-Joint Ventures and Y-Joint Ventures
3.2.3. Critical comment on Joint Ventures
3.3. Relevant theories for market entry barriers
3.3.1. Porters Industry Analysis
3.3.2. The SWOT analysis
3.3.3. Hofstede's cultural value dimensions
3.4. Selected theory elements for market entry barriers
3.4.1. Elements of SWOT analysis
3.4.1.1. Weaknesses
3.4.1.2. Threats according to Porter
3.4.1.3. Use of SWOT analysis
3.4.1.4. Critical comment on SWOT analysis
3.4.2. Elements of Hofstede's cultural value dimensions
3.4.2.1. Power Distance
3.4.2.2. Uncertainty Avoidance
3.4.2.3. Individualism versus Collectivism
3.4.2.4. Long term-orientation versus short-term orientation
3.4.2.5. Critical view on Hofstede's cultural value dimensions
4. Case
4.1. Economic area China: a framework
4.1.1. Geographical Factors
4.1.2. Social Factors
4.1.2.1. Population
4.1.2.2. Education
4.1.2.3. Cultural and religious structure
4.1.3. Legal factors
4.1.3.1. Political Circumstances
4.1.3.2. Economic System
4.1.4. Description of the Chinese market
4.1.4.1. Market Development
4.1.4.2. Purchasing Power
4.1.4.3. Trends of the energy market
4.2. Portrait of Siemens in China
4.2.1. General portrait of Siemens
4.2.2. Siemens in China
4.2.3. Selected Siemens departments in China
4.3. Application of Relevant Theory elements onto Case
4.3.1. Definition
4.3.2. Joint Ventures in China as market entry strategy
4.3.3. Elements of SWOT analysis
4.3.3.1. Weaknesses
4.3.3.2. Threats according to Porter
4.3.4. Elements of Hofstede's cultural value dimensions
4.3.4.1. Power Distance
4.3.4.2. Uncertainty Avoidance
4.3.4.3. Individualism versus Collectivism
4.3.4.4. Long-term orientation versus short-term orientation
4.4. Application of Research methods onto Case
4.4.1. Structure of Expert witness interviews
4.4.2. Results of Expert witness interviews
4.5. Solution of Case Problem
5. Conclusion, Outlook and critical Comment
5.1. Conclusion
5.2. Outlook
5.3. Critical Comment
Bibliography
Literature
Internet
Others
Appendix
Statutory Declaration
List of Abbreviations
illustration not visible in this excerpt
List of Figures
Figure 1: The marketing research process
Figure 2: Dimensions of the Internationalisation mode.
Figure 3: Differentiation of Internationalisation modes
Figure 4: Indirect Export
Figure 5: Direct Export
Figure 6: Joint Venture
Figure 7: Forces Driving Industry Competition
Figure 8: The SWOT analysis
Figure 9: World FDI Inflow to China
Figure 10: GDP of China in per cent; 1991-2003
Figure 11: The Most Problematic Factors for Doing Business
Figure 12: The Geert Hofstede analysis of China
Figure 13: Comparison Germany-China Power Distance Index.
Figure 14: Comparison Germany-China Uncertainty Avoidance Index
Figure 15: Comparison Germany-China Individualism Index.
Figure 16: Comparison Germany-China Long-term orientation Index
List of Tables
Table 1: The marketing research process of the present bachelor thesis
Table 2: Key Differences between Short- and Long-Term Orientation Societies
Table 3: Changing sectoral composition of output
1. Introduction
Which possibilities does a company have to go abroad?
What kinds of barriers have to be taken into consideration when entering foreign markets?
These are major questions that affect enterprises when they plan the expansion of their business into a foreign environment.
This present bachelor thesis is concerned with market entry barriers that have an impact on the chosen market entry strategy of a company. It wants to help sensitizing for potential problems that can occur when entering a foreign market and show which barriers have to be heeded even if the chosen market offers respectable growth as the chosen Chinese economy does.[1]
From this examination of potential market barriers it is the objective of this thesis to help identify improvements for market entry strategies and thereby increase the likelihood of a successful venture.
1.1. Executive Summary
Globalization leads to new technological, economical, political and social dimensions and therefore to new challenges.[2]
Through inventions in the microelectronic and telecommunication sectors, exchange of information and the approach of new communication methods have become faster and cheaper.[3] Politically, strong alliances such as the European Union advanced and have led to fallen state borders. This development has led to the opening of foreign markets and to new potentials for the economy.[4]
In business terms, we talk about globalization when companies "decide to take part in the emerging global economy"[5] and enter foreign markets. This expansion changes the requirements of management, employees and strategies, as different frameworks are still present in different countries:[6] the foreign legal structure has to be adopted on business partners and customers.
When going abroad a company can choose between several types of market entry. These can be managed by trade, as affected in Export, Licensing and Franchising or by Foreign Direct Investment when forming joint ventures, overseas offices and subsidiaries in the host country.[7]
Entering business areas with divergent business cultures can be eased by choosing the market entry strategy of a joint venture with a local partner.[8] This venture bears valuable market know-how, established distribution channels and networks. Nevertheless, problems can appear due to different goals and management comprehension of the foreign partner.
"(...) in China it is the right "Guanxi" that makes all the difference in ensuring that business will be successful."[9]
As this statement outlines the business environment in China differs from the European business world.
In-depth preparation and awareness of all kinds of barriers in the foreign market are essential to support the success of exploring new markets. This thesis uses SWOT analysis to assess the elements weaknesses and threats to understand the internal and external factors that constrain a successful appearance. Additionally, it uses Hofstede's cultural value dimensions to identify potential intercultural conflicts in international business.
As will be outlined in chapter 4, the rapidly growing market of the People's Republic of China affords many appeals but also bears certain barriers that are faced by companies entering this market.
This thesis will describe the optimization of a market entry in such a complex legal and cultural area by outlining the market entry barriers.
1.2. Scope of work
The introduction of this bachelor thesis as well as the summary and the scope of work are drawn in the first chapter. Chapter 2 deals with the definition and relevance of the problem and outlines the research methods that are applied in this thesis.
The third chapter is composed of the theoretical background for the subsequent case. For this reason chapter 3.1 gives an overview of the relevant market entry strategies. Afterwards an analysis of the selected market entry strategy that is relevant for the case – the joint venture - is given in chapter 3.2. This analysis is subdivided in three areas: a definition (3.2.1), the explanation of different variations of this market strategy (3.2.2.) and finally a critical comment in chapter 3.2.3 which includes a comparison of its advantages and disadvantages.
In chapter 3.3 relevant theories for market entry barriers will be introduced. Porters Industry analysis will be described in chapter 3.3.1. Afterwards, the SWOT-analysis, its origin and elements will be explained generally in chapter 3.3.2 and Hofstede's cultural value dimensions will be outlined in chapter 3.3.3.
Out of these theories the selected elements for the case part will be illustrated in chapter 3.4. First, the SWOT analysis will be explained in detail in chapter 3.4.1. For this reason the selected market entry barrier elements will be outlined. Again this chapter is sectioned into three parts: a detailed definition of the SWOT elements weaknesses (3.4.1.1) and threats (3.4.1.2) is given, its use is clarified afterwards (3.4.1.3) and a critical comment is drawn finally (3.4.1.4).
The elements of Hofstede's cultural value dimension are analysed the same way as the theoretical elements of the market entry strategy and elements of the SWOT analysis. First, all the selected dimension will be defined. Chapter 3.4.2.1 is concerned with Power Distance, followed by the dimensions of Uncertainty avoidance (3.4.2.2) and Individualism versus Collectivism (3.4.2.3.). This definition will be closed with the last dimension: Long-Term orientation in chapter 3.4.2.4. In the following there will given be a critical comment on Hofstedes theory in chapter 3.4.2.5.
After the theoretical background is outlined in chapter 3, chapter 4 is concentrated on the case part and the application of the discussed theories and methodologies into a practical environment.
As the selected business environment is China there will be given a framework of this country and its economy in chapter 4.1 sectioned into geographical factors (4.1.1.), social factors (4.1.2), legal factors (4.1.3) and a description of the Chinese market (4.1.4).
Chapter 4.2 introduces the Siemens AG in general (4.2.1), in the Chinese market (4.2.2) and its selected business units in China (4.2.3).
Chapter 4.3 is concerned with the application of the selected theory elements into the case. Therefore it will be given a definition in chapter 4.3.1 and the joint venture in China will be described afterwards. The examination of market entry barriers will be drawn in chapter 4.3.3 on the basis of the SWOT analysis and according to Hofstede's cultural value dimensions in chapter 4.3.4.
The application of research methods will be given in chapter 4.4 and the case solution will complete the case chapter in 4.5.
Finally, the present bachelor thesis will be brought to an end in chapter 5 with a Conclusion, Outlook and critical Comment.
2. Problem definition and Research methods
This chapter is concerned with the definition and the relevance of the problem underlying this bachelor thesis. Afterwards it will describe the research methods in general and with regard to the application onto the case in chapter 4.
2.1. Definition of Problem
In consequence of rising competition within the established markets, major enterprises search for new sales markets. Due to this reason companies seek to enter unsaturated markets that bear potential growth and cheap but skilled labour as it can be found in certain emerging nations.[10]
But different cultural values between Western Europe and foreign countries as well as uncertainty in the legal situation in several emerging nations may lead also to failure of market entries in these regions:[11]
"(..) to reach out and capture the opportunity is complex, if not at times downright depressing."[12]
When a company decides to go international it has to prepare itself carefully for this challenge. This means to choose a market entry strategy that serves the abilities of the company and the selected market best. But also another aspect has to be taken into consideration. According to Backhaus/Büschken/Voeth a company must not look only at the market attractiveness of country markets when planning a market entry. Also the market entry barriers have to be taken into consideration in detail[13] as they mean the totality of all conditions whose compliance are necessary for a successful entry.[14]
When companies want to act successfully in auspicious markets they have to prepare themselves and be aware of these barriers.
2.2. Reasoning and Motivation
"Nowadays, nobody can afford to simply ignore China."[15]
The Chinese economic miracle is today in the centre of interest of the western business world and for a few years has attracted many companies to invest in this booming area.[16] China is one of the fastest-paced moving economic areas in world with about €43,5 billion direct investments only in 2003[17] and promise growth rates and earnings which can not be achieved in the saturated western markets.[18] This is why companies surge into China.
But as the above statement says as well companies cannot afford not entering this economic area. They are even forced to counterfeit the market entry of their competitors to stay competitive.
This can often lead to too fast and unsophisticated market entry strategies, to the overestimation of the revenues and underestimation of the threats and barriers that occur in this business area.[19]
Referring to Holtbrügge/Puck, the number of companies complaining about depressed authorization procedures, problems with local distributors and intercultural management conflicts is as high as the one of success reports.[20] Medium-sized businesses especially are not able to financially resist missing success, as their capital availability is scarce. But even large-scale enterprises can be confronted with significant barriers such as cultural differences and a dissimilar management style.[21]
A careful analysis of the best market entry strategy for the particular business, the awareness of the legal and economical circumstances and the examination of the different culture are therefore indispensable to mitigate potential evident and hidden barriers in the front end.
2.3. Research methods
"Research is an organized and systematic way of finding answers to questions."[22]
According to this definition there are four signal words for successful research:[23]
- It must be done organized because it is a planned procedure.
- It is a systematic work that comprised continuous steps of work that are defined for the specific research methods.
- The target of research is to find an answer concerning the analysed item. Whether the answer is positive, negative or unsettled does not restrict the success of a research.
- Questions are the centre of any research. Without basis questions which shall be analysed by research, the guideline for a specific work is missing and the research "has no focus, drive, or purpose."[24]
The research process consists of four steps, which are shown in the following figure.
illustration not visible in this excerpt
This research process is drawn for a marketing objective but can also be applied generally for the research process.
The first step "is often the hardest step of the research process".[25] Only if the problem definition is articulated can it be answered accurate. After the problem is defined the researcher has to set the research objectives. According to Kotler, Armstrong, Saunders and Wong there are three different possibilities:[26]
- Exploratory Research where information are gathered to better define problems and suggest hypothesis
- Descriptive Research to describe problems or situations better
- Causal Research to test hypotheses about cause-and-effect relationships.
The research plan that shall be developed in the second step "outlines sources of existing data and explains the specific research approaches"[27] that will be used to gather new information. The difference between secondary and primary data collection is focused in the steps two and three: the data collection is based on different sources, which will be outlined later on in this thesis. Finally, in the fourth step, the findings are interpreted and the previous questions can be answered.
Generally, there are two kinds of research methods: the primary and secondary research. In the following they will be outlined. Out of these types the methods that are used in the thesis will be described subsequently.
2.3.1. Primary Research
Primary research includes the collection of new information for the specific purpose.[28] It can be gathered quantitative in order to allow statistical analysis e.g. by applying a mass survey or qualitative with individual expert interviews.[29]
Primary data collection depends on high initiative of the person who collects this data. Questions for an expert interview or survey have to be prepared carefully because they can normally be asked only one time. It is also the task of researchers to "design the method for collecting information, manage and implement the data collection process, analyse the results and communicate the findings and their implications."[30] The focus group must be chosen carefully, too in order to avoid a misinformation and failure of the research.
One form of primary research is the personal interview that can be arranged with one person and with groups. Group interviewing consists of inviting several people that talk about a given topic (e.g. a product) accompied by a trained moderator.[31] Individual interviewing involves talking with only one person preferably in an atmosphere familiar to the interviewee. When choosing expert interviews for primary research, the knowledge of the expert for the analysed item must be given. This is the case when the topic of the interview does belong to the experts work with whom he is concerned every day.
When choosing a survey as primary data collection there has to be a sufficient number of people consulted to allow statistical analysis.[32] Furthermore, the researcher depends highly on the rate of return. Without a high response rate the data interpretation can lead to misinterpretation.
Finally, primary data can be gathered "by observing relevant people, actions and situations."[33] Especially in the field of marketing this primary data collection is useful, as the observed consumer does not know his habits are observed. This can be e.g. the case when a "museum checks the popularity of various exhibits by noting the amount of floor wear around them."[34]
Primary research leads therefore on the one hand to individual research findings, which is helpful when searching for findings where secondary data collection is scarce and can be assimilated directly on the searching question. But it is on the other hand time consuming and needs diligent preparation because it can normally not be repeated.
2.3.2. Secondary Research
Secondary Research is based on already existing information such as literature, publications, media or a company's internal database that have been collected for another purpose.[35] Further information can be gained from organisations such as consulting companies or marketing institutions. Reliable sources for information, especially in international context, are publications from international organisation as the United Nations, World Bank and OECD. Due to advancing importance of new media, the Internet also presents several information from around the world, but, when using this source, it is necessary to select reliable pages out the available ones.
This data collection can usually be done more quickly and cheaply than primary data and it helps to outline large-scale trends.[36] It can also be the only way of gathering information providing historical context such as past trends and information about theories and methodologies.
But this data collection can also lead to problems. The needed information may not even exist which is the case when the researcher wants to analyse completely new areas. The reliability of sources especially when using the Internet can sometimes not be ensured. It must furthermore be taken into consideration that literatural sources may not be up-to-date or may not fit to the defined problem. These reasons may lead to misinterpretations. This is why it has to be checked carefully to ensure the found data is relevant, accurate and current for the analysed object.[37]
Secondary data provides a good starting point and helps to define the problem and research objectives[38]. This is why this research method is used to support primary data collection.
2.3.3. Methods used in Thesis
The data collection of this Bachelor Thesis consists of both, secondary and primary research. Secondary sources are used for the theoretical background in chapter two and three. These include literature such as monographies, publications, collected editions, encyclopaedias and business magazines. The books that are used were for the most parts written since 2000. This shall assure up-to-dateness. But there will be also reference to some still relevant books of older dates to outline a contrast and comparison with the past and today. Furthermore, the Internet is used to find the latest information especially about certain items as the collected databases for the overview about China in chapter 4.1. When using Internet sources the attention was paid to use reliable websites such as the department of foreign affairs of Germany or the Organisation for Economic Co- Operation and Development.
Beside secondary research, primary research is used in the fourth chapter, the case part of the bachelor thesis, in form of expert's interviews. The structure of the expert interviews and the results are summarized in chapter 4 as well.
Referring to the research plan visualised in table 1 the course of action for this present bachelor is structured as followed:
illustration not visible in this excerpt
Table 1: The marketing research process of the present bachelor thesis
Source: own construction in accordance to: Kotler et al. (2002), p. 272.
3. Theories
3.1. Relevant theories for market entry strategies
After a company decides which foreign market it wants to enter the next step is to decide on the market entry strategy[39]. There is a wide range of approaches that begins with export into a foreign market and ends up in founding a 100% owned subsidiary.
According to Welge/Holtbrügge there are three dimensions which have to be taken into consideration when characterising forms of internationalisation: the ownership dimension, the settlement dimension and the market development dimension.[40]
illustration not visible in this excerpt
This conception is due to its three dimensions complex. It is also concerned with the market development mode not only with the entry strategy that is the focus of this thesis. This is why another draft of outlining market entry strategies analysed
This different concept is pursued by Meissner/Gerber. They prefer a systematisation of the different, important market entry possibilities in accordance to the in the home and host country generated capital- and management activity.[41] This figure characterise the range of possibilities with a clear structure. It is furthermore concerned with market entry forms such as Franchising and joint ventures that appear in the business life and have therefore relevance for the case part subsequent to chapter 3. Because of these reasons market entry strategies derived in the graphic will be described in the following.
illustration not visible in this excerpt
3.1.1. Export
According to Kutschker/Schmid export is characterised as the 'distribution of own goods and services in a foreign economic area'.[42] As the definition says the market entry strategy is hereby focused on the disposal and distribution part of the value-added chain.
'If a company decides on an expansion abroad, export is the first choice.'[43] For smaller companies especially, this instrument for internationalisation may be the only chance to act internationally as their financial- and human capital is scarce. But even for bigger companies export affords an opportunity of an international expansion with a minimum capital investment.
But export companies have to handle with additional costs like transport, custom duties and sometimes exchange rates. To win the buyers' favour, export products may have to offer a bigger benefit for the customer than local produced products do.[44] Only when they provide competitive advantage that offsets these additional costs, are they likely to be successful. Other barriers can be cultural differences, language and the legal framework, which have to be negotiated.[45]
The process of an export business can be sectioned in two forms, the direct and indirect export, and will be explained in the following.
3.1.1.1. Indirect Export
Indirect export is characterised through the interposition of intermediaries in the host market to sell goods.[46] This means there is only an indirect business connection between the producing company and the end consumer. As shown in figure 4 the exporting company provides its goods either to an inland foreign trade company or inland indent house that execute the export business.[47]
illustration not visible in this excerpt
One advantage of indirect export is the reduction of risks. Neither the company has to establish an own exporting department and handle the exporting process itself nor has to deal with the risks. For instance the exchange rate fluctuation and the marketing of the products are up to the responsibility of the intermediate company.[48] The import houses are often specialised either in countries or industries and therefore are imbued with market and customer proximity. Therefore the exporting company does not need to acquire this knowledge itself.[49]
Due to these advantages, market entry through indirect export consumes only little resources.
Nevertheless, in the long-term view, it admittedly leads to decreasing profits as the intermediate company expects a certain amount of money for their service. The exporting company is furthermore not able to improve its market skills about competitors and substitutes. Any learning that takes place through this internationalisation stays indirect.[50] By reason of the missing of a direct customer relationship it is also very difficult for the company to customize its product onto the host market and serve customers needs directly.[51]
3.1.1.2. Direct Export
According to Kutschker/Schmid the foreign trade activities through direct export take place without the activation of intermediaries in the home country.[52] This means there is a direct relationship between the foreign market and external trade partner. The exporting company is responsible for the creation of this contact as well as the implementation of the whole exporting process by itself.[53] The processing of direct export can be realised by using an export department in the host country, a sales subsidiary, a commission agent or a salaried salesman.[54] Figure 5 on the next page elucidates the direct export process.
In contrast to the indirect export the direct export makes it possible to gain direct knowledge about the host market and its consumers, competitors and substitutes. Hence, the company can identify market changes faster, arrange certain activities to new circumstances and therefore tap the market potential better. In addition, the export company is not dependent on the intermediary company, has a stronger control of the disposal and can gain the whole profit margin without paying a certain fee to the intermediate company.
illustration not visible in this excerpt
Apart from that, establishing an own export unit for export activities is money and time consuming. The bearing of all risks of an export business activity is another disadvantage.[55] This can lead to the case that little and medium-seized enterprises may not be able to handle with these difficulties of direct export.
3.1.2. Licensing
Licensing means "the granting of permission to use intellectual property rights (...) under defined conditions."[56] The permission is mostly restricted to a certain time period.[57]
Referring to Czinkota/Ronkainen licensing objects can be patents, registered designs, utility models, trademarks, copyrights or technical- and commercial know-how.[58] A licensing agreement is signed between two legally and economically autonomous contract partners.
The license fee can be submitted through a lump-sum fee as well as in variable royalties and down payments.[59] But in the same way, material payments can be agreed based on delivery out of the licensed manufacturing or use onto the licensed party intellectual property rights (cross licensing).[60]
The usage right can be limited through several restrictions such as an area restriction, which means that the license can only be used in a certain geographical area, a time limit restriction where the usage right is constricted to a certain time period or objective restriction. In this last form the licensor can limit the usage right of the licence in three ways:[61]
1. Manufacturing usage
2. Distribution usage
3. Internal usage in between the licensed party company
Entering a new market by licensing is inexpensive and resource sparing. The only investments that have to be done are in the selection of the correct licensed party, the formation of a correct contract and the control of the contracts compliance. Especially for entering markets with high entry barriers like tariffs and import quotas this form is to be favoured. Because the licensor normally does not participate in the foreign market through direct investments he does not give hostages to fortune such as misappropriation.[62]
In comparison to export, transport cost can be avoided as well as exchange risks minimised. A further advantage is that the licensor can benefit from the local market know-how of the licensed party and often even of the customer relationship.[63] It also enables the market entry that is "closed to either imports or direct investments"[64].
But there are certain problems that arise in conjunction with licensing. Licenses can only be given where intellectual property rights exist. Therefore not every company is able to choose this market entry strategy. Another weak point is centred in the lack of control of the licensed party. An inferior quality of the licensed party products can lead to a bad image and can even damp down the licensors market and revenue.
Another threat is the misuse of the know-how by the licensed party. After the lapse of a treaty the licensed party can sell the new know-how to other companies. In the long term the licensor strengthens the know-how and position of a potential competitor who can act after gaining the required know-how as a business rival. In the long term, when the licensor wants to enter this new market through another strategy later on, he might have concurrency on this market already.
This is why it has to be taken seriously into consideration with whom and what kind of property is licensed.[65]
3.1.3. International Franchising
Franchising is 'a contractual collaboration between two legally autonomous businesses.'[66] Thereby "a franchisor licenses an entire way of doing business under a brand name"[67].
When choosing this market entry strategy the franchisor acts similar as when doing licensing without direct investment onto this foreign market. But this business concept must be strictly separated from the licensing concept, as it is more than "the simple transfer of intellectual property rights."[68]
The franchisor authorises the franchisee to sell certain goods or services under the application of name, trademark, configuration and under attention of the franchisors developed marketing and organisational concept on the franchisees own account in a certain geographical area.[69] This so-called business package can also include training of resellers and "providing assistance in setting up the business"[70].
In addition, it is the resellers' duty to fulfil the franchisors instructions according appearance, commercials and prices. This is important for both, the franchisor and franchisee. The manufacturer can assure the creation of a worldwide identical image that is controlled by his advice. The distributor can gain competitive advantage from the corporate identity and increased brand recognition and thereby saves on marketing and promotion costs.[71] In return, the franchisee has to pay a certain franchise fee for the provided know-how and instruments.[72]
Through this market entry strategy the franchisor minimises his risks because the franchisee acts autonomously on the foreign market. He has also several control- instruction rights that, in contrast to licensing, facilitate the impact onto the market activities and can be certain of a standardised appearance on new markets.[73]
However, the franchisor has to install firstly a control mechanism and franchise network to observe the activities of the resellers that is complex and costly.[74] Furthermore, the franchisor has to invest in creating the "business package" to attract potential franchisees. This means there must be a "great degree of standardization"[75] which can be franchised at all such as a common brand name and similar layout and services.
Another disadvantage is that through the standardised appearance and served goods the customatization into the different customer tastes in different markets is very hard to accomplish.[76] For example, the taste of a European consumer differs culturally from a Chinese or Brazilian consumer. To handle these cultural differences certain instruments have to be established which lead to further costs for the franchisor and the demanding of certain market know-how.[77]
3.1.4. Joint Ventures
Kutschker/Schmid describe a joint venture as a corporate enterprise of two or multiple partners.[78] In case of a joint venture as an international market entry strategy it is necessary that this enterprise is built up in a foreign country. Even if the nationality of all partners is not equal it is spoken of an international joint venture.[79]
In contrast to all other in chapter 3.1 described strategies a joint venture is the first form where direct investments in a foreign country are transferred. This means that the service rendered is transferred abroad.[80]
The different types of joint ventures and the general advantages and disadvantages of this market entry strategy will be described in detail in chapter 3.2. due to the relevance of this market entry strategy for the case part of this thesis.
The motivation for a joint venture can be reasoned by several sources. If two organizations of different branches collaborate, the establishment of a new technology can be the reason. Gaining market know-how can be the motivation when a foreign partner joins a local partner onto the host market. Furthermore, legal forces can cause such cooperation when it is legally not allowed to establish subsidiaries in certain areas. This was for instance the case during the cold war when western enterprises were not authorized to build up factories in Eastern bloc states.[81] The lack of capital requirements to manage a sole market entry can lead to a joint venture as can the avoidance of import quotas by an export market entry strategy.
illustration not visible in this excerpt
3.1.5. Overseas branches and factories
Legally dependent engagement abroad can be affected through the establishment of overseas offices as branches, factories or representations.[82] They are characterised as a long term oriented transfer of certain value chain activities and resources abroad.[83] The fact that only parts of the value chain are transferred abroad can be also seen in the figure 3.[84] The required financial investments are provided thereby from the parent company in the home country. Furthermore, this market entry strategy is performed without direct help and experience of local partners.
While branches are implicated with a sales department abroad the word factory is disposed for the production of certain goods.[85] The production of a certain good can be either done at the beginning of the value chain, implement the processing of the product or meaning the transfer of the whole production process abroad.[86] The motivation thereby is to profit from cheaper labour and attractive production conditions such as governmental incentives and availability of raw materials.
The goal of overseas branches as sales department is in turn to acquire new business dealings, stay in touch with customers, suppliers and cultivate the contact with governmental institutions.[87]
Nevertheless, what all variations share is that not the whole value chain takes place in the foreign country.
A big advantage of this market entry strategy is the strong impact and control function that the parent company can apply on their branches as it has no partner with whom business decision have to be settled. Knowledge can be more easily transferred in the branches and kept in the company[88] in contrast to all previous introduced strategies.
But also there are some disadvantages concerning this strategy. All possible risks are borne by the parent company itself, as no partner is involved. The required capital has to be spent by the parent company, too. Gaining market know-how from a partner is thereby foreclosed.[89]
3.1.6. Subsidiaries
According to Welge and Holtbrügge a 100% subsidiary is an ownership form where the parent company has the sole power of control over an enterprise abroad.[90] This engagement in a foreign market represents the most intensive form of a market entry strategy and is financed through direct investment. The building up of a subsidiary has to be managed without any financial help and competence of a local partner. The whole market and country know-how has to be provided by the entering company itself. Furthermore, all relationships, whether with suppliers or with the customers have to be created without any assistance of a partner. This is why this entry strategy can best be adopted by large-scale companies with large financial background and market experiences.
The acquisition of a host company can mitigate these barriers to a certain extent but brings other challenges such as the integration of the employees into the company's identity.[91]
Regarding the value added activities, subsidiaries can be responsible for the whole value added chain or can act on only selected value added activities such as manufacturing or R&D.[92]
[...]
---
[1] See Kaufmann et al. (2005), p. 17.
[2] See Bergemann, Bergemann (2005), p. 8.
[3] See Welge, Holtbrügge (2003), p. 25.
[4] See Welge, Holtbrügge (2003), p. 26.
[5] Globalization.com (2006), p. 1.
[6] See Kumar, Graf (2000), p. 22.
[7] See Kutschker, Schmid (2004), p. 823.
[8] See Dülfer (2001), p.187.
[9] Agribusiness.org (2006), p. 1.
[10] See Hummel, Zander (2005), p. 25.
[11] See Baron (2005a), p. 88f.
[12] Gibbons (1996), p. 1.
[13] See Backhaus et al. (2001), p. 118.
[14] See Backhaus et al. (2001), p. 122.
[15] Whu.edu (2006), p. 4.
[16] See Kaufmann et al. (2005), p. 7.
[17] See Kaufmann et al. (2005), p. 7.
[18] See Zhang (1997), p. 17.
[19] See Williamson (2004), p. 4.
[20] See Holtbrügge, Puck (2005), p. 1.
[21] See Baron (2005a), p. 88f.
[22] Linguistics.edu (2006), p. 1.
[23] See Linguistics.edu (2006), p. 1.
[24] Linguistics.edu (2006), p. 1.
[25] Kotler et al. (2002), p. 273.
[26] See Kotler et al. (2002), p. 273.
[27] Kotler et al. (2002), p. 273.
[28] See Kotler et al. (2002), p. 274.
[29] See Leveltendesign.com (2006a), p. 1.
[30] Kotler et al. (2002), p. 272.
[31] See Kotler et al. (2002), p.278.
[32] See Kotler et al. (2002), p.275.
[33] See Kotler et al. (2002), p. 275.
[34] See Kotler et al. (2002), p. 275.
[35] See Leveltendesign.com (2006b), p. 1.; see Kotler et al. (2002), p. 274.
[36] See Gorard (2003), p. 15.
[37] See Kotler et al. (2002), p. 275.
[38] See Kotler et al. (2002), p. 275.
[39] In the following when talking about market entry strategies it is always meant a market entry into a foreign country
[40] See Welge, Holtbrügge (1998), p. 103f.
[41] See Kutschker, Schmid (2004), p. 822.
[42] See Kutschker, Schmid (2004), p. 827.
[43] See Barsauskas, et al. (2003), p. 21.
[44] See Kutschker, Schmid (2004), p. 837.
[45] See Barsauskas, et al. (2003), p. 21f.
[46] See Kutschker, Schmid (2002), p. 828.
[47] See Pepels (1998), p. 190.
[48] See Kutschker, Schmid (2004), p. 828.
[49] See Welge, Holtbrügge (1998), p. 107.
[50] See Czinkota, Ronkainen (2001), p. 381.
[51] See Kutschker, Schmid (2004), p. 830f.
[52] See Kutschker, Schmid (2004), p. 830.
[53] See Dülfer (2001), p. 172.
[54] See Pepels (1998), p. 192.
[55] See Czinkota, Ronkainen (2001), p. 381.
[56] Inverstorwords.com (2006), p. 1.
[57] See Welge, Holtbrügge (2003), p. 100.
[58] See Czinkota, Ronkainen (2001), p. 293.
[59] See Pepels (1998), p. 199f.
[60] See Perlitz (2004), p. 633.
[61] See Berndt, Sander (1997), p.519.
[62] See Berndt, Sander (1997), p.513f.
[63] See Kutschker, Schmid (2004), p. 842ff.
[64] Czinkota, Ronkainen (2001), p. 294.
[65] See Welge, Holtbrügge (1998), p. 105.
[66] See Perlitz (2004), p. 632.
[67] Norton (2004), p. 20.
[68] White (2004), p. 534.
[69] See Welge, Holtbrügge (1998), p. 106; See Barsauskas, et al. (2003), p. 31.
[70] Norton (2004), p. 20.
[71] See White (2004), p. 534., See Preißner, Engel (1995), p. 172.
[72] See Kutschker, Schmid (2004), p. 850f.
[73] See Norton (2004), p. 19f.
[74] See Pepels (1998), p. 202.
[75] Czinkota, Ronkainen (2001), p. 299.
[76] See Duniach-Smith (2004), p. 258.
[77] See Barsauskas, et al. (2003), p. 32.
[78] See Kutschker, Schmid (2004), p. 860.
[79] See Perlitz (1997), p. 454.
[80] See Hentze et al. (2001), p. 574.
[81] See Kutschker, Schmid (2004), p. 863.
[82] See Kutschker, Schmid (2004), p. 246.
[83] See Welge, Holtbrügge (2003), p. 104.
[84] See p. 12 of the present bachelor thesis
[85] See Kutschker, Schmid (2004), p. 877.
[86] See Welge, Holtbrügge (2003), p. 104.
[87] See Kutschker, Schmid (2004), p. 878.
[88] See Kutschker, Schmid (2004), p.880.
[89] See Welge, Holtbrügge (2003), p.105.
[90] See Welge, Holtbrügge (1998), p. 118.
[91] See Barsauskas et al. (2003), p. 24.
[92] See Kutschker, Schmid (2004), p. 878.
Details
Seiten

89

Jahr

2006

ISBN (eBook)

9783656475538

Dateigröße

830 KB

Sprache

Englisch

Katalognummer

v61256

Institution / Hochschule

FOM Essen, Hochschule für Oekonomie & Management gemeinnützige GmbH, Hochschulleitung Essen früher Fachhochschule

Note

1,7

Schlagworte