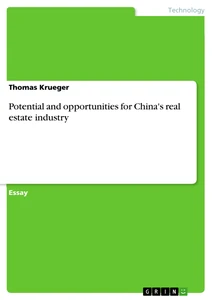 Potential and opportunities for China's real estate industry
Essay 2007 35 Seiten
Leseprobe
Table of Content
1 General Information
1.1 Introduction
1.2 Facts & Figures about China
1.2.1 General Overview
1.2.2 Demographics
1.2.3 Major Economic Regions
2 Overall Economy
2.1 Key Figures
2.2 General Trend
2.3 Future Prospects
2.3.1 Continued Growth & Stabilization
2.3.2 Growing Wages & Buying Power
2.3.3 Appreciation of Local Currency (RMB)
2.3.4 Measures to Curb Overheating
3 China's Real Estate Industry
3.1 Introduction
3.2 Development of the real estate market in 2007
3.3 Key Figures
3.4 General Trend
3.4.1 Market
3.4.2 First tier cities
3.4.3 Second tier cities
3.4.4 General level of demand by tier & asset classes
3.4.5 Level of demand in selected second tier cities
3.5 Asset Classes
3.5.1 Residential
3.5.2 Office
3.5.3 Retail
3.5.4 Hotels
3.5.5 Industrial
3.6 Futures Prospects
3.6.1 General Trend
3.6.2 Government Measures to Curb Overheating
3.6.3 Expected Effects of Government Measures
4 Institutional Framework
4.1 Basic Legal Context
4.1.1 Ownership of Land
4.1.2 Ownership of Buildings
4.2 Land Use Rights
4.3 Transfer of Land Use Rights
4.4 Transfer of Buildings
4.4.1 Sale
4.4.2 Pre-Sale
4.4.3 Registration of Title
4.5 Leases
4.5.1 Registration
4.5.2 Main Conditions
4.6 Permitting
4.6.1 Planning
4.6.2 Design & Construction
5 Foreign Investment
5.1 Corporate Structure
5.1.1 Foreign Enterprise (FE)
5.1.2 Special Purpose Vehicles (SPV).
5.1.3 Foreign Investment Enterprise (FIE)
5.2 Conditions for Foreign Investment
5.2.1 Holding Entity Registered in P.R. China:
5.2.2 Registered Capital:
5.2.3 Debt Financing:
5.2.4 Guaranteed Fixed Returns
5.2.5 Transactions
5.2.6 Area Restrictions
5.2.7 Restrictions
6 Taxation
6.1 Tax Subjects
6.1.1 Foreign Enterprise (FE)
6.1.2 Foreign Invested Enterprise (FIE)
6.1.3 Real Estate Taxation
6.2 Foreign Exchange Regulations
6.2.1 Self Use (Individuals & Branch Offices)
6.2.2 Foreign Invested Enterprises
6.3 Repatriation of Gains
7 Conclusion
8 Footnotes
8.1 Figueres
8.2 Literature
1 General Information
1.1 Introduction
China is an enormous market and growing at an incredible rate, with more European companies constantly preparing to enter the market by establishing branch offices or joint ventures with local businesses. In 2006, Chinese economic growth reached approx. 10 percent, making it a tremendous opportunity for European firms. This intercontinental business growth has driven an exponential increaser for reliable real estate developments. However, the entrance barriers are legion and not limited to the linguistic and cultural, legal barriers exist as well. Despite this facts, there are thousands of companies in the world that are preparing for Chinese market entry or already active in the country.
1.2 Facts & Figures about China
1.2.1 General Overview
- Official Name: People's Republic of China (PRC)
"Zhonghua Renmin Gongheguo"
- Country Area: 9.57 million km2
(World's 4th largest after Russia, Canada & USA)
- Capital City: Beijing
- Government Type: Communist State
- Chief of State: President Hu Jintao
- Head of Government: Premier Wen Jiabao
- Administrative Divisions: 23 provinces, 5 autonomous regions, 4 municipalities
1.2.2 Demographics
- Population: 1.31 billions
- (World's largest before India, USA & Indonesia)
- Population Growth: 0.6% (Contained by one-child policy)
- Population Density: 142 pers./km2(India 333, USA 31, Switzerland 180)
- Median Age: 33.2 years (India 24.8, USA 36.6, Switzerland 40.4)
1.2.3 Major Economic Regions
illustration not visible in this excerpt
Fig. 1: Major Economic Regions in China
The largest share of China's population is concentrated on the coastal area. China's population is not concentrated in its main cities (Beijing or Shanghai) but in the provinces and in second tier cities.
illustration not visible in this excerpt
Fig. 2: Population by province in China
Development
- Life Expectancy: 72.9 years (India 68.6, USA 78.0, Switzerland 80.6)
- Literacy Rate: 90.9% (India 61%, USA 99%, Switzerland 99%)
Urbanization
- Urban Population: 562.1 millions
- Urbanization Level: 43%
- Urban Population Growth: 3.6%
Currently there are 113 cities with a population in the city center of over 1 million. This means that 13 cities has a population with more than 4 million, 25 cities between 2 – 4 million and 75 cities has approx. 1 – 2 million.
illustration not visible in this excerpt
Fig. 3: China's largest cities
2 Overall Economy
2.1 Key Figures
Currency:
Yuan (CNY), also referred to as the Renminbi (RMB)
illustration not visible in this excerpt
Fig. 4: Exchange Rates
GDP:
Fig. 5: GDP of China
illustration not visible in this excerpt
Other Key Indicators:
Fig. 6: Selected economic indicators of China
illustration not visible in this excerpt
2.2 General Trend
Sustained Growth:
- Average double digit GDP annual growth for the past 3 decades
- Stabilization of growth rate at about 10% p.a
- Sustained internal demand (growing middle class and urbanization)
- Favorable environment for foreign investment in selected sectors
- Growing government action to contain inflation
Fig. 7: General trend of GDP of China
illustration not visible in this excerpt
2.3 Future Prospects
2.3.1 Continued Growth & Stabilization
In the short term (1-3 years) the rates of growth and returns may face temporary corrections due to the emergence of excess capacity and governmental measures to curb overheating. And in the midterm (5-10 years) prospects for sustained growth are very strong with gradual liberalization of trade, huge unexplored markets and growing buying power. In the long term (more than 10 years), as the Chinese market gains in maturity, growth rates in investment, industrial production, returns and inflation are expected to ease slightly and stabilize while remaining strong and at more sustainable levels.
2.3.2 Growing Wages & Buying Power
The myth of China as an inexhaustible supply of cheap labor is gradually being reviewed. Finding and keeping good workers becomes increasingly challenging from low-tech factories to corporate headquarters or research labs. As a result wages have steadily increased at an average growth of 14% each year, outpacing inflation, thus creating increasing buying power. Growing buying power is benefiting real estate in most assets classes as disposable income is invested in residential acquisitions and spent on consumer goods, traveling and leisure, all industries requiring growing and increasingly sophisticated infrastructure.
Fig. 8: Average annual wage growth of Chinas economic
illustration not visible in this excerpt
The two charts above shows a huge upside potential of national income per capita when compared to countries in the region. In additional shows a long-term comparative advantage in attracting industries and a long-term potential for growth of buying power.
Fig. 9: Average annual wage growth of Chinas economic
illustration not visible in this excerpt
2.3.3 Appreciation of Local Currency (RMB)
The People's Bank of China (PBoC) is focused on containing excessive expansion of money reserves and credit. In an effort to reduce its reliance on investment and external demand, and to respond to pressure by the USA and the European Union, the PBoC has pursued a policy of gradual appreciation of the local currency (RMB Renminbi). Such gradual appreciation is expected to continue in the long term. However, the PBoC can halt or even reverse the currency's appreciation at will. Such measure is not unlikely in the short term as fear that current upward pressure on wages and the recent US subprime mortgage turmoil could affect the competitiveness of Chinese exports.
2.3.4 Measures to Curb Overheating
In an effort to contain excessive price inflation and its resulting economic and social impacts, the Central Government maintains a strong interventionist policy. Generally, measures take the form of tightened access to debt and investment, heavier taxation, trade restrictions and changing policies favoring or discouraging development of specific economic sectors or geographic locations.
[...]