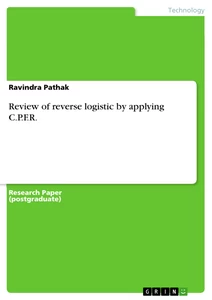 Review of reverse logistic by applying C.P.F.R.
Forschungsarbeit 2007 7 Seiten
Leseprobe
REVIEW OF REVERSE LOGISTIC BY APPLYING C.P.F.R.
Abstract
The Logistic function is to convert all the elements of logistics into a harmonies logistic package to meet the needs of logistic services. For year's merchandise was generally viewed as a headache for both seller and buyer, but innovative thinking combined with a desire to final profitable opportunity gave a lot more focus on reverse logistics. Reverse logistics in such a delicate situation has gained importance as a support function providing effective and economical support for the manufacturing system. The intention of this paper is to manifest and elucidate the role of C.P.F.R. (Collaborative Planning Forecasting and Replenishment) as a effective tool for providing effective & efficient system for reverse logistic.
Key Words : Logistics, Reverse Logistics, C.P.F.R.
INTRODUCTION
To become successful, the best companies will have to be smarter in managing the 4 key business resources of Man, Material, Money and Information. Effective planning and efficient management of flows of material and related information from Supplier to the Customer through the Organization forms the major responsibility of Supply Chain Management.
As markets are becoming more volatile and uncertain, it is common experience that operating functions within companies, such as Sales, Marketing, Distribution, Logistics, Production and Purchase, seek to hedge their positions separately to minimize risks related to their own areas. They take resort to over forecasting of demand, over stocking, over producing and over purchasing to create safety nets for each function separately. Quite often a stage is reached when the unwanted inventory thus built up, ties-up working capital, in addition to restricting the ability of the company to respond quickly to the changing customer demands.
Supply Chain Management concept eliminates this inter-functional protectionism drive, by accepting the whole supply chain as a 'single entity'. All functions along the chain share the common objective of 'supply' and are involved in strategic decision-making. The emphasis is on integration rather than on interfaces between the different functions. The Supply Chain becomes responsible for total inventories in the supply pipeline and also for satisfying customer needs and expectations while meeting all agreed customer service parameters and company targets.
illustration not visible in this excerpt
Reverse Logistics is an important dimension of Supply Chain management. Reverse Logistic is the process of planning, implementing and controlling the efficient cost effective flow of raw materials, in process inventory, finished goods and related information from the point of consumption to the point of origin for the purpose of recapturing value or proper disposal.
Reverse Logistics is important for
1. Assets utilization (rather we can say re –utilization)
2. Assets recovery (To capture the value, which otherwise will be lost)
3. Profit maximization (cost reduction through recycling)
4. To fulfill the environment obligations
5. Customer Relation Management
[...]
Details
Seiten

7

Jahr

2007

ISBN (eBook)

9783638041362

Dateigröße

578 KB

Sprache

Englisch

Katalognummer

v89891

Note

Schlagworte