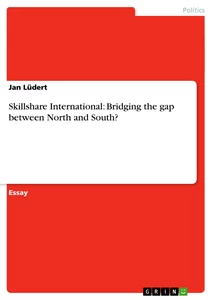 Leseprobe
Skillshare International: Bridging the gap between North and South?
The gap between rich and poor has never been so wide. The income of the richest fifty million people (a mere one percent of world population) is at par with the combined income of 2.7 billion people sharing a life of extreme poverty.[1] Moreover the unequal distribution of wealth and social wellbeing measured in levels of education or literacy, life expectancy, child mortality and economic performance are geographically skewed. The people in the north of the globe are living a good life, while the people living south of the tropic of cancer often struggle for survival. Especially on the African continent, 'development' has failed. The statistics for Sub-Saharan Africa's development are particularly alarming. Here real per-capita incomes have dropped significantly over the last decades leaving half of the population with less than One Dollar ($1) per day.[2] HIV/AIDS and other communicable diseases continue to cripple the region like nowhere else on the planet, not only challenging ongoing development efforts, but also by filling orphanages and cemeteries in a disturbing pace.[3]
It is in this context that there has been a spectacular growth in the presence of Western as well as local non-governmental organizations (NGOs) in Africa. While public and private actors seem to be increasingly pleased that someone else deals with the externalities of globalisation. As Manji and O'Coill observe these NGOs 'form a prominent part of the 'development machine', a vast institutional and disciplinary nexus of official agencies, practitioners, consultants, scholars and other miscellaneous experts producing and consuming knowledge about the developing world'.[4] This trend accelerated further after the end of the cold war and coincided with the rise of western norms of neo-liberalism and shrinking states widely recognized as the Washington consensus.[5] NGOs have since, as Malhotra argues, 'operated within a North-South resource transfer paradigm' in which funding has been the crucial 'parameter in the evolution of relationships between most northern NGOs and their southern "partners" and counterparts'.[6] NGOs under this new policy agenda are seen to be well suited to provide goods and services, drive democratisation and good governance in the 'Third World' in which markets or governments lack the capacity or willingness to do so.[7]
Alongside these international developments this paper will take a closer look at one particular NGO. Skillshare International (SKI) a UK based development agency primarily working in Sub-Saharan Africa will act as but one example of North-South NGO development relationships. The aim of this paper lies in unravelling the question if this particular organization contributes to bridging the aforementioned gap between the rich North and the poor South. By choosing SKI as an example of a northern NGO working in partnership with southern counterparts, two interrelated issues can be brought to the fore within the confines of this paper. One, a context specific analysis offers a starting point to determine if donor reliant development NGOs are 'autonomous actors' or 'mediatory institutions'.[8] And secondly, if SKI in particular assumes autonomous, mediatory, or both position[s] within overarching structures in the global development paradigm. After it has been established that SKI is both a partly autonomous and inter mediatory organization the analysis will show how, and it what ways, a steady [ex]change between North and South is bridged. Overall the interest lies in exploring some possibilities to overcome global unequal development. Thereby making a case for the importance of practical influence of NGOs to counteract the widening gap of human development, in spite of the structural constraints NGOs function in. Critiques that NGOs that are working alongside states have little influence in the promotion of civil society is contested in this essay. Instead, it is argued that northern NGOs such as SKI contribute to development and find important niches to work in partnership with states, grassroots organizations, communities and people without necessary compromising the wide array of civil society action, furthering the bridging of humanity. Lastly, as the author has been working for the organization as a development worker between 2002 and 2004 in Botswana, this paper wants to critically engage practical observations with the scholarship of the subject matter.
Skillshare International: a northern NGO working in the South and back?
Skillshare International is a UK charity registered legally as a company limited by guarantee. Its head offices are based in Leicester, UK and since 2003 in Dublin, Ireland. SKI also runs offices in its countries of operation in Botswana, Mozambique, Swaziland, India, Namibia, Tanzania, Lesotho and South Africa. With a total number of fifty staff and an additional approximate seventy development workers it is fairly large NGO.[9]
In the early 1990s the organization separated from the International Voluntary Service (IVS) and formed Skillshare Africa. In July 2000, Skillshare Africa merged with Action Health and has since been registered under the new name Skillshare International. The organization again broadened in 2003 by incorporating Skillshare International Ireland in order to 'work closer with the Ireland government and the Irish people' and 'to build on the close relationship that existed with the Irish government's development programmes for over 20 years'.[10] SKI plans to expand existing geographic boundaries into Southern and East Africa, North-East Africa, and south Asia and expects to work in both low and middle income countries within the next four years.[11]
It is here as de Mars noted, that the organization signals like many others a 'moral global compass' by choosing an evocative surname of being 'International' while also increasingly acting internationally. And further in choosing a word combination of skill and sharing suggests that it does not want impose authority but is committed to equality and exchange. This point is further underlined in the organizations statement of purpose which reads as following:
Skillshare International works to reduce poverty, injustice and inequality and to further economic and social development in partnership with people and communities throughout the world. We do this by sharing and developing skills and ideas, facilitating organisational and social change and building awareness of development issues.[12]
By investigating the funding structure of the organization, it becomes evident that SKI is heavily reliant on government and other donor agencies to engage in the development process. SKI is funded primarily through a Partnership Programme Agreement (PPA) with the UK Department for International Development (DFID). About sixty percent of its total funding was made available through this agreement with the British government. Providing a total of 2.35 million British Pounds in the financial year 2005-2006 to SKI.[13] Other donors, sharing the remaining forty percent of SKI funding include the European Union, Comic Relief, the Big Lottery Fund, Irish Aid, trusts, foundations, individuals. In kind and monetary contribution are also provided locally by national and municipal governments or regionally by the South African Development Community (SADC) from the countries of operation.[14] A total of 11 donors were identified for the financial year of 2005-2006 providing funds ranging from 10,000. to 580,000. British pounds[15] A grant total of approximately 3.96 million British Pounds was available to SKI in the same period.[16] The funding landscape changes however from year to year according to successful applications and diversification. DFID funding for instance has in fact dropped by more than ten percent to previous years and needed to be substituted through new or existing funding partners.[17]
The strong collaboration of SKI with DFID reinforces, Malhotra and Hudocks observation that as an NGO the organization has assumed a position between the state and the grassroots level on a North-South arc. Both SKI and DFID joint strategically in [18] tackling the Millennium Development Goals (MDGs) set out by the United Nations.
[...]
---
[1] Le Monde Diplomatique (2003), 'L'Atlas du Monde diplomatique', (Paris: Le Monde diplomatique), page 50
[2] Manji, Firoze and Carl O'Coill (July 2002) 'The Missionary Position: NGOs and Development in Africa', International Affairs 78(3): 567-83, page 567
[3] UNAIDS, 'Global facts and figures 2006', accessed online on the 17th of September 2006 at http://www.who.int/hiv/mediacentre/200605-FS_globalfactsfigures_en.pdf
[4] Manji, Firoze and Carl O'Coill (July 2002) 'The Missionary Position: NGOs and Development in Africa', page 568
[5] Payne, Anthony (2005) 'The global politics of unequal development' (Basingstoke: Palgrave Macmillan), page 74-77
[6] Malhotra, Kamal, (2000) 'NGOs without aid: beyond the global soup kitchen', Third World Quarterly 21(4): 655-668, page 658
[7] Makoba, Wogona J. (Spring 2002) 'Nongovernmental organizations (NGOs) and third world development: An alternative approach to development', JournalofThird World Studies 19(1): 53-63,page 55
[8] Rothschild, Donald, (1984) 'Social Incoherence and the Mediatory Role ofthe State', (Boulder, CO: Westview), page 104
[9] Skillshare International, 'Who we are, How we work, What we do', Marketing pamphlet
[10] Skillshare International, 'Annual Review 2003-2004', page 5
[11] Skillshare International, 'Corporate Strategy 2005-2010', page 4
[12] Skillshare International, 'Corporate Strategy 2005-2010', page 2
[13] Skillshare International, 'Annual Report and Accounts 2006', page 18
[14] Skillshare International, 'Who we are, How we work, What we do', Marketing pamphlet
[15] Skillshare International, 'Annual Report and Accounts 2006', page 30-31 Note: In addition to the DFID portion.
[16] Skillshare International, 'Annual Report and Accounts 2006', page 21
[17] Skillshare International, 'Annual Report 2003-2004', page 28
[18] Department for International Development, 'Civil Society and Development', page 1
Details
Seiten

14

Jahr

2006

ISBN (eBook)

9783638071178

ISBN (Buch)

9783638956086

Dateigröße

421 KB

Sprache

Englisch

Katalognummer

v90074

Institution / Hochschule

The Australian National University

Note

1.7

Schlagworte