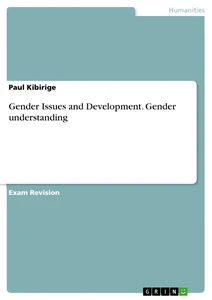 Gender Issues and Development. Gender understanding
Prüfungsvorbereitung 2020 7 Seiten
Leseprobe
Task;
1. You have been appointed the Minister of Gender and Social Development. Identify and explain the key gender issues that you would seek to address. Show the specific strategies that you would use in addressing those issues. Use a maximum of 10 pages (excluding the cover page and list of references).
Introduction
Gender is defined by FAO as 'the relations between men and women, both perceptual and material. Gender is not determined biologically, as a result of sexual characteristics of either women or men but is constructed socially. It is a central organizing principle of societies, and often governs the processes of production and reproduction, consumption and distribution' (FAO, 1997). Despite this definition, gender is often misunderstood as being the promotion of women only. However, as we see from the FAO definition, gender issues focus on women and on the relationship between men and women, their roles, access to and control over resources, division of labor, interests and needs. Gender relations affect household security, family well-being, planning, production and many other aspects of life (Bravo-Baumann, 2000)
Gender is a socially constructed set of roles and responsibilities associated with being girl and boy or women and men, and in some cultures a third or other gender. Gender issues include all aspects and concerns related to women's and men's lives and situation in society, to the way they interrelate, their differences in access to and use of resources, their activities, and how they react to changes, interventions and policies.
In general, gender refers to the roles, behaviors, activities, attributes and opportunities that any society considers appropriate for girls and boys, and women and men. Gender interacts with, but is different from, the binary categories of biological sex.
The Ministry of Gender and Social Development is responsible for the protection and promotion of the rights of the vulnerable population, addresses gender inequalities, labor and employment as well as community mobilization and empowerment. The Ministry came into being by a constitutional requirement of the 1995 Constitution, Chapters 4 and 16 which mandates government to: "empower communities to harness their potential through skills development, Labor productivity and cultural growth." The constitution advocates for the protection and promotion of fundamental rights of the poor and other vulnerable groups as well as institutions of traditional or cultural leaders.
It is comprised of the Social Development Sector (SDS) that promotes issues of social protection, gender equality, equity, human rights, culture, decent work conditions and empowerment for different groups such as women, children, the unemployed youth, internally displaced persons, the older persons and persons with disabilities.
IDENTIFIED GENDER ISSUES AND STRATEGIES TO ADDRESS THEM
Gender equality means that the different behaviors, aspirations and needs of women and men are considered, valued and favored equally. It does not mean that women and men have to become the same, but that their rights, responsibilities and opportunities must not depend on whether they are born male or female.
Promoting gender equality;
Through this strategy, I would consider;
i. Creation of competitive markets: These would improve gender equality, that is, through access to services, employment & skills, and finance. This can make labor markets more competitive, often inequality in employment has a larger effect on growth than it does inequality in education. Increasing entrepreneurial opportunities for women, this increases the competitiveness of product markets.
ii. Promotion of Physical capital/financial development: By increasing women's employment and entrepreneurship, higher household savings rates can be made possible, and through more equal distribution of income greater investment will be achieved.
iii. Strengthening the Rule of Law: Strengthened rule of law correlates with greater security for women; when women participate more fully in society, countries are safer and more prosperous for all citizens. There is a small but statistically significant relationship between rising female political and workforce participation and lower levels of corruption.
iv. F a cilitating Openness to Trade: Discrimination Prevents Women from Engaging in Trade and Entrepreneurship, therefore, as a minister I would facilitate openness to trade by developing various policies that aid gender equality in trade.
v. Promoting the increase in Human Capital: Greater control for women in the domestic sphere (household resources and family size) is the human capital of the next generation. Women are more likely to spend income on children. Because of discrimination in the household, women suffering violence are less able to participate in the labor force. Therefore, as the minister for gender and social development emphasis will be put on promoting the increase of human capital a family base.
vi. Equal access to Employment & Skills: would emphasize Women's access to employment, including ability to enter and remain in the paid workforce, creation of policies to allow women's the flexibility to exit and reenter are fundamental to their participation in the labor force Employment: women's labor
vii. General Access to and usage of infrastructure and utilities: Access to infrastructure and utilities is an important determinant of productive economic opportunities, both by directly facilitating access to income-earning activities (e.g. through transportation and ICT) and by reducing the burden of unpaid work.
viii. Decision-making & access to information: Women's perspectives are not always adequately represented in decision-making processes at the household, local or national level, resulting in decisions which do not equally benefit men and women. Women face difficulties in accessing information important to economic opportunity, such as on legal rights (employment, inheritance, etc.), value chain opportunities, and local infrastructure planning & delivery because their behavior patterns/ information preferences are not taken into account. I would therefore create an atmosphere that create equal gender participation and consideration in decision making.
Gender-Based Violence is violence derived from gender norms and roles as well as from unequal power relations between women and men. Violence is specifically targeted against a person because of his or her gender, and it affects women disproportionately. It includes, but is not limited to, physical, sexual, and psychological harm (including intimidation, suffering, coercion, and/or deprivation of liberty within the family or within the general community). This includes violence perpetuated by the state.
To curb Gender-Based Violence I would employee the following strategies;
i. Increase access to comprehensive and well-coordinated GBV response services, including livelihood support for survivors. Through Provision of Material Assistance: an individual form of assistance that aims to support vulnerable women and girls unable to access services, the assistance will be called material support because it is only for items and cash. Provision of case management support for GBV survivors: GBV Case Management is a collaborative, multi-sectoral process which assesses, plans, implements, coordinates, monitors and evaluates available resources, options and services to meet an individual survivor's needs and to promote quality, effective outcomes. It is useful for survivors with complex needs who access services from a range of service providers. Provisions of mental health and psychosocial support for GBV survivors and vulnerable women, men, girls and boys.
ii. Increase awareness and enhance systems for the prevention of GBV including SEA through mitigating risk factor and strengthening community protection strategies. Provision of vocational skills and livelihood support to women, girls and boys at risk of GBV: Livelihood: Comprises the capabilities, assets (including both material and social resources) and activities required for a means of living. Programs supporting the livelihood opportunities of displaced people should seek to increase participants' self-sufficiency through improved access to resources and economic opportunities that help them sustain a dignified means of living.
iii. Mainstream GBV into all humanitarian response and maintain the updated comprehensive data needed to inform advocacy, planning, implementation and M&E of intervention s. Support advocacy interventions with key duty bearers/stakeholders and policy makers: Advocacy interventions with key duty bearers/stakeholders, policy makers to foster favorable environment for GBV prevention and response. It also includes activities that empower survivors of GBV to speak on their own and on behalf of their peers. This is also a process indicator that is intended to track if/how GBV actors are utilizing assessment findings and recommendations in their advocacy efforts. The quantitative data collected through this indicator should be accompanied by qualitative data on the nature and outcomes of the discussions held (increased funding, change in policy, and so on. Under this I would also promote these strategies:
- Improved access to critical material assistance for women and girls vulnerable to gender-based violence.
- Improve access and utilization of lifesaving health care services for GBV survivors including clinical management of rape/sexual violence/assault.
- Care for the overall wellbeing of survivors and individuals vulnerable to violence enhanced through critical psychological first aid, case management and other services.
- Enhanced the safety and protection of vulnerable women, girls, men and boys to prevent exposure to violence and ensure access to dignified response services.
- Mechanisms for access to justice for survivors of and individuals at risk of violence strengthened
- Improved resilience, self-reliance and (individual and household) livelihoods for survivors and individuals vulnerable to violence.
- Strengthened capacity of frontline workers and key stakeholders facilitate lifesaving GBV response, prevention and risk mitigation.
- Enhanced knowledge and awareness of communities and partners (NGOs, military, civilians) on GBV protection policies, procedures and accountability.
- Strengthened community-based protection systems to enhance accountability and respond to GBV cases within conflict-affected communities.
- Improved national capacity to uphold and adhere to international standards and GBV protocols.
- Strengthened framework for coordination of multi-sectoral GBV response and prevention.
[...]
Details
Seiten

7

Jahr

2020

ISBN (eBook)

9783346225313

Sprache

Englisch

Katalognummer

v903303

Note

graduate

Schlagworte