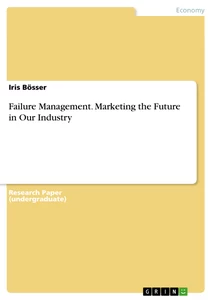 Failure Management. Marketing the Future in Our Industry
Studienarbeit 2018 16 Seiten
Leseprobe
Table of Contents
List of Abbreviations
List of Figures
1. Introduction
2. Objectives
3. Failure Management and current marketing challenges
3.1 Definition and strategies of failure management
3.2 Industry 4.0 in the banking industry
3.3 Current trends in marketing for the banking industry
3.4 Practical example Paydirekt
4. Recommended action for marketing of the future in banks
4.1 Failure management in the marketing strategy
4.2 Cooperation with fintech companies
5. Conclusion and future outlook
Bibliography
List of Abbreviations
App Application
BaFin Bundesanstalt für Finanzdienstleistungsaufsicht
ECB European Central Bank
Fintech Financial technology
List of Figures
Figure 1 Ch allenges for marketing in the banking industry
1. Introduction
Innovative and entrepreneurial action always involves that the result is uncertain and associated with the risk of failure. The information available is always limited. This inevitably results in errors sooner or later, what means that failure cannot be avoided but is likely to happen.1 These uncertainties about the future and the results have to be overcome by every company in order to remain competitive in the market.2
The digitisation forces the banking industry to change their strategies and business models as they are called into question through competitors like fintech companies, the speed of technological change and the large number of innovation in financial processes. The faster the industry the more errors and failure will happen.3 The future changes are substantial, but how will the banks deal with them in terms of marketing and the resulting corporate strategy and will the banks be able to meet these challenges?
2. Objectives
This assignment is intended to demonstrate particular challenges for the banking industry in marketing with regard to failure and failure management. The aim is to highlight what the marketing trends for the banking industry can be in the future. Those marketing trends should be used to develop specific strategies to compensate for the challenges. In addition, the author provides recommendations on how to invent a professional dealing with failure management in marketing.
3. Failure Management and current marketing challenges
3.1 Definition and strategies of failure management
The term failure has to be separated from errors. An error is seen as a temporary deviation from a goal or rule.4 An error does not necessarily have to have negative consequences but can also have positive consequences. Negative consequences could be for example damage in reputation of a company or time and financial losses. Positive consequences of errors are for instance the feedback function and the possibility to learn from mistakes.5 Failure means that it is impossible to achieve the original goal and it is preceded by at least one mistake that prevents this goal from being achieved. This shows that not every error is same as failure.6
Failure management can be defined as a task to make the best out of failure.7 Therefore, several different approaches can be applied. First of all exists the 'zero-fault tolerance'. This strategy is common in manufacturing companies where the error-free operation is necessary for success. In case of marketing and innovation this kind of failure management plays a lesser role.8
Other approaches are less strict with failures. Approaches like 'done is better than perfect' are better suited to innovation and marketing in the future.9 These approaches are based on learning from errors and failure and hence improvement of performance. Failures make it clear which procedure works and which one not and can lead to an improvement of the existing situation.10
There are further approaches that can be named as 'fail fast, fail cheap' or 'fail fast, fail often' and are commonly used by start-up companies or in the product innovation area.11 12 This leads to a failure culture in the company where errors and failure are explicitly desired because of the possibility to learn from failure and potential for innovation.13 For the purpose of this report the latter strategies are the most important to focus on in the following chapters.
3.2 Industry 4.0 in the banking industry
The term industry 4.0. comes from the idea of a fourth industrial revolution. Industry 4.0 means the intelligent networking of product development, logistics, production and customers.14 This represents increasing digitisation, which has a major impact on the banking industry. The digitisation leads to a fundamental change in internal business processes and interfaces to customers through the use of information and communication technology. For banks there will be extensive changes in those areas. Services and products can be provided more quickly and developed in line with customer requirements. Furthermore, new business models can be developed by banks.15 16 Major chances for enhancement are given in process improvement, increase of customer loyalty and maintaining and improving competitive positions.17
3.3 Current trends in marketing for the banking industry
The figure 1 shows several chosen challenges for the future of marketing in the banking industry. The marketing of the future for the banks is strongly influenced by industry 4.0. Therefore, selected examples are intended to explain the uncertainty of marketing in the future and to illustrate the opportunities and risks.18
Figure 1 Challenges for marketing in the banking industry
Abbildung in dieser Leseprobe nicht enthalten
Source: Own illustration. 19
The industry 4.0. has an effect on the way banks communicate and interact with their customers. Due to digitisation and the use of mobile devices like smartphones, tablets and personal computers the online functions for transactions in banking are gaining higher importance. More customers are using mobile banking as e.g. applications (hereafter referred to as 'apps') or the web page of a bank. This leads to an omni-channel approach as a strategic course set for the sales market. The omni-channel approach includes all sales channels in the form of online banking on mobile devices, the web page, the appearance in social media as well as call centers and local branches.20
The companies have a large amount of data of their customers, which can be evaluated for marketing purposes. This improves market research and market analysis. The challenge, which is difficult for banks to overcome, is to use the right tools and draw the right conclusions when evaluating customer data.21 The more intelligently the banks evaluate this information about individual needs and behavioural patterns, the more likely it is that they will be able to tailor products to individual customer requirements and become successful. However, there is a risk that the data are not evaluated and interpreted correctly which leads to possible failure.22
As a part of the digitisation the artificial intelligence will influence the marketing of the banks in the future. This field of work includes software to improve customer interfaces and generate more efficient processes. The aim of such software is e.g. the prediction of customer requirements or actions based on existing data. The customer can then automatically be offered the appropriate product. An additional possible application is customer communication like e.g. automated chats or improvement of the customer experience.23
Other market participants, so-called financial technology (hereafter referred to as 'fintech') companies are entering the market as providers of financial services. They act as direct competitors to traditional providers of financial services. These fintech companies drive digitisation forward and improve old products and services or develop new products and services.24 This leads to a large number of innovations in the financial services market which include e.g. apps that works as a current account for the smartphone or online payment services such as Alipay.25 26
Another challenge is the speed at which new products appear on the market and technical progress takes place. The same applies to the speed of change in digital marketing. For banks to continue to exist in the future, they have to keep up with this speed without being left behind.27 28 This also includes the processes for processing customer transactions. For example, certificates of indebtedness can be processed very efficiently using the so-called blockchain technology.29
One of the new products or services in the financial market are cryptocurrencies like Bitcoin or Ethereum. They offer a new kind of transaction processing or payment methods. Cryptocurrencies or e.g. the blockchain technology also contribute further to the speeding up of technological progress. Banks must be careful not to overlook customer wishes and let themselves depend on technical developments.30
The marketing trends described have to be adapted quickly. If a company is looking for a product or service innovation, the risk of failure in digital marketing is significant.31 One popular example for a difficult product innovation is the German online payment service Paydirekt.32 This example should be used to demonstrate the failure and the reasons for failure in marketing and to elaborate a strategy to cope with failure.
3.4 Practical example Paydirekt
As mentioned in the previous chapter there are changes in the market for digital payment systems. The reason for German banks to introduce the German Paydirekt were, on the one hand, the major changes in digital payment methods. On the other hand, German banks were confronted with large competitors such as PayPal and Sofortüberweisung. From this point of view German banks did not want to leave the entire market share of this segment to the foreign payment methods.33
Paydirekt started in 2014 and is a digital and secure payment function of a customer's current account. It enables payment with username and password without the customer data having to be passed on to an intermediary. It can be used in online shopping as well as in retail stores. The requirements for this are that the bank is a partner of the Paydirekt system, the customer activates the Paydirekt function at his online banking and the retailer offers the payment method via Paydirekt.34 Currently Paydirekt has 1,8 million registered customers and 8.800 shops participating on the payment system.35
To date, Paydirekt has not yet proven to be a successful digital payment method. This results from various errors that contributed to the overall failure of the project. First of all, very few retailers are connected to the system. This is due to a complicated registration process which created hurdles for the introduction of the system. As fewer retailers offer this payment method, many customers do not see the necessity to register for Paydirekt.36 Another disadvantage of Paydirekt are high fees for the retailer. It results in low transaction volumes via Paydirekt what means that the existing companies PayPal or Sofortüberweisung do not face competition from Paydirekt.37
Secondly the failure of Paydirekt is also the result of a lack of market and customer analysis. The security factors of Paydirekt such as no disclosure of account data to an intermediary should be a decisive unique selling point among digital payment methods. However, this security aspect is not decisive for the target group of Paydirekt when choosing a payment method. For this reason, market research was not conducted and evaluated sufficiently to tailor the product to customer requirements.38
A third deficiency of Paydirekt is the slow speed of its market launch. Due to security and quality reasons, the market launch took more than a year from the product idea to the final implementation.39 The digital payment provider PayPal was already on the market ten years earlier and was thus able to secure a time advantage in terms of customer acquisition. Highly budgeted advertising campaigns should help to increase the market share of Paydirekt in comparison to the other providers of digital payments and to win new customers. A large amount of money was invested.40
The self-defined goals of Paydirekt are not set in the right way. The goal of reaching as many registered customers as possible does not contribute to the measurable success of the payment method. The number of transactions in the market volume would be the more suitable measure for this. This inappropriate goal causes the failure to go undetected for a longer time and hampered German banks from adaption of market conditions.41 Success has not yet been achieved from an objective point of view but German banks are currently planning to extend the Paydirekt project in Europe.42
[...]
---
1 See Li, L., An Overview of Error Management Climate, 2016, p. 623.
2 See Sarasvathy, S. D., Effectuation, 2009, p. 171–180.
3 See Krah, E.-S., Warum Kooperationen mit Start-ups sinnvoll sind, 2017.
4 See Reason, J. T., Human error, 2009, p. 9.
5 See Mandl, C. E., Vom Fehler zum Erfolg, 2017, p. 4.
6 See Ibid., p. 4-5.
7 See Lee, J., Miesing, P., How entrepreneurs can benefit from failure management, 2017, p. 159.
8 See Mandl, C. E., Vom Fehler zum Erfolg, 2017, p. 1-2.
9 See Ibid., p. 34.
10 See Lee, J., Miesing, P., How entrepreneurs can benefit from failure management, 2017, p. 157.
11 See Mandl, C. E., Vom Fehler zum Erfolg, 2017, p. 9.
12 See Schimroszik, N., Scheitern fürs Bruttoinlandsprodukt, 2017.
13 See Mandl, C. E., Vom Fehler zum Erfolg, 2017, p. 34.
14 See Fraunhofer-Gesellschaft zur Förderung der angewandten Forschung e.V., Produktion und Dienstleistung – Industrie 4.0, n.d.
15 See Taapken, N., Jacob, L., Digitalisierung - Digitale Arbeitswelt, 2016.
16 See Stadlbauer, F., Die Digitalisierung ist ein Marathon, 2018.
17 See Stadlbauer, F., Die Digitalisierung ist ein Marathon, 2018.
18 See Vater, D., Cho, Y., Sidebottom, P., Retail Banking - Die digitale Herausforderung, n.d.
19 See Vater, D., Cho, Y., Sidebottom, P., Retail Banking - Die digitale Herausforderung, n.d.; Belz, C., Marketing Heatmap I, 2016, p. 11.; Goulart, M., Digital Marketing Changes Quickly: Trends to Watch This Year, 2017; PC Welt Online, Bitcoin 2018, 2018; Schweizer, M., Schuldschein 4.0, 2018; Hellmann, U., Commerzbank Richtung Smartphone, 2018.
20 See Vater, D., Cho, Y., Sidebottom, P., Retail Banking - Die digitale Herausforderung, n.d.
21 See Belz, C., Marketing Heatmap I, 2016, p. 11.
22 See Vater, D., Cho, Y., Sidebottom, P., Retail Banking - Die digitale Herausforderung, n.d.
23 See Herrmann, W., Künstliche Intelligenz hilft den Banken bei der Digitalisierung, 2018.
24 See Stadlbauer, F., Die Digitalisierung ist ein Marathon, 2018.
25 See Drost, F. M., Slodczyk, K., Sparkassen trotzen dem Zinstief, 2018.
26 See Obertreis, R., Warum sich Paydirekt kaum gegen Paypal und Co durchsetzt, 2016.
27 See Pirkl, M., Banken müssen unglaublich Gas geben, 2017.
28 See Goulart, M., Digital Marketing Changes Quickly, 2017.
29 See Backhaus, D., Daimler platziert Schuldschein via Blockchain, 2017.
30 See PC Welt Online, Bitcoin 2018, 2018.
31 See Kelley, B., Failing Fast Leads to More Failure, 2017.
32 See Nestler, F., Ein Phantom namens Paydirekt, 2017.
33 See eCommerce News, German banks launch PayPal rival Paydirekt, 2015.
34 See Paydirekt, So einfach funktioniert paydirekt, n.d.
35 See Paydirekt, Über Paydirekt, n.d.
36 See Ptock, J., Paydirekt: Ein Jahr am Markt, 2017.
37 See Obertreis, R., Warum sich Paydirekt kaum gegen Paypal und Co durchsetzt, 2016.
38 See Nestler, F., Ein Phantom namens Paydirekt, 2017.
39 See Seibel, K., Paypal-Konkurrent Paydirekt demontiert sich selbst, 2015.
40 See Scheuermann, A., Paypal-Konkurrent Paydirekt wird kaum genutzt, 2018.
41 See Zimmermann, F., Widersprüchliches zum Start von paydirekt, 2016.
42 See eCommerce News, German payment service Paydirekt wants to expand in Europe, 2016.
Details
Seiten

16

Jahr

2018

ISBN (eBook)

9783346237460

ISBN (Buch)

9783346237477

Sprache

Englisch

Katalognummer

v916888

Institution / Hochschule

FOM Hochschule für Oekonomie & Management gemeinnützige GmbH, Frankfurt früher Fachhochschule

Note

1,7

Schlagworte